[Updated on July 20, 2023] It's been more than 4 months and the TWS is working as it's meant to be. The build is good and it's perfect for people with small ears. Back to the Mivi DuoPods A250 review.
Are you aiming for good-looking wireless earbuds that will take your fashion game to the next level? Then these budget earbuds need your attention. DuoPods A350 with its compact powder box design is eye catchy.
The moment I saw DuoPods A350 in Space grey color which Mivi loves to call Space Green for some reason, I wanted it so bad. It's turned out to be a great performer too!
In this Mivi DuoPods A350 Review, we will not be talking about the looks only. Here we have tested all the major factors that can be a deal-maker or breaker for you.
So this is the only detailed review of Mivi DuoPods A350. Here we've talked about the Pros & Cons, Built Quality, Look & Feel, Features, Audio Quality, Call Quality, Battery Backup, and finally our verdict. Before getting into the review here's something about us that you should know.
At PadhKeDekho, we buy products and use them for a good 1 month before sharing our review. Since we do not hurry to publish their articles, we go deep and find more inciteful stats for our readers. Which helps in better decision-making.
As support to us, you can use the Amazon links to confirm your purchase if you find the review of any help. We assure you, will not be charged a single Rupee extra! Thanks for reading!
Mivi DuoPods A350 Pros & Cons
Built Quality
We've owned more than 20 TWS and built quality is always a challenge with some of the earbuds. Many have flimsy or delicate cases while others lack hinge feedback i.e. they miss the closing "tick". You can say a well-built one will have a satisfying click while closing the lid. The good news is, Mivi DuoPods A350 has a satisfying click. The hinges on the case are also good. Though it's not the smoothest but is surely durable.
The overall build of the tws is plastic which is common among earbuds. But the quality of plastic used is not average. You can take it close to earbuds for around 2000 Rs easily.
So the carry case gets a good 4/5.
What about the earbuds? Well, the buds are a notch above the carry case. The buds don't have any squeaking noise or ruffed edges that can hurt your ears. This is a big relief as earbuds without silicon tips are prone to cause some pain and irritation. Luckily not on Mivi DuoPods A350.
Hence the buds get a strong 4.5/5.
Mivi DuoPods A350 Built Quality (Overall): 8.5/10
Look & Feel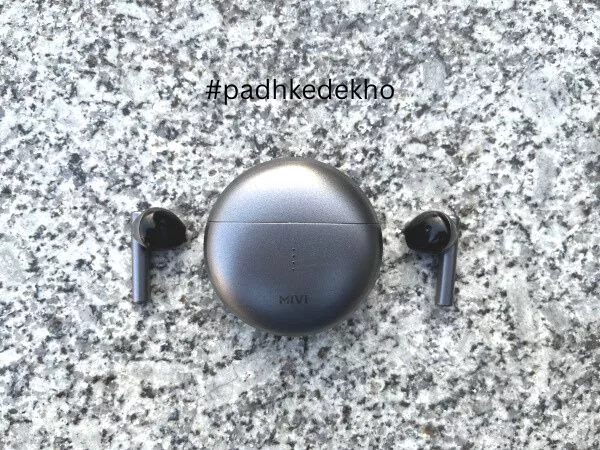 Many TWS earbuds cases are not only thick but also heavy. After switching from BoAt Airdopes 441 Pro, I can tell how smaller and lightweight the case feels. Not just that, brands are focusing so much on features that in the looks department, many look quite similar.
Generally speaking, most half-ear designs look like Apple AirPods from a distance. It might go well for the brand but the customer needs something unique. Like, these tws got my eyes hooked for the very first time I saw a lady having one in the metro in the Grey color!
The buds have a color scheme i.e. black inner part and gunmetal grey on the outside. This makes it looks fresh and eye catchy too. Another good thing to like about this tws is the glossy matte texture. It's not a fingerprint magnet and doesn't need cleaning every time you'll touch it.
The overall design of the carry case is like a compact powder case and sometimes it can cause some confusion too as many premium cosmetics come in this color!
Hence in terms of looks, it's 4.5/5.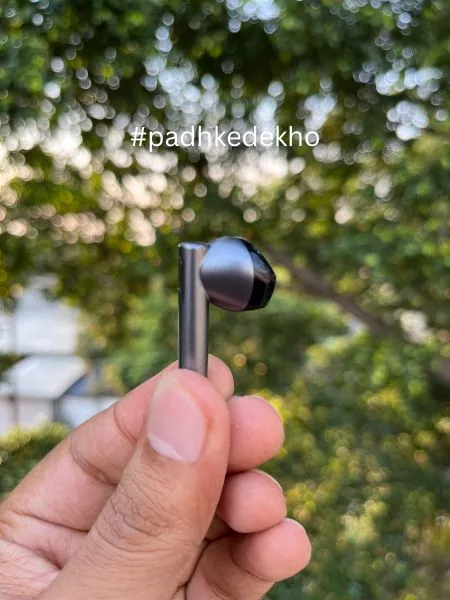 As far as comfort goes, this TWS is meant for people with small ears. Generally, females have smaller ear canals hence going with a half-ear design tws is the way to go. Why? these designs will give you good grip and comfort too. I realized this after returning more than 5 earbuds and giving challenges to other colleges to find the best earphones for small ears under 2000. if you are also looking for it, then do check the article too.
People with large ears should avoid getting this and consider earbuds with silicone cases or better those which have ear hooks too like the BoAt Airdopes 441 Pro for sheer comfort and grip. So if you have small ears then do go for it, it offers a good blend of comfort and grip. Again, for small ears only!
Therefore, in terms of feel, 4/5
Mivi DuoPods A350 Look & Feel: 9/10
Features
TWS earphones are ahead in the features game next to the neckband ones. But still, most of the TWS doesn't offer volume controls. This seems like a small thing but it's such a relief. It's a hassle to take out the smartphone just to control the volume. You can experience this "freedom from a smartphone" with Mivi DuoPods A350. That's it? No! This is one of the USPs of this tws earphone.
Under 1500 Rupees, most of the TWS earbuds or even neckband comes with 10mm audio drivers. That's not bad but if you can get slightly bigger drivers that's a chocolate brownie with dry fruits! I will talk in detail in the audio section about the 13mm drivers of the Mivi DuoPods A350 so keep reading!
Since TWS is more comfortable and can be worn for longer hours than headphones in this price range (taking about the on-ear ones) having a strong backup is essential. Anywhere about 4 to 5 hours of continuous use is considered good.
Mivi took the game further and the buds can go as long as 8.5 hours! To make this even sweeter, the case can charge the buds fully up to 5 times! So it will not be wrong to call it a "battery monster".
What about the media controls? Does it offer touch controls or physical buttons? Well, it's all touch no physical button to be seen. And the touch response is very sharp. The moment you will tap the command will work.
Another good thing that Mivi has done here is the IPX4 Water Resistance. So you can be a little secure if some splashes happen or maybe you caught up in the rain! Though IPX4 is not the greater one, however, I've been stuck in a couple of rains and these have worked well.
So in terms of features, you have all other than low latency mode which is dedicated to gamers. if that's what you are looking for then BoAt Airdopes 141 is the one for you under 1500 Rs.
Mivi DuoPods A350 Features: 9/10
Audio Quality
This is quite a controversial section of the article and there's something that I should make clear before proceeding further. if you have been using earbuds that have silicon ear tips then these will not sound as good as they do!
Because the half-in-ear design is for people with tiny or small ears. Those who have medium or large ears, will not be getting a proper fit, as a result, the audio will feel somewhat flat i.e. without bass.
However, if you have small ears or prefer the half-in-ear design then these will be exactly the opposite of what I said above! As I personally who have small ears crave TWS with half in-ear design. Earlier, we review BoAt Airdopes 131 and many others but this Mivi DuoPods A350 is miles ahead of those.
The 13mm audio drivers are not just on paper they produce good vocals and treble. Be it at 60% volume or even maxed out, you have a good time listing to songs or Podcasts. Even dialogs in movies are a pleasure to hear.
Another thing to know is that the earbuds are very loud. If you like to enjoy music on max volume then you will like these. The audio distortion is very little at full volume.
What about the bass? The bass is good. It's certainly not bass-centric TWS earbuds but way better than the other half-in-ear design ones I've tested.
How's the audio leak? Yes, there is some amount of leak at only 100% volume. The other person in close proximity will not be able to guess the song (personally tested).
If you need a bass-centric TWS then you will be better off with one with silicon types. But if you have small ears then this is the best one when it comes to bass.
Mivi DuoPods A350 Audio Quality: 8/10
Mivi DuoPods A350 Mic Quality
After testing more than 20+ earbuds now, we can count the ones with good call quality. Surprisingly, Mivi is always on that list. Be it the entry-level Mivi DuoPods A25 or even this one which is double the price (not when on sale). Though you will not find any ENC or fancy name given to the mic it works great.
I talk a lot; be it in the metro, home, or office, pretty much when I get the time and this TWS is always by my side. Because of Mivi DuoPods, I don't prefer to talk via the phone.
While testing, I talked to people without letting them know that I was using a budget TWS and mostly all guessed the calls were made via phone. Mind you, my daily driver is a Moto G51 which has the best mic for calling.
So, if you have a calling need to attend, then Mivi DuoPods A350 will never disappoint. One more thing, don't think it will magically remove the background noise. if it's loud around you, it will stay loud. But the call quality will stay superb.
Mivi DuoPods A350 Call Quality: 9/10
Battery Backup
Mivi calls it "massive battery" life and they are not wrong while saying this! These buds don't die that easily. Let's have a look at the claimed values and then we'll check the real-world scenario. The brand claims up to 50 hours of total playback and up to 8.5 hours of power on continuous use. So how close is Mivi to these claims?
The 50 hours of total playback is definitely achievable but you should never cross the 70% volume bracket! I usually stay around 85% volume or one bar less than full volume and use these for about 4 to 5 hours a day on and off, then these can work for more than a week. Or in terms of hours, you can take about 35 to 40 hours at any volume.
On weekends or holidays, I use the buds even more but still, at any volume the buds don't choke up even after 7 hours of continuous use. This is just amazing. This means you can pretty much watch two movies in a row!
In this complete one-month use, I charged these only 4 times. So how is the charging time? Well, it's very fast. Thanks to the fast charging support the case is up and running within 1 hour. Sure, it will depend on the charger used.
I used Moto 20-Watt Turbo Charger and got this result. The buds on the other hand also got 0 to 100% in under 1 hour.
So in terms of battery backup and charging, Mivi DuoPods A350 is a great companion. Therefore:
Mivi DuoPods A350 Battery Backup: 9.5/10
Should You Buy Mivi DuoPods A350?
Yes for many reasons and no, for just two.
Mivi DuoPods A350 is a well-built product with a premium design that too with impeccable color shades. No TWS can beat it other than the OnePlus Buds Z2 as per my liking. It's a blessing for people with small ears like me.
This is like the 5th TWS ordered for me by the team and all others didn't fit my tiny ears. So if you have small ears, look no other pick one for yourself now.
When it comes to audio quality, MIvi Duopods A350 doesn't fail to impress. It's a great-sounding TWS keeping in mind the half-ear design. You get clear vocals, treble, depth, and loudness in your music. Moreover, the low-end bass is quite good.
Not as good as the tws with silicone ears tips but much better than the other half ear design TWS talked about above that we've tested.
As far as mic quality goes, Mivi as a brand has never left dissatisfied. We've owned two earbuds like Mivi DuoPods A550 (review soon), and Mivi DuoPods A25 (review). And just like these two, the one on DuoPods A350 is great.
Crystal clear vocals and no static or network disturbance. The good thing in the mic department is that your voice sounds like yours which is not robotic!
Just like above, the battery backup and charging are also not a problem. Comes with a USB-C charging port, a cable in the box, and support for fast charging. So nothing else can be asked for more.
Now the two things that can be a deal breaker for you.
The first one is the design. if you have large ears then do a test. if any of your friends or family member owns Apple Airpods be it wired or wireless just wear those ones. if it fits well then Mivi DuoPods A350 will not be an issue.
Otherwise, you can consider the ones with silicone ear tips. In the price range of 1500 rs go for BoAt Airdopes 141 they are the best.
The second reason is the lack of low latency mode. This is quite essential for someone who plays fast pace online games. These buds have high latency while gaming which will be fine for casual games like Subway Surfers or Temple Run but not ideal for Fortnight or Call of Duty Mobile.
At the current sale price of 799, it's certainly a great recommendation, and pick one for yourself. We bought it for 1500 Rs and are totally satisfied with the product as it meets our editorial needs.
Wrapping up!
There you have it, folks! This was our Mivi DuoPods A350 review after one month of use. if you have any questions or last-minute doubts then feel free to ping us on below social accounts. We love to help our readers.
Did this review help in your decision-making? if yes, then please use the below Amazon button to make your order. By this Amazon will pay us a small commission that allows us to buy more products and bring genuine customer reviews to our readers. It ultimately helps readers like you make an informed decision.
if not, then you must have feedback for our Mivi DuoPods A350 Review. Please let us know via the above social accounts. We will work it out.
Suggested Articles