[Updated on 17 July 2023] We've been using it for over 2 years now and it is still rock solid. BoAt did a good job. Back to the BoAt Airdopes 131 review!
BoAt Airdopes 131 are highly popular TWS under 2000 Rs just like BoAt Airdopes 121v2. Why is it so? Because there are many factors.
Most important is the price and features on offer. So after spending more than 2 years with it here's PadhkeDekho's BoAt Airdopes 131 review!
Should you buy BoAt Airdopes 131? Is it worth it? You will find out all the essential things below.
Update: BoAt Airdopes 131 is available at a huge discount on Amazon. Click now to check out the deal!
Its biggest competition is with BoAt Airdopes 121v2 (Review) which we also bought a while ago and you should consider it as well. Both of them are almost similarly priced and totally are value for money. Here's a detailed comparison if you are interested.
At PadhKeDekho, we keep comparing consumer products like smartphones, computer peripherals, wireless headphones, wired headphones, earphones, and TWS earphones that you can check out by pressing here. Our only objective in writing such comparisons is to help you choose a better product that suits you.
In this BoAt Airdopes 131 review, you will get why BoAt Airdopes 131 is good or bad for you. What kind of music you would enjoy and how long they can last on a single charge, and tons of others?
So that being said, let's begin the BoAt Airdopes 131 review!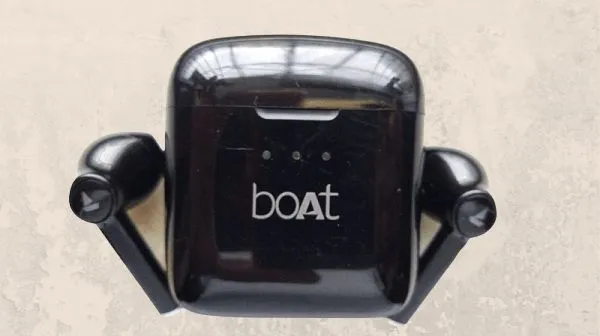 BoAt 131 Airdopes Review – Specifications
| | |
| --- | --- |
| | |
| | |
| | |
| BoAt Airdopes 131 Driver Size | |
| | |
| BoAt Airdopes 131 Charging Time | |
| | 40 mAh x2 (earbuds) + 650 mAh (carry case) |
BoAt Airdopes 131 Pros And Cons
PadhKeDekho Ratings
| | |
| --- | --- |
| BoAt Airdopes 131 Feature | |
| | |
| | |
| | |
| | |
| | |
| BoAt Airdopes 131 Best Price | |
Built Quality
In terms of built quality, boAt has used good quality plastic for the carry cum charging case and the earbuds. As I've used Airdopes 121v2 as well, I liked the closing and opening lid of Airdopes 131. it gives a durable and solid feeling.
Inside the case, you will find proper space for left and right EarPods. This will help you put them in the actual spots. The connectors on the bottom are magnetic that hold the EarPods perfectly.
The Airdopes 131 themselves are not the best in terms of build but are strong. A similar pricing product of the same brand i.e. boAt Airdpoes 121v2 offers better-built earbuds. So in terms of built quality, I will give 5/5 to the charging case and 4/5 to the earbuds of Airdopes 131.
Look & Design
The case and the airdopes themselves are super glossy and are available in Light Pink, Active Black, and steel blue. To my liking, I bought it in Active Black and I am not regretting it! On the front of the case, you will get the battery indicator with led lights indicator. Where 3 signifies full and 1 means low battery. As soon as you'll open the case lid you will get to know how much juice is left in the case.
Since this truly wireless earphone is from the Airdopes category hence it is super lightweight and that's the beauty of it. While there are hanging in your ears you will not feel any weight whatsoever. The texture of the earbuds is very smooth and you will not find any harsh elements.
In terms of design, Airdopes 131 look quite similar to Apple AirPods however it doesn't come in white color. Avoiding copyright claims I guess! This design is an all-time classic and will work for most people.
But for some, this design can be questionable for an extended period of use. Why is it so? Because the Airdopes are plastic and go inside the ear. Since it comes with no extra cushioning unlike most in-ear headphones or even BoAt Airdopes 121v2.
As a result, for some people, it will not be very comfortable for long use. If you ask me, I can't wear them for more than 2 hours. And it goes with Apple Airpods as well. On the contrary, my friend also owns one that he uses for online meetings. He complained none, about the design and comfort.
Tip: If someone near you owns Airdopes 131 then do give it a shot before buying. To be on the safer side, if you need more comfort then I would suggest checking BoAt Airdopes 121v2.
Read More: BoAt Airdopes 121v2 Review || Watch On YouTube
Sound Quality
While talking about audio quality, I am not going to tell you the technical specs. It's more about what I feel after a few months of using it. Coming straight to the point, if you are looking for better bass output, then I would suggest BoAt Airdopes 121v2 or even better, BoAt Airdopes 433.
Other than that, you would enjoy listening to all types of music. Be it classical, treble-heavy, or live concerts, podcasts, etc. It is just remarkable. The audio clarity is good even at max volume. But at high volumes, the treble becomes louder. So keeping the volume between 60 to 80 will be great.
Sticking to such decibels will not only get you better audio results but also help you maintain your health. I've also shared a few important points that you should keep in mind if you listen to music on earphones and headphones. These points will help you lead a healthy life with music. Check those out too!
Read More: 5 Points To Lead Healthy Life With Music
Since the earbuds lack cushioning you will not have a snug fit. Due to this, noise cancellation i.e. audio of the surroundings like car horns, people talking, etc will be easily heard. This can be good or bad. Good in a way that you will be aware of your surroundings. However, your audio listing experience especially outdoors will not be very good due to weak noise cancellation.
Tip– While we are at noise cancellation, in this price range you can't expect much from in-ear headsets. If you need better noise cancellation you can buy On-Ear headphones or Over-Ear Headphones. I
In the price range of INR 700 to 2000 Rupees, we would recommend trying BoAt Bassheads 900 (wired), BoAt Rockerz 400 (wired+wireless), BoAt Rockerz 450 (wired+wireless), BoAt Rockerz 510 (wired+wireless), Sony 310AP (wired), and BoAt Rockerz 550 (wired+wireless) and Infinity Glide 501/500 By JBL (wireless).
These are the ones that we have tested and actually had a good time listing to music. If you are interested, you can check out the comparisons below.
Read More: Check Out Comparisons Of All Here
BoAt Airdopes 131 Features
As far as features go, BoAt Airdopes 131 packs in multiple ones but some are quite interesting.
On both earbuds, you will find MFB (Multi-Function Button) that will take care of your multi-media requirements like playing or pausing a currently playing song, receiving or ending a call. Activating Google Assistant or Siri by double-tapping the MFB button on either of the Airdopes.
Secondly, it comes with Insta Walk N Pair technology. This feature lets you connect your Airdopes with the device immediately as soon as they are out of the charging case. It works brilliantly and the best part is, it is quick in forming a connection. And once you are done listing, putting them back in the case will disconnect them, and charging will begin.
Unlike some wireless earphones that come with Bluetooth version 4. x. BoAt Airdopes 131 offers 5.0 for "seamless connectivity". While using it, if the connected device is 6 to 7 meters then you will notice some connectivity issues. But things are good when your phone is in your pocket or close proximity.
Battery Backup
If this is going to be your first truly wireless earphones, then you could have been got confused with the two different battery backups. Let me explain. Both earbuds have a tiny 40 mAh battery, which helps the earphones let you listen for up to 3 hours. And once they are out of battery, putting them back in the carry case will start charging them. So that they will be ready when you need them!
The charging case has 650 mAh of battery capacity that will let you charge the Airdopes around 4 times before finally dying. This 650 mAh battery will get charged in 2 to 3 hours depending upon the charger (explained below).
For the longevity of the battery, boAt recommends charging Airdopes 131 with a 5-Watt charger instead of a fast charger. However, if you don't have a 5-Watt charger, you can sometimes use higher-capacity ones. With a 5-watt charger, it will take around 3 hours to charge completely. You can reduce the charging speed by using a fast charger. I've been charging Airdopes 131 with a OnePlus Dash charger for 3 months now. It seems to be working just fine with no side effects on the battery backup as of yet.
Should You Buy BoAt Airdopes 131?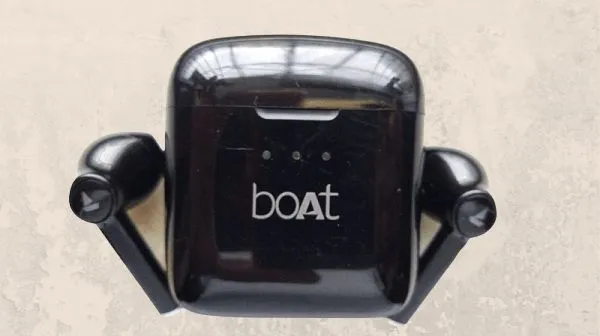 There are so many reasons to buy BoAt Airdopes 131 but few points are there that might stop you from pressing the buy button! So let me tell you some boAt Airdopes 131 drawbacks.
If you are a bass-head, then you will be desired for more. It's not bad but offers it moderately. Secondly, they might not be very comfortable for long use, say 2 to 3 hours.
The third reason is more user-specific, it might work for you or might not. Since it doesn't come with any ear cushions hence they might not form a firm grip or fit perfectly. So if you plan on taking a few runs or walking sessions with Airdopes 131 then you'll need to take extra care of them.
Rest, is all good. Be it audio output, clarity, distortion-free music, call quality, battery backup, or mic performance it just does all these things perfectly. Keeping in mind the current price, I think this is definitely among the best truly wireless earphones under 1300 Rupees. If for some reason you don't like it then I will recommend checking out BoAt Airdopes 121v2 for a better base and comfortable fit.
Wrapping Up
This is it, guys! I hope you would have found BoAt Airdopes 131 review helpful. If you did then do share it with others so that they should know what to expect before buying! And if you got any queries or feedback, then comment below or ping us on PadhKeDekho's Twitter, Facebook, and Instagram. We will get back to you as soon as possible!
Just like the above article, we share our 2 cents in the form of reviews, tips & tricks, comparisons and opinions so do check out those articles. Thanks for reading! We will see you at the next one!
Articles That Might Interest You!
F.A.Q
How Can The Lights of BoAt 131 Airdopes Case Turn Off?

Hi! There is no such setting to turn it off. You could try putting some tape on it. But then you will not be aware of the current battery status. Hope it helps.
Are BoAt Airdopes 131 Good?

Yes, Airdopes 131 is good. It packs good audio quality and a distortion-free experience. However, the bass is not a strong point. In this article, we have shared a detailed review after using it for a few months. Click now to learn more!
Can We Connect Two Devices Simultaneously With BoAt Airdopes 131?

Hello. Unfortunately, you cannot connect BoAt Airdopes 131 to two devices together. You will need to disconnect from one to pair it with another.
Can We Charge BoAt Airdopes 131 Case Without Airdopes In It or With The Airdopes In?

Hi! You can charge the case both ways!
Which BoAt Airdopes Is Best?

We've tested two from the Airdopes series; Airdopes 121v2 and 131. Here you will find our few cents in the form of reviews and comparisons. So click now to learn more!
Can BoAt Airdopes 131 Be Connected To iPhone?

Yes, Airdopes 131 can be paired up with an iPhone. Moreover, any device with Bluetooth can be connected. Hope it helps!
Are BoAt Airdopes 131 Waterproof?

No, it is not. But I've been using it for a few months during workouts. Have not experienced any issues with sweat.
BoAt Airdopes 131 Good Or Bad?

Like every product, this one also has its portion of pros and cons. We have shared some of them after using airdopes 131 for a few months. Click now to learn more!
BoAt Airdopes 131 Driver Size?

BoAt Airdopes 131 has 13mm, audio drivers. But don't fall for the numbers. Check out our detailed review and make a smart choice!
BoAt Airdopes 131 Advantages?

After a few months of using BoAt Airdopes 131 here are a few advantages.

Lightweight
Durable Built Quality
Good Overall Audio Quality
Clear Audio Output.

There are many more, so do check the detailed article here. Read now!
BoAt Airdopes 131 Disadvantages?

Every product has disadvantages. But these that I am mentioning are not major but are case-sensitive. They are not working for me but can work for you. Here are two reasons that I take as disadvantages.

Bass Is Not The Strong Point
Not Very Comfortable For Long Use

In this BoAt Airdopes 131 review, I've talked about all the things that will be important for you like sound quality, built quality, battery backup, look and feel, etc. So do read this article and make a better choice!
Does BoAt Airdopes 131 Have Touch Controls?

No, the MFB (Multi-Function Button) is a regular clickable button.
Do BoAt Airdopes 131 Has Microphone?

Yes! Airdopes 131 has an inbuilt mic that helps to talk decent calls and commands for voice assistants like Google Assistant or Siri.