[Updated on 17 July 2023] It's been more than a year of using Cuzor 12V Mini Wifi UPS and we are quite impressed with it. Finally, our struggle to find a good one is over. Here's our original Cuzor 12V Mini UPS review below.
You are in an online meeting and the manager is talking about your monthly feedback. But a power cut happened and you got disconnected from the meeting! Trust me, we have been there.
It's a very frustrating situation because switching over to a mobile hotspot takes time and it's slow. Moreover, if you are on a computer without a UPS power supply then you are out of luck.
So to overcome this situation WIFI UPS is all you need! We've been using Cuzor 12V Mini Wifi UPS and are very impressed with it. This Cuzor 12V mini UPS review has everything you need to know before pressing the buy button!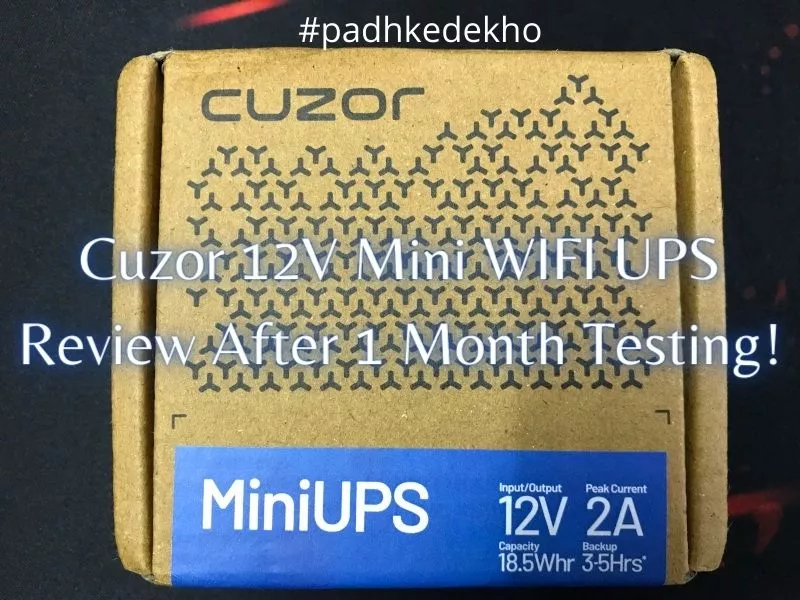 But first, let's have a look at some features and our observations.
| | |
| --- | --- |
| | |
| | |
| | |
| | |
| | |
| | |
| | |
| | |
| | |
| Replaceable Battery From Brand Service | |
| | |
| | |
You can also check out our recommendations too.
At Padhkedekho, we provide customer-centric reviews and comparisons of products after using them for a month. Just to give you an honest review that will help in your decision-making. As support to us, you will find Amazon links that will help us earn some commission if you place an order. We assure you will not be charged a penny extra! Thanks for your support so far.

Angaddeep SIngh
So without anything else, let's have a look at Cuzor 12V mini UPS review with pros and cons.
Cuzor 12V Mini UPS Pros And Cons
What's The Need For Wifi UPS?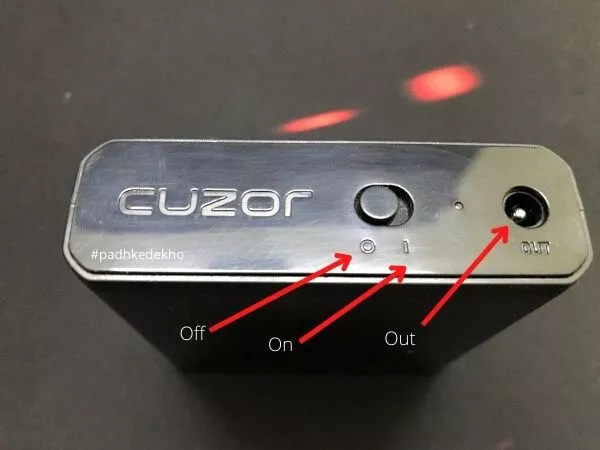 We get it, why do you need WIFI UPS when you can pair your wifi router directly to the computer UPS? You are good to go. Well, yes you can do that. But the computer UPS does not provide longer battery backup. The one we have hardly run for 20-odd minutes!
What if I get a regular UPS and only connect the WIFI router with it? Well, we also thought about that. Doesn't matter how much backup your UPS can give let's say 600, 900, or even 1000 watts because it will not be able to power up the wifi router alone! Let me explain.
The computer UPS is made to power the CPU, monitor, and computer peripherals that draw a high amount of wattage. Usually, you will find 3 16v plugs. Since the WIFI routers are generally 9 or 12 watts.
So this means the UPS will not be able to power up the router since it draws less wattage. As a result, the need for Wifi UPS rose.
Let's have a look at another scenario. You have a laptop and unlimited internet access. On one fine Sunday, you have plans to watch a few episodes of any of your favorite shows.
By the time you grabbed a few snacks, and your favorite drink, and got comfy on the couch then you realize the power is gone and the wifi is not blinking! Now, what would you do to turn on your precious mobile data or grab a WIFI UPS to avoid this discomfort ahead?
So now you know the need for wifi UPS.
How to Use Wifi UPS?
WIFI UPS doesn't come with a charger which might be confusing as to how will you provide power to the UPS. Well, it's quite easy.
Your wifi router (be it from any brand) takes power from the wall socket using the standard power cord which looks like the old-school video game adapters (man good old 1990 – the 2000s).
Now you will take that cable out of the WIFI router and plug it into the "In" port on the Cuzor 12v UPS. Congrats! You are 30% through!
For the next step, you will need to pick a cable that looks like the old-school video game charger from the supplied cables in the box and connect it from the "out" port and insert it into the WIFI router. That's 90 percent completion.
The only thing left is to turn the toggle from off to on.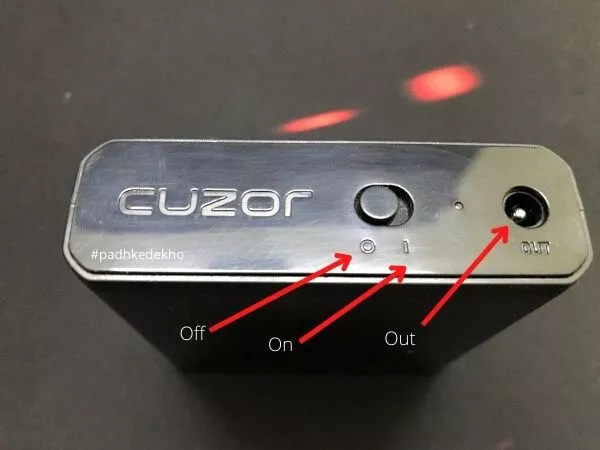 You will see a Green color light. This means that the router is working from the main power supply and the WIFI UPS is getting charged. If a power cut happens, the light will turn red and WIFI UPS will be activated. The moment power is back it will turn green.
If the WIFI UPS is on and you decide to call it a day and turn on WIFI. The UPS will behave like the power is gone. So do remember to google the UPS off otherwise it will stay on and the battery will get drained.
What You Should Know Before Ordering a WIFI UPS?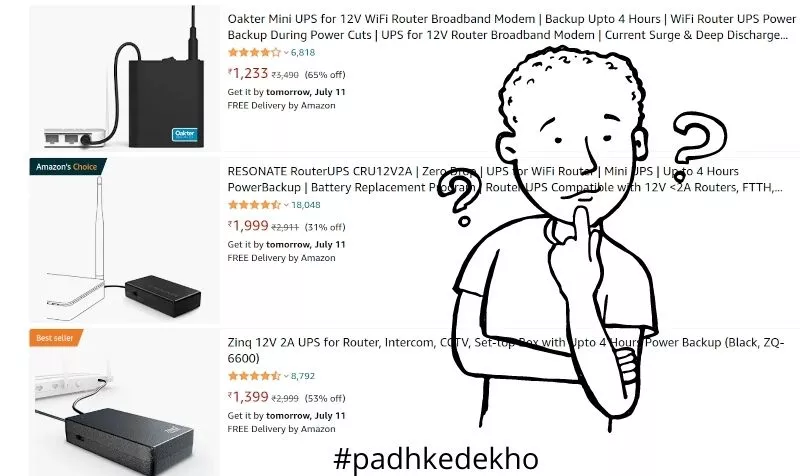 The very first thing to know is you don't need to buy an additional power plug or charger just for that. Wifi UPS will utilize the power adapter that you already use with your broadband service provider like Airtel or Jio, etc.
Another thing to note is the current wattage and amp reading on your router. It's generally written on the back of the router. For e.g. below is a Nokia wifi router that we got with Airtel Fibre Internet so you can see their wattage and amp requirement.
Based on these numbers, you can pick any Wifi UPS that supports that power requirement. The cables provided with the Wifi UPS are made as per the brand's needs.
So you don't need to use other/non-proprietary ones. So these are the things that you should know before buying any Wifi UPS.
Why Should You Buy Cuzor 12V Mini WIFI UPS?
#1 Zero Lag Switching: How long does your wifi router take to turn on? Our's take a good 30 to 50 seconds. Which is a long duration to break any meeting. Would you risk that? Absolutely not! Because that's the reason you are investing money in a WIFI UPS!
So we've tested this for a month and we can confirm it's truly lossless. As the direct power supply cuts, the UPS kicks in within milliseconds that you would not notice unless you don't have a UPS for a computer! Hence it's a great feature.
#2 Wide Range of Devices Supported: This WIFI UPS supports all the routers that use 12 watts under 2 AMPS. Just make sure your wifi router falls under the category. In layman's terms, all the default ISP routers work with this exact model. Be it Nokia from Airtel or Jio broadband all work fine.
#3 Battery Replacement Scheme for 599 Rs: If you intend to use this WIFI UPS for many years, it's a great feature. Since it's essentially a battery, it will degrade with time so you should keep in mind the availability of the battery for the wifi UPS you buy.
After checking around 7+ products we went with this because of how confidently the brand has explained the battery replacement scheme. By paying 599 Rs, they will pick it up from your place, get the battery swapped, and back to you. So I don't think of any harm in trying this brand.
#4 Compact & Lightweight: If you look at the pictures above, the UPS is hardy a size of 5000 mAh power bank. Which makes it very compact. Many WIFI UPS are big hence people keep the WIFI UPS on top of the router. The story is the same if you intend to provide backup to the CCTV system of your shop or home. Well not anymore with Cuzor 12V Mini WIFI UPS! It's been designed to consume less space.
#5 1-Year Door Step Pickup And Drop: In simple words, it's a relief. If anything gets wrong, you can raise your concern, have a word with the service advisor and if the device actually needs service they will pick it up and drop it back after resolving the issue. It's a breeze as you don't have to go out and find the service center and try to explain things there.
Why You Should Not Buy Cuzor 12V Mini WIFI UPS?
This is a pretty good WIFI UPS which is almost perfect it's just 2 things that can be a deal-breaker for many.
#1 If your wifi router consumes more amp power than 2 amps then you should avoid this particular model. Going with one stage above will be the correct choice.
#2 That's the price. Decent Wifi UPS starts around 1400 once like the ZenQ 12V and this one is slightly close to 1800 Rs.
How Many Hours Will Cuzor 12v Mini UPS Works?
In this Cuzor 12V Mini UPS Review after a month of use, we tested out a few scenarios. In one we watched a movie that consumes a lot of data and stresses out a wifi router.
The next time we simply used it for the work we do like using Google Docs, writing blogs on WordPress light stuff like that. So to get an exact number with our Nokia G-2425G-A.
The company claims battery backup figures between 3 to 5 hours and we are happy to report that these are fairly close figures. In our testing, we got above the 3 hours mark. With heavy use, the WIFI UPS was up for about 3 hours and 20 mins.
With WordPress and juggling with emails and Google Docs, it crossed the 4 Hours mark. So you will be fine for up to 4 hours. This means you don't need to be worried about your next online meeting!
Let's say you don't do many video calls or meetings per se but have surveillance cameras or CCTVs that record 24-hour footage.
This WIFI UPS will also help to keep you connected to the internet hence security footage will not go in vain. So for us, Cuzor 12V Mini UPS is great; a big thumbs up!
So Should You Buy This One or Go For Another One?

We went with this by skipping the Zinq 12V and Vguard Envibe 12D4. Though we have a good experience with VGuard for our office and home products we wanted to try something else.
Zinq is also good. One of our colleagues had it and unfortunately, by the time we could review he left us… So anyways we spend a good time with that Wifi UPS and it was also good. We tested 3+ hours of battery backup.
We ordered and canceled the V-Guard 12D4 as we saw a few recent reviews where the customers received scratched products. Nothing against VGuard, we talked to a few customers who got replacements too.
So if you are planning to grab V-Guard then rest assured their service is great.
But why Cuzor? Because their battery replacement scheme hit differently. Many WIFI UPS have non-replaceable batteries. Even if you take it to the service centers.
Then, there's Cuzor who is openly claiming replacement after 2 years. And since we are going to keep this product for a very long time this made us more confident in placing the order.
Secondly, all the features mentioned above work brilliantly too. So you wouldn't mind spending a little extra and getting something of good and premium design with a battery replacement waiting for you after two years.
Hence, keeping factors like built, battery backup, compatibility, in-box contents, and seamless registration process we are more than satisfied with the product. It makes it a good buy for under 2000 Rupees.
Got questions? Don't worry ping us on any social account below we will take care of your query. We love to help our readers.
Willing to support local content? Then please use the below Amazon button to place your order. Amazon will pay us some commission at no added cost to you. This encourages us to buy more products and keep the website running. Below are some of our other recommendations.
Wrapping up
That's about it, folks! Hope you find this article helpful if you did then please share it with others and help them choose better. If you have any questions about any tech product then feel free to reach us at care@padhkedekho.com we will help you out the best way.
Suggested Articles!
F.A.Q
Can I Use Cuzor 12V Mini WIFI UPS With Jio Fibre Internet?
Yes, you can use it without any issues. If for some reason you upgraded your router for a better range then do check the wattage and amp rating before placing the order. This particular model supports 12 watts under 2 amps.
Can I Use Cuzor 12V Mini WIFI UPS With Airtel Fibre Internet?
Yes, we've tried a few Nokia routers from Airtel and this UPS has no issues. Just cross-check the amps and wattage required by the WIFI router. It should not cross the 12 watts and 2-amp power requirements.
Thanks for reading! Padhkedekho wishes peace upon you!