[Updated on July 18, 2023] This mousepad is around 1 year old and has been washed 5 to 6 times so far the threads are in perfect shape, and the mouse still "glides" on it. Superb purchase and we totally recommend it. Back to the Redgear MP80 Review!
Are you looking for a gaming mousepad? or willing to style your office table to something more modern? or perhaps you just need to hide the scratches on the surface of the table!
Then you are at the right spot! Because today we have a mouse pad that will take you in the future and enhance the look of your office table! This ladies and gentlemen is the RedGear MP80 mouse pad review.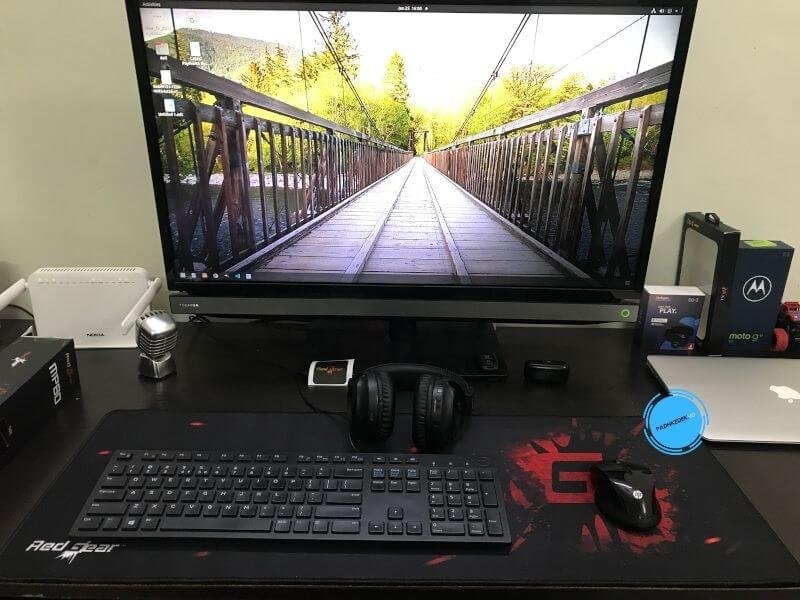 There's a lot to talk about. But first, here's an update for you.
This is not a sponsored product by any means. It has been purchased because we have received quite a few queries about it. If you also have some questions about some tech products, you can always reach us on the below social accounts.
Padhkedekho.com is supported by the readers. Buying anything using the below Amazon links will help us earn some commission from the brand and no additional cost to you. This motivates us to buy more products and brings interesting products reviews and comparisons. This, however, doesn't change our view/review regarding the products.
So that being said, let's start the RedGear MP80 Gaming Mousepad Review with the pros and cons!
RedGear MP80 Speed Pro Series Pros & Cons
Two Different Models
Redgear MP80 gaming mousepad offers two different models, namely Speed Pro and Control Pro. The difference is not a gimmick but rather a very different product altogether. One is meant for quickness or faster movement. Whereas Control Pro, adds some resistance to mouse movement so that a little moment of the mouse is recorded for precise motion.
Both are essential for different types of games. For fast pace games like BattleField 4 or Call of Duty Modern Welfare 3, etc. something where you have to take down enemies and move as fast as possible then going to "speed type" is good. Whereas with the "control type" a little mouse movement will be recorded. So you can kill the target exactly where you need to shoot in Counter-Strike: Global Offensive!
Since I am not a gamer, I just needed smoothness because panning around on a 32-inch monitor is a tedious task! So how good is the mouse pad? This brings us to the built quality. But before that, there is something you should know before placing the order! And that's different sizes.
Different Sizes

This Redgear MP80 is available in three sizes; small, medium, and large as you can see in the above picture. But on Amazon, you will see the listing as small, large & XL. So what is the confusion? The confusion is that I went with "XL" which has dimensions written as 800x300x3mm. But the mousepad which is delivered to us has clearly mentioned as "Large" and has the same size and dimensions.
So XL is large, large is medium, and small is small. Therefore, go with XL if you need a large one.
Built + Print Quality
As far as the built quality goes, the mouse pad has a good weight to it. If you'll try to drop it on the floor, it's going to make a banging noise. Thanks to the weight, the mouse pad doesn't move even if you'll apply much more force.
Another thing that I've noticed after a year of use is that the mouse pad doesn't get bend with the pressure of your hand more precisely the weight of your palm. Hence, the product looks brand new even a week later. So built quality is great.
Since this is the very first time I have chosen a red-on-black print design. So I was a little skeptical about the print quality. But the moment I laid my hands and nails on the product the end feel is great. Tried to rub the print and it did not temper even a bit. The print quality as of now is good. I will be updating the article as per my continual use.
It's been over a year now and the fit and finish are as good as new!
| Built Quality | Score |
| --- | --- |
| Fabric | 9/10 |
| Print | 9/10 |
| The Grip on The Surface | 10/10 |
Redgear MP80 Mousepad Review
Fit N Finish + Durability
The fit n finish of this Redgear Speed-type gaming mouse pad is great. The edges are sewn in a way that doesn't have a single rough edge. We've seen many budget mousepad that retains rough edges. Kudos to Redgear for the detailed work! My initial impression of this product is fabulous.
Even on the back, the brand has not done any cost-cutting by using low-quality rubber. You can test that by bending the mousepad inwards. The rubber stretches a little and then goes back to its original shape. That's because of the premium rubber used on the bottom.
So in terms of fit and finish, this mousepad is good and you will have no problem as such.
Since it's black in color, it will tend to capture more dust particles. As it is made up of cloth you can wash it. So you can wipe it with a little damped cloth. If it's very dirty like the mouse is getting stuck then you can clean it with scrub after applying some shampoo on it and then use warm water. But please be a little gentle and never put the mouse pad in the washing machine!
This is a great demo video ( in Hindi language) that you can watch. The guy even tells you when to know how dirty your mousepad is and how to clean it gently.
Hence, in terms of durability, you should not be worried.
Should You Buy Redgear MP80 Speed Type Gaming Mouse Pad?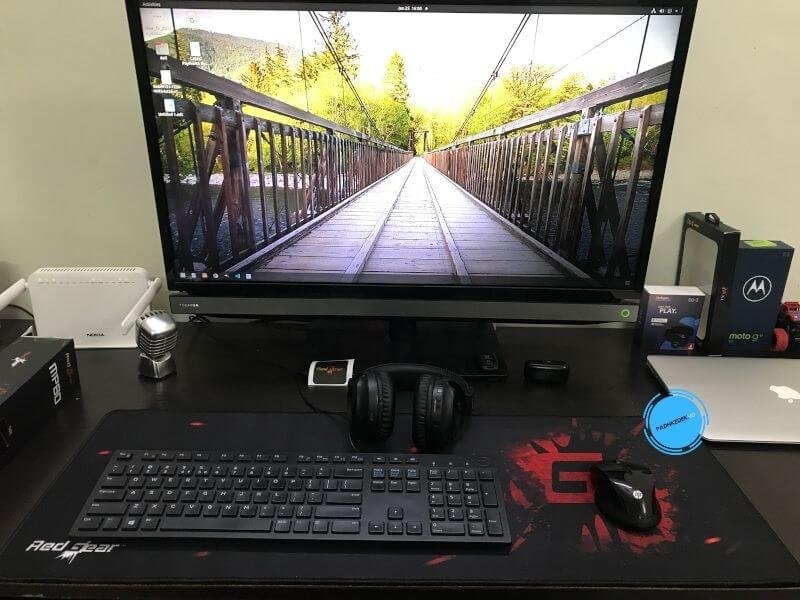 If you are looking for a premium built, long, durable, and sturdy mouse pad then Redgear MP80 is a remarkable choice. Sure you can get other mouse pads from other companies like SpinBot Armor and Amazon Basics. But this one shines through. Why does it shine? Just wait for a little as we are making a detailed comparison for you!
Coming back to Redgear MP80, under 1000 Rs this is a good 800x300x3mm mouse pad. You can keep a full-size keyboard with a full-size mouse and still have some leftover space for a smartphone or two! So you get good space, look and feel durability and sturdiness. Hence, all in all, we would give it a 9/10.
The things I liked are the soft and smooth texture, properly stitched edges all around, the print quality that doesn't get distorted even after rubbing the nails, and most importantly, the mouse pad doesn't move a little after applying so much weight.
Wrapping up!
There you go, guys! Hope this Redgear MP80 mousepad review would have answered some of your questions. if it did then do share it with others so that they should know what to expect. Do you have last-minute doubts or questions? Then feel free to ask us those on the below social accounts. We love to help our readers.
if this article helped in your decision making then please buy this mousepad using the below Amazon button. It will let us earn some commission from the brand at no additional cost to you. This motivates us to buy new products and bring up interesting reviews and comparisons.
Articles That Might Interest You!
F.A.Q
Redgear MP80 Mousepad Washable?

As per the brand, there is no mention of it. But since it is made up of cloth, you can wash it. But please be gentle with it and never put it in the washing machine. Clean it with a wet wipe or wet cloth in slightly hot water and scrub in a circular movement.
Redgear MP80 Speed vs Control?

For fast pace games like BattleField 4 or DOOM, etc something where you have to take down and move as fast as possible then going to "speed type" is good. Whereas with the "control type" a little mouse movement will be recorded. So you can kill the target exactly where you need to shoot in Counter-Strike: Global Offensive!