[Updated on July 24, 2023] BoAt Rockerz 550 & Rockerz 558 are the same & there's no difference. You can buy any of these as per availability. This BoAt Rockerz 550 review is all you need!
If you are looking for comfy headphones to spend your late-night movies or just listen to music while relaxing then BoAt Rockerz 550 or BoAt Rockerz 550 is a great selection.
We've been using this for a good 6 months now and it's still in impeccable shape. So in this BoAt Rockerz 550 review, we will tell you BoAt Rockerz 550 is good or not. And most importantly should you buy one? Hence this is going to be important for you.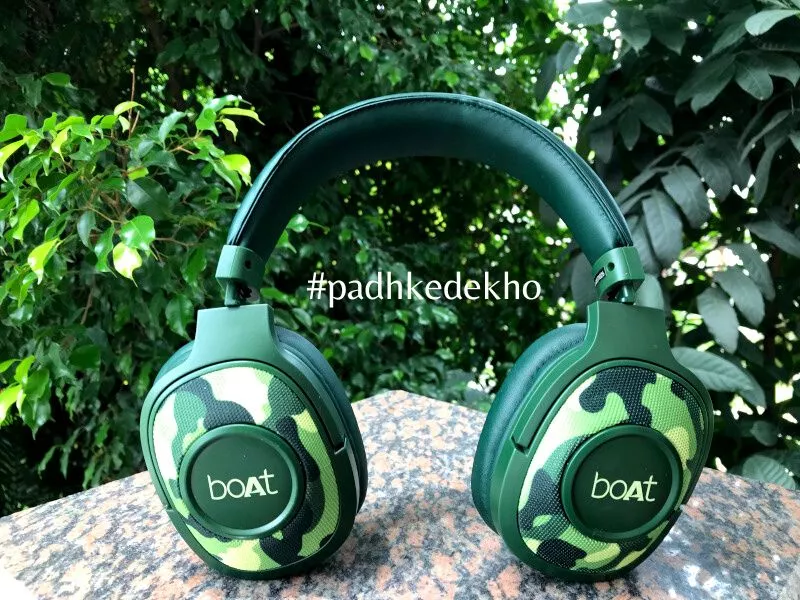 Here we will talk about its specs, pros & cons, built quality, look and feel, features, audio quality, mic performance, battery backup, and finally our conclusion. So that you choose better and never regret it.
Padhkedekho.com is supported by readers like you. By buying anything using the Amazon links on this page you will contribute to the local content at no additional cost. We assure you, an honest and customer-centric view of the product.
So that being said, let's begin the BoAt 550 Review with Pros & Cons.
BoAt Rockerz 550 Pros And Cons
BoAt Rockerz 550 Specifications
| | |
| --- | --- |
| BoAt Rockerz 550 Specifications | |
| | |
| | |
| | |
| Dual Mode (Wireless & Aux Support) | |
| | |
| | |
| | |
| | Up to 16 Hours at Above 80% || 18 Hours+ Below 80% Volume |
| | |
Built Quality
We've owned, reviewed, and compared many headphones under 2000 and built quality was something that many left us desiring for more. In general, products from BoAt, Blaupunkt, and Infinity offered the best-built quality.
Coming back to BoAt Rockerz 550, it offers a blend of plastic and aluminum. The most essential part of the headphone is the headband, where BoAt has delivered aluminum headband adjusters instead of plastic hence they feel very sturdy and durable.
Thanks to aluminum, the headband is very flexible and can fit any head size without making any squeaking noise. While adjusting for the best fit, you will feel the built quality is very plush and premium.
Now, the hinges that allow the tilt-ability of the earcups are of plastic which is logical as you don't need to put a lot of force to adjust that. The mechanism is very soft and easy to adjust for the best comfort.
To sum up built quality, BoAt Rockerz 550 is fairly sturdy and can be used for many years. This is coming after 6 months of rough use.
Built Quality: 4.5/5
Look & Feel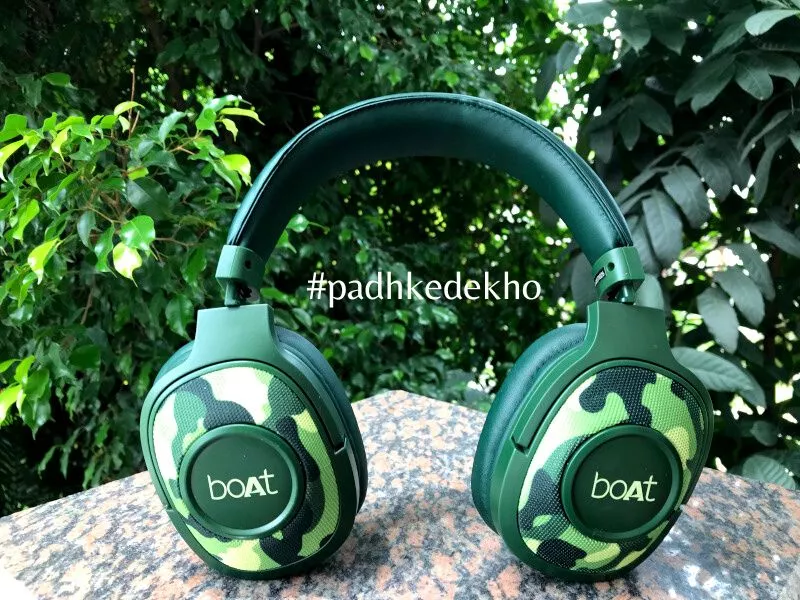 BoAt has revolutionized the design segment of headphones. As you can see above, the combination of Green and Black elements along with line segments with a circular BoAt logo in the center. The headphone looks distinctive and unique in this price range.
Especially the Army Green color that we bought. Hence in terms of looks, it is quite an interesting product and will certainly level up your fashion game as well. One more thing to mention here is the overall matte design. If you like matte design language then this is a great choice.
As far as feel or comfort is concerned, it is quite a comfy pair of Over-ear headphones. The earcups are big enough to cover small to medium size ears.
If you got large ones like me then the bottom of your ears will come out. Which however doesn't affect or cause pain in longer use.
The good news here is that the earcups are tiltable hence you can find your comfy spot with some adjustment or rest them on your neck when you are not listing to music. However, the headphone is not foldable. The earcups can be tilted flat hence you can easily keep them in the backpack if you wish.
The clamping force of the headband is not tight as a result you can wear these for very long hours. Even 5 hours on a stretch is not a problem. So you can relax and watch the next series of your favorite show!
Looks: 4.5/5 || Comfort: 4.5/5
Features
Just recently we talked about Infinity Glide 510 that's available at almost the same price. It offers good features but BoAt Rockerz 550 takes the game to the next level.
BoAt has used 50mm audio drivers. if you don't know audio drivers are responsible to generate audio that you'll listen to. That being said, 50mm is the biggest driver size under 2000 Rs. We will talk about its performance in the audio section so don't worry!
Then you get support to dual-mode. I.e. you can connect the headphones wirelessly as well as wired using Aux that comes in the box. This will come in handy when you are running low on battery or wish to preserve it for later.
BoAt Rockerz 550 comes with a big 500 mAh battery that can get you 20 hours of juice uninterruptedly. Well, these are the claimed figures. We are getting great battery backup even after 6 months. Below is the Battery section of the article, we have talked about battery backup at length.
Now for the best part, for under 2000 Rs, many headphones offer only plastic built as a result durability can be an issue. Whereas on Rockerz 550, BoAt has offered aluminum headband adjusters that help to add some rigidity to the frame. Who would buy a headphone that will break within months? If that's what you don't want then BoAt Rockerz 550 is a great buy!
As far as features go, this headphone is good but unfortunately, it still comes with Micro USB and doesn't support fast charging. Hence, I cannot give it full marks.
Features: 4/5
Audio Quality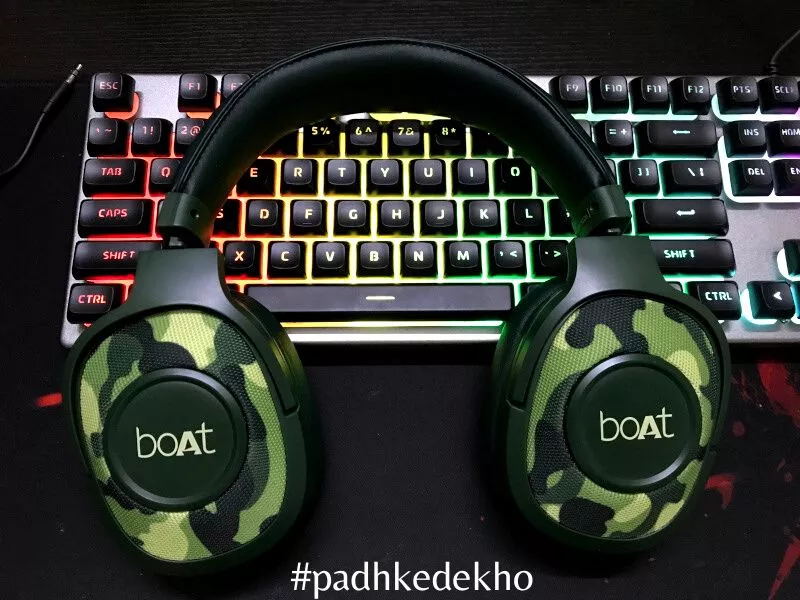 Let's talk about the 50mm drivers! To be honest, we receive so many inquiries about Rockerz 550 due to the 50mm drivers. Many people believe bigger is better, well yes in many matters but not in headphones! What matters is the quality of the audio drivers.
Just recently we reviewed Infinity Glide 510 which just has 36mm drivers. so it is bad? no, it is a great headphone for audiophiles under 2000. So don't always rush for numbers. Now the question is BoAt Rockerz 550 sounds good or not. yes, it sounds good, and most of the time more than good!
If you are looking for bass then this is a good one. You can feel the low end quite well at around 60 to 80 percent of volume. The bass is not an overpowering one but will get your ears thumping. Along with good bass, you can also experience clear vocals and instruments.
The great thing about BoAt Rockerz 550 is the crystal clear mids and highs. As soon as you cross the 80 percent mark, the vocals and instruments along with the treble pick up the pace. Hence you can enjoy many genres quite peacefully.
Thanks to the 50mm drivers the headphone can get pretty loud and will not make you uncomfortable. If you are one of those who enjoys music on full volume then Rockerz 550 is a good one for you.
So all in all, BoAt Rockerz 550 packs in good quality audio drivers that will deliver crystal clear mids and highs and decent low end under 80 percent volume.
Ovarall Audio Quality: 4.5/5 || Bass: 3.5/5 || Vocals: 4.5/5 || Trebel: 4/5
Mic Test
Many headphones under 2000 that we've tested lack good call quality. Some have static disturbance, while other sound robotic, some focus more on the background noise and some can't pick your vocals clearly. So picking a headphone solely for calling is a risky affair.
Since we've owned and reviewed many headphones, we believe Infinity Glide 510, by JBL, works best for calling. Thanks to the professional-grade mic used.
Whereas, on Rockerz 550 it doesn't have any nonsense static problem but your voice will feel robotic and far distant from the mic. But the good thing is the mic tends to capture less background noise be it indoors or outdoors.
This call quality will not be an issue for casual calls or ones in a blue moon. But for professional calls like online meetings and Zoom calls, this one doesn't get my recommendation.
So if calling is not your thing, then BoAT Rockerz 550 is a good pick. Otherwise, do try Infinity by JBL headphones. Here's our Infinity Glide 500/501, and Infinity Glide 510 review for a better idea.
Mic Test: 3/5
Battery Backup
After audio quality, I am second most impressed with the Battery of the Rockerz 550. 20 hours of battery is a good claim which means you can go more than a week without needing a charge if you use 2 hours a day!
In our testing, we tried various situations like switching back and forth to wired mode, different volumes, diverse members with entirely unlike habits, etc. We got different battery backups. And we are quite happy with the figures!
If you are a light listener who likes to enjoy the detail in everything and stay around 50 to 60 percent volume then you can hit the claimed value of 20 hours. Staying at around 80 percent volume will get you around 16 hours of juice.
Staying below 80 is the sweet spot as the audio leak is the bare minimum. if you don't know the audio leak is an unpleasant situation in which people in your close proximity can also hear what you are listening to.
if you have a habit of hitting the full volume and stressing out the audio drivers then you can get around 12 to 14 hours.
In all the conditions, the received battery backup is great and will certainly kill the anxiety of battery backup. And above all, you have the support for aux mode. So you can switch to wired mode to go even longer.
Unfortunately, the headphone doesn't support fast charging as a result it takes around 3 to 4 hours depending upon the charger. But again, considering battery backup of around 12 to 20 hours is not bad.
Battery: 4/5
BoAt Rockerz 550 Good or Not?
Keeping an eye on the price, BoAt Rockerz 550 is a great buy. Because it ticks many boxes. First of all, it offers adequate built quality, secondly, it looks quite good in each and every color.
Then the earcups are very soft and comfortable for extended hours of use. I've used it continuously for 5 hours with spectacles without any pain or discomfort.
As far as the audio is concerned, the 50mm drivers do a great job of providing crystal-clear vocals, instruments, and bass. Sure it's not a bass-centric headphone but it is not that flat either. Then you get more than 14 hours of battery backup along with aux support.
So all in all, it does feel worth the price. But you need to watch out for 3 things.
The first one is Micro USB instead of Type-C. Though it will not have a major drawback still doesn't feel modern by today's standards. Then the lack of fast charging can be a bummer for many.
This 500 mAh headphone takes about 3 hours to charge. Whereas Infinity Glide 510 which packs in 610mAh does that in 3 hours or less. And lastly is the mic output. It is decent at best but not ideal for professional calls.
If these cons don't bother you then BoAt Rokcerz 550 is a perfect headphone that will easily last a few years.
That's a Wrap, Guys!
This was our BoAt Rockerz 550 review after 6 months of use. If you found this helpful, then do share it with others and be a good samaritan! Got last-minute questions before making the order? Don't worry! Reach us out on any social account below and we will clear your doubt in a flash!
Liked the content and want to support local content without paying a dime? Then please use the below Amazon button as it will let us earn some commission at no cost to you! With this, we provide genuine content by buying new products and an ad-free experience of course!
Suggested Articles!
F.AQ
BoAt Rockerz 550 Good or Not?

It is good and bad. It depends on what you are looking for. It's good for built quality, comfort, audio quality, battery backup, etc. However, it lacks 3 things. This is our detailed review after 6 months of use. Click now to learn more and ultimately make a better choice!
Can a 12 Year Old Wear Rockerz 550?

Yes, 12 year old can easily wear it. My niece is 10 years old she uses it for online classes. She never complains.
Does Boat Rockerz 550 Has Connectivity With Bluetooth Version 4.2?

Yes, it not only can be connected with a Bluetooth 4.2 device but many more versions too
Why Does The Boat Rockerz 550 Does Not Play The Next Song Everything I have to Reset The Volume to Hear The Next Sound?

I guess it's not the headphone's fault. Most probably, it's the app that you use for listing to music. Try using Spotify or Ganna.
Is Boat Rockerz 550 on ear Headphones Discontinued in the Market?

By market you mean "offline" then maybe but be sure it's freely available on Online websites.