[Updated on July 19, 2023] This headphone is over 2 years old now, and have to say it's the best looking and comfortable headphone under 3,000 Rs. You should check out this product. Back to Motorola Pulse Escape Review!
If you are looking for an "actual" Over-Ear Headphone under 3000 Rupees, then you are at the right spot! Because this headphone is not a tiny over-ear headphone. It is wide enough to cover big ears with ease.
In this Motorola Pulse Escape review, we will talk about everything since we have used this for over 2 years now, and for most boxes, it will throb.
Without anything else, welcome to Padhkedekho, and let's get started with the Moto Pulse Escape review!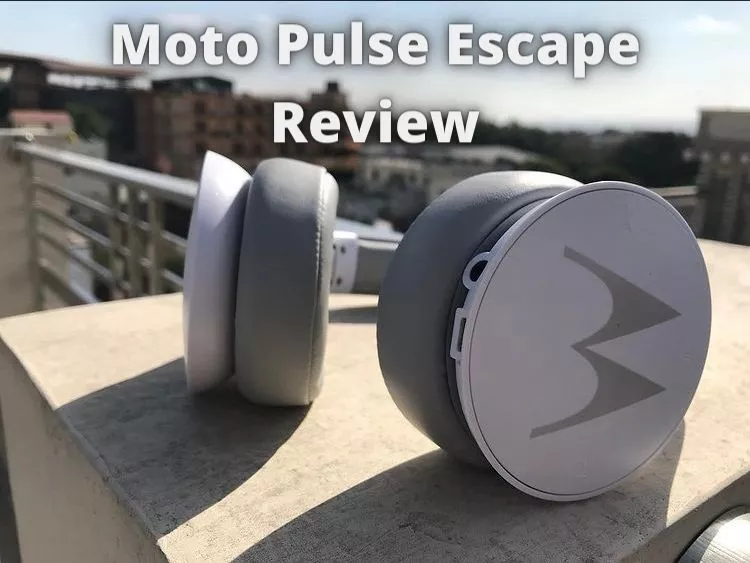 Padhkedekho.com is supported by readers like you. Buying anything using the Amazon links below will help us earn some commission from the brand at no additional cost to you. This however, doesn't affect our opinion about the product.
Moto Pulse Escape Pros & Cons
Built Quality
Moto Pulse Escape offers a complete plastic build. It can be a bummer for many. But considering that the headphone is foldable gives it a slight edge because not many Over-ear headphones offer foldability.
With normal use, I was able to keep it safe for around 2 years. Which is good assuming it's a folding headphone. Usually, the hinges where the headphone folds break in a year. So Moto is slightly better than those, but the use of some metal or aluminum would have been appreciated.
However, if you will keep it against the non-folding headphones then yes, it will not be the best but it sure will do its duty for a few years. if your plans are to use headphones for more than 2 years then you can go with Blaupunkt BH11 or Tribit XFree Go.
Built Quality: 3/5
Look & Feel
When it comes to look or design it is distinctly Motorola thanks to the big M's on both sides. It's kind of refreshing between BoAt and Boult headphones for sure!
The glossy white side profile including the headband does make it look quite premium. Since it's pure white you'll have to do some cleaning quite often. This photo above is taken just recently after completing two years! So you can have a good idea of how yours will look if you take care of things.
So in terms of looks, it's a present-looking one and I doubt you will find a simple-looking headphone at this price. For me personally, the second-best over-ear headphone is the Blaupunkt BH11 (Review).
As far as feel is concerned, this headphone doesn't understand the logic of pain! The ear padding is very soft and the leatherette material feels very comfortable. Paired with big ear cups the headphone is very comfortable to wear for long extended hours.
I've worn it around 5+ on a stretch and never felt a slight pain. I do also wear spectacles and still, it was always a relaxed experience. So in terms of looks & comfort, Moto Pulse Escape does a great job and you will have a pleasant experience.
Look & Feel: 4.5/5 || Comfort: 5/5
Features
Motorola Pulse Escape SH012 packs decent features. For the current sale price, you might not find them satisfactory but the point is what you are getting is very strong.
For e.g. it can provide you battery backup for about 10 hours. Which is at par with today's standards. We will talk about battery and charging in the battery segment in this review below.
Regarding noise cancellation, Motorola has gone with passive noise isolation. Which is to be expected under 3,000 Rs. Passive noise isolation is, the headphone is not dependent on the mic rather the built quality of the padding and overall structure ensures it. So it will not make the people chatting next to you disappear! But it will reduce the chatter significantly.
The Bluetooth version is 4.1 which certainly is a bummer but the range is about 18 meters. Usually, headphones in this price category only provide a range of 10 meters. So you can go far away from the connected source and experience distortion-free music. I've experienced this in a building of 3 floors and had no audio break. Hence, a higher number doesn't matter, the quality is!
Over-ear headphones, due to their premium construction and materials weigh anywhere around 280 to 350 grams. But Motorola Pulse Escape is just about 210 grams! Which is quite lightweight for its size. Secondly, it also offers a foldable form factor which many over-ear headphones ignore. Hence you can easily take this in your backpack without taking up much space.
Now it's time for the second most important feature and that's Multi-Point Technology. With this feature, you can connect up to 2 devices without disconnecting one!
And the most interesting feature is, support for Alexa! if you have one at home or office, then Moto Pulse Escape will make your life a lot easier!
So as far as features go, Moto Pulse Escape is a solid headphone with practical features.
Features: 4.5/5
Check The Latest Price on Amazon
Motorola Pulse Escape Review – Audio Quality
In this Motorola Pulse Escape Review, audio quality is going to be the deciding factor. So, let's have a look at the technical specs first.
This Over-ear headphone comes with a 40mm audio driver. Sure, you can get 50mm drivers in this price range but these are different.
Usually, the 40mm drivers we have tested are very base-centric and mids are not the strongest in this price range. Hence watching movies or videos experience is not the best. But this one does things a little differently.
Moto Pulse Escape Wireless doesn't have an overpowering bass. Which means it will not overcome the vocals and instruments from the content. That's what you need while watching a movie, and it's an immersive experience!
Secondly, Moto Pulse can get very loud. You can hit the full volume but you will not feel the need to do it. Ideally, at around 70 percent volume, you will get a blend of bass, vocals, mids, and highs with no audio leak. I.e. no one around you can guess what you listing to.
The moment you will cross the 80% mark, the headphone will transform into a Bluetooth speaker with a very high audio leak! Hence, staying around 70 will be recommended!
So who is it for? if you are just looking for bass then this is not for you. Otherwise, if you value vocals, instruments, and stereo music and don't believe in full volume then this is the one to get!
Overall Audio Quality: 4.5/5 || Bass: 3.5/5 || Vocals: 4.5 || Instruments: 4.0
Motorola Pulse Escape Review – Mic Quality
We've tested many headphones from the range of 1000 to 4000 and the moment you cross the 3k mark the mic quality increases and becomes great. But what about Motorola Pulse Escape? Well, it's good. You can easily take your Google Meets or Zoom calls without any issues.
There is no hissing from the microphone. If you like you can use it for recording audio too. Secondly, the end-user will not complain about background noise as well. Surprisingly, this headphone has no noise cancelation in the mic but still, it does a good job of cutting some nuance around you indoors as well as outdoors.
So for calling, it gets our easy recommendation, without a doubt.
Mic Quality: 4/5
Motorola Pulse Escape Review – Battery Backup
Battery backup is totally dependent on the volume. But before talking about the numbers that we got, Motorola claims up to 10 hours. This claim as of today's standard is quite good considering the Bluetooth range is high and the drivers are 40mm.
So what kind of battery backup have we got? If you are a lister that stays around 50 to 70 volume then you can go as high as 9 hours! This is very close to the claimed figures. However, going above 70 will drop the battery backup for about 8 hours. And on max volume, you can expect about 6 hours.
Hence, as for battery backup, you will have no complaints. You can take these for a weekend trip and no need to worry about charging.
Let's say you went out of battery but need to keep the music pumping then you can switch to the wired mode, thanks to the 3.5mm cable provided in the box. In this way, you will not be consuming any battery. But there's a catch. The supplied cable doesn't offer a microphone. So if you need to call then it can only be done via Bluetooth.
Psst!!!! There's a way around it as well! If you buy a 3.5mm cable that offers a mic then calling in wired mode is possible! You can find many on Amazon or offline stores!
Hence this battery backup and aux support is the best solution for battery anxiety!
Battery Backup: 4.5/5
Should You Buy Motorola Pulse Escape Bluetooth Over-Ear Headphone?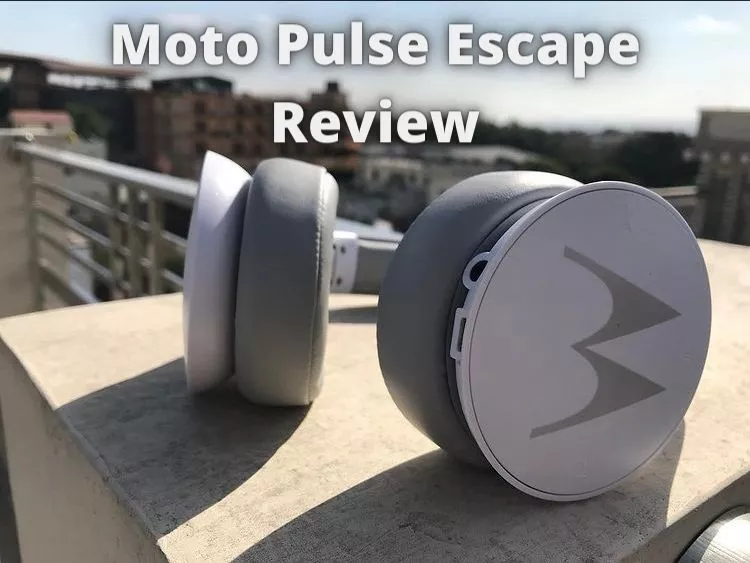 Yes and no! Let me explain!
if your topmost priority is the build quality then no, you should not buy this. Because the hinges that allow the foldability is of plastic and might break if a lot of pressure is applied. Since I had soft handling, was able to use it for 2 years afterward it broke. So you got soft handling? Sure you can go for it. Otherwise, ignore it!
To be honest, it is the same story with every foldable over-ear headphone as to cut weight and size. Moto could have used better plastic or at least provided metal adjusters for longevity. Common man! You are not like those budget headphones!
As far as features go, it packs many solid ones like support for Alexa, Siri, Bixby & even Android Assistant, dual Bluetooth connectivity, 10 hours of battery backup, 60 feet (20 meters) range, a good mic for calling and so much more!
Concerned about audio quality & comfort? Then throw that thought away as it packs great 40mm drivers. Those are not just behind bass but can provide crisp and detailed mids and highs. You will have a good time watching movies and listening to vocal-centric songs. Don't get me wrong, it has bass but not the kind of overpowering one! You can go as long as you like since the padding is very soft and comfortable.
To sum up, it's a capable Over-Ear Bluetooth headphone that can take your audio experience to the new highest.
So what's the catch? The only caveat is the built quality. if you can be careful with it then you should get your hands on Moto Pulse Escape you will not regret it.
That's About it Folkes!
That's our Motorola Pulse Escape review after 2 years of use. if you found it helpful do share it with others as this headphone doesn't get the attention it needs.
Got a few questions about this or any other headphones? Then reach us out on the below social accounts we would love to help you out!
Liked the content and want to support local content? Then please use the below Amazon link as it will help us earn some commission from Amazon at no additional cost to you. By this, you encourage us to buy more products and make detailed reviews and comparisons. Thanks for being a patron!
Articles That Might Interest You!
F.A.Q
Are Motorola Headphones Good?

Motorola headphones offer great audio quality; for which one buys a headphone! But there are a few shortcomings like Moto audio gears are not feature-rich and built quality is not the best. In this detailed review of Motorola Pulse Escape, I've talked about everything. Click now!
Is Motorola Pulse Escape Good?

Yes, it's a great Over-ear headphone for the given price. It packs in decent features as of today's standard. But above all, it's the comfort on offer that will impress you. But there's a catch! Click now to learn more.