[Updated on July 17, 2023] It's been with us for over 2 years now and it's still magnificent. Though the battery backup has taken a little dip overall it's totally worth it for the price. Back to the Blaupkunt BH11 Review.
A while ago we wrote an article about the best over-ear headphones under 2000 Rs, and choose Blaupunkt BH11 as the best choice. But it was a multiple product article hence we couldn't express the review in detail. Therefore, in this article, here's our Blaupunkt BH11 review after extensive use for over 2 years now!
Here, you'll learn about its key specs and features, pros & cons, built quality, comfort, audio quality, battery backup, mic test, noise isolation & sound leaking, and finally our conclusion! With that said, welcome to PadhkeDekho!
Buying anything using the below Amazon links will help us earn a small commission at no additional cost to you. This doesn't change our feedback on the products. All you get is 100 percent unbiased reviews and opinions.
Blaupunkt BH11 Review
Specs & Features Blaupunkt BH11
| | |
| --- | --- |
| Headphone Type | Over-Ear |
| Supported Connection | Bluetooth 5.0 & Aux (Cable in The Box) |
| Foldable | Yes |
| Earcups Tiltable | Yes |
| Overall Built | Plastic |
| Bluetooth Range | 10 Meters |
| Audio Drivers | 40mm |
| Mic For Calling | Yes |
| Bass Boosted Mode | Yes |
| Weight | 303 Grams |
Blaupunkt BH11 Review
Pros & Cons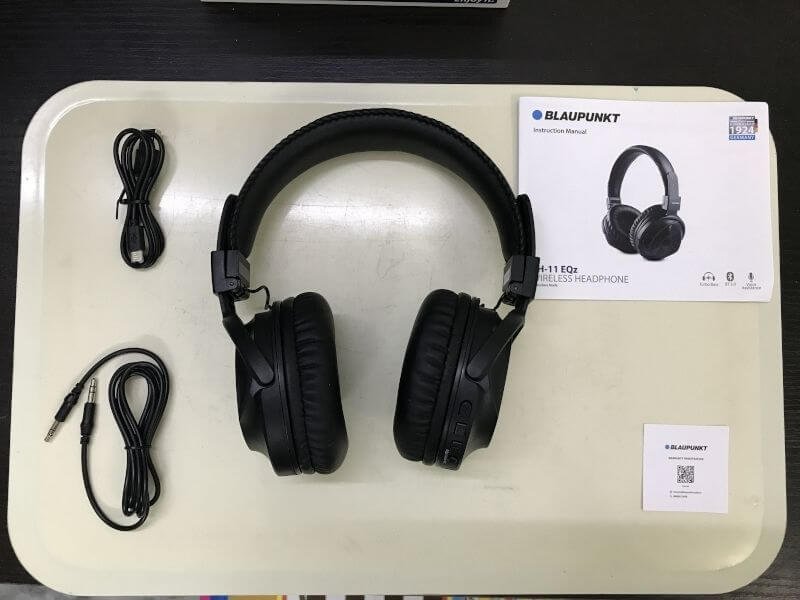 Built Quality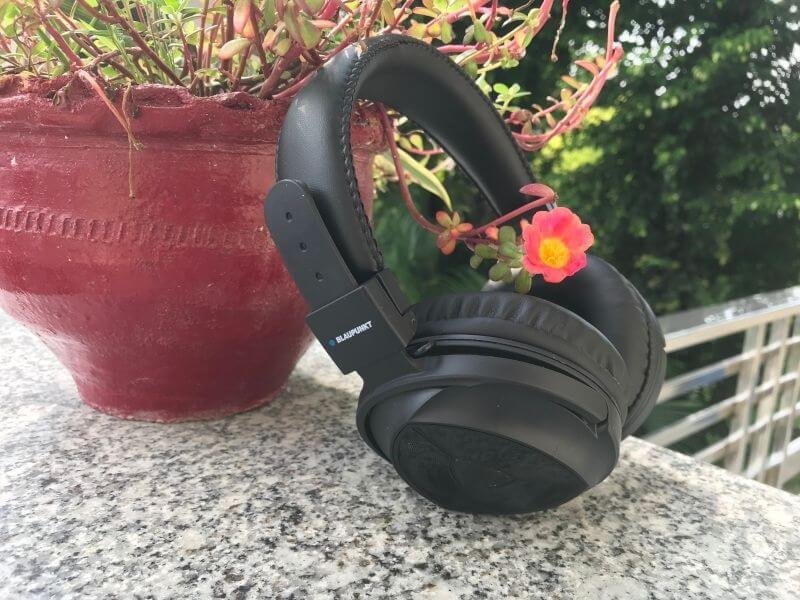 In one word; Fabulous.
Built quality is among the top priority for us because if one is spending this much the product at least should last for a year or even two! Most importantly everyone here has used these headphones roughly as well as soft, for the sake of durability test. As a result, we are quite impressed with Blaupunkt BH11.
The overall build is plastic but it doesn't feel flimsy or delicate. We were kind of expecting metal headband adjusters like the biggest competitor, BoAT Rockerz 550 come with one.
But it's not plasticky like BoAt Rockerz 510 for sure (no hard feeling but it has the best bass and mic output).
Let's have a look at the headband adjusters. They are not like the regular ones. It seems it doesn't have many adjustments but we have people with large heads and didn't complain ones! Secondly, it bends inwards so that it can be portable like this.
So in terms of built quality, Blaupunkt BH11 is great for the price.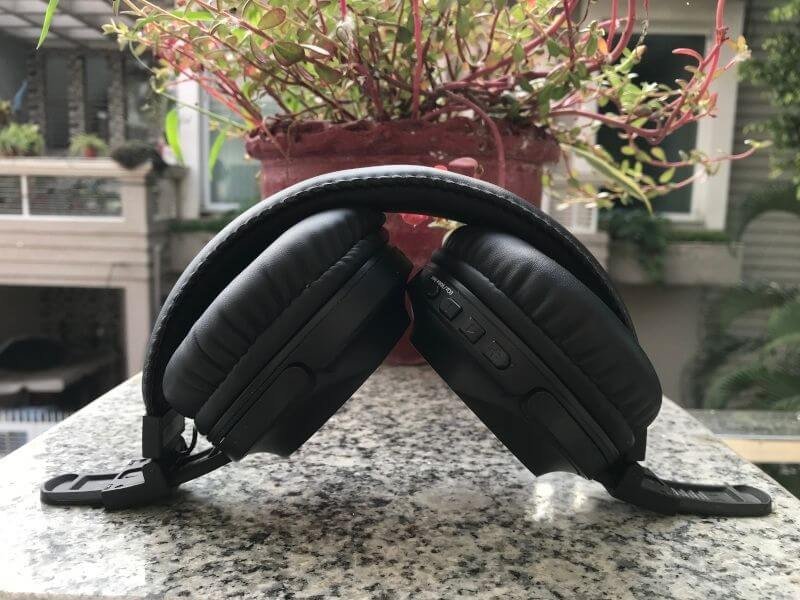 Comfort
Under 2000 you've options that offer good comfort but very few come with memory foam. Why? because memory foam is expensive and brands like to cut the cost! Thankfully, Blaupunkt doesn't think like that!
We've tested many headphones and sweating is prominent due to the closed-back and over-ear design, we get that (stop email bombing about this!). Sweat will be there with Blaupunkt BH11 too but not like those that don't have memory foam. Fortunately, the memory foam on BH11 does what it is meant to do. Therefore, you don't need to take it off every 30 mins to dry your ears!
Now for the most important question, how long can you wear it? Well, the memory foam does its magic in this department too! Even if you wear spectacles or sunglasses, these headphones will not cause you any issues even above 5 hours of continuous use.
The clamping force of the headphone offers a snug fit so you don't need to make adjustments every minute with this one. if you need a pair of wireless headphones for jogging or walking then, you can go with this one without any second doubt.
To wrap up the comfort section, the experience you'll get with this headphone is the best in this price range!
Audio Quality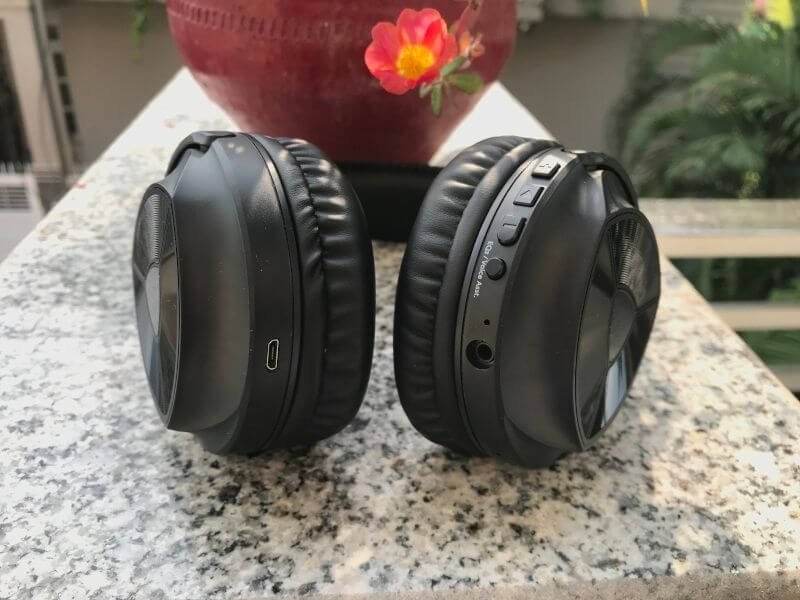 Blaupunkt BH11 has 40mm of audio drivers, whereas the biggest competition BoAt Rockerz 550 has 50mm drivers. So BoAt Rockerz 550 is better in terms of driver size but they are very different in their sound signature.
Read More: Here's our detailed comparison between Blaupunkt BH11 VS BoAt Rockerz 550.
Let's now, dive deep into Blaupunkt BH11 Audio quality.
On BH11 you'll get two audio modes; Regular and Turbo Bass. Both are very different. We have been testing it for a while now this is what we think.
In regular mode, emphasis is given to clarity for vocals, instruments, and treble. Bass is present but not a thumping one. This audio profile is best for classical, old Bollywood songs, Sufi music, audiobooks, podcasts, etc.
The moment Turbo Bass mode is enabled, there is a pause of 1 second and then a thumping wave of heavy bass kicks in along with louder vocals and instruments. This mode restricts treble quite well so you can listen to any song at full volume without any audio distortion.
We've tried thousands of songs & playlists and never experienced audio distortion even at full volume.
Turbo Bass has all that it takes to turn your boring night into a party! It's a pleasure listening to EDM music, Punjabi songs, or any bass-bosted song on Youtube!
We haven't given more than 8.5 to any headphones for details + bass but this one is certainly worthy of 9.5 out of the roof! So all in all, Blaupunkt BH11 audio quality is by far the best you can get under 2000!
Features
While talking about headphones we don't cover much about features as not all have special ones in this price range. That's not the case in the Blaupunkt BH11 review. The most exciting aspect of this headphone is the dual Bluetooth connection mode.
This mode will let you connect it to 2 Bluetooth devices at the same time. Therefore, you can listen to songs on the laptop and accept calls on your phone just like that! This interchange takes about 2 to 3 seconds. Again, not to be expected at this price.
if you are a bass lover, then you are in for a treat! Blaupunkt BH11 comes with Turbo Bass mode which is quite similar to the bass mode that is mostly found in JBL and Infinity headphones. But it's a good touch by the brand.
Another interesting feature of BH11 is the way Blaupunkt played smart with the battery. Though it's 450 mAh which is pretty common in 1000 to 2000 category headphones, they didn't go with 50mm drivers.
As a result, the audio drivers are not battery hoggers! We will talk about battery and backup in just a second.
That pretty much covers the special features of the headphone. Now let's put some light on the battery and the battery backup!
Battery Backup
Blaupunkt BH11 battery size is 450 mAh which is great keeping in mind the 40mm audio drivers. As per the company, Blaupunkt BH11 battery backup should be up to 24 hours.
In our testing, we had a mixed run of calling as well as consuming content. Since we watched the Money Heist season 5 with it and here's what we think of the battery! You can easily hit 19 to 20 hours of battery backup in mixed-use.
Which is more than enough for a weekend trip in the mountains. Since we have used it for work from home, these can easily last two office days.
So in terms of battery backup, you don't need to worry about it!
if you are running low on battery or just want to preserve some of the juice for the evening walk then you have the support for aux mode. Luckily you get a good quality 3.5mm cable in the box.
Hence, Blaupunkt BH11 will keep you covered in terms of battery backup and support to aux mode.
As far as charging goes, this headphone still comes with a micro USB hence fast charging is not possible. This is going to be a deal-breaker for many. However, with a normal 5-watt 2 amp charger, the headphone gets fully charged in around 3 hours.
Our only complaint is the battery department is the Micro USB slot instead of Type-C.
Mic Output
In terms of mic output, we are not very impressed. The output is just like the rest of many headphones we've tested; bass-heavy and muffled audio output.
Blaupunkt should work on this headphone's microphone because it's the only thing that's the weak link for it. The good news is you can improve the call quality by using an AUX cable that comes with a microphone.
However, the one that comes in the box doesn't have a microphone. You can buy any aux cable with a mic from the offline market for under 200 Rs for a better calling experience.
If you looking for an over-ear headphone exclusively for calling then Tribit XFree is a great alternative.
Noise Cancellation & Audio Leak
You will not want to see a person behind you jamming to the song you are listing to! Well, this is the biggest problem with many on-ear and over-ear headphones.
We have tested the popular BoAT Rockerz 510, 550, Infinity Glide 500, 510, Moto Pulse Escape, Zebronic Zeb Duke, etc and the audio leak is prominent at full volume. Just like on Blaupunkt BH11.
So while traveling or commuting don't go beyond 80 percent of volume to save yourself from embarrassment!
Let's talk about noise cancellation. In this price range, you cannot accept active noise cancellation. What you get on these headphones is passive noise cancellation which doesn't need any special mechanism.
The built quality, fabric, and padding of the ear cup play a major role in some noise isolation. It will not magically block all the noises or ambient sounds around you but can cut it by 20 to 30 percent. Especially insect noise & ceiling fan noise. And if you play a song then you'll be totally cut from the surrounding.
Should You Buy Blaupunkt BH11?
As of our Blaupunkt BH11 review, we are quite shocked to see such a great over-ear headphone not getting the required attention. Be it built quality, comfort, design, etc. Blaupunkt has really done their homework!
In the hand as well as on the head, the headphone feels premium and sturdy. it certainly has a weight(303 grams) to it but it is well distributed.
Secondly, the audio quality is by far the best we've experienced. Usually, we take JBL and Infinity headphones to be the benchmark but Blaupunkt has really struck us to change the thought process!
You talk about detail, bass, vocals, instruments, etc. every sound is critical clear. Need more bass? No worries! Switch to Turbo Bass and be ready for thumping bass all around your ears!
In terms of features, it doesn't disappoint either. You get dual pairing mode for Bluetooth then you have an aux-in to enjoy music without needing a battery!
With all these positives, it does come with a con and that's the mic quality. It's just like other headphones in this price range. Your audio will sound bass-heavy or dull instead of sharp and clear. One can immediately guess that you are using a headphone.
If you looking for an over-ear headphone exclusively for calling then Tribit XFree is a great alternative.
So to sum up, keeping all the pros and cons in mind, we still choose Blaupunkt BH11 as the best wireless over-ear headphone under 2000!
PadhKeDekho Rating: 9.5/10
Buying anything using the below Amazon links will help us earn a small commission at no additional cost to you. This doesn't change our feedback on the products. All you get is 100 percent unbiased reviews and opinions.
There you go, guys! This was our Blaupunkt BH11 Review. if you have any queries or doubts about this headphone or perhaps about any headphones or earphones, comment below or reach us on the below social accounts. We would love to help our readers.
Articles That Might Interest You!
F.A.Q
Is Blaupunkt BH11 Good?

Yes, it has good built quality, comfort on offer, and killer audio out. But if you need a headphone for calling then this is not for you. We've shared our ownership review here. Click now to learn more!
How to Pair Bluapunkt Headphones?

The process is just like any Bluetooth headphone. If this is your first Bluetooth headphone then do this.

Step 1) Turn Bluetooth on your smartphone as well as on the headphones.

Step 2) Head over to the phone's settings.

Step 3) Under Bluetooth, you will see the name of the Bluetooth headphone. if not, make a search for a new Bluetooth device.

Step 4) Tap on the device name and allow some permissions.

*In case, your device asks for a pin code then enter 0000.
Should I Buy Blaupunkt BH11 Bluetooth Over The Ear Headphone?

Yes, it has good built quality, comfort on offer, and killer audio out. But if you need a headphone for calling then this is not for you. We've shared our ownership review here. Click now to learn more!