[Updated on 17 July 2023] This lighting cable is over 2 years old now and it's truly indestructible. If you have rough handling then this is the one to get. Back to the BoAt LTG 500 Review!
Is your beloved iPhone's charging cable showing its age? Usually around 2 years Apple charging cable starts to break around the lighting port. As a result, the phone keeps on connecting and disconnecting. Ultimately stops charging with a little movement. I know it gets frustrating and nothing you can do to save it other than using a tape! Which does not look good.
Buying a new lightning cable is the most logical choice. Apple's original lighting cable is around 2,000 Rs which is expensive. Whereas, BoAt LTG 500 is an Apple MFi-certified lightning cable that's half the price and is "indestructible" as per BoAt! So is it as good as advertised or should you consider something else? In this BoAt LTG 500 review, we will be answering just that!
Read More: Also, here's our comparison of BoAt LTG 500 VS Amazon Basic which you can check out here. Both are quite similar in pricing.
Hey there! Welcome to PadhKeDekho, here we keep on bringing product reviews and comparison articles. Today we have BoAt LTG 500 review for you. Before getting into it, we want to make it clear that this is not a sponsored article. What you are going to read is all 100% true and unbiased! Just like the rest of the articles on PadhKeDekho.
So that being said, Let's begin the BoAt indestructible lightning cable review!
BoAt LTG 500 Review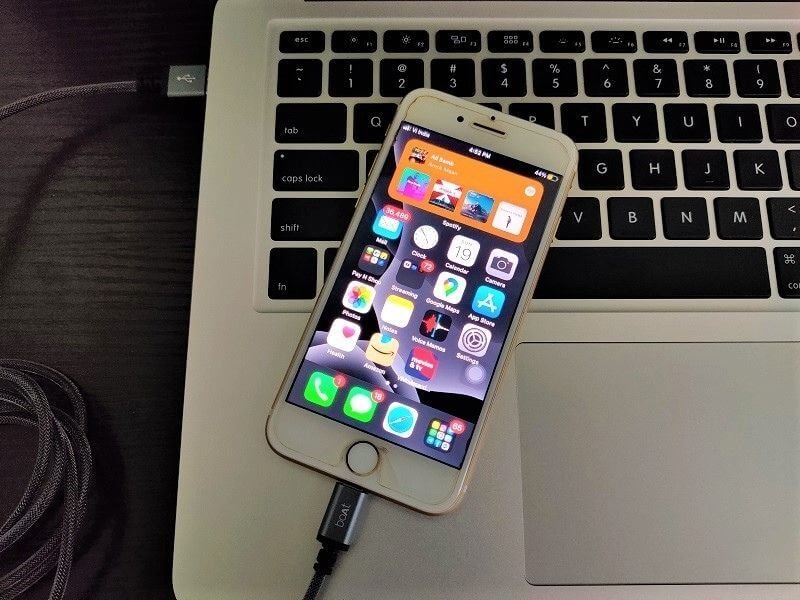 Built Quality (9/10)
We were quite skeptical about the quality as we ordered it in a flash simply based on our previous history with BoAt Products. At PadhKeDekho, we have owned and reviewed many BoAt headphones, earbuds, neckband earphones, Bluetooth speakers and so much more!
This time also, BoAt didn't fail to impress us! The built quality of the cable is quite great! To be honest, we were not expecting this under 1000 Rupees.
The wire is completely braided with aluminum material so it has its rigidity and feels quite premium in the hand. You can apply some force to bend it the way you like it. it's so rigid that it will stay like that as you can see in the picture below!
Now let's talk about the ports.
The lightning port and the USB 2.0 port have aluminum housing instead of plastic. This makes the cable usable for many years. Usually, the plastic housing gets cracked after a few falls or hitting the wall once you remove the phone from charging (Thanks to the small charging cable given by Apple).
Well, not anymore with BoAt LTG 500! So in terms of built quality, it gets a solid 5/5!
Look & Feel (9/10)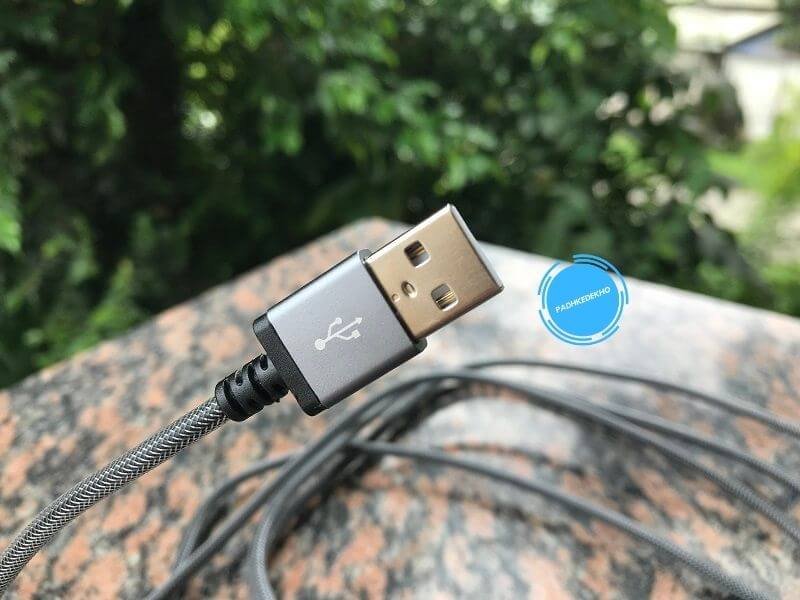 BoAt LTG 500 is available in Black, Metallic Silver & Space Grey. We got it in Space Grey and it looks quite premium.
In terms of feel, it's nothing like the Apple lightning cable. While Apple's cable is not braided & quite flimsy to break. It generally lasts up to 2 to 3 years if well taken care of. Whereas BoAt cable is completely braided with aluminum parts hence you can feel it with your nails. Due to the aluminum pieces, the wire seems quite rigid and feels very sturdy while handling.
if you're like me who feels itchy with nail filing or stainless steel utensils noise after rubbing with aluminum then this cable might bother you. Otherwise, it's all good!
Hence, in terms of look and feel, we are quite impressed. 4.5/5.
BoAt LTG 500 Review – Usability
Since it's an Apple MFi compatible cable it can be used with any Apple product that has a lightning port. Be it iPod, iPad, iPhone, etc. We were not very confident about the claims. Because we have tried many lightning cables from Amazon and Flipkart even offline markets that claimed to be certified but they were nothing less than disappointment.
Charging is never an issue even if you buy a 100 Rs cable but as soon as you will connect with your computer for data transfer then those cables will simply not work. Even you will receive a popup on your iPhone that "This accessory may not be supported".
Another issue you might face with those cheaper cables is longevity. They are non-dependable. The maximum one cable worked for us was a month.
So we wanted to go with a brand that gives the best warranty and whose service we have already experienced.
Fortunately, BoAt LTG 500 is fully compatible with any computer be it Windows, Mac & Ubuntu (tested on all three). You can easily sync your iPhone via iTunes or file transfer without any issues. This was a big relief. We have been testing it for a few weeks now and it's going strong!
We even used the cable for the purpose of a hotspot and it was also working! As per BoAt, the file transfer speed can go as high as 480 Mbps and we had no issues with that too.
So be it syncing or making a backup using iTunes, changing from a laptop, or using it as a hotspot, this BoAt LTG 500 cable will not disappoint! Hence 5/5 in terms of usability.
Why You Should Buy BoAt LTG 500?
#1 2 Years Warranty
This is very hard to ignore. Usually, generic cables don't come with any warranty. Even AmazonBasics Lightning cable is quite similar in price and comes with 1 year of warranty. So, if you need longer peace of mind, go with BoAt LTG 500.
In the past, we have claimed BoAt service for one of our earphones which was BoAt Rockerz 255. Our overall experience went great and gave us the confidence to buy other products from BoAt.
That's why rather than going with AmazonBasics lightning cable we choose BoAt.
#2 No Sync or Compatibility Issues
In one week, we all used this cable to pair various Apple products like iPhones, iPods, etc, we never had any issues via syncing. For the sake of testing hotpot capabilities via the cable, we used several iPhones to use as hotspots. Even then, this cable has not disappointed us.
#3 Lengthy Cable at 2 Meters Length
To be frank, we never liked Apple's tiny lightning cable in the box. Why? because every time we used to disconnect our phone from charging from the wall socket, it used to bang on the wall facing the lightning port. This has damaged the plastic housing of the port. In the course of 2 years, this became the reason for the socket breaking.
So with a longer wire, you can easily connect to any charging socket while keeping the phone in a safe and secure place. Even you'll get more area to cover like computers below the office desk.
#4 Aluminum Alloy Housing
This point has reference from #3. Even if the cable or housing hits the wall or floor it will not break it that easily. Sure scratches will be prominent in longer use due to the aluminum built but the housing will not break in any circumstance. The same goes for USB 2.0. Unless hit deliberately!
#5 Sturdy Built
The wire has been braided with aluminum hence it looks and feels quite durable. We tried to bend it and roll it on the phone and a few other things to see any damage but no, we failed to damage it! We didn't try to cut it though we are in the full mood maybe will do that in the unboxing video! So it's quite a sturdy cable in this price range.
So Should you Buy BoAt LTG 500 Lightning Cable?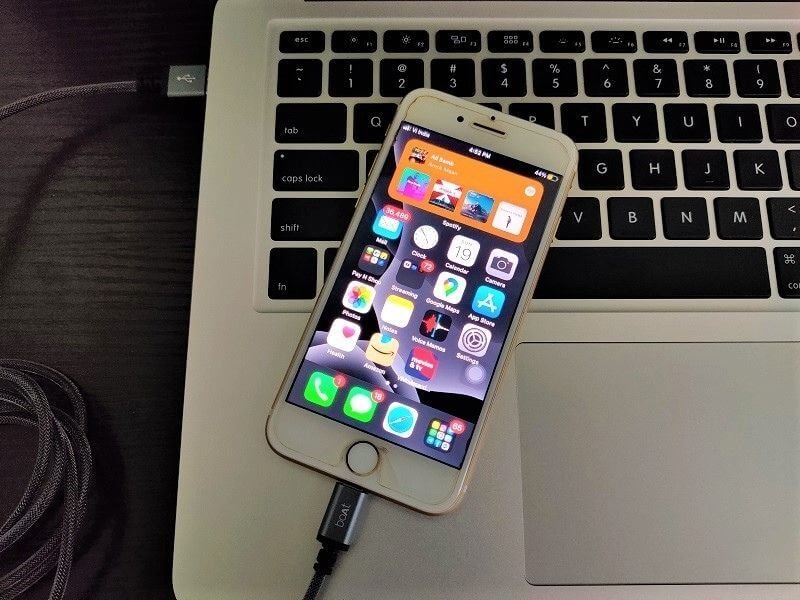 if you need a strong, sturdy, premium-looking 2-meter cable for your Apple devices, then yes you should definitely buy BoAt LTG500. It has everything one could have asked for.
It comes with a 2-year warranty, is completely breaded with aluminum, USB 2.0, and lightning cable housing is aluminum instead of plastic, fully compatible with iTunes on any Windows, Mac & Ubuntu (For hotspot and data transfer using folder) computer.
So all in all, it's a great buy and far far far better than the generic ones (online/offline) for around 300 Rs.
That's it, Folkes!
This is our BoAt LTG 500 review after using it for a week. We are more than satisfied with our purchase and it certainly has our recommendation around 800 Rupees. Technically half the price as Apple's original lightning cable! Though BoAt's MRP is ₹1749!
Please use the below Amazon link for any purchase. It will help us earn some commission that will keep genuine content flowing at no extra cost to you! Thank you for being a patron!
Having last-minute doubts before buying? Then reach out to PadhKeDekho's official accounts. We would love to help!
Thanks for reading guys! if you found it helpful then do share with your friend and family and help them choose better!
Articles That Might Interest You!
F.A.Q
Is BoAt Lightning Cable Good?

Yes, it has good built quality, strong & sturdy aluminum breading along with aluminum housing for the ports instead of plastic. Under 1000 Rupees, it is a great lighting cable that is Apple MFi certified.
Is BoAt Cable Apple MFi Certified?

Yes, BoAt LTG 500 is Apple certified and completely compatible with charging and data transfer using iTunes. Moreover, you can also use this for hotspot purposes.
Is BoAt Cable Apple Certified?

Yes, BoAt LTG 500 is Apple MFi certified and can be used with any Apple product that has a lightning port. We have tested data syncing via iTunes, hotspot, and charging via computer the cable does everything.
Which is The Best Lightning Cable?

Other than Apple, BoAt LTG 500 is a good alternative. It's economical and supports every Apple product with a lightning port, aluminum braiding all around along with aluminum hosing for the ports.