BoAt Bassheads 900 is the most popular wired headphone under ₹1000. We recently bought it, used it for 3 months and it definitely justifies the name it has earned. But on a slightly lower budget price, an over-ear wired headphone is available that is gaining people's attention. That headphone is Boult Audio Bassbuds Q2. So does Boult Audio Bassbuds Q2 makes sense? Or should you buy boAt Bassheads 900? Perhaps, between Boult vs BoAt who do you think will win? There's only one way to find it. And that's BoAt Bassheads 900 vs Boult Audio Bassbuds Q2 comparison!
Update: Both headphones are on a heavy discount at Amazon's Great Freedom Festival Sale. Click now to check out the deals!
Hey There! Welcome to PadhKeDekho! If you are new around please bookmark this website and press the red bell icon on the left to be notified by our new coverage. Because we keep on bringing articles like this, tips and tricks, reviews, etc. that will make your life easier and gain a better deal!
This comparison will keep all the factors like built quality, specifications, audio quality, mic test, noise cancellation, etc. into consideration. So sit tight and let's kick things off with the similarities, differences, and then our experience with both of them!
Features Common Between Boult Audio Bassbuds Q2 Vs BoAt Bassheads 900
Differentiating Features Between Boult Audio Bassbuds Q2 Vs BoAt Bassheads 900
BoAt Bassheads 900 Pros And Cons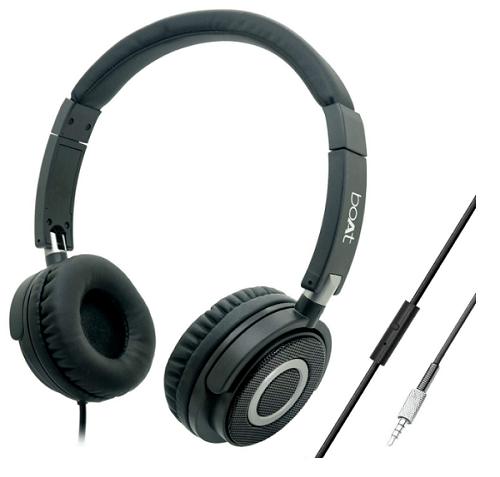 Boault Bassbuds Q2 Pros And Cons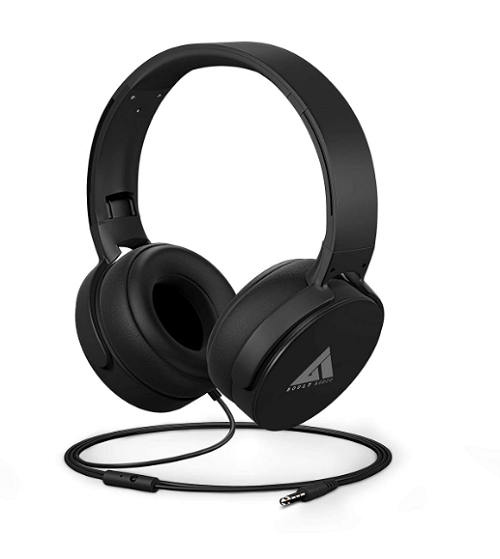 By now, after seeing the similarities, differences, pros, and cons between the headphones, you must have selected your next On-ear headphone. But there's more and you should definitely check out those parameters. Let's begin with Built Quality.
BoAt Bassheads 900 Vs Boult Audio Bassbuds Q2 Comparison – Built Quality Test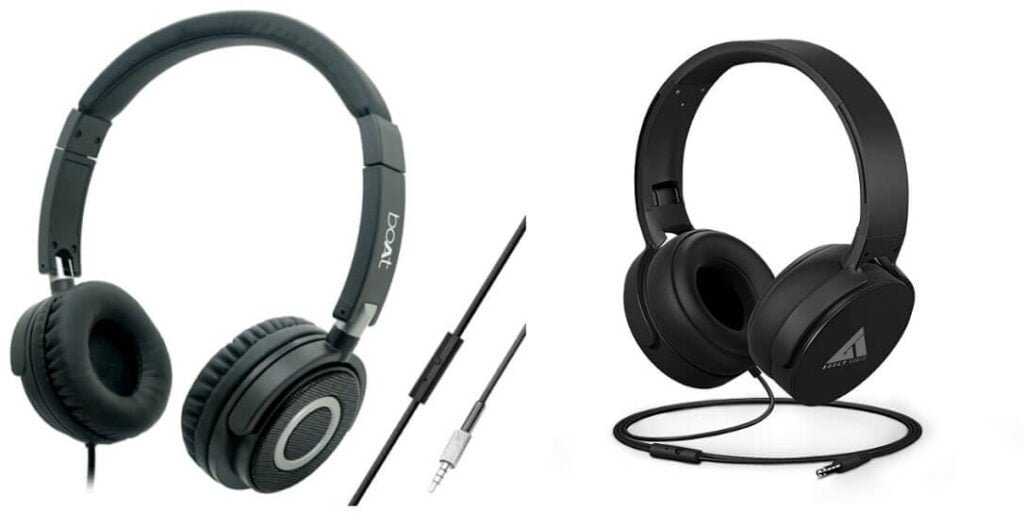 BoAt Bassheads 900 ear cups can be folded and additionally they can be slightly tilted in four directions. As a result, you will get a better snug fit and comfort. Unfortunately, Boult Bassbuds Q2 can be tilted upwards and downwards. To overcome this, Boult Bassbuds Q2 offers even softer ear cups than BoAt Bassheads 900. This means you can wear them for longer durations comfortably.
The next difference will be the headband. As it is clear from the above images that Bassheads 900 offers a soft material cloth or fabric. Unlike, Boult Bassbuds Q2 where a typical plastic/form grip headband is available. The headband is also responsible for a better comfortable grip. So Bassheads 900 will be more comfortable for extended use.
If we talk about the durability then the boAt Bassheads 900 headband takes the cake here. Because the headband adjuster is of steel. Unlike, Boult Bassbuds Q2 where plastic is used.
Therefore, if you want a better fit, comfortable overall experience then boAt Bassheads 900 will be better.
Boult Audio Bassbuds Q2 Vs BoAt Bassheads 900 Comparison – Audio Quality Test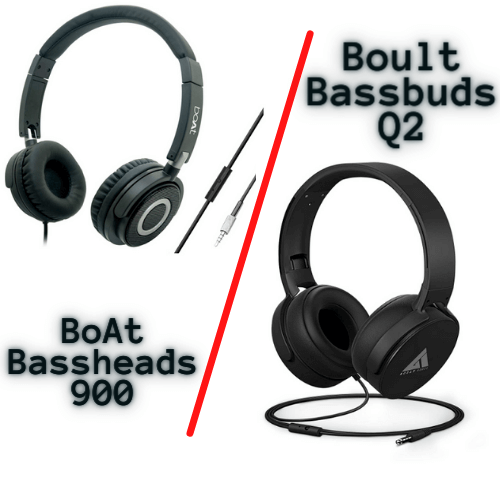 This is the most important section and here we are going to tell you exactly what we experienced. BoAt Bassheads 900 has a small form factor and is indeed an on-ear headphone. But Boult Audio Bassbuds Q2 has a bigger diameter and can cover your complete ears, just like an over-ear headphone.
Due to the form factor, you will feel better deep bass on Bassbuds Q2. Even though both offer a 40 MM driver size for music creation. It doesn't mean BH 900 has less bass or anything but due to bigger ear cups of Q2, the bass seems more promising.
Other than the bass, Boult Bassbuds Q2 offers good treble and my overall experience is good. But not great! Why? Because I felt it lacks loudness. This setup is important to get high/deep bass. But I feel BoAt Bassheads 900 takes care of everything in a better way.
The bass is great, clarity is good, vocals impressive, and overall listing is enjoyable. If only beats are what you are looking for then any of them will not disappoint. But Boult Q2 will take the lead. Otherwise, if you need everything on point, then Bassheads 900 will be an ideal choice.
Looking for a headphone with the best mic for the WFH environment? Then Boult will be a better pic as it captures less background noise than your voice! But keep it in mind, your audio will sound high in treble. Unlike on boAt 900, where it will have a heavy base. If you plan on recording audio for YouTube videos then BoAt Bassheads 900 will be better.
Boult Audio Bassbuds Q2 Vs BoAt Bassheads 900 Comparison – Which Does Better Noice Cancellation?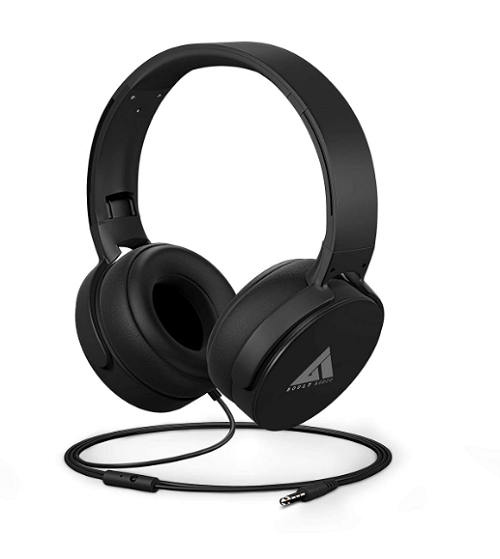 BoAt Bassheads 900 comes with noise isolation. Whereas, Bould Audio Bassbuds Q2 comes with passive noise cancellation for distortion-free music. Though both seem somewhat similar however there are differences. So, without going into the technicals, it is Boult Bassbuds Q2 that works better.
Therefore on Boult Q2 headphones you will hear less outside disturbance and can enjoy your music in a crowded bus or metro. The major contributing factor for noise cancellation is the ear cups. Since Bassheads 900 is an on-ear headphone it manages to isolate background noise but not as good as Boult Bassbuds Q2.
Where Bassheads 900 shines is in managing the audio leak. If you don't know the audio leak is a situation when people nearby in your close proximity let say in a bus or metro or sleeping next to you can listen to what you are playing. This audio leak is minimum even if you push to full volume. However, It is not the case with Boult Bassbuds Q2. We felt the audio leak more on Bassbuds Q2.
It can be embarrassing sometimes, so better go with BoAt Bassheads 900! Or reduce the volume to 75% which I usually do!
So Who Is The Winner Of BoAt Bassheads 900 Vs Boult Audio Bassbuds Q2 Comparison?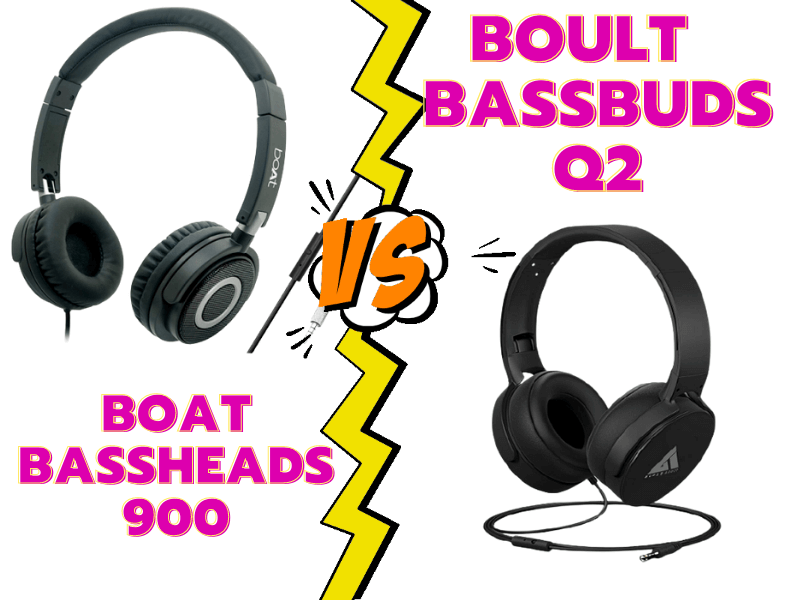 Both are great pairs of headphones. Choosing one over the other is difficult even for us, who have used them. But there are few pointers that we have discussed above that make them different. So let me break our review into pointers so that you can choose better.
Buying any of these ensures you good audio and built quality. Both will add proper value to your purchase. So without any second thought buy any of them and you will not be disappointed!
If you are looking for a wired headphone that offers the killer bass, best passive noise cancellation, good call quality for work from home use then Boult Audio Bassbuds Q2 will be the ideal choice. However, you have to manage on a slightly lower built quality (plastic headband adjuster)of the headband.
BoAt Bassheads 900 is ideal for someone who wants to enjoy music with every instrument, vocals, clarity, and along with more than sufficient bass. It is also suitable for someone who is willing to record audio for YouTube videos due to a mic that produces heavy bass audio.
Yet again I am saying (well writing), if you buy any of the above you will have the best experience without a doubt! And please buy these using the below-mentioned Amazon links. By doing so you will support this website to grow at no cost to you. Thanks!
That's It For Now, Guys!
Just like the above article, we share our 2 cents in the form of reviews, tips & tricks, comparisons and opinions so do check out those articles. And if you liked the content do share it with your friends and family! Thanks, we will see you at the next one!
Do you have doubts or queries? Then connect below or reach us out on the below social accounts. We would love to help you out! Thanks for reading guys!