BoAt Rockerz 550 and Blaupunkt BH11 are the best over-ear headphones under 2000 Rupees. But which one is the best for you? You'll get to know that in this BoAt Rockerz 550 vs Blaupunkt BH11 comparison.
At PadhKeDekho, we've used these headphones for a month before coming to a conclusion. As always this is not a sponsored article by and brand, what you are going to read is 100% honest and consumer review.
Here, you will get to know the differences, pros & cons, built quality, comfort, usability & practicality, clamping force, audio output, battery backup, mic test, and most importantly, which is ideal for you. So that being said, welcome to PadhKeDekho, and let's get started!
BoAt Rockerz 550 and Blaupunkt BH11 Major Differences
BoAt Rockerz 550 Pros & Cons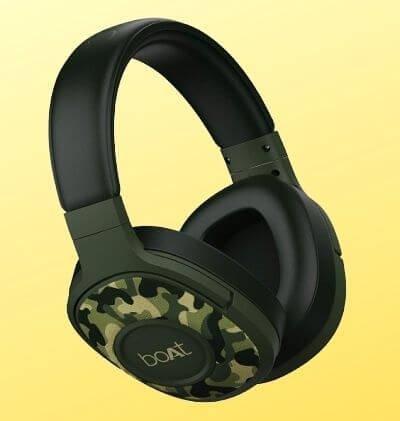 Blaupunkt BH11 Pros & Cons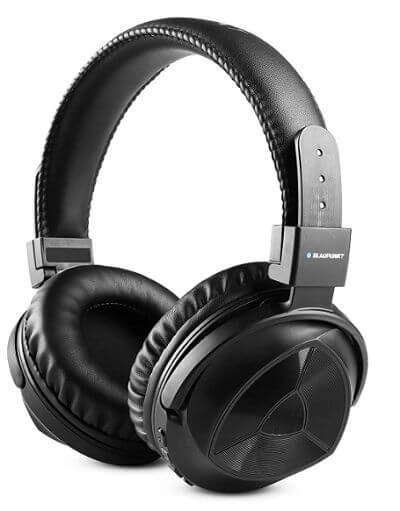 Built Quality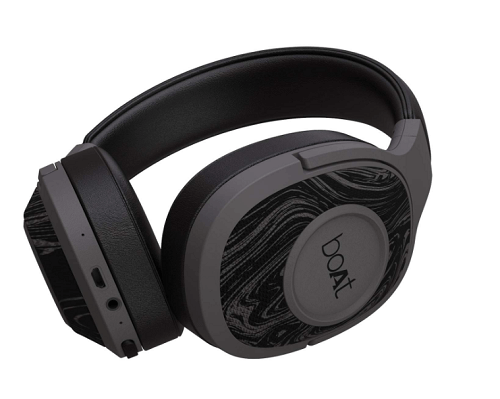 Platic used on both the headphones is very good and there is no squeaking present at all. One thing that goes in the favour of BoAt Rockerz 550 is the elements of steel on the headband adjusters and headband itself.
Due to better elements, Rockerz 550 is a little more flexible and durable. So if you need a headphone with steel elements then Rockerz 550 is better.
On Blaupunkt BH11 the overall construction is good quality plastic without any metal or steel adjusters. But after stretching and folding it more than 100 times it is quite durable too.
So, if I've to rank these based on built quality then BoAt Rockerz 550 is 4.5/5 and BH11 is 4/5.
Comfort
For comfort, both are head to head and you will not be disappointed with either. You can easily wear these with spectacles or sunglasses for 5+ hours. The padding on the earcups is very soft, cushiony, and most importantly durable.
However, the different designs of the earcups offer several effects. As Rockerz 550 has semi-circular earcups, you will witness some pressure on the ear. So it's certainly bigger than the on-ear headphones in the market but not exactly like the big over-ear headphones.
While Blaupunkt BH11 has big circular earcups that will make contact with your skull and cover your ears entirely. So for longer hours, Blaupunkt BH11 will be more comfortable.
Another good thing about both the headphones is the use of padding below the headband which adds more comfort for an extended period of time.
The headband on both headphones have a good level of adjustments, so these two can fit any head size. I personally have big ears and bigger head sizes thanks to the turban, and both fit perfectly.
So BoAt Rockerz 550 vs Blaupunkt BH11 comfort test, it's BoAT Rockerz 550 at 4/5 and Blaupunkt BH11 is 4.5/5.
Usablity & Praticality
Using big over-ear headphones does bring a few concerns which might affect your user experience in the longer run.
If you are like to travel while consuming media and then keeping the headphone on the neck after using then BoAt Rockerz 550 is more practical. Because you can tilt earcups as per your liking hence they can rest on your neck without touching your chin or hindering your neck movement.
While Blaupunkt BH11 is fixed and cannot be tilted inwards or outwards. Hence for portability and traveling, Rockerz 550 is better. Moreover, in the backpack both are good but it's Rockerz 550 that will take less space.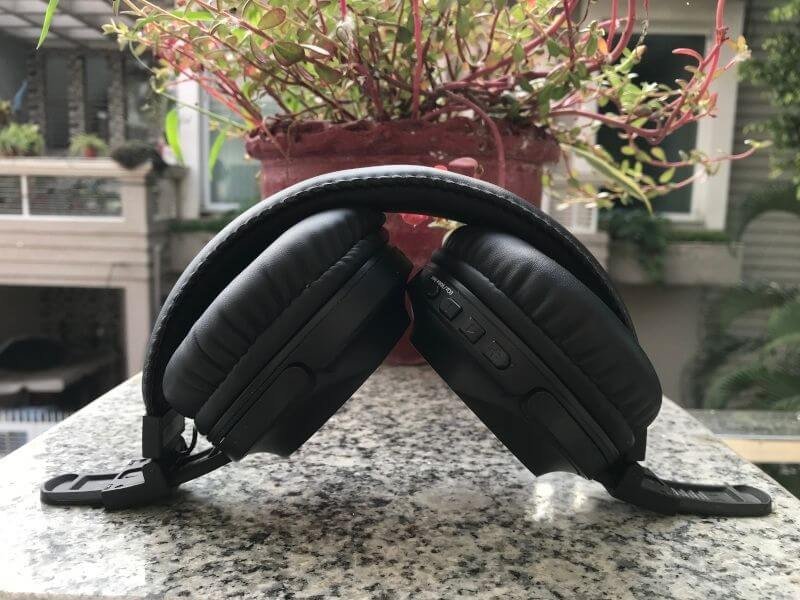 Clamping Force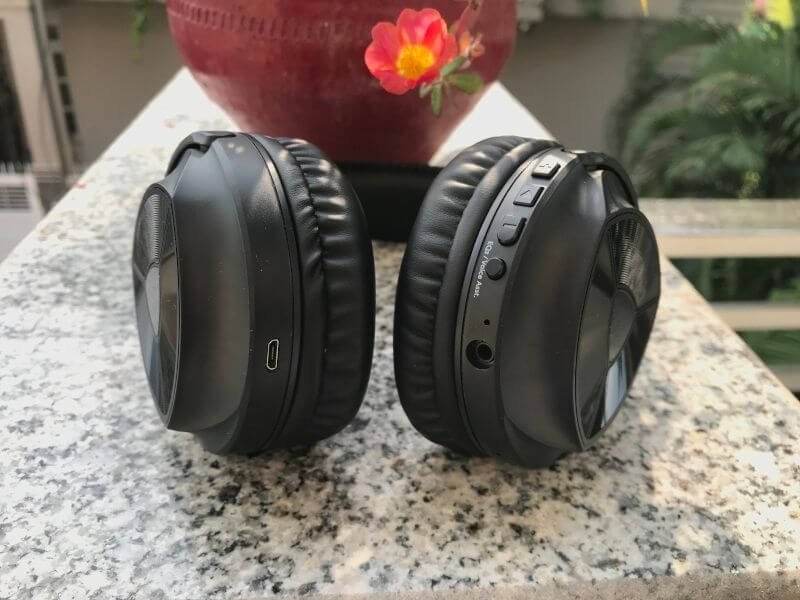 if you like to go for runs or walk or perhaps hit the gym with your headphones, then you will have a good time with both. Because the clamping force is very strong. These headphones will not easily fall from your head even under heavy workouts.
I personally keep on switching between these back and forth, and they are pretty great in regards to their price.
Usually, headphones that have higher clamping force cannot wear for longer. But thanks to the over-ear design on these headphones, this is not a problem.
So in terms of claiming force, I will give both a 4 out of 5. 
Audio Output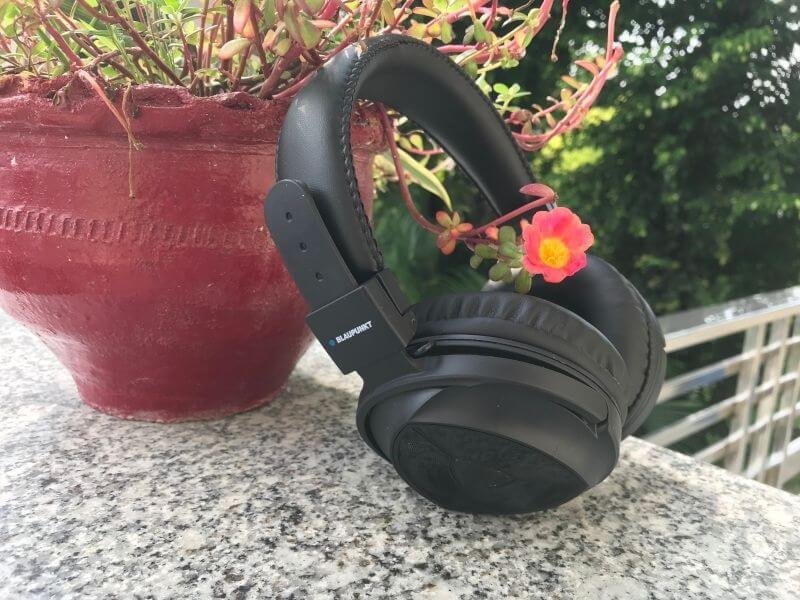 if you are concerned about audio in general then you can take a deep breath and go with any of these. Both are great for vocals, instruments, treble, loudness with a distortion-free audio experience.
To be honest, these are by far these are the best over-ear headphones below 2000 Rupees. Why? Because the audio delivered is very clear and full of detail. Secondly, no audio distortion is the icing on the cake! 
The biggest difference lies in the bass department. Even though Rockerz 550 has 50mm audio drivers they are not bass-centric or bass-heavy headphones. While Blaupunkt BH11 with 40mm audio drivers takes the overall listing experience to next level.
if you need a bass boosted or bass-centric over-ear headphone with a dedicated Turbo Bass mode then Blaupunkt BH11 is the way to go!  
Another great thing about these two is the audio distortion. Both headphones are very audible at full volume with little to no audio distortion. Usually, some headphones under 2k do offer audio distortion above 80 percent of volume. So the audio drivers used in both headphones are not just about numbers but are very capable.
I will give 4.5 to Blaupunkt BH11 and 4 to BoAt Rockerz 550. 
Battery Backup
BoAt Rockerz 550 and Blaupunkt BH11 are marathon runners in regards to battery backup! These headphones can easily go for 1-2 weeks if you'll use them for 3 to 4 hours a day via Bluetooth.
if your use case scenario is more based on wired connection then these can easily last for 15 to 20 days. 
So in terms of battery backup, you don't need to worry about that! Secondly, both headphones have support to aux mode. Hence when you are running low on battery, you can connect via the aux cable provided in the box and use it as long as you want.
On paper, BoAt Rockerz 550 has a 500 mAh unit while the BH11 has 450 mAh. But in day-to-day use, both are at par and you will not be left desired for more! 
So in the battery test of BoAt Rockerz 550 vs Blaupunkt BH11, Both are winners and score 4.5/5 respectively!
Mic Test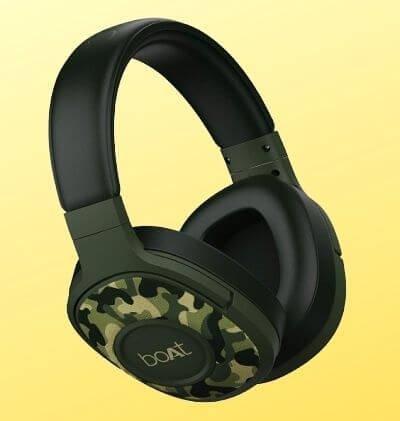 if calling wirelessly via headphones is your priority then BoAt Rockerz 550 is a better deal. The overall mic output is sharp and clear. While on BH11, it has a lot of basses, and seems like you are quite distant from the headphone.
On both the headphones you can enhance the call quality by switching to an aux cable that comes with a microphone. Unfortunately, the aux cable that comes in the box, doesn't have microphones. Hence, you'll need to buy it separately.
So BoAt Rockerz 550 vs Blaupunkt BH11 Which is Better?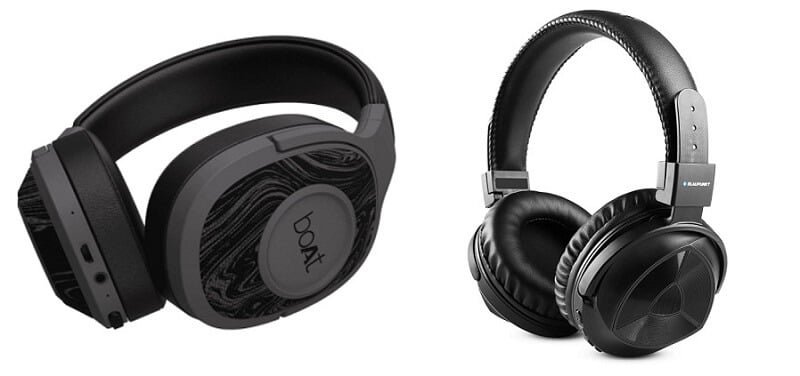 To sum up, both are great over-ear headphones under 2000. From built quality to comfort to audio quality and everything in between they are excellent and fully paisa vasool! But there are a few things that make them stand out.
BoAt Rockerz 550 offers slightly better headband adjusters, more suitable for travelers, decent call quality, around 70 grams littler than BH11, and multiple color options. While not being a bass-centric headphone, a little more pressure on the ears and not able to connect to two Bluetooth devices at a time.
All the cons of Rockerz 550 are the plus points of Blaupunkt BH11 while adding more to the list like dedicated Turbo Bass mode, memory foam on the ear cups, and a better/more solid built quality. But the biggest con of BH11 is the microphone. Which is below average.
So, if you need a headphone that can take care of your calling needs then you can go with BoAt Rockerz 550. it's not day-night different but leaps ahead of BH11.
Now for our recommendation.
if you need a killer audio quality with thumping bass and need pumping adrenaline then Blaupunkt BH11 is the best option. Otherwise, BoAt Rockerz 550 is a great overall package with a decent microphone for calling.
Read More: Best Over-Ear Headphones Under 2000
There You Have it, Folkes!
This was our BoAt Rockerz 550 vs Blaupunkt BH11 comparison. if we helped you in your decision making then please use the below Amazon links to buy the headphone as it will help us earn a small commission from the brand at no additional cost to you!
Do you still have last-minute doubts? Then don't worry, reach us out on the below social accounts we love to help our readers!
Thank you so so much for reading our Blaupunkt BH11 vs BoAt Rockerz 550 comparison! PadhKeDekho signing off!