[Updated on July 17, 2023] It's been over 1 year and 6 months since we bought it and it's doing a decent job. The readings are almost accurate and even after a few falls it's in good shape. Back to the article.
Omron infrared thermometer is an answer for three problems; instant forehead temperatures, actual room temperature, and the surface temperature of anything.
Primarily we bought it to check the fever of our little one or infant who can't keep constant when checking fever reading. The best part is, it does not take over 3 seconds to point and record the reading.
But there are so many questions floating around Omron MC-720. Like hows' the built quality? it is user-friendly? Are the readings accurate? Can you change Calculus to Fahrenheit or vice versa? Then in this Omron MC-720 forehead thermometer review, you will get all the answers!
Here at PadhKeDekho, we thoroughly test products for at least a month before publishing an article. So that we can provide the best information that will help our readers!
Omron non-touch thermometer MC-720 does 3 things; Forehead temperature reading, room ideal temperature, and surface temperature. I will talk about everything but will start with the forehead thermometer.
#1 Testing Temperature With Omron MC-720 Forehead Thermometer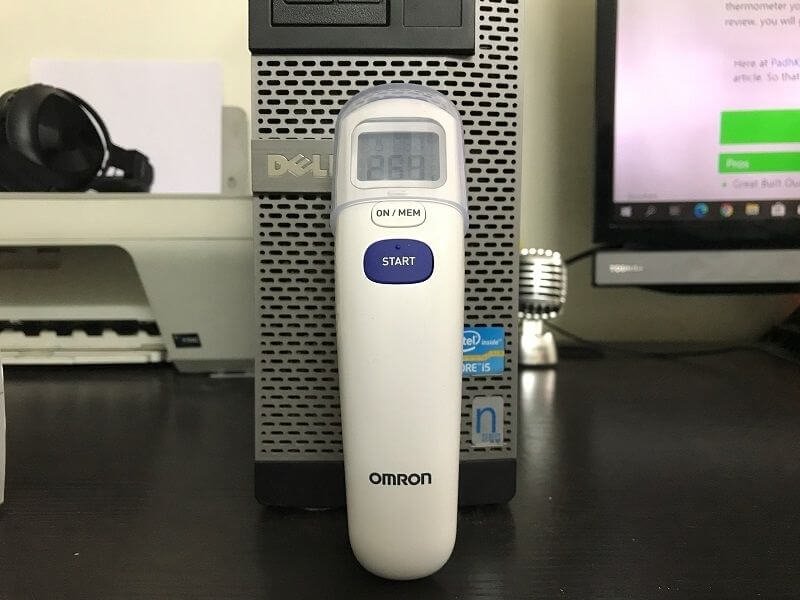 Having a newborn baby or infant is a blessing but when the kid gets a fever it's a nightmare. The baby will not let you use any thermometer that takes more than a few seconds. Because Babies with fever become cranky and continuously move.
Due to the continuous movement and a slow thermometer, you will ultimately be left wia doubtful resultful. However, if you get an instant contact-less forehead thermometer then the story is day-night different.
The answer to your questions lies with the Omron MC-720 forehead thermometer. We have been using it for a month now and we are quite impressed with how accurate this thermometer is.
For testing, we tried to record temperatures with this instant thermometer and a regular "desi" one! Here's the result.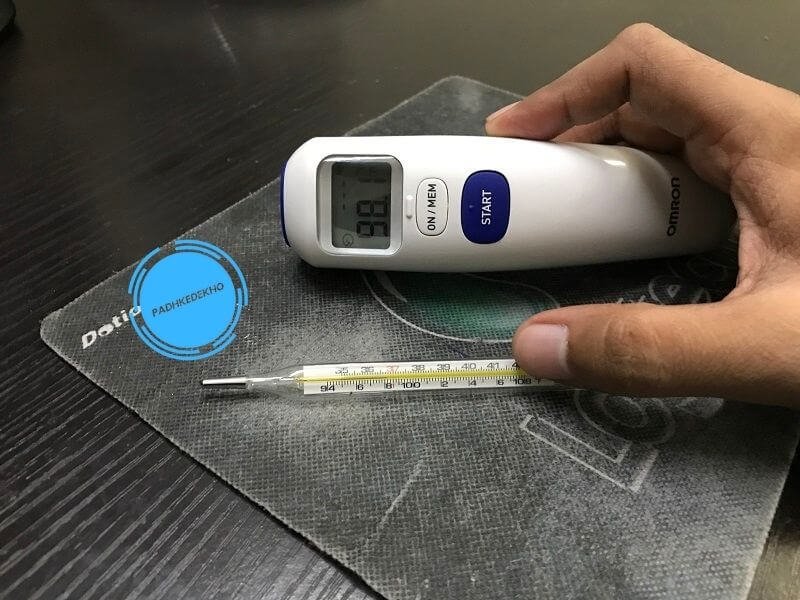 As you can see the result is 98.1F on both the thermometers. This means two things; first Omron MC-720 is very accurate and second, it gave us the reading in one second while the other took at least a minute, and had to sit idle for that.
So if you are worried about inaccurate results, then throw that thought away and pick up the Omron MC-720 forehead thermometer!
Initially, we had a hard time getting it up and running. Because it packs in so many features. Therefore, we would advise reading the user manual before using it. The manual in the box is printed in English and is quite detailed. So within no time, you'll know how to set it up and use it.
#2 Omron MC-720 Forehead Thermometer For Surface Temperature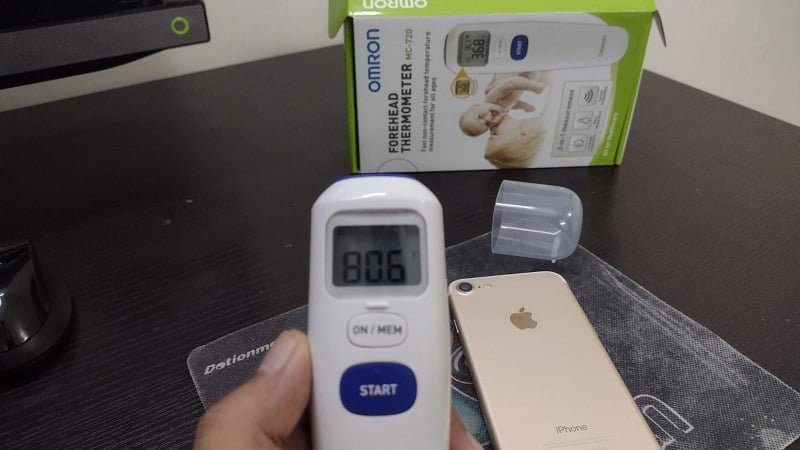 This thermometer can easily and instantly record the surface temperature. So you don't need to buy an additional heat gun! To monitor the surface temperature you'll need to change the mode from the forehead thermometer setting to the surface one.
You can do that in three easy steps.
Press the ON/MEM button to power it on.
Now, press and hold the ON/MEM button.
While holding it down, press the START button.
After following the 3 steps, you'll see an upside-down WIFI-like logo!
Now all you need is to get close to the device that you need to monitor and press the START button. Within a second, you'll have your result. Since a have an infant nephew who takes bottle feed hence with Omron infrared thermometer helps me to check the temperature before feeding him.
The milk temperature should be around 98.6 deg Fahrenheit or 39 deg Celcius. With the help of this infrared surface thermometer, I don't have to pour milk on my hand while he is constantly crying for the meal!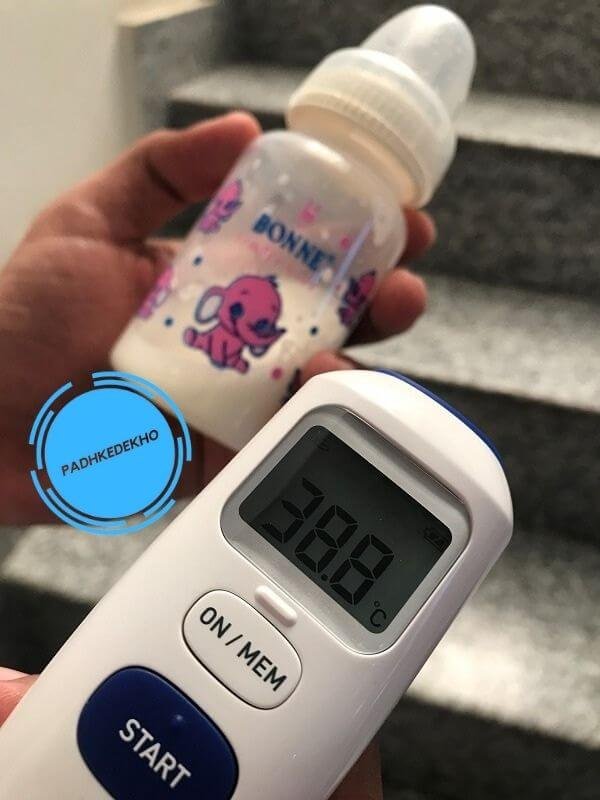 In a second experiment, we tested it on iPhone 7. The temperature is 80.6 Fahrenheit. Since we don't have a temperature gun, we compared the result with a trusted website. The ideal temperature range should be between 32 to 95 Fahrenheit and our reading shows 80.6F which is in-between so it's all good!

How to Change Celcius to Fahrenheit

When it comes to body temperatures, we Indians are accustomed to Fahrenheit instead of Celcius. And seeing a result in the line of 30 deg C might make people think of this as a faulty unit and rate it 1 star on Amazon!
So if you see readings in Celsius then you can follow these 2 steps to switch between Celsius to Fahrenheit within 10 seconds!
Step 1: Press and hold the START button.
Step 2: Now Press and hold the ON/MEM button until "F" appears on the display. The machine will also beep 2 times.
Note: Switching between the two is very easy if you are in Fahrenheit, repeat both steps and you will change to Celcius. Changing from Celcius to Fahrenheit and vice versa will remove all the saved records from the memory.
#3 Omron MC-720 as Room Temperature Monitor
On the Omron MC-720 forehead thermometer, you don't get a dedicated room temperature mode. When the device is off or ideal for a few minutes it starts to show ideal ambient temperature.
The temperature shown will be in the default settings. You can change that too from Celcius to Fahrenheit or vice versa as per your need. This will change the temperature through the device.
So how accurate is the room temperature mode on the Omron MC-720 forehead thermometer?
Well, it's fairly accurate in this test too. As you can see the digital weighing machine in my room is showing 29 deg C while the Omron MC-720 is at 28.8 deg C. So the difference is negligible.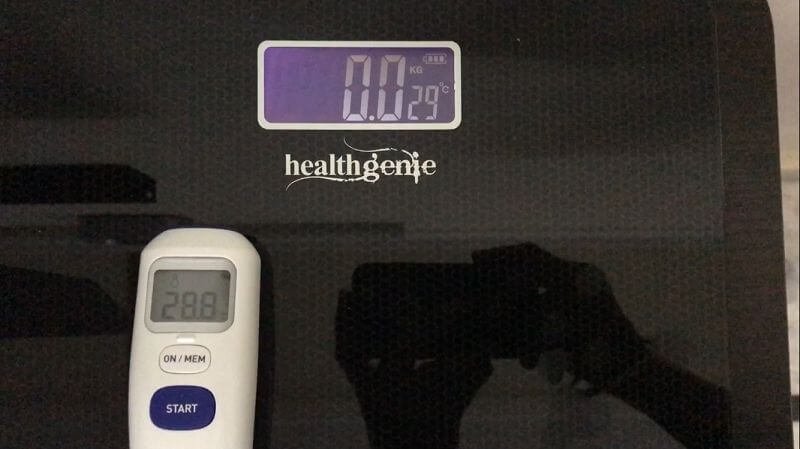 So Should You Buy Omron MC-720 Forehead Thermometer?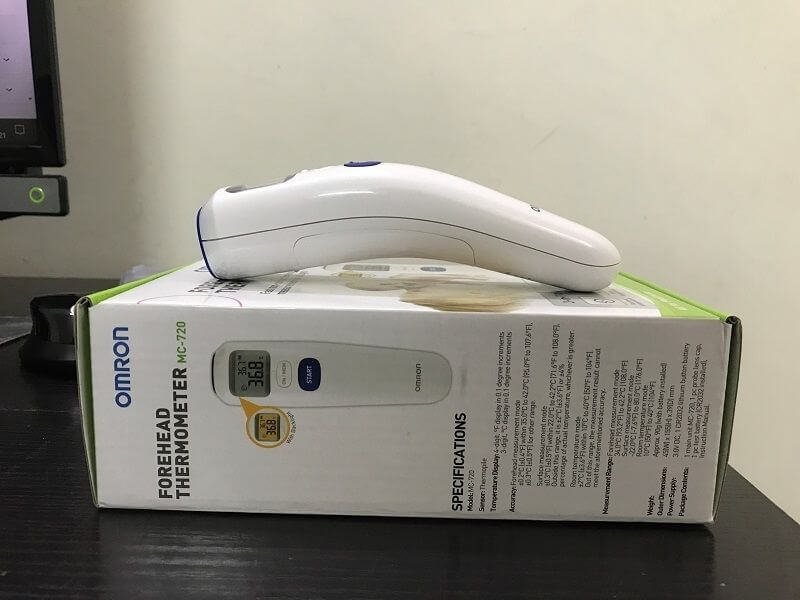 Yes, you should buy the Omron infrared thermometer because the temperature results are accurate and close to the medical instruments. Since we've tested it alongside multiple temperature guns in this price range (those reviews will be up soon!)
We've tested body temperature with a regular mercury thermometer as well. So, the results are scientifically proven and tested.
Hence, this is quite an authentic non-touch instant forehead thermometer that you buy. It's ideal for newborn babies, kids, and old age people who cannot sit for longer just for the temperature readings.
Now coming to the ambient or room temperature, it's fairly close to the actual temperature. Just like the forehead temperature and ambient temperature, the surface monitor works great too! We've tested it with similar devices and this one was the most accurate.
So it is not just a hyped product that doesn't work! It is certainly a great instant non-touch thermometer for under 2000 Rupees. After using it for a month now, we are more than satisfied with our decision and recommend you grab one of these!
Buying anything using the below Amazon links will help us earn a small commission at no additional cost to you. This doesn't change our feedback on the products. All you get is 100 percent unbiased reviews and opinions.
There You Have it, Folkes!
This was our Omron MC-720 forehead thermometer review. if you have any doubts or queries then reach out to the below social accounts. We'd love to help out our readers!
Found Omron MC-720 forehead thermometer review helpful? Then do share it with others so that they should also choose better!
F.A.Q.
How Accurate is Omron Thermometer MC-70?

Very Accurate. We've tested it alongside the regular thermometer and almost the same every time.
How Accurate is The Omron Forehead Thermometer MC-70?

The results are fairly constant and accurate. We've tested it alongside the regular thermometer and the results are almost the same every time.
What is The Battery of Omron Thermometer MC-70?

One CR2032 lithium button battery. For reference, it is also known as the Cmos battery that goes in the Computer CPU. It is easily available in the market. The one which comes preinstalled will work for up to 3 years.