[Updated on July 24, 2023] It's been over 4 months of us testing this over-ear headphone. So far it's been good. The headphone build is sturdy and very comfortable to wear. If you are looking for over-ear headphones then this is a good option. Alternatives can be Infinity Gldie 510 (Review) or BoAt Rockerz 550 (Review). Back to Zebronics Zeb Duke Revierw!
if you are looking for wireless Over-ear headphones under 1500 Rs, then Zebronics Zeb Duke is a good headphone. But is it good for your needs? Here we have all the answers for you!
In this Zebronics Zeb Duke review, we've used the headphone for a little more than 1 month before sharing the review with you all.
if you are new at PadhkeDekho, we buy tech products and share reviews upon using them for at least a month. This gives our readers added value whether they should buy a particular product or not. Since we are doing this for more than 3 years now, you can trust the opinions shared!
In this review, you will find the Pros & Cons, Specifications, In-box Contents, Built Quality, Looks, Comfort, Audio quality, Gaming, Mic test, Battery Backup, and at last our verdict followed by FAQs!
Zebronics Zeb Duke Pros & Cons
Scorecard For Zebronics Zeb Duke by PadhkeDekho
| Feature | Rating by 10 |
| --- | --- |
| Built Quality | 10 (Best Over Given) |
| Comfort – Ear Pads | 8.5 |
| Comfort- Headband | 9 |
| Clamping Force (0 Being Lose While 10 Being Tight) | 7; Can be Used For Walks/Jogs |
| RGB | 9 |
| Trebel | 7 |
| Bass | 9/10 Aux-in || 8/10 Bluetooth |
| Vocals | 8 |
| Instruments | 7 |
| Loudness | 9/10 Aux-In || 8/10 Bluetooth |
| Call Quality | 5 (Average) |
| Best Buy Link | Check the Sale Price on Amazon |
Zebronics Zeb Duke Specifications
| Feature | Values |
| --- | --- |
| Headphone Type | Over-Ear |
| Headband Material | Metal |
| Bluetooth Ver | 5.0 |
| Aux Mode | Yes |
| Driver Size (mm) | 40 |
| Battery Backup | up to 30 Hours |
| Support Fast Charging | No |
| Weight | 210 Grams (Approx) |
| Foldable | No |
| Best Buy Link | Amazon |
Inbox Contents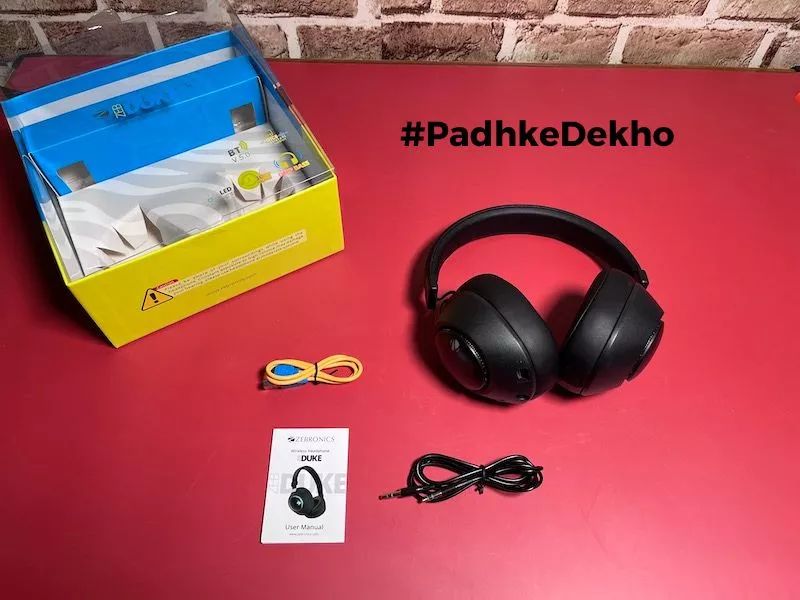 In the box, you get:
Headphone Itself.
Zebronics Branded USB to Mirco USB Charging Cable.
3.5mm Aux Cable Without Mic Support.
User Manual.
Built Quality (5/5)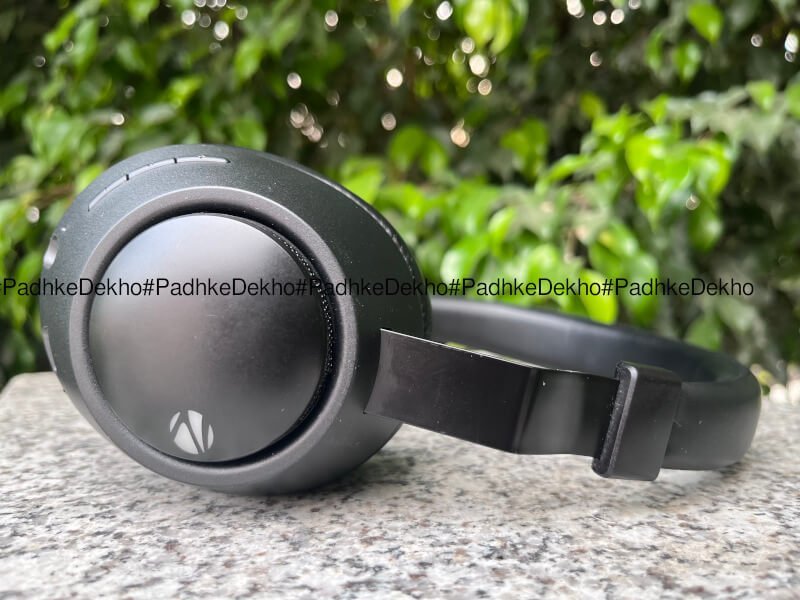 The biggest challenge with headphones under 2000 Rs is the built quality. Just to keep costs low, the brand uses weak plastic, as a result, the headphones usually break from the headband adjusters in a few months.
Plastic headphones, in general, are bad but there are versions like the ones on Infinity Glide 500 or 510. The overall construction is High Tensile PP which is the strongest plastic for headphones.
So where does Zeb Duke stand?
Zeb Duke is made of plastic (type is not disclosed) But the headband adjusters are of metal which makes it miles better than the ones which come with plastic headband adjusters. This is the second pair that we bought in three years (we lost one during our travels).
Many headphones are flimsy and make squeaking noise while wearing them. This is not the case with Zeb Duke. Hence if you have built quality in mind, then Zebronics Zeb Duke is for you.
We tried around 10 headphones under 2000 and made a selection of just a few ones under 1000 Rs and 2000 Rs. Here you can check out the best headphones under 1000, and the best over-ear headphones under 2000.
So in terms of built quality, Zebronics Zeb Duke is a sturdy one just like it looks in images. Out of 10, we will give it a full; 10/10.
Looks (4.5/5)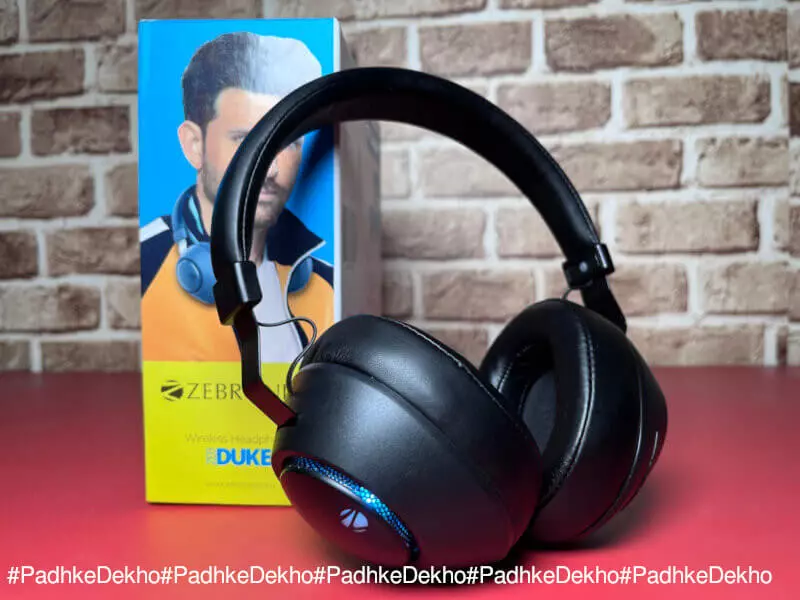 Zebronics went with a non-traditional design for this headphone, and we liked it. The big owl shape ear caps do give it a premium design. The headband is matte with fabric and cushion for good grip.
You can buy Zeb Duke in 3 colors; Black, Blue, and Green. So you have good color options too. The overall design language is matte which we personally appreciate.
But one thing unique about this one is the RGB mode. Which is automatic you cannot set one color. But Zebronics has given the option of turning the lights off by pressing the vol low and high buttons at the same time.
Similar to built quality, the design of Zeb Duke is on point. It looks and feels expensive. Just like that, we will give it 9/10 for its Looks.
Comfort (4/5)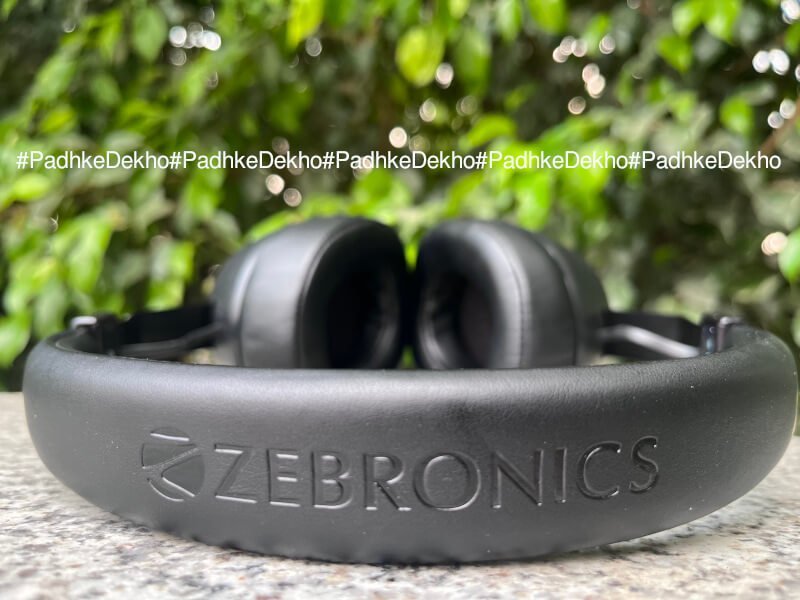 All features and built quality goes in vain when the headphone is not comfortable. Let's talk about that. In general, Over-ear headphones have a love-or-hate kind of relationship.
On the one hand, they are very comfortable but on the other, they are heavy as they accommodate more foam, bigger drivers, and also metal.
Because of the big earcups, over-ear headphones can cover the whole ears without leaving anything outside which helps to reduce pain in the longer run. Unlike on-ear headphones.
So where does Zebronics Zeb Duke stand in the context of comfort?
The ear cups are big and the padding is soft as a result you can easily wear them comfortably even with spectacles. How long you might ask! Well, I personally wear it for a complete movie and then some calls for testing so you can take it about 4.5 hours.
But there's a thing.
If you are already accustomed to wearing over-ear headphones then they will be quite comfortable for long hours of use. Otherwise, in the beginning, you will find the headphone on the heavier side. It takes a few days of getting accustomed.
So for comfort, we will give it 4/5.
Features (5/5)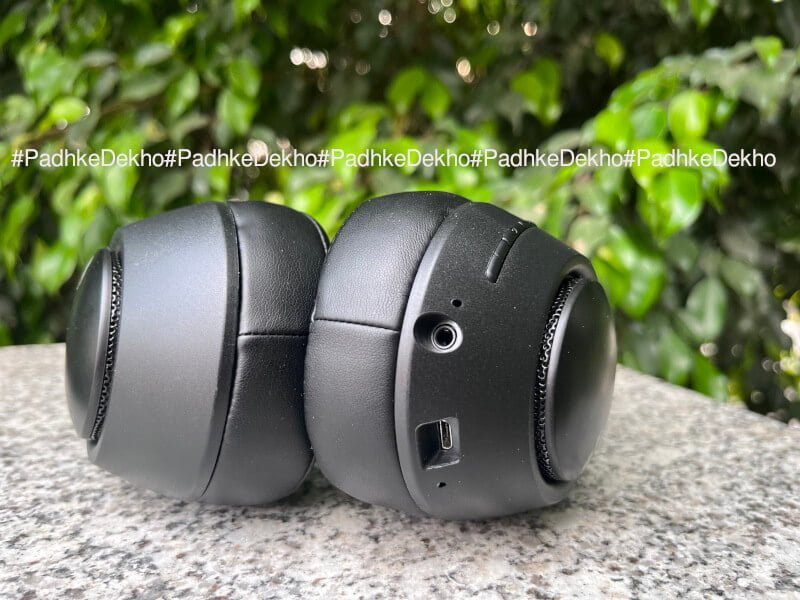 If you'll look at the product description you will think it's a regular headphone under 1500 Rs. With features like dual mode i.e. Aux-in to save battery or Bluetooth mode to go completely wireless. Then you have media controls, volume controls, voice assistant and that's about it.
But there is one more thing that even Zebronics FORGOT TO TELL! And no, other reviewers talked about it. And that's Dual Bluetooth Pairing!
Yes, you can connect your Zebronics Zeb Duke to two devices at the same time!
It's a simple method to do it. Connect your primary device (smartphone) with the headphone. Then disconnect it from the phone and then search for "Zeb Duke" on another device like a laptop or other smartphone.
Once that's done, pair it and disconnect it. Turning it back on will connect to both devices. if not press the name of Zeb Duke on both devices one by one.
And the best part is the switch between the two devices is instant. This makes it the best choice under 2000 Rs. So now for the price, it's awesome in terms of price-to-feature ratio.
Audio Quality (4/5)
Zebronics Zeb Duke offers 40mm audio drivers which is fine for the price. You can get up to 50mm under 2000 Rs with like BoAt Rockerz 550 (review). Does this mean it's weak or underperforming? No! Size matters in many things but not in audio gears! It's the quality of drivers that plays a vital role.
So what to expect from Zeb Duke in terms of audio quality?
Overall the sound signature is good and is different in wired mode and wireless. You will get ample bass, clean vocals, decent treble, and loudness. The bass is real on this one.
If you are listing via aux cable then this headphone turns into a bass-heavy headphone with thumping bass; you can literally feel your ears dancing, especially on the lower sides! Also, you will experience more loudness. Vocals and instruments separation is good and does not distort any audio.
Via Bluetooth mode, things are different and more pleasurable if you don't like a bass-heavy signature. The headphone will not amply all the bass frequencies.
But when some low frequencies will hit it will let you experience bass that is pure bliss not just the amplified frequencies. Just like in wired mode, the vocals and instruments are solid and we did not experience any audio distortion.
If you like to listen to music at full volume then you will enjoy it here. Coming from BoAt? then you might find the loudness at about 80 percent of what BoAt offers.
Be it any genre you will have a good time. Our playlist is a blend of Punjabi music, old Hindi songs, classical and Qawwali music, and some podcasts too. So we had no issues jamming to any of these. Good job there, Zebronics.
Here's our audio scorecard.
| Feature | Rating Out of 10 |
| --- | --- |
| Bass | 9/10 Wired || 8/10 Bluetooth |
| Treble | 7/10 |
| Vocals | 9/10 |
| Loudness | 9/10 Wired || 8/10 Bluetooth |
| Stereo Effect | 9/10 |
| Best Buy Link | Amazon |
Zebronics Zeb Duke Review
Battery Backup + Charging (4/5)
As per Zebronics, you can use Zeb Duke for about 30 hours at 50 percent volume with the RGB lights off. We did our testing at different volumes and here's our breakdown.
If you listen to music at full volume with RGB lights turned on then you expect anywhere around 24 hours. And without RGB it can go about 2-3 hours more. Hence up to 28 hours of total playback.
This battery backup is amazing keeping in mind the beefy 40mm drivers and RGB setup. And when you are out of battery, you can always plug in the aux cable and enjoy music without any issue.
So for battery backup, we will give it 4/5.
Let's talk about the charging situation here. This headphone does not support fast charging as a result you will need a 5-watt charger for it. Just make sure not to charge it with heavy watts charger as it can severely damage the battery backup.
Depending upon the charger used, Zeb Duke takes anywhere about 2 hours to charge completely. For the first time, it can take longer than 2 hours and 50 mins. But from the second time, it will pick up the pace.
In the first hour, it will reach 90% from 20 percent and then the rest happens in the next 40 mins. So you take battery charging time of about 2 hours approx.
We tried the above results with Apple's 5-watt charger and an old-school Motorola charger.
The battery mAh is not disclosed by the brand hence can't make a judgment on the charging time but the battery backup it's offering plus support to aux mode is good. You will not have that battery anxiety.
So for battery backup and charge time, we will give it 4/5.
Gaming Performance (4/5)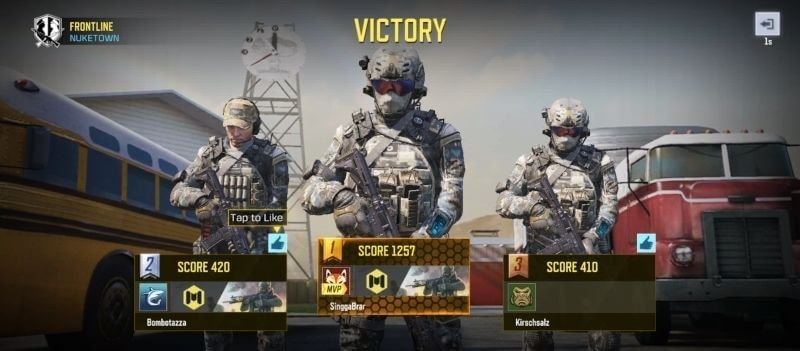 When it comes to gaming we always recommend audio gear that is wired. Because Bluetooth connection does have a little latency while gaming.
The good news with Zeb Duke is the dual mode. So if you are willing to play games you can always switch to the wired mode which has a very low Latency. Be it a smartphone or even a PC.
But the story is different with Bluetooth mode or wireless. The latency is on the higher side. So got plans to play COD Mobile or BGMI? Then switch to wired mode and enjoy headshots!
Call Quality (3/5)
In our 1 month of use, we took many calls indoors and outdoors and we feel the mic on Zebronics Zeb Duke is not that good. Let's talk about that.
The mic sometimes misses the transmitted voice. You will not feel it but the person on the other call will ask you to repeat it many times. Secondly, your transmitted voice will feel distant like you are quite away from the mic.
So if call quality is your main priority then pick up Infinity Glide 510. Here's our detailed review.
Does Zebronics Zeb Duke Make Sense in 2023?
We get that, it's not the latest over-ear headphone in 2023. But does it make it bad? Well, it's our second purchase in 3 years, so it makes sense. Why?
Because there is not much happening in terms of over-ear headphones under 2000. No new launches, meh built quality and no fancy features. We've used many headphones under 2000 Rs and are not worth it. You can read our detailed article here about the best over-ear headphones under 2000.
if not Zebronics? Other than this, you can try BoAt Rockerz 550 (review) which is also under 2000 Rs and feels good.
But what about Zebronics Zeb Duke?
It's good for the price. Especially the build it offers. It's durable and also feels good. It's easy to fool around people by saying it for 2500 Rs! Moreover, the RGB light also makes it aesthetically more pleasant.
As far as audio quality goes, it's good overall. Not a bass-heavy sound signature but you will feel thumping around your ears on multiple low frequencies. Vocals come out clean and with clean with good instrument separation.
Even at full volume, the audio does not distort. The audio leak is evident at around 80 percent volume which is the case with most headphones, anyways.
The overall design of the headphone does make them look big and bulky but when it's on you will not feel any discomfort other than sweat. If you are familiar with Over ear headphones, you will like them.
But if you are coming from an on-ear headphone or tws earbuds then you will certainly feel it heavy. It will take about 4 to 5 days to set for your head type.
What about the shortcomings?
Two things that we do not like about this headphone are; the call quality is just average and second, it comes with Micro-USB instead of USB-C so no fast charging.
Overall for the price of 1299 Rs, it's totally worth it and we at PadhkeDekho recommend it.
Wrapping up!
There you have it folks! This is our Zebronics Zeb Duke review after 1 month of use. If you have any issues or queries about it or any other headphones then please feel free to ping us on below given social accounts. We love to help our readers!
Feel like supporting genuine and local content? Please use the below Amazon button to confirm your order. We might earn a small commission from the brand at no additional cost to you. Thanks for the support!
Suggested Articles!
Zebronics Zeb Duke F.A.Q
is Zebronics Zeb Duke Good?
Yes, Zeb Duke is a good over-ear headphone under 1500 Rs. We've been using it for a month and here's our detailed review. Tap now to learn more.
Can Zebronics Zeb Duke Connect Two Bluetooth Devices at Once?
Yes, Zeb Duke supports dual Bluetooth pairing. Click now to learn more.