[Updated on 3 June 2023] Finding the best headphones under 1000 Rupees is not as easy as you would think. Why? Because most popular headphones choices are bombarded with good and bad reviews daily, resulting in confusing you more rather than helping.
Update: All headphones are available at up to 60% off on Amazon's sale. Click now and check out the deals!
So, in this article, we are sharing with you the best Bluetooth headphones under 1000 Rupees both wired as well as wireless options that you can buy and enjoy every single day.
How are we so sure? Because these headphones are owned and tested by us in a way a normal consumer will feel firsthand.
At PadhKeDekho, we aim to deliver helpful and honest consumer product reviews and comparisons of Headphones, Earphones, computers, and smartphones. With the only motive to help you make a better choice and invest money in products that work best.
That being said, if you buy any of the headphones from the best headphones under 1000 Rupees list will be a wise choice. All the headphones pack in good audio quality, built quality, and mic performance (except one). So buying any of these will be good for working from home.
In this article, you will get to know their pros and cons, key specs, and who should buy or avoid. So everything is set, let's begin the list of best headphones under 1000 Rupees list, shall we?
Best Headphones Under 1000 Rupees You Can Buy
The headphones in the list are randomly selected and keep on updating. This means that if XYZ is in the first spot, it doesn't make it the best of the lot! Every headphone has its share of pros and cons and we don't know what will be the deal maker or breaker for you.
So we will try to keep everything covered. But if you still have doubts then do comment below we will revert back as fast as we can!
1. Boat Bassheads 900 (On-Ear Wired Option) (Our Pick)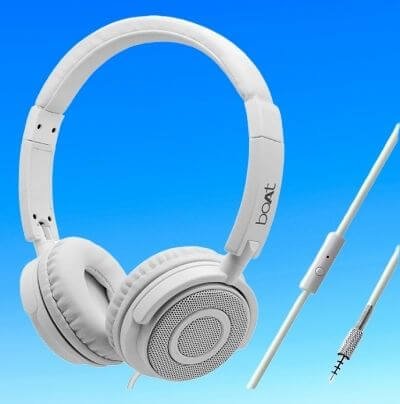 Below ₹1000, I can easily vouch for BoAt Bassheads 900 if you are looking for wired on-ear headphones. There are so many reasons for it. Let's begin with comfort.
Comfort
You can wear Boat Bassheads 900 for hours without worrying about pain or headache. Why because the fabric used on the ear cups and below the headband is very soft. Secondly, the tiltable earcups will let you find a comfortable spot at every angle.
Built Quality and Design
Another solid reason will be the built quality. Here's a question for you. Do you handle things roughly? if yes, then it will not disappoint you! The overall construction is plastic but the headband adjusters are of stainless steel so it can certainly take a lot of beating.
In terms of looks, it comes in two colors; Black and White. The overall design has a matte finish and mesh grills on the ear cups. So in terms of built quality and design, it is an overall package.
Sound Quality
When it comes to audio quality, the BoAt Bassheads 900 is amazing. Everything from music to instruments to vocals and clarity is just amazing. What it does even better is the bass output. It is punchy and heavy. If you are a bass lover, then you would enjoy every second of using it.
BoAt has used really good audio drivers that sound distortion is non-existent even on full volume. Secondly, the loudness is well-managed and the overall audio seems well-proportioned.
Connectivity
For pairing, you got a 3.5mm cable that can be plugged and played on any smartphone and tuned into nirvana! The cable is long and carries a decent microphone that can take care of calls.
The call quality will be decent not the best I can say but will get the job done. If you need a headphone for strictly calling, then don't worry we have a few good options for you coming up!
Note: We have reviewed and compared so many headphones that you might be interested in. Click here to check those out.
2. Sony ZX110A (Super Comfie On-Ear Wired Headphone)
For some reason, if you don't like BoAt headphones then you should keep an eye on Sony. Well, that's what I did. So first, I went with Sony ZX110A or MDR-ZX110A. It is the most comfortable On-ear headphones that I've used.
Comfort
If comfort is your primary requirement and you are ok with an on-ear setup then you should go with it. You can easily wear it for 4 to 5 hours.
This is all possible due to the breathable material of the ear cushions that will help you encounter lesser to no sweat while using. So if you need a headphone for Netflix and chill then go with Sony ZX110A without a doubt!
Built and Design
Other than Comfort, Built, and design is also something to be discussed here. Unlike BoAt Bassheads 900 which uses stainless steel headband adjusters, you will find plastic on ZX110A.
This certainly makes it slightly weak-built. But, I've been using it for years now so far so good!
In terms of looks, Sony ZX110A comes in 2 color options; White, Black with glossy ear cups with a Sony logo in the center. If you ask me, they don't seem like budget headphones.
Sound Quality
As far as audio is concerned, Sony ZX110A will deliver clear vocals, instruments, and treble. You would really enjoy listing to vocals-heavy music like Podcasts or classical songs. Even if you'll push it to the full volume it will not choke and deliver the best possible output.
But the breathable material on the ear cups brings some bad news to the table. First, you will experience less powerful bass and secondly, the headphone is not very loud.
Moreover, Sony ZX110A doesn't come with a microphone so it will be a deal-breaker for many out there!
Connectivity
Just like Boat Bassheads 900, Sony ZX110A is a wired headphone. But the 3.5mm jack here is gold-plated. The length of the wire will not be an issue but the quality of the wire is. Though it is tangle-free, it seems delicate.
But I've been using it for a year now and it has kept up so far. You will just need to be careful with that.
If the above cons affect you, Sony 310AP will cover those! (coming up next!)
3. Sony 310AP (Stylish Yet Comfortable Wired Headphones)
With 310AP or MDR-ZX310AP, Sony has done its homework and really worked out the cons of ZX110A.
So my recommendation stays strong, if you don't like BoAt products but need good sounding comfortable on-the-ear headphones then Sony 310AP takes the medal here! That is why there are two Sony products supporting our best headphones for under 1000 Rupees.
Comfort
Unlike, Sony ZX110A which came with breathable fabric on the ear cups. Sony has ditched it but moved towards a soft fabric that is almost similar in comfort. So wearing it for 4 to 5 hours will not cause any issue other than sweating which is evident.
Just like BoAt Bassheads 900 and Sony ZX110A, this one also has tiltable ear cups which helps in better comfort. And carrying them out on your neck or backpack will not be a problem.
Built and Design
As in MDR-ZX110A, Sony still forgot to add stainless steel, headband adjusters. It is still plastic but of good quality hence 310AP can survive years of use for sure.
The hinges that connect the ear cups with the headband are of good quality and nothing to worry about.
In terms of designs, Sony ZX110A comes in 3 striking color schemes Blue, Black, and Red with glossy ear cups. If you wish to stand out from the crowd then 310AP can be the best choice!
For some reason, Sony 310AP is expensive on Amazon. But you can grab those from Flipkart under 1K.
Sound Quality
When it comes to audio quality Sony has worked very hard to be the best and this headphone is certainly worthy of the name. It packs good bass, clarity, vocals, and treble. If you look for detail in every form of music then Sony 310AP is the best choice.
With 310AP you'll also get an inline mic which is incredible. The call quality is very clear and the other person cannot make out whether the call is going through the phone or headphones.
So if you like taking calls or probably work from home then you should not let these headphones slide away!
Connectivity
As far as connectivity goes, it is also a 3.5mm wired one. So you can pair it up with any smartphone, laptop, computer, or Walkman player and enjoy music.
But do keep in mind the mic will only work with a phone. If you need to use the mic with a laptop or pc then you would need 2 male and 1 female converter(sold separately).
Now the rest of the headphones in our Best Headphones Under 1000 Rupees list have dual connectivity.
I mean they can be used with an AUX cable or via Bluetooth. So if you are bored of a wired connection and wish to try wireless options that are good then the rest on the list will certainly hit a mark on you!
4. Zebronic Zeb Thunder (Over-Ear Wireless Headphone With SD Card Support)
Zebronics Zeb Thunder is a value-for-money option for someone who is looking for an On-Ear headphone for under 1000 Rupees. Along with that, it offers tons of connectivity options. After using it for a few months, I recommend trying it out!
Comfort
A lot of emphases is given to comfort, as you can see big earcups with thick cushions as well as below the headband. So wearing it for 2 to 3 hours continuously will cause you no harm. Though the fabric could have been softer.
The headband adjusters have multiple levels of adjustments and hence can fit all the head types very easily. And the best part is the headphone doesn't feel very tight on your head.
However, since the ear cups are not tillable so you can wear them for 2 to 3 hours continuously. But for any longer than ley say 4 to 5 hours on a stretch might not be ideal.
Built And Design
About the built quality, to be honest, It's not the best on the list but justifies the price. You can hear some squeaking while adjusting the headband. So if you are built-conscious and need Over-ear headphones then pTron Studio or Leaf Bass needs your attention.
The overall construction of this headphone is plastic and a glossy matte finish is carried around the headphone.
You will find the Zebronics logo in the center. In terms of looks, it is a good-looking headphone. The icing on the cake is the availability of colors like Blue, Black, Red, and finally Brown!
Sound Quality
Where Zeb Thunder covers up is in the sound output and mic quality. The audio quality especially vocals, treble, and instruments are loud and clear. What will impress you is the bass and detail in the music.
At full volume though, you might experience some audio distortion which is justified.
Zeb Thunder has an inbuilt microphone that is good and can take care of your online classes. So far in my 3 months of use, I haven't received a single complaint of audio braking or anything.
Connectivity
In terms of connectivity, you'll get an Aux mode(cable included) and Bluetooth version 4.2. While we are at it, the Bluetooth range is 10 meters but you will notice some audio breaking if the connected device is 4 meters away and there are walls in between.
To overcome network latency you can always use the AUX cable with which the microphone will not work. You will need an AUX cable that has a mic.
Two unique features of Zebronics Zeb Thunder are the SD card and FM support. I have tried putting in an 8 GB one and it was able to play the songs out of it.
So if you don't want to carry your smartphone for morning walks then you can insert the micro SD or tune in your favorite FM radio channel in the headphone and go running or jogging! Though it doesn't feel conventional, it works!
Battery Backup
If you are connected wirelessly then you could get around 6 to 7 hours of battery backup at full volume. This result will change as per your volume. If you can lower it down to 60 to 80 percent then you can even hit the recommended battery backup of 9 hours!
Moreover, if paired with an aux cable you will not only preserve the battery but also remove the network disturbance while listing to songs or gaming.
If you need a better Bluetooth reception and Over-Ear headphone setup for under 1000 Rupees? then the next two options are for you!
5. pTron Studio (Over Ear Wireless Headphone)
Have you ever heard of pTron? Do let me know in the comments! Why I am saying this because I wasn't aware of this brand until 2 months ago! Got so many recommendations and I gave it a shot! So how is it? In one word; It's underrated!
In our best headphones under 1000 Rupees list, half of the headphones are wireless rest are wired options. Out of the wireless options, I will put pTron on the second, Leaf Bass on number one, and Zeb Thunder on 3. Why so? Keep on reading I will explain!
Comfort
Like all the Over-Ear headphones on our list, this one also offers a good level of comfort. Slightly better than Zebronics Zeb Thunder, due to soft ear cushions and below-headband padding. Even if you wear spectacles, you can use pTron Studio for hours without any issues.
The headband adjuster allows multiple adjustments which actually helps to find the perfect spot. And just like Zeb Thunder, this one also doesn't feel very rigid on the head. So you can easily wear it for 4 to 5 hours.
Built And Design
In terms of looks, pTron Studio is very similar to Zebronics Zeb Thunder. Even the shape of ear cups is the same. But the difference lies in quality. While Zebronics built is acceptable, pTron Studio takes it a few points ahead.
The overall look is a glossy matte design with the pTron logo in the center on both sides. In both colors, the sides of the earcups, the headband, and the logo on each side stay the same but the circular ring around the earcups depends on the color you choose.
For instance, the Black color offers the ring in silver while it's blue on Blue color. If you ask me, I would again buy it in Black color!
Audio Quality
Coming to the main thing; how it sounds? Well, it is good. I was not expecting this actually. But the audio quality is great, especially the clarity of vocals and instruments detail!
You would enjoy listing to classical and podcasts. For bass lovers, you will get good bass but not as good as Leaf Bass.
Unlike Zebronics Zeb Thunder which comes with 4.2, you will get the latest Bluetooth 5.0. As a result, the audio distortion is there but only beyond 6 to 7 meters from the connected device.
If your connected phone is in your pocket then rest assured you will not experience any disturbance.
Battery Backup
In terms of battery backup, you will not be disappointed either. If you'll listen at full volume all time, then you can expect up to 5 hours. It can go as high as 8 hours at around 80 percent volume.
And if that's not enough you can plug in the AUX cable and enjoy until your device has the juice for it!
So all in all, pTron Studio is a good Over-Ear headphone and you can go for it. But if you need even better-built quality and bass then Leaf Bass must have your attention!
6. Leaf Bass (Best Sounding Over-Ear Headphone Under 1000) (Our Pick)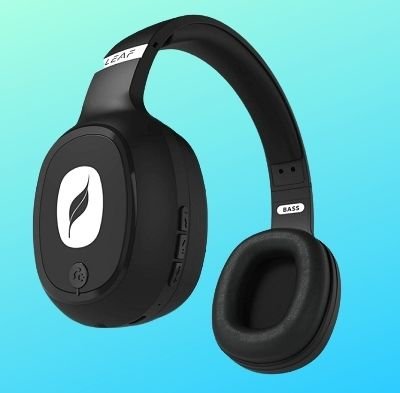 | | |
| --- | --- |
| | |
| | |
| | |
| | |
| | |
| | Bluetooth 5.0 + Aux Mode(Cable Included) |
| | |
If I can give an award for the best Over-Ear Headphone under 1000 Rupees then it will go to Leaf Bass. Because it does a majority of things right. And the company has really taken customer feedback as its priority.
Comfort
Most of the on-ear headphones which are not mentioned in the list have a tight headband that puts a lot of pressure on the ears and if someone wears spectacles or sunglasses then things are even worse for them.
Somehow this feedback has reached the company and they came up with an oval shape over-ear headphone that kills the issue!
These big ear cups are soft and comfortable and wearing them for hours is a walk in the park.
Built And Design
You will see a lot of premiums written on the box. It doesn't mean it has an aluminum construction! It is just plastic but a good grade one. In the hands, the headphone feels very sturdy and durable. Even when you'll extend the headband it will give a strong feeling.
In terms of design, you will find a glossy matte design. But interestingly on both sides, you'll get the Leaf logo and branding near the headband which makes it stand out from the crowd. For some people though, it can be a deal-breaker since it comes in only one color, and that is Black.
Sound Quality
Audio output is another reason why I choose it as the No. 1 in Over-Ear headphones. First thing first, the bass is on another level.
If the bass is what you are looking for then trust me you will enjoy listing to bass-boosted songs for sure! With those big ear cups, you can literally feel the bass.
Other than the base, the rest are equally taken care of. Be it vocals, instruments, or details, clarity is just perfect. Additionally, the headphone can reach such high decibels without any distortion. Experiencing these on-budget headphones is really impressive.
The icing on the cake is the Cristal clear mic tough which you can not only take personal calls but professional ones too. I do take calls using Leaf Bass I have never received a single complaint of poor audio quality.
But just to be on the safer side, I use Infinity Glide 500/501 by JBL (Review) which cost around 1600 Rupees.
Connectivity
Just like any wireless headphone in our list, this one also supports Bluetooth connection and aux mode for uninterrupted listing. The best part about the headphone is Bluetooth 5.0 which is the latest so far. This actually helps in strong connection and range.
Unlike pTron studio which also offers Bluetooth 5.0. But on this one, the network disturbance is much less. You can move around your room and take your calls or enjoy music. But the range deteriorates when you will cross a few walls.
The Bluetooth range works best outdoors wide open.
Battery Backup
As per the company, the headphone can provide juice for 10 hours but we don't know what volume you will achieve it. So if you will listen at full volume then you can expect anywhere between 6 to 8 hours.
With such incredible audio quality, I think it is more than enough!
If in case you need to preserve the battery or the battery is gone then you can plug in the AUX cable (provided in the box) and continue where you left it!
So Leaf Bass definitely deserves a chance if you are in the market looking for a big wireless headphone under 1000.
Wrapping Up!
There you go guys, these were my few cents for the best headphones under 1000 Rupees that you can buy today. I assure you if you buy any of the headphones above you will get good built quality, audio quality, mic, and battery backup.
I used all these headphones for a few months before writing this review. So you can buy any of these without getting confused you will not regret it!
Do you think we are missing your favorite headphone below 1000? then let us know we will review it and update our best headphones under 1000 Rupees!
If you got any doubts or queries about the best headphones under 1000 Rupees then do comment below or reach out at PadhKeDekho's Twitter, Facebook, and Instagram. We will get back to you as soon as possible!
And please use the below Amazon link as it motivates us to buy and review interesting products at no additional cost to you! Thanks for being a patron!
These are our picks for the best Bluetooth headphones under 1000 Rs. Hope you will find your next headphone with this article.
If you found our list of best headphones under 1000 Rupees of any help then do share it with your friends and family. So they should also buy headphones that will work for them!
Got Questions? Please comment or ping us on below given social accounts, we love to help our readers.
Just like the above article, we share our 2 cents in the form of reviews, tips & tricks, comparisons, and opinions so do check out those articles. Thanks for reading! We will see you at the next one!
Articles That Might Interest You