When we are reviewing products, we use them for at least a month and move to another. There are always tech gadgets that we keep looking back and appreciate how good they feel after testing some non-so-good products. This happens with us mainly in the case of TWS. That's why here are the best earbuds under 1500 that we love that you can consider for yourself.
The TWS mentioned below offers good audio quality, decent to good built, an almost perfect mic for calling, and more significant battery backup. So you can confidently pick the one you liked the most.
Before beginning the article, let us make it very clear; People have small ears, medium and large ears hence not all earbuds fit each ear type. As we've used the recommended earbuds we have mentioned which one fits whom. So that, you choose something which fits and you have the best possible experience.
With that said, here are the 5 best earbuds under 1500 that are actually good.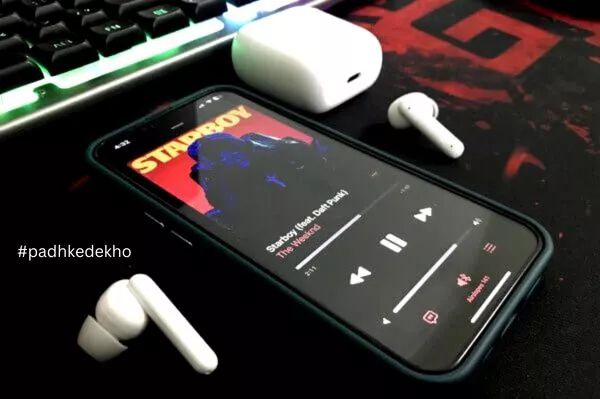 Best Earbuds Under 1500 Rs List
Best wireless earbuds under 1500
#1 BoAt Airdopes 141 (Best Overall)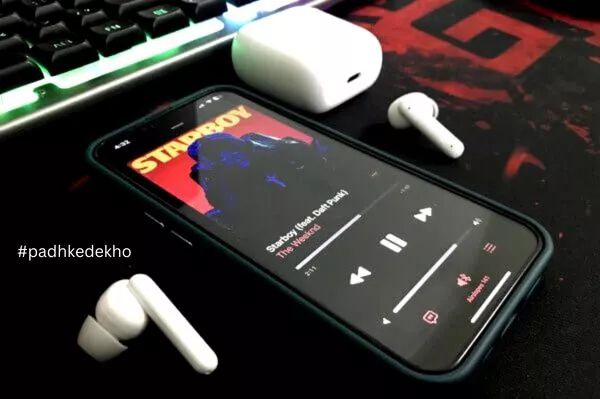 Why BoAt Airdopes 141 is Good?
At Padhkedekho, we picked it up as the best overall in this best tws under 1500 Rs. It packs in everything one can ask for (other than volume controls!).
Everything from built quality, looks, comfort, features, call quality, etc it's perfect. Out of 5 of us here, 4 people enjoyed using them, unlike me who has small ears, I'd prefer and recommend the Mivi DuoPods A350 for people with small ears.
Even it's a great device for gaming. The Beast Mode helps a lot. if you play fast pace action shooters like Call of Duty Mobile or others BoAt Airdopes 141 is a perfect choice.
Why BoAt Airdopes 141 is not a Good Option?
There are no major cons with this one. We'd in the past issues with the Bluetooth range. It was pretty much common (c'mon what did you expect from 2019 or 2020 when TWS were new). But now, things are on a few notches above (yes, plural!)
One thing that can alter your experience is your ear type. if you are comfortable with earbuds with ear tips or neckbands with ear tips then you will have no issues with BoAt Airdopes 141. However, fi you've got small ears then you can check out this article that we wrote a few weeks back or go with Mivi DuoPods A350.
Other than that, it's a pretty much "overall package".
—> Read our detailed BoAt Airdopes 141 review here <—
#2 Mivi DuoPods A550 (Bass Heavy + Volume Controls)
Why Mivi DuoPods A550 is Good?
DuoPods 550 is just like BoAt Airdopes 141, well a little better because it offers volume controls that we've not seen in many TWS earbuds. We were impressed with the built quality, snug fitting of the earbuds, and design of the buds with the metallic or glossy texture.
The 13mm drivers are great for bass lowers. You will experience great low frequencies near your ear drum. It's a tad better than Airdopes 141.
Mivi offers ENC ( not to be confused with active noise cancellation ) works very well in blocking the background ambient noise around you during a call. The final call quality is good and you can use it for professional calls too.
Overall, Mivi DuoPods A550 is a perfect wireless earbud under 1500 Rs.
Why Mivi DuoPods A550 is Not Good?
Since the bass is very strong on these buds it reduces the loudness and treble to some extent. If you have BoAt Airdopes then you can expect about 80 percent of its volume.
If you are into fast pace online shooter games then you will have an average experience ( though will be better than many which don't come with a gaming mode). But for the best gaming experience BoAt Airdopes 141 is better.
The next point is not a con but a user-specific demand. The buds are big which means they can only fit people with medium to large ear sizes. For smaller ears, we'd recommend Mivi DuoPods A350.
—> Read our Mivi DuoPods A550 detailed review here <—
#3 Mivi DuoPods A350 (Stylish Yet Apt For Small Ears)
Why Mivi DuoPods A350 is Good For You?
DuoPods A350 from Mivi is a great TWS for someone who has small ears. I have small ears and trust me finding a perfect pair is a tough call. I tried around 10 earbuds after finalizing the Mivi DuoPods A350. Due to small ears, comfort using tws is another problem. But with DuoPods A350 you can confidently wear these for more than 3 hours on the go.
The above point was my secondary consideration but what made me buy it was the design and the amazing color options. You have 5 fabulous shades. I saw it the very first time in the Delhi metro and could not resist asking. So you get the gist, it's a beautiful-looking TWS. if you need a style statement then grab the DuoPods A350 in Space Grey!
Other than that, the audio quality is good for podcasts or consuming content. At full volume, the vocals, instruments, and even treble do not lose a pinch. This is quite impressive as many TWS lose quality at max volume.
One major feature, of the DuoPods A350 sleeve, is the call quality. Though there is no added software for improving the call quality, but the end result is amazing. Out of 10 calls we took, 9 people could not guess the call was taken via a budget TWS.
Mivi DuoPods are ahead in the race as they offer volume controls which are really available in TWS earbuds. So, need to adjust the volume without taking your smartphone out? then Mivi DuoPods is the one you need.
Why is Mivi DuoPods A350 Not Good For You?
if your priority is a bass-centric sound signature then these are not for you. Don't get me wrong if you only like the half-ear design the bass offered is the best. But next to earbuds with silicon tips these don't come close.
And another reason will be the lack of low latency mode, therefore, gaming using Mivi DuoPods A350 is not recommended.
—> Read our detailed Mivi DuoPods A350 Review <—
#4 BoAt Airdopes 121v2 (Tiny & Lightweight)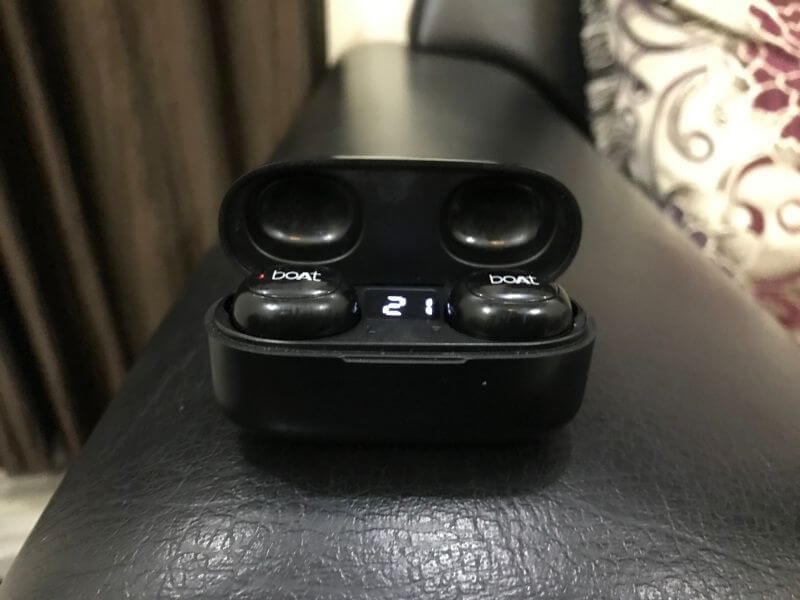 Why BoAt Airdopes 121v2 is Good For You?
if you are looking for a lightweight solution to your music needs then BoAt Airdopes 121v2 is your need. It's so lightweight that you can wear it till the battery lasts. It was our first TWS bought in 2020 and it still works great. Increases our trust with BoAt Airdopes lineup.
Though the size is small, do not underestimate these. These buds can go very loud. The bass is good not a bass-centric sound signature but it's more than enough to get your adrenaline pumping.
Why BoAt Airdopes 121v2 is Not Good For You?
BoAt Airdopes 121v2 is not IP certified so it's not officially water-resistant or sweat resistant. However, I do work out wearing these and sweat has not damaged them. It's been more than 2 years owning these so these are sweat resistant.
Though the buds and case are small the earbuds are not designed for people with small ears. So if you got small ears then Mivi DuoPods A350 is the only option on our best earbuds under 1500 list.
—> Read our detailed BoAt Airdopes 121v2 review here <—
#5 Mivi DuoPods A25 (Cheapest But Premium)
Why You Should Buy Mivi DuoPods A25?
Like both the Mivi DuoPods above, this one also packs in great features like touch controls, volume controls, and amazing call quality! We were so surprised because the price tag is very low. Many times on Amazon you can grab one of these for a low low price of 799! At this price, not even good neckband starts!
This does not mean Mivi did cost-cutting with the build or anything. In fact, it's one of the best TWS in terms of build. You will not find a single squeaking or rough edge.
The sound signature is perfect for vibing! Bass starts to kick in early and even at max volume it stays there. We had no complaints in the context of audio at least. The vocals are very sharp and you would love to list Sufi music on these.
Mivi DuoPods A25 was the first Mivi product we used and had no expectation for amazing calling but this proved us badly wronged! The end user always appreciated the call quality and we had no problem listing to the other caller.
So Mivi DuoPods A25 is an entry-level TWS with Premium bits here and there!
Why You Should Not Buy Mivi DuoPods A25?
Just like other Mivi DuoPods in this list, this one also fails to deliver an amazing gaming experience. It will be fine for casual games but the delay is evident with multiplayer or fast pace shooters like Call of Duty Mobile.
Even though it has a USB-C port for charging but Mivi has limited the charge to 5 watts 2 amp power only. As a result, the buds will take a little longer than 2 hours to charge completely.
And about the form factor, the buds are not suitable for people with small ears.
—> Read our detailed Mivi DuoPods A25 review here <—
Wrapping up!
There you go, folks! This was our Best earbuds under 1500 list of 2022. if you have any queries about any of the above earbuds or your choice let us know on the social accounts below. We love to help our readers!
Liked the content and want to support genuine content at no additional cost to you? Then please use the Amazon links on this page or the below button. We assure you, you will not be charged a penny extra!
F.A.Q
Best Earbuds Under 1500?

Who says good earbuds don't come under 1500 Rs? You gotta use it before writing! Here are the 5 best ones that need your attention! Click now!
Earbuds under 1500; What to expect?

Gone are the days when features were available on hot shots. But now, things are very different. Click now to know more.