[Updated on 20 July 2023] It's been over 6 months with BoAt Airdopes 141. And to be honest, it's by far the best TWS under 1500 Rs. Everything is top-notch. Back to the BoAt Airdopes 141 review.
TWS is in great demand hence the competition keeps on rising. Some are good but many are pure average with a lot of hype. We've tested more than 20 BoAt Airdopes and a total of 30+ TWS from different brands and that's why we are certain about the statement above.
One such example is BoAt Airdopes 141 which is surprisingly a good one. In this BoAt 141 Airdopes Review, we've used it for a month before sharing our review.
At PadhKeDekho, We "actually use devices as any customer would do". Not just open the box use the product for a while and call it a day. By this, our readers get a true picture that ultimately helps them make a better-informed decision.
In this BoAt Airdopes 141 English review, you will find about the Pros and Cons, Box Contents, Built Quality, Looks, Comfort, Features, Audio Quality, Gaming Experience, Mic Quality, Battery Backup, and finally our Verdict on whether you should buy this or our other recommendations.
Let's kick things off with the pros and cons.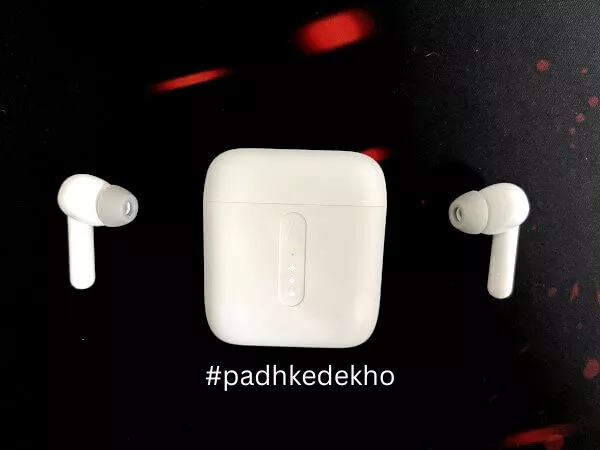 BoAt Airdopes 141 Pros & Cons
Box Contents
In the tiny box, you'll get many things. Let's start from left to right.
BoAt docket of other BoAt products
Thank you note
Warranty card
Type-C cable
FAQ card
BoAt Airdopes 141
BoAt sticker
Manual setup guide
2 additional pairs of silicon ear tips
If you have been using a half-ear design TWS then the silicon tips will be a new thing. Rest, all the Airdopes launched in 2022 come with these contents (excluding ear tips if half-ear design TWS is bought).
Inbox Contents: 5/5
Built Quality
We've tested many Airdopes from the likes of BoAt Airdopes 121v2 till 621 and some had weak hinges. The ones above 2000 Rs had great built overall. BoAt worked upon and BoAt Airdopes 141 is a fine example. On sale, you can grab this for 999 which is a banger at that price. Even at 1500 (non-sale price) is good for the build it offers.
The case is not flimsy which means no squeaking while pressing. The magnetic connectors on the lip are quite impressive. With just a little push the lip opens and then shuts with a satisfying click. This click ensures good-quality hinges and more capable magnetic connectors.
On the same note, the earbuds offer fine-built quality while being lightweight compared to other brands' TWS for similar prices. Which is good for people who demand comfort. More about that in the comfort section below.
So the buds are the best in terms of the build? No, they are not the best ones but surely not the bad ones either. Next to the carry case, they feel weak. Maybe because of the lightweight? my daily driver is the Mivi DuoPods A550 which is quite heavy.
On the subject of built quality, the cable provided is good too. It has BoAt branding which means they have not just packed any random cable from the market and called it a day.
So in terms of built quality BoAt Airdopes 141 gets an 8.5/10.
Looks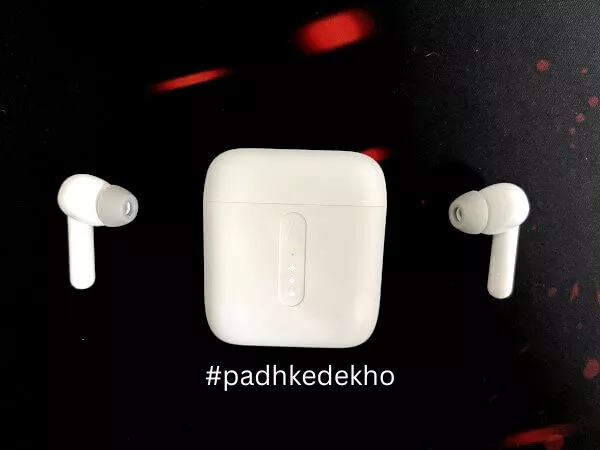 In terms of looks, BoAt Airdopes 141 has a matte design language. We picked up the white color and it looks fabulous. Be it the case or the earbuds themselves. The case has a square design which helps to keep the case the way you like it!
On the front, you have four LEDs for the current battery status of the carry case along with the BoAt branding. Then you have nothing, except the USB C charging port on the bottom.
Therefore, in terms of case design, it's simple and offers no visible branding which is perfect. Just a BoAt Logo above the battery LEDs.
In the same way, you have earbuds with a BoAt logo and fingerprint impressions to let you know it offers touch controls rather than a physical button. The ear tips silicon will be either Grey, Cyan Cider, or Black depending upon the case color you will buy.
BoAt Airdopes 141 best color? To be honest, Airdopes 141 looks great in all colors. Still confused? go with black as it doesn't need cleaning that often or you can buy skins!
So in terms of looks, BoAt Airdopes 141 is a simple yet premium-looking TWS under 1500 Rs.
Comfort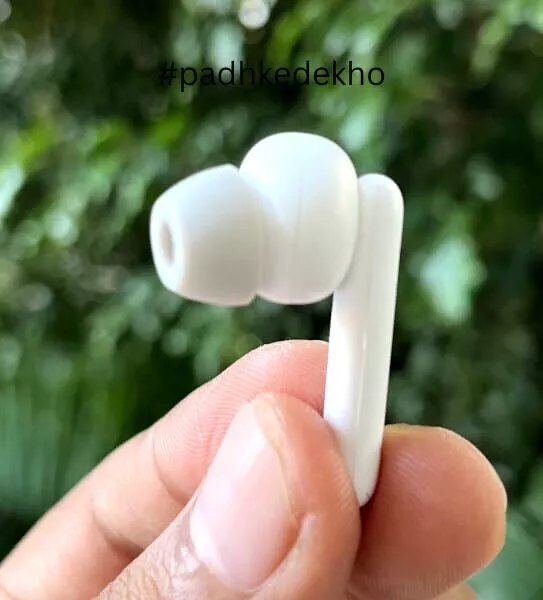 As far as comfort or feels goes, the earbuds are meant for people with medium to large ears. if you have small ears, then you can check out Mivi DuoPods A350 (review) which is about the same price and it's just perfect for people with slightly smaller ears.
How long can I wear BoAt Airdopes 141? Is it comfortable for watching a movie? Yes, BoAt Airdopes 141 is very comfortable and can be easily worn for 5 hours of a single stretch even. The silicon tips are very soft and the overall earbud design is meant to offer good grip.
if you need a tws for a slight workout like jogging or walking or slight cardio then you can good with Airdopes 141. Another recommendation will be BoAt Airdopes 441.
Hence in terms of Comfort BoAt Airdopes 141 gets a solid 9/10.
BoAt Airdopes 141 Features
The biggest USP of BoAt Aitdopes 141 is the Beast mode which drops the latency up to 80ms which helps in better gaming. So for gamers, it gets a major tick. Does it actually work? Will talk about that in the gaming test below.
For entertainment and media consumption needs, BoAt Airdopes 141 comes with 8mm audio drivers that can take care of your audio needs. How well does it sound? Here's our audio test!
What about calling? Don't worry! BoAt has not forgotten to add support for ENx technology for better calling or mic audio recording. How good is the mic of Airdopes 141? Here's our mic test.
Since the earbuds have silicon tips which make them very comfortable at the same time offer a snug fit you can wear these to the gym or running or jogging. As sweat will be prominent during workouts, BoAt Airdopes 141 comes with IPX4 water resistance so you will not need to take them off.
One more thing to add here, the touch controls work even if your fingers are wet or it's raining.
For the battery-conscious buyers, rejoice! The Airdopes 141 can provide your power backup for about 42 hours. Additionally, it supports fast charging too! 10 mins of charge can get you about an hour of audio playback.
How's the battery backup on BoAt Airdopes 141? Here's our battery test after 1 month of use.
One more thing, the predefined alerts sound of turning on, turning off, connecting, disconnecting, and the voice assistant is very minimal which is certainly not an intrusion when you are connected.
As far as features go, BoAt Airdopes are good but most of them miss one feature which is easily available on Mivi and Noise earbuds and that's the volume controls.
BoAt Airdopes 141 Audio quality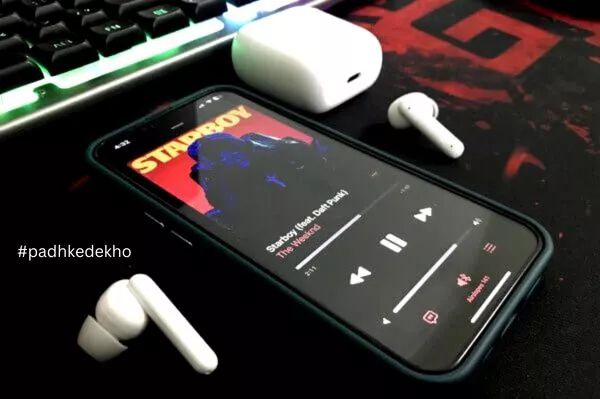 While testing audio gear, I personally wait till I can get my hands on BoAt products. It's because of their sound signature. It's nothing out of the world but the tuning is perfect.
Airdopes 141 offers bass-heavy frequency, clear vocals, and decent treble with an ample amount of loudness. if you listen to Punjabi songs and the bass gets your adrenaline pumping then nothing comes close to Airdopes 141.
Not just that, any bass-heavy song will hit differently on BoAt Airdopes 141. This reminds me of the OnePlus Buds Z which got stolen in the Metro.
if the bass is not your thing, then you will fall in love with the vocals and instrument separation on these. At any volume, you will not find any audio distortion. This is a big step up from BoAt Airdopes 161. You will have a great time listing to music or watching movies. It's the most balanced TWS that we've tested so far this year.
So coming straight back to the audio quality of BoAt Airdopes 141, the 8mm drivers do their magic of being a strong bass-heavy option in this price range of about 1500 Rs.
if you like more bass, then you can also check out BoAt Airdopes 170.
Gaming Performance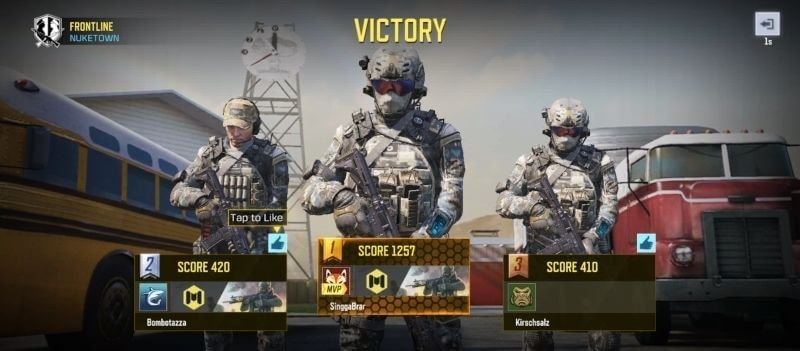 When it comes to gaming, I always prefer wired headphones simply because of less latency. if you don't know latency is basically a delay of audio in regard to video.
So what happens is when you are playing any fast pace game like Call of Duty Mobile, etc. the video and audio will not sync properly as a result gunshots will be delayed for a few milliseconds. Not just that, footsteps, changing guns noise, switching between sprinting and walking. So the overall experience hampers a lot.
This latency cannot be tweaked by the end user. So getting audio gear that the brand recommends for gaming should be considered. Since Airdopes 141 come with Beast Mode, is BoAt Airdopes 141 good for gaming? Yes, BoAt Airdopes 141 is good for gaming thanks to the Beast Mode.
It helps to reduce the latency up to 80ms. Which makes the overall experience enjoyable. Even if you do not enable the Beast made the latency is quite low and can be used to play gamers. So BoAt really worked on the gaming which BoAt lacked a while ago.
Therefore for gaming, we would give it 8/10,
Mic Test
We've always had mixed feelings about the mics on BoAt Airdopes. Recently, we covered the best BoAt Airdopes that you can buy and we talked about this. The thing is, not all BoAt Airdopes have good microphones. Out of 10, we found only a few that can be used for calling. So what about BoAt Airdopes 141 mic quality? Well, it's great for the price.
BoAt has offered ENx technology that helps in reducing background noise. This is fine but the output is 100% dependent on how well the mic picks up your voice. My only complaint with BoAt is the conversion of my voice to be robotic. The good news is, BoAt Airdopes 141 is not at all robotic in any sense. It picks up the voice quite clearly.
And the second good thing is if there is so much happening around you i.e. Metro announcements, people chatting in close proximity, or TV being close to you will be filtered out. Surely not 100% but on a scale of 10 where 10 is no change BoAt Airdopes 141 is about 4.
So BoAt Airdopes 141 gets our recommendation and you can confidently use these for regular calls or even professional calls.
Battery Backup
When it comes to BoAt Airdopes battery is never an issue. So what kind of battery backup you can expect? Let's have a look at different scenarios.
If you are a gamer who will constantly be using the Beast mode and plan to play games for 3 to 4 hours then yes you can grab BoAt Airdopes 141. And if you do not game at all and listen to music for about 2 hours a day then it will easily hit 2 weeks or even more.
One of my colleagues uses his Airdopes 141 for 2 hours at 60 percent volume claiming battery backup of a month! So the battery backup is entirely dependent on your usage.
Since I am a moderate user who plays games for about 2 hours and listens to music for 2 to 3 hours a day at max volume and Instagram Reels for about 1 hour, I can use these buds for more than a week.
So in terms of battery backup, you can expect the least for about 4 hours on a single go with hardcore gaming. If you are just going to listen to music then take it for around 6 hours. In this 1 month of testing, I've had no complaints about the battery backup.
What about charging?
BoAt Airdopes 141 supports fast charging and with that, the case gets charged in around 1 hour depending upon the charger. With the OnePlus Dash charger, I got the result.
And if you will use 20 watts or nearby wattage you can expect it around 1 to 2 hours. On the other hand, the earbuds with just 10 mins in the carry case can get you power for an hour!
BoAt Airdopes 141 is for people with battery backup in mind. Hence 9/10.
Airdopes 141 Good or Bad?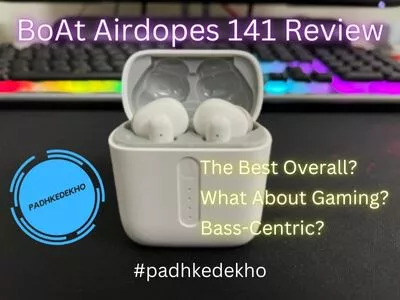 In one statement, it's the most perfect TWS we've tested this year @ 1500 Rs. If you talk about the build, look and feel, features, audio quality, gaming latency, mic for calling, and battery backup it has all that is great for the price.
About the price, you can grab BoAt Airdopes 141 from anywhere from 999 to 1499. Which is a wide bracket but the Airdopes 141 deserve the price.
In my one month of using it, I found only one con, and that's the build of the earbuds. Though they are comfortable and lightweight and because of that, they feel a little weak next to Mivi DuoPods A550. So if you like lightweight earbuds then you have no con with these Airdopes.
Hence should you buy BoAt Airdopes 141? Certainly! It's a great TWS under 1500 that you can buy. Why we are so sure? because we tested more than 10 TWS from BoAt and even from brands like Mivi, Noise, & Boult.
BoAt Airdopes 141 is certainly a killer earbud under 2000. if you don't like earbuds with silicon ear tips then you can consider Mivi DuoPods A350 (review).
Wrapping up
There you have it, folks! This was our BoAt Airdopes 141 review in English after 1 month of hardcore testing. If you have any questions about BoAt Airdopes 141 or any other audio gear then feel free to text us on below given social accounts. We love to help our readers with the best information they need.
If this article helped in your decision making then please use the below Amazon button to make your purchase. You will not be charged anything extra, so don't worry. In this way, you support genuine content that people write after using the device rather than reading the paper specs. Thanks for the support so far!
Suggested Articles!
BoAt Airdopes 141 FAQ
How Much Time Does BoAt Airdopes 141 Take to Charge?

The case supports fast charging and based on the charger used the full charge time is around 1 to 2 hours. it can go beyond 2 if a 5-watt brick is used. With the OnePlus dash charger, the charging time is around 1 hour.
BoAt Airdopes 141 Beast Mode?

Beast mode helps is reducing the latency while gaming. It can be activated by tapping on any earbud 3 times. You will hear "Beast Mode Activated". Turning off the bud will automatically disable Beast Mode.
BoAt Airdopes 141 Best Color?

BoAt Airdopes 141 is available in three colors; Grey, Black & White. Black will show fewer stretches unlike the two. White with grey ear tips looks more stylish but needs care. Grey with Cyan ear tips is fresh and eye-catching.
BoAt Airdopes 141 Bass Quality?

The bass is fantastic and boomy. if bass attracts you then nothing comes close to this under 1500 Rupees.
BoAt Airdopes 141 Driver Size?

The driver size is 8mm but you should never judge any audio devices based on the driver size. "Quality" matters "size does not".
BoAt Airdopes 141 Disadvantages?

After 1 month of use, I found nothing major that can hamper the experience. Other than size, the buds are not suitable for people with small ears.
BoAt Airdopes 141 Full Charge Time?

The case supports fast charging and the total charge time varies between 1 to 2 hours (based on the charger). With the OnePlus dash charger, the charging time is around 1 hour.
Boat Airdopes 141 Fingerprint?

The earbuds offer touch controls. The touch response is very good even if you handy are sweating or are wet.
BoAt Airdopes 141 Good or Bad?

BoAt Airdopes 141 is a good TWS under 1500 Rs. Everything is good with no major negatives.
BoAt Airdopes 141 Good For Gaming?

Yes, you can confidently buy this for gaming. you can clearly know the enemy's footsteps and the direction they are coming in.
How do I put my boat Airdopes 141 in pairing mode?

Just by opening the lid and search for Airdopes 141.
BoAt Airdopes 141 is Waterproof?

If by waterproof you mean like going swimming or showing then no. But yes, for sweat or water splash. A little rain will cause no damage (tested).
How do I receive calls on boat Airdopes 141?

Just tap once on any earbud near the touch control.
How do you control the volume on a boat Airdopes 141?

Unfortunately, there is no volume control option on BoAt Airdopes 141.
Can we connect boat Airdopes 141 to 2 devices?

No, you cannot connect to two simultaneous devices at a time.