[Updated on 8th March 2023] With a bit of research, you can find the best tws earphones. But things get complicated when you wish to know the best ones for people with small or narrow ears. We went through this problem as our new team members are females that have relatively smaller ear canals. So after spending a good time by ordering and returning more than 8+ earbuds, here are the 5 best earphones for small ears under 2000 Rs that you buy!
This article is going to save you time and hassle to try new products. We did that and here's what you need to know in the form of pros and cons. New fellas have tested these and given us the green signal for this article. Hence that being said, welcome to PadhKeDekho, and let's get started.
PadhKeDekho.com is supported by readers like you. If you found the next earphone with our guidance then do use the Amazon links on this page. We will earn a small commission from the brand at no additional cost to you. This helps us to buy new products and provide the best information to readers like you. Thanks for your support!
Best TWS Earphones For Small Ears
Before going forward, there are a few things that you should know. All the buds below have a half-in-ear canal design which is recommended for people with small ears. That's why you will not get additional ear tips in the box as accessories. But you will get a USB type c cable instead. Secondly, next to the earphones with silicone ear tips, these ones don't have the same level of grip.
So if you have plans to wear these for intensive workouts, then these are not good for you. However, these are the only options if you have small ears. Hence we wanted to clear this up before you make any decision.
Let's begin with the best earphones for small ears for under 2000 Rs now!
#1 Boult Audio AirBass X1 ( Good Music + Great Calling)
#2 Boult Audio AirBass PowerPods ( Comfortable + Lightweight + Good Calling)
#3 BoAt Airdopes 141 Pro (Superb Built + Best Gaming + Good Audio Quality )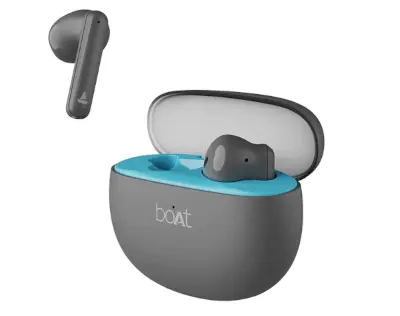 #4 Mivi DuoPods A350 (Very Stylish + Amazing Color Options + Volume Control)
#5 pTron Bassbuds Fute (Best Cheap Earphone For Small Ears Under 1000 Rs)
Wrapping up
These are the 5 best tws earphones for small ears under 2000 Rs that you must try out. if you have any issues or questions then do let us know on the below social accounts. Due to spam comments, we have suspended the comment section.
Want to support local content at no additional cost to you? Then please use the below Amazon button to confirm your order. It will help us earn some commission from Amazon at zero cost to you! Thanks for your support so far!
Here are some FAQs that might be useful for you.
F.A.Q
Earphones For Small Ears?

For small ears, we recommend checking out these 5 options.

Boult Audio AirBass X1
Boult Audio AirBass PowerPods
BoAt Airdopes 141 Pro
Mivi DuoPods A350
pTron Bassbuds Fute

For their feedback, do check this detailed article for choosing the better. Click now!
Do All Earphones Fit All Ear Types?

No, Because men and women have about a 20% difference in ear canal size. As a result, earphones come in different shapes and sizes. It goes without saying that, even some men have small ears too.