[Updated on July 18, 2023] This tripod is over a year old and does not show any sign of flimsy built quality. It has mostly traveled in a backpack and so far it's been a good purchase. Back to the review!
You must've noticed many YouTubers record videos with multiple cameras to cover different angles. This helps the video to become much more interesting to watch. As a result, you will gain more subscribers! So having two or more tripods is a good investment.
Initially, new Youtubers don't feel like spending much on the equipment (just yet). Thankfully for those, there are brands like Digitek that offer a budget range of accessories. One such product is Digitek DTR 260 GT aka Digitek Gorilla Tripod. So in this Digitek DTR 260 GT review, we will tell you how good or bad the mini-tripod is.
Padhkedekho.com is supported by the readers. Buying anything using the below affiliate links helps us earn a small commission from Amazon at no additional cost to you. This, however, doesn't affect our feedback or review of the products.
DIGITEK DTR 260 GT Pros & Cons
In-Box Contents
Digitek has given three things in the box. Namely
Tripod
Mobile Holder
Bluetooth Remote
Having a price tag of under 500 Rs, you are getting so much. Full marks to Digitek in this department. The accessories are durable and of a good grade. This brings us to built Quality.
DIGITEK DTR 260 GT Review- Built Quality
Due to heavy competition in the tripod market, brands have to cut some corners to be competitive. We have tried a few other gorilla tripods from the likes of Tygot and others in the past and they are not at the same level as 260 GT.
So it has the best-built quality? Well no! To be frank, at this price, you need to set expectations like that only. It's a blend of plastic and rubber and you will not find any metal or aluminum parts. So have to be very light-handed while operating the ball head.
One of our readers, @sketcherni bought the tripod and it got broke within 3 days of ownership! So be careful.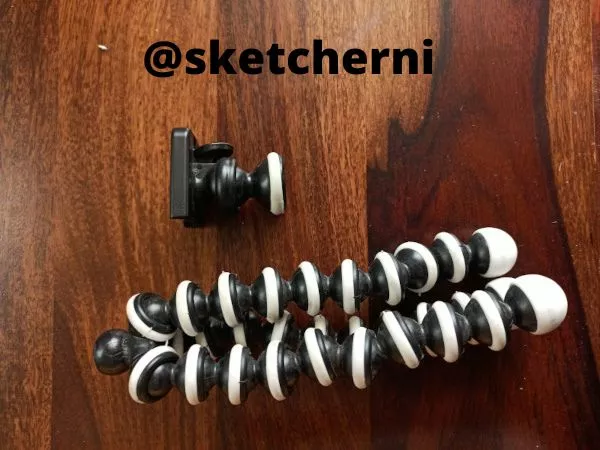 The phone holder, head with an adjustable pin, and basic 3-leg structure are very sturdy and very flexible to user needs. We will talk more but the practicality in the below section.
As far as built quality goes, this is by far the best tripod under 500 Rs. But do keep in mind, that it's not a full-size tripod.
DIGITEK DTR 260 GT Review – Practicality
The brand has clearly mentioned on the box " portable, stable & compact" and we can confirm all three points! At the maximum height of 260mm, it can smoothly go in any laptop bag. We tested this in a tiny Decathlon bag pack, a full-size laptop bag and it's actually very portable!
Now let's talk about stability.
The legs are made up of plastic and the overall feel is of rubber. The plastic/rubber legs are very sturdy and let the tripod stay at any possible angle without dropping the phone. We've tested this on the phones like Moto G10 Power, Moto G9, and even Moto G51 all of which are above 200 grams. As you can see in the above picture!
Even if you'll go outdoors on the road or on grass the rubber leg tips offer a good grip and don't let the tripod trip even under heavy wind. Be it you are recording an Instagram Reel or a YouTube video, this tripod will not disappoint.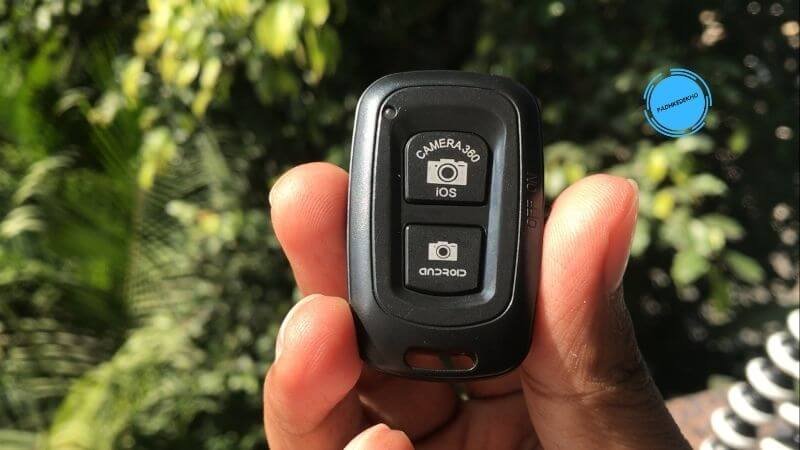 This Digitek tripod comes with a Bluetooth remote that is quite handy and practical. The beauty of this remote is the lack of dependency on any third-party app. All you need is to connect it via Bluetooth and voila it works.
What this remote will do? It can let you capture photos or videos (depending on the mode you have selected on your smartphone). Then as per your phone Android or iOS, you just need to press the button. It will start capturing and pressing it again will stop the recording.
So in terms of features and practicality, Digitek DTR 260 GT is beyond amazing and worthy of every penny.
Should You Buy Digitech DV Tripod DTR 260 GT?
Digitek DTR 260 GT can be a good addition to your YouTube journey. Saying this as an addition is not in a bad way. Due to the price, one can easily have a "go-grab" attitude but at the same time, the build can be a factor that can either go for a few months or just a few days depending upon your use.
if you are very tight on the budget, you can go for it but do use it gently. Otherwise, you can spend more and get a durable product like the FotoPro UFO2.
Also, as you must have guessed it is not the typical tripod that has very long legs that can help you record table height of content like product reviews or unboxings. Rather it will stand on the table and help you capture different angles for the video. if you need a regular tripod for recording unboxing or Instagram Reels we recommend Osaka OS 550 (review).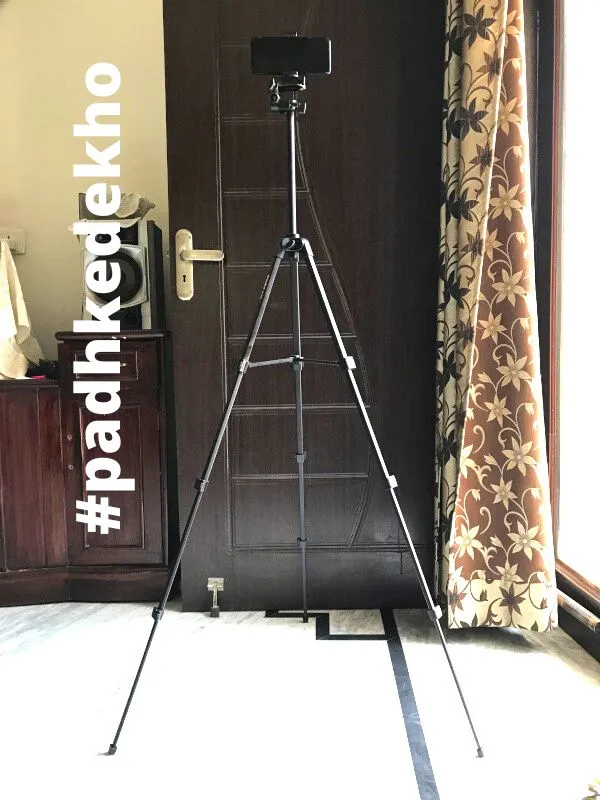 So if you need to take your YouTube Journey to the next level, a mini tripod like Digitek DTR 260 GT is a good product. Why it's a good product? Because it offers great built quality while being on a budget. Secondly, the phone holder that comes in the box can be stretched to properly hold your smartphone. Additionally, the Bluetooth remote is a great addition.
With this tripod, you can literally brainstorm your creativity and produce great-quality content. if your budget is restricted under 500 Rs, then this is a full paisa wassol product that just not only looks good but is ultra-durable too.
The legs are strong even to hold a smartphone that is about 230 grams and as per the company claim, it can hold cameras up to 1kg. Since we are majorly dependent on smartphones that's why couldn't test the DSLR camera weight. However, for smartphones, we have tested with Moto phones that are heavy at over 200 grams and had no issues of disbalance or even falling.
So all in all, looking at the built quality and accessories that come in the box while being a product under 400 Rs, we are very confident in recommending you this Digitek DTR 260 GT Gorilla tripod!
Wrapping up
There you have it, this is our Digitek DTR 260 GT Review. if you still have last-minute doubts or queries, you can always reach us on the below social accounts. We love to help our readers.
Padhkedekho.com is supported by the readers. Buying anything using the affiliate links on this page helps us earn a small commission from Amazon at no additional cost to you. Your contribution will support honest content creators and an ad-free user expereince!
F.A.Q
How Much Can DIGITEK DTR 260 GT Hold Weight?

Yes, Digitek DTR 260 GT can hold up to 1 KG of device weight. We've tested on 230 grams of smartphones and faced no issues.
How Long Can be DIGITEK DTR 260 GT?

The height is 260mm or 10.23 inches. Ideal for vlogging or countertop cooking videos or product reviews.
What's Included in The Box of DIGITEK DTR 260 GT?

In the box, you'll get a tripod (obviously), a phone holder, and a Bluetooth remote.