[Updated on July 19, 2023] It's been over 9 months and we have taken many videos be it indoors or outdoors, this tripod has not disappointed us. You can record the landscape as well as portrait videos too. Osaka OS 550 gets our approval. Back to Osaka OS 550 review!
Osaka OS 550 tripod is very popular in India thanks to the Made in India initiative. Not just that, it can go as high as 55 inches which makes it more desirable for under 1000 Rs.
Because of that, we also featured it in our Best Made in India Tripods. But the point is; is this tripod worth the hype? Is it actually good? or you should go with a different brand? Well, We've been using this for over 9 months now, and here's our detailed Osaka OS 550 Tripod review.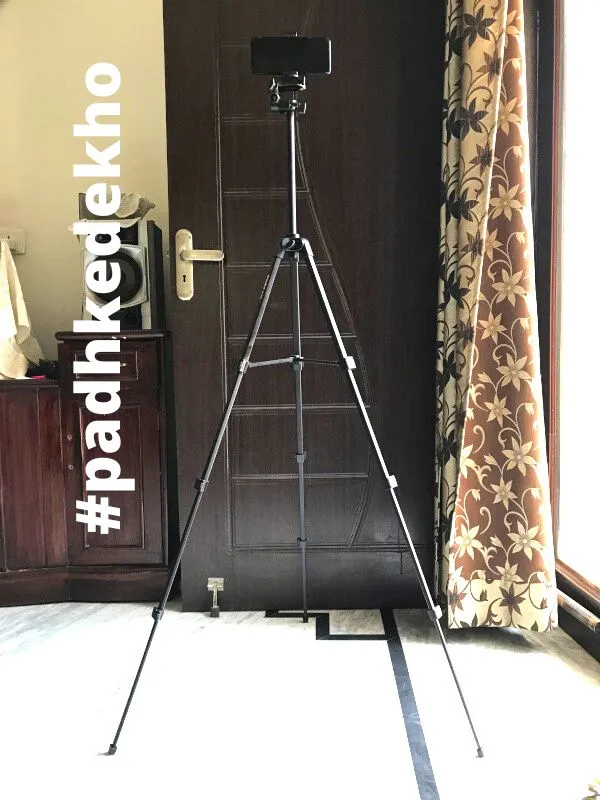 Here, we've talked about all the essentials that are important while making the buying decision. Below you will find the pros & cons, size & dimensions, built quality, compatibility, features, and above all, should you buy one?
At Padhkedekho, we provide honest and customer-centric reviews for products and services with the only aim to help you choose better. Since we're an independent tech channel we don't do sponsored content hence all the articles and videos are opinions of a customer. So you can trust our views and make your decision.
Osaka OS 550 Tripod Pros & Cons
In-Box Contents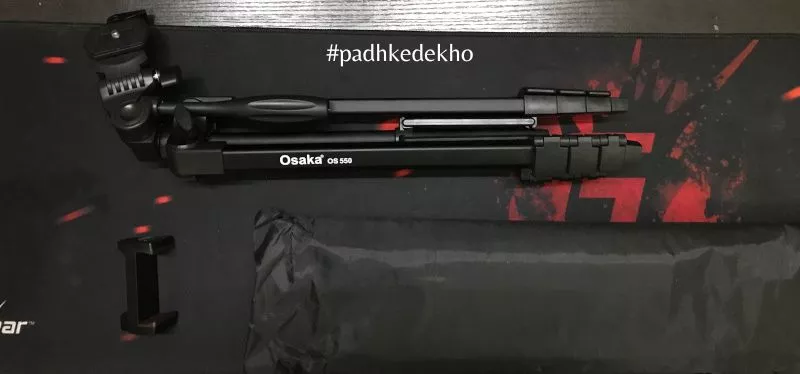 With Osaka OS550 tripod you'll get all the basics like:-
1 Average quality carry pouch
2 Phone/Point to-shoot camera or DSLR holder
That's pretty much it. Osaka OS550 could've given a better quality carry pouch. But keeping in mind the budget price, it's not a deal-breaker.
Size & Dimensions
As you can see the minimum height is 415mm or approx 16 inches with a phone holder mounted. Without it or in the carry pouch you can easily take it around in your backpack. Since the weight is below 600 grams it's not only convenient to carry but also lightweight. The maximum tripod can be stretched is up to 55 inches which is perfect for recording overhead shots or perhaps Insta Reels, YouTube shorts, etc.
Due to its versatile and budget-friendly price, it's quite popular. You can check today's deal price on Amazon.
Built Quality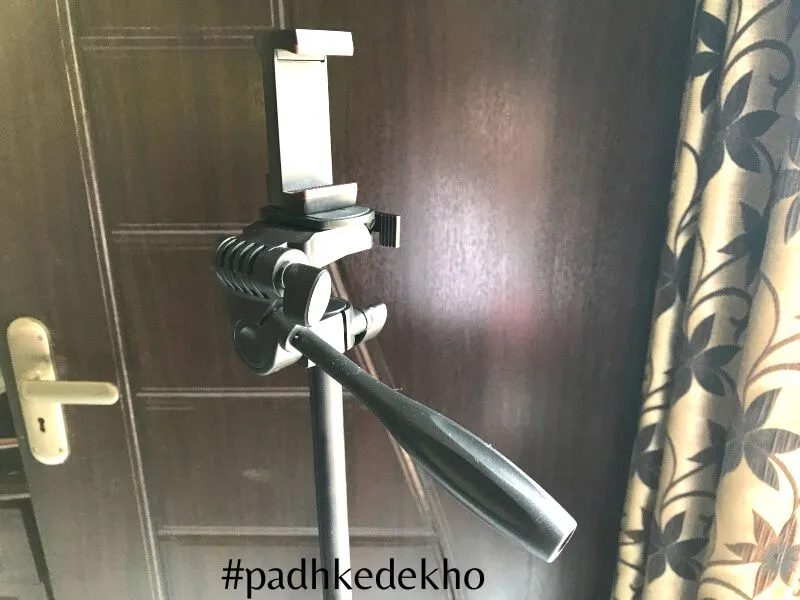 Osaka OS 550 overall built is of good quality aluminum. You can feel that just by holding it. Earlier we were using the Generic 3110 tripod and Digitek DTR 260 GT (review) for our work and next to those, Osaka feels very premium.
The clips to adjust the height offer an assuring click sound that speaks quality. The locks are quite firm. When it's locked the tripod legs will not wobble. The phone or DSLR holder is a blend of good-quality plastic and rubber.
The adjustment mechanism is very smooth and precise. You can know more in the compatibility section below.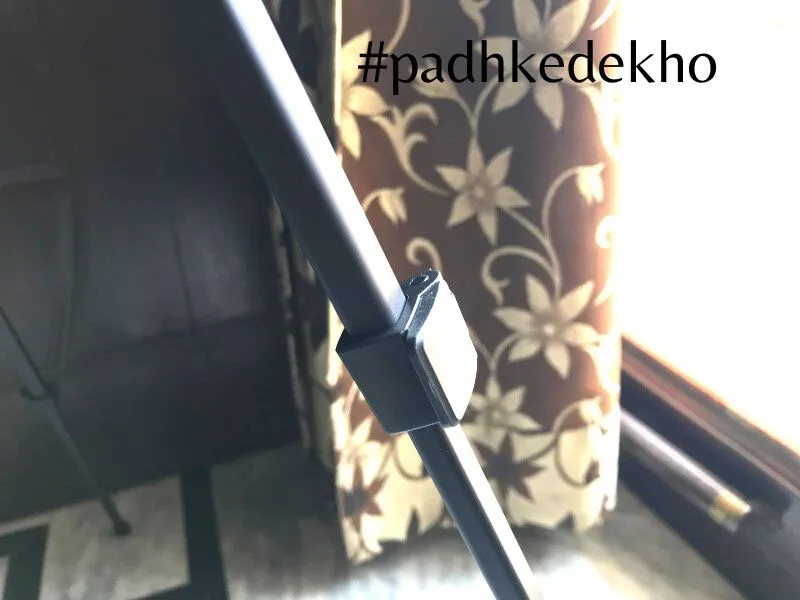 The legs do look thin and weak but don't let the pics deceive you, this tripod can hold up to 2.5 kg of weight. Which is perfect for smartphones and small DSLR cameras. What about the swivel pan and camera angle adjustment? They are quite sturdy too.
To sum up the built quality, OSAKA OS 550 is a professional grade tripod under 1000 Rs. Hence we will give it 9/10.
Compatibility
As far as the device compatibility goes, Osaka OS 550 is compatible with smartphones, action can like GoPro, DSLR, camcorders, etc. We've tested this tripod with medium to large phones like iPhone 7, OnePlus 7, Moto G51, etc.
So no complaints in that regard. if you are worried about your phone not being compatible then don't worry.
The phone holder in the box has an adjustment mechanism that can allow phones above 3.3 inches to 4 inches to snug fit easily. Even as of today, no phone is wider than 4 inches, not even Samsung Galaxy S22 Ultra! So you are good to go!
One point to add here is the adjustment mechanism. It's common like many tripods but it's on the smoother side. You can easily adjust as per the width of your phone. To demount your phone all you need is to hold the above part of the phone holder and apply force from the bottom.
Do hold your phone with your free hand otherwise, it will fall. And once the phone is in your hand, leave the bottom finger first then the other resting on the phone holder.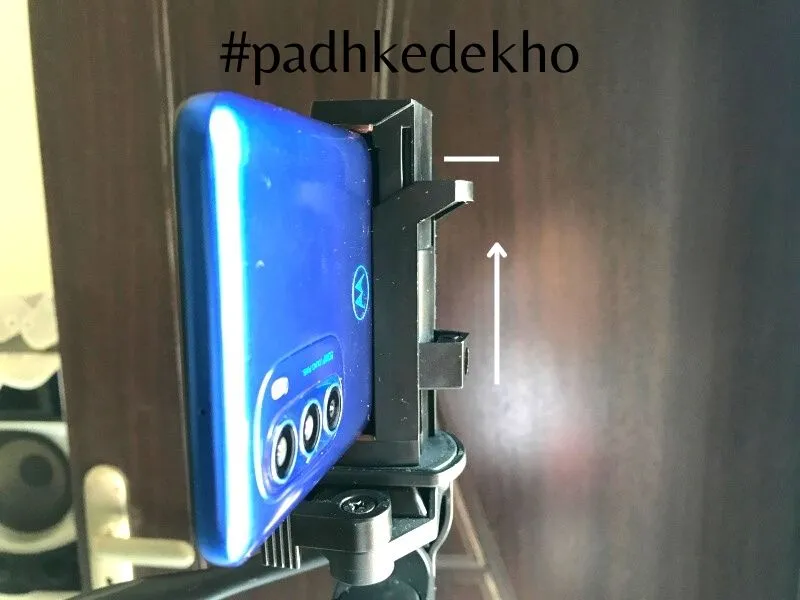 Since we don't have a GoPro, or a professional camera we can not comment on that but for smartphone use, it's been terrific. And that's to the amazing build, we believe it will be fine for DSLR use. Hence in terms of compatibility, we are more than satisfied with it. Hence 9.5/10.
Features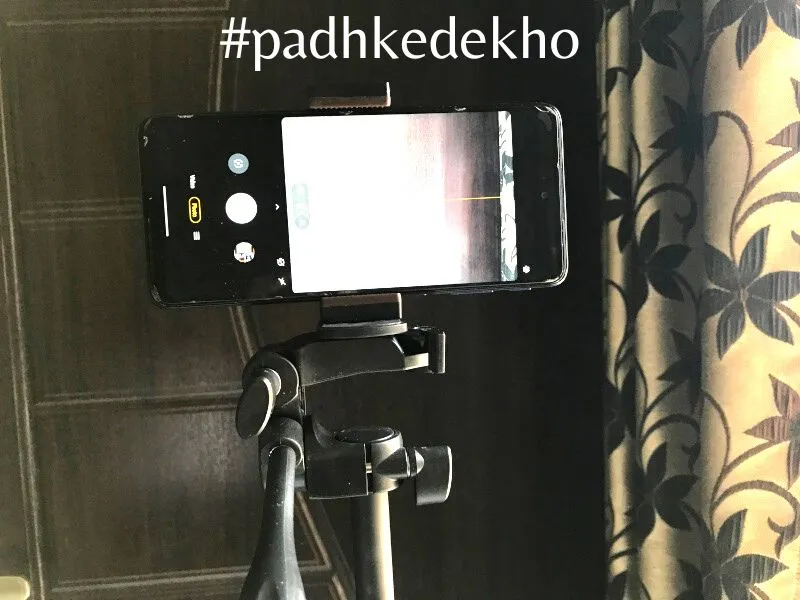 If this tripod is going to be "your way to pro" then you will be pleased to know the advanced features offered by Osaka OS 550. First of all, you get a pro-level surface-level indicator. Unlike the budget ones that come with a green meter, this one looks like a helicopter compass of the Call of Duty game!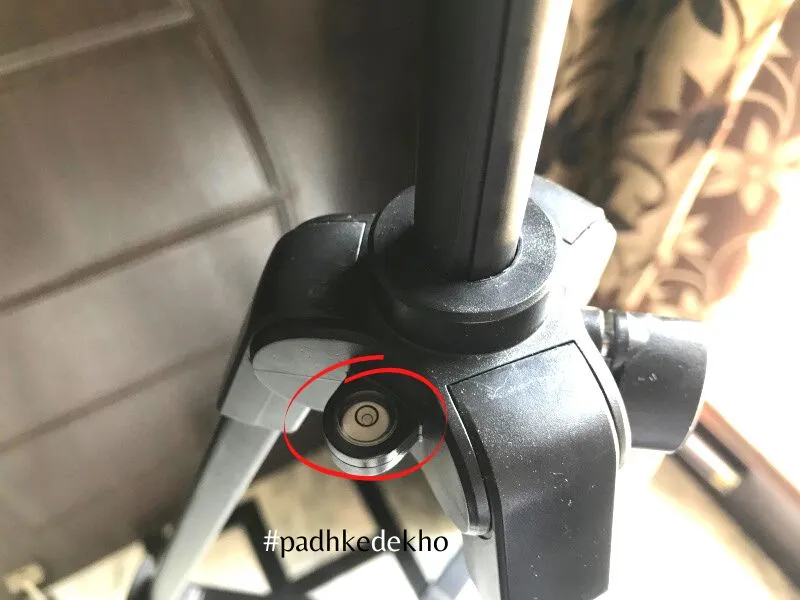 Reason for saying that the quality of the leveler is very premium. So how would you know whether the surface is flat? Well, you have to keep the dot in the center.
Other than that you get a quick-release lever. This will help you easily mount a phone holder in your desired position. Confused? no worries let me explain. When you try to attach a phone holder you have to turn it a few times for it to get tight.
But sometimes it gets tight on a spot from where you don't get a good angle for recording video. So to save time and effort while recording video you can take advantage of this quick release and set the phone holder as per your requirement.
The tripod head or pan can be rotated 360 deg or 180 deg as per your need. You must be wondering what can be done on many tripods what's so special about this? Well, the mechanism is so smooth that the video feels very stabilized.
Coming from basic 3110 it feels remarkable every time we use it. We will be posting a few video samples on YouTube so do subscribe if you haven't already!
What next? you can very easily change the orientation from landscape to portrait. This makes it multi-purpose. You can use this tripod to record a YouTUbe video which is always landscape and once that is done you can use the tripod for making Instagram Reels or YouTube shorts which are portraits.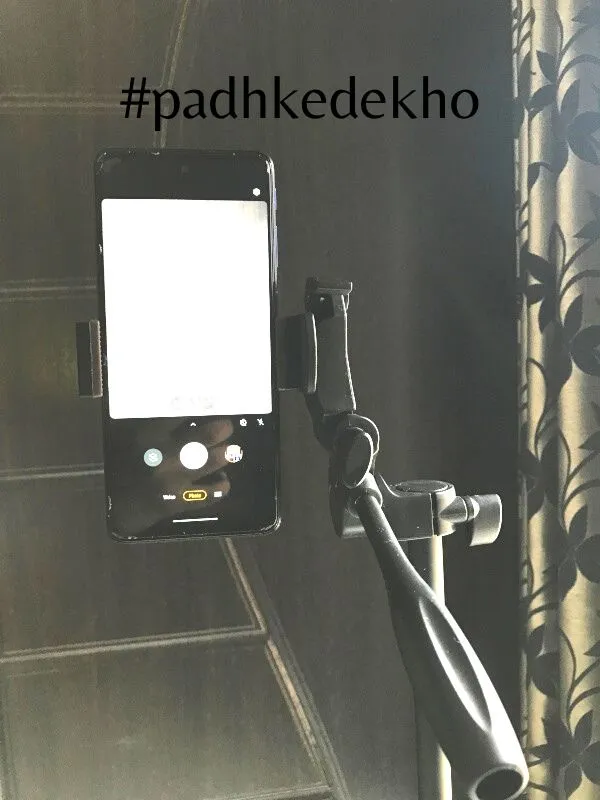 Should You Buy Osaka OS550?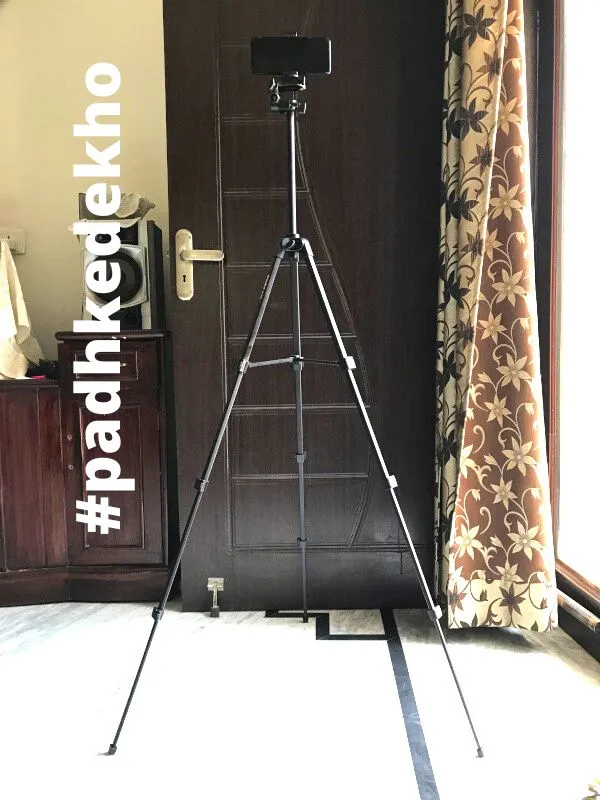 If you are a person who uses a smartphone to record photos and videos then Yes, you should confidently buy Osaka OS 550. It's perfect for first-time tripod users or an intermediate who has been using a basic or more entry-level tripod.
Sure it will not blow you away with so many features but still, it allows quite an interesting one. If you haven't read out those then click here to check out the features.
Unlike other budget-centric tripods built quality is a compromise. Not just the legs but also the clips, pan head, and rotator knobs, everything is weak and flimsy. Those ones that are around 500 to 600 are decent for first-time users. But you have to be very gentle otherwise you will have a broken tripod that will have no use.
Whereas the built quality of Osaka OS 550 is incredible for the price.
Wrapping up!
There you go, folks! This was our Osaka OS 550 Tripod Review after a month of use. We are thoroughly impressed by this "Made in India tripod" and we recommend this if you are looking for a mobile-centric tripod under 1000 Rs.
if you got any questions about this tripod or any product you can reach us out on the below social accounts. We love to help our readers!
Liked the content and want to support local content? Then please use the below Amazon button to make your purchase. We confirm that you will not be charged a penny extra. We will earn some commission from Amazon. Your contribution will help us keep the website up and running. Thanks for supporting us!
Suggested Articles!
F.A.Q
What Phones Can I Use With Osaka OS 550?

Osaka OS 550 comes with an adjustable phone holder that can easily let you mount any phone above 3.3 inches to 4 inches in width. This bracket pretty much all the smartphones as no one is wider than 4 inches, not even Samsung Galaxy S22 Ultra!
Osaka OS 550 Moves 360?

Yes, Osaka OS 550 moves 360 deg. Just make sure the panhandle is loosened up otherwise the B-roll will have jitter.
Can You Fit Ring Light on Osaka OS 550?

Unfortunately, no! That's not possible.
How to Put Phone in Portrat Position on Osaka OS 550?

You cannot put the phone in a portrait position on Osaka OS 550. You have to put it in landscape position which is to be as the phone holder is made that way. But you can rotate the position either portrait or landscape as per your need.
Can You Mount Handicams on Osaka OS 550?

Yes, you can easily mount any camcorder or Handycam on Osaka OS 550. No issues with that.