[Written on 10 Nov 2020 || Updated on 12 Apr 2023] We recently reviewed Tripod 3110 which is an entry-level budget tripod under 400 Rs. While buying it we saw multiple tripods in different price segments dominated by Chinese companies. This article is not against any country whatsoever. However, we felt to bring up some of our Atmanirbhar Bharat brands making tripods that are actually good. So here is a list of Made In India Tripod that needs your attention.
Ladies and gentlemen, in this we have thoroughly researched some of the best made in India tripods that you can buy online! These products offer the best-built quality and tons of other features. So without any further, we do, let's begin the list, shall we?
Top 5 Made In India Tripod List
#1 Ionix 2.1(Best Budget Made In India Tripod)
If you are looking for a budget make in India tripod under ₹1000, then it is the best option after the M-fit tripod (will be discussed below). It will tick most of your requirements.
Ionix 2.1 In-the-Box Contents
The most important part of any tripod is the head mount. Ionix 2.1 can strongly hold the phone, DSLR, and multi-level locks will let you record videos at your desired angle for YouTube.
And if you are a school teacher or coaching staff then you will like it even more! The height of the tripod can go as high as 6.8 feet which is beyond the average Indian height standard! Therefore, you will not have any issues while taking lectures or classes for sure.
Ionix 2.1 weighs around 880 grams and can fold under 70 cm which makes it travel-friendly and easy to carry. In this range, most of the tripods don't come equipped with a carry bag in the box and that holds true for this one as well.
Since it is a budget category made in India product it offers decent steel legs. The legs being steel are not very strong and will require a little care while operating.
| Other Specifications | Properties |
| --- | --- |
| Max Load | 2.99 KGs |
| Ionix 2.1 Weight | 880 Grams |
| Ionix 2.1 Compatibility | Smartphones, Go-Pro, DSLR Cameras, Digital Cameras |
| Pan Available | No |
Ionix 2.1 Tripod Specifications
#2 m-fit 1.6 Tripod (Great Alternative For Ionix 2.1)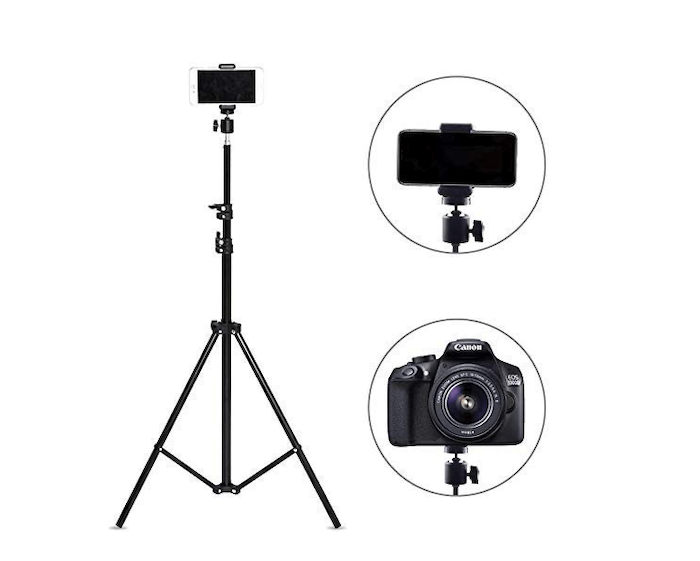 Just like ionic 2.1, m-fit 1.6 is also quite similar in price and specifications however it offers a few improvements. Those features and improvements can make m-fit 1.6 the ideal choice for you. Let's have a look at the m-fit 1.6 made in India tripod.
M-fit 1.6 In-box Contents
Phone Holder
360 Deg Swivel Head Mount
M-fit 1.6 comes with a 360 deg Swivel head mount unlike Ionix 2.1. On m-fit 1.6 you will be able to record videos using the smartphone, Go-Pro, and even DSLR cameras at any particular angle. Moreover, not only it will help you in recording landscape videos, it will even let you record portrait videos (which is missing on Ionix 2.1).
Do you plan on recording videos in mountains or parks? if yes, then there's a lot more for you! This tripod comes with a level tester that will be quite handy for you. The level tester will be able to identify whether the tripod is properly placed or tilted rather than straight. As a result, you will be having a professional-level type of video that is not tiling in any direction.
Apart from the head mount, the next most important aspect of a tripod is the legs. m-fit tripod 2020 new comes with durable aluminum legs that are quite sturdy. The locks on the tripod are easy to lock and unlock. The best part about this tripod is that you can hold the tripod at any particular height at your convenience.
| Other Specifications | Properties |
| --- | --- |
| M-fit Tripod Compatibility | Smartphone, Go-Pro, DSLR, Digital Camera |
| Maximum Height | 7 to 8 Feet Approx |
| Pan Shots Available | No |
M-fit Tripod 2020 New Specifications
#3 M-Fit 2020 Tripod With Light Ring (Best Made In India Tripod For Instagram Reels)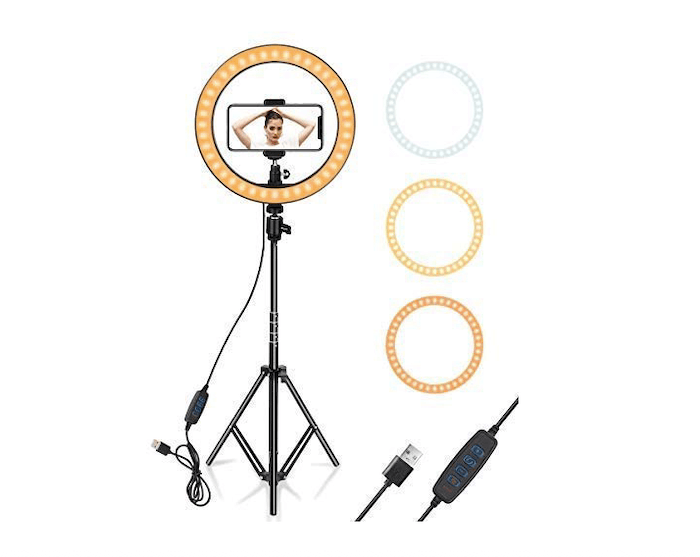 If your goal is to make better quality Instagram Reels and TikTok videos, then it's the most suitable choice for you!
M-fit 2020 Tripod With Light Ring In-box Contents
Ring Light
Phone Holder
360 Deg Ball Mount
The best part about this tripod is its height. Since the m-Fit 2020 tripod is 7 feet long so making content related to makeup videos, Instagram lives, Instagram Reel, Facebook live, etc will be a breeze.
Unlike other tripods with a ring light, this tripod is on another level. To begin with, the LED on this ring light can operate between 3000K to 6000K, enabling you to have 30 light effects for your videos and live streams! So setting a warm day or cold evening look will not be a problem.
If you wish to record videos without the ring light then that's also possible. In the Box, you'll get a phone holder and a 360 Deg Ball Mount that will let you set up your smartphone, mirrorless camera, DSLR, and Go-Pro on the tripod vertically, or horizontally, as per your need.
Just like the rest of the tripods on our list, this one is also easy to fold and travel-friendly.
| Other Specifications | Properties |
| --- | --- |
| M-FIT 2020 Weight | 1 KG |
| Supported Devices | Smartphone, Mirrorless Camera, DSLR, Go-Pro |
| Ring Light Features | 30 Light Effects On Constant Current Drive |
| Built Quality | Metal |
M-fit 2020 Tripod With Light Ring Specifications
#4 Osaka OS 550 (Heavy Duty But Easy On The Pocket) (Our Pick)
If you are a beginner then both the Ionix 2.1 and M-fit 1.5 are ideal choices for you. However, if you want to level up your content quality on your YouTube channel or professional-level photography skills, then you should definitely check out Osaka OS 550. Let us present to you the things that separate them from others!
Osaka OS550 In-box Contents
Unlike both the previous tripods discussed above, Osaka OS550 comes with a 360 deg head mount along with pan functionality. Because of this combination, you will be able to take very smooth transitional shots, b-roll shots, and 360 pan shots at any angle! Osaka OS 550 is like icing on the cake for Tech Youtubers and professional photographers.
The best part about the Osaka OS550 tripod is that it weighs only 800 grams making it the lightest heavy-duty tripod on our list! It is foldable and can be easily taken for outdoor shooting. Additionally, it comes with a good quality tripod bag which will help you carry and protect the tripod easily.
Osaka OS 550 tripod can hold devices up to 2.5 kg. Majorly smartphones, DSLRs, mirrorless cameras, and Go-Pro are within the weight limits of this tripod. If you have to mount a Tele-Photo lens or heavy equipment, then below we have a great Made In India Tripod for hardcore professionals!
The tripod is made up of premium-quality Aluminium. Since the tripod is foldable it can stretch a maximum of 54.3 inches and as low as 16 inches in height. Which makes it great for unboxings and reviewing videos!
To fix any tripod at a particular angle or height you need to have a decent set of locks on the tripod legs. You will be pleased to know that this is one of a few made in India tripods that offers the best lock clips in its price segment!
| Other Specifications | Properties |
| --- | --- |
| Osaka OS550 Max Waight Supported | 2.5 KGS |
| 360 Pan Shots | Yes |
| Supported Devices | Smartphones, DSLRs, Mirrorless Cameras, Go-Pro |
| Osaka OS550 Weight | 800 Grams |
Osaka OS550 Specifications
#5 Osaka VCT880 (Very Professional Yet Affordable) (Must Buy For Pro)
If there's an award for best in a class professional tripod, then Osaka VCT880 we would have given it hands down! Here's why!
Osaka VCT880 In-Box Contents
Features And Specifications
Osaka VCT880 is meant for you if you own or plan to use serious professional camera gear in the future. On this tripod, you will easily be able to mount camera equipment of around 3.5 Kg!
Since it can hold up to 3.5 kgs of weight, Osaka has equipped Geared Elevator in vct880. Geared Elevator is basically a hydraulic leg that will let you move the camera vertically without requiring any force at all!
This tripod can be stretched a maximum of around 6 feet (183 cm) and can go as low as 661 mm (66 cm). Keeping in mind that it is a professional-level tripod that is travel-friendly makes it awesome. While we are on the subject of travel, it comes equipped with a travel bag which is offering great quality.
The aluminum legs available on Osaka VCT880 offer the best-built quality at this price range, period. On the bottom of the legs, you'll find moveable rubber knobs. So if you are recording video on an uneven surface then you'll be able to adjust the tripod for the best possible grip. Additionally, you can mount weights via a hook in the center for even better grip e.g. in windy mountain areas.
| Other Specifications | Properties |
| --- | --- |
| Osaka VCT880 Weight | 2 Kg 700 Gms |
| Maximum Height | Around 6 Feet |
| Osaka VCT880 Compatibility | Smartphones (Holder Sold Separately), DSLR, Mirrorless Camera, Cameras With Tele Photo Lenses, etc. |
| | |
Osaka VCT880 Specifications
Which Tripod Is Best For You?
Let us break down our experience for you. If you are just beginning your YouTube channel then you can try Ionix 2.1 and M-Fit 1.6 as both tripods are great for video recording. Later on, once you have gained a little exposure in video recording you should definitely upgrade to Osaka OS550.
And if you happen to have a Tech channel then you should begin your YouTube journey with Osaka OS550 as it let you have B-rolls and 360 deg pan shots that are vital for tech videos.
Aiming to be an Instagram Influencer or Instagram Reels celebrity, yes? then M-Fit 2020 Tripod With Light Ring is the finest choice for you.
If you are in this industry for a while now then nothing would have impressed you except Osaka VCT880. From the portability to mounting heavy equipment there's nothing this tripod can't do. It is made for those who are willing to take their photography to the limits.
According to us, even if you buy any product from the above list it is for sure that you are buying something which offers great built quality and going to last you quite long. And keeping in mind that all the above are the best made-in-India tripods!
There You Go, Folks!
These were our top 5 made in India tripods for you, we hope you would have found something for yourself. if not, then drop us a comment or let us know on social accounts we would definitely help you out!
And do share this article with friends and family so that we together support Vocal For Local and made in India products stand high!
Thanks! PadhKeDekho Out!
Do you have doubts or queries? Then connect below or reach us out on the below social accounts. We would love to help you out! Thanks for reading guys!