[Updated on 24 July 2023] It's been over a year since we bought this entry-level tripod. it's pretty stable for your smartphone. Built is good for the price. Hence for beginners, you can certainly check it out. And once you gain some experience you can upgrade to Osaka OS 550 (Review). Back to Trippod 3110 Review.
Are you done letting someone hold the camera while you are working on your next video? If yes, then buying a tripod would have definitely come to your mind. Here in India, tripods are available across a wide range that starts from as low as ₹200 in local stores.
However, on Amazon, the range starts from 300. You will find various Tripods under ₹500. Out of all options, we choose this deal of Tripod 3110 in black color via Amazon.
So without saying much, let us present to you Tripod 3310 review with pros and cons, after the extensive testing of a month. Let's get started!
Tripod 3110 Pros & Cons
In-Box Contents Of Tripod 3110
Since it is a budget tripod, you will get basic things that are essential to make the tripod work out of the box. i.e.
In the box, you'll get: –
A Black Carry Pouch
Tripod Itself
Stand Clip (Phone Holder)
An Extra Nut
Tripod 3110 price is just around ₹300. Keeping that in mind, it's good to see a few things that come in the box. The best budget tripod is the one that comes with a stand clip (phone holder) out of the box. Thankfully, tripod 3110 comes with it.
Some of the listings on Amazon come without a phone holder. So if you are looking for a tripod with a phone holder (stand clip) in the entry-level price segment then definitely buy using this link. Otherwise, you have to buy a phone holder separately.
Tripod 3110 is Made In China product that might offset you. If that's the case then you can check out the best made-in-India tripod list for 2022.
Tripod 3110 Specifications
Even though it is a budget-friendly tripod, it offers decent specifications as well. To start with tripod 3110 weighs 210 grams which makes it lightweight and travel-friendly. Moreover, the tripod is capable to hold devices weighing up to 420 grams!
Secondly, the legs can be adjusted to various heights. The least possible height is 13.8 inches (35 cm) and can go as high as 41.3 inches (105 cm) which is great.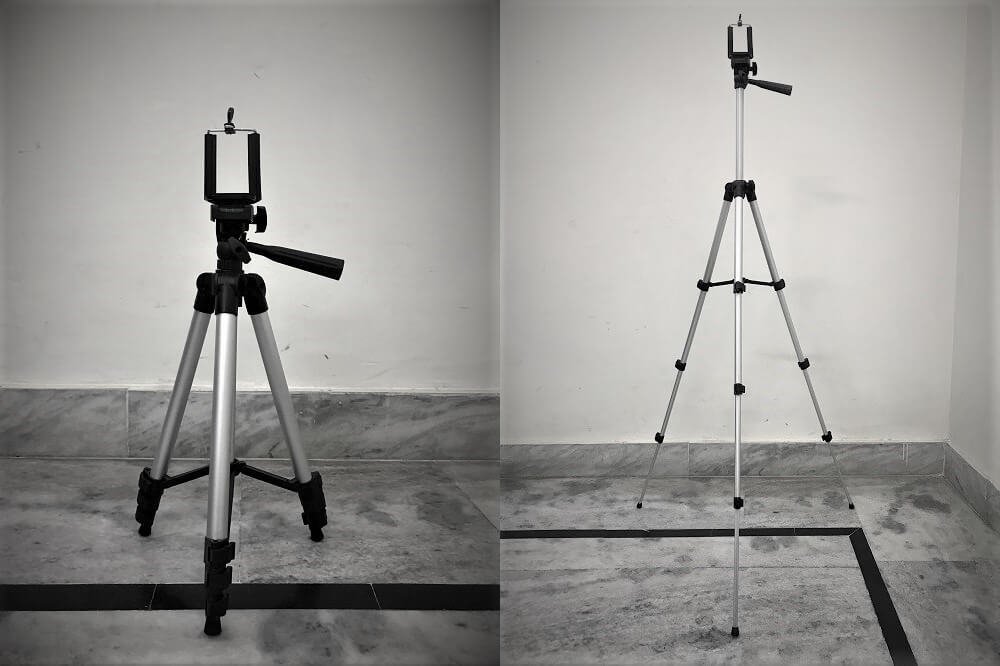 Usually, computer tables are less than 41.3 inches, therefore performing smartphone comparisons, speed tests, and whatnot can be recorded easily without someone else help!
Are The Legs Strong Enough To Support The SmartPhone?
There are plenty of reviews on Amazon stating the legs of this tripod are weak and flimsy however it is not true in the case of smartphones.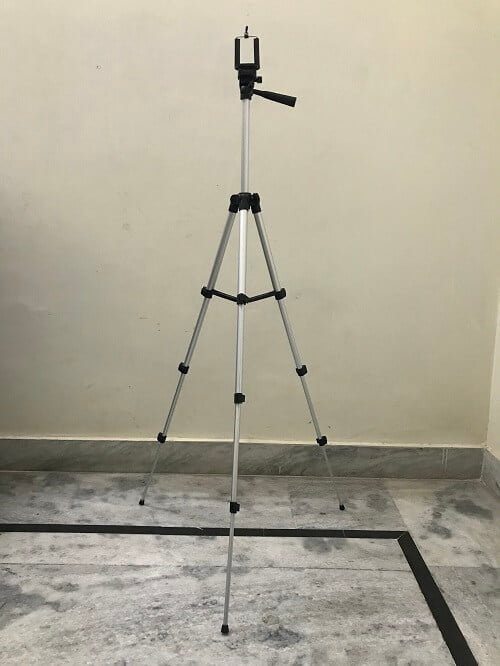 We have shot a few videos indoors using iPhone 7 and One Plus 7 which weigh 138 Grams and 182 Grams respectively. We never felt the videos to be shaky even though the tripod 3110 height was fully stretching to 41.3 inches.
Considering under ₹300 price, it offers decent quality aluminum legs however you will need to be soft while handling the tripod.
Can the Leg Clips Hold The Tripod At A Particular Angle?
At first glance, you will find the locks on the legs to be very cheap. However, the clips will make a decent click noise ensuring you that the lock has been applied accurately. As we have tested the clips dozens of times now, none of them has shown any depreciation or breakage.
For the sake of testing, we have tried a few angles and the tripod was able to hold itself and the smartphone quite decently. Some of the results are like this.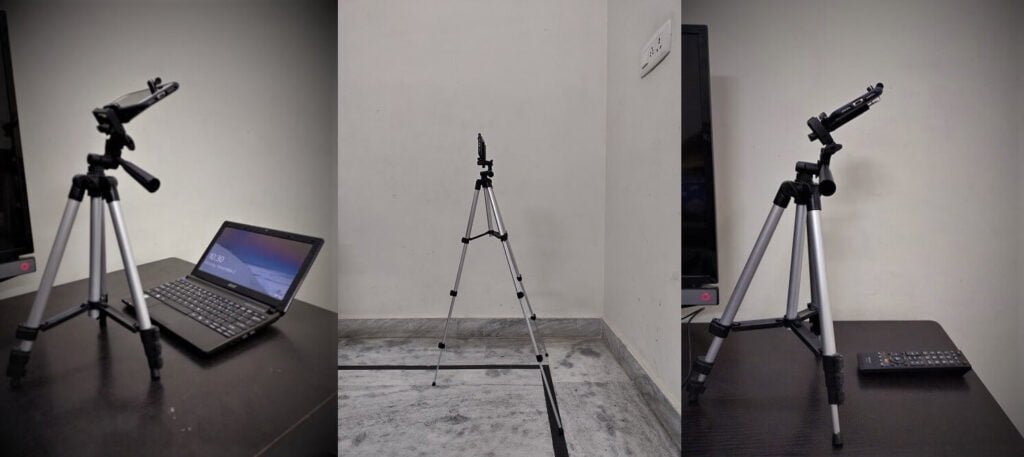 As you can see, the locks did a great job and the video project had no issues whatsoever. All in all, the clips are not a looker but will get your job done!
Any Special Feature Of Tripod 3110?
Yes, Tripod 3110 has a special feature: the green bar near the phone stand.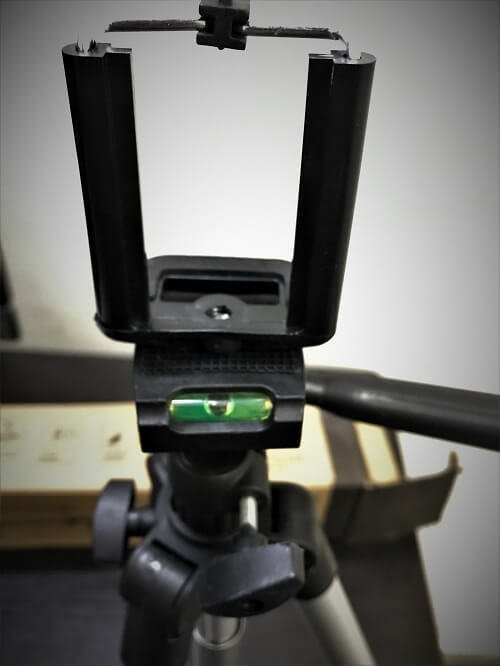 The green bar on the tripod 3110 stands will help you in recording an aligned video that will not be tilting in any direction. All you need is to align the white bubble in the center. If it is not in the center, then you can set it up with the pan slider (the long stick).
In our case, we thought it will not work as the phone was not looking perfectly aligned. Besides, it proved us wrong and the video sample was fine!
Can It Record Pan Shots?
Since it offers a 3-way pan head, it can record left to right, right to left, left tilt, right tilt, and even 360 deg pan. At this price, this is an awesome addition!
Tip: To record a decent pan shot, we would advise you to hold the tripod near the legs as we have experienced a little resistance while going all the way to the left and right sides.
Is Tripod 3110 Worth It?
Definitely yes, if you are a beginner and just entered into the video recording scene. This tripod is capable of shooting video from a smartphone without any issues.
However, you might have difficulties with big DSLR cameras. So if your initial plan is to record via smartphone, then it is a decent choice in this price range.
Since it is an entry-level product you should not have expectations like Digitek DTR 455. But this doesn't mean that tripod 3110 is a disappointment.
It will help you record stable videos without a doubt even if you have a smartphone weighing as high as 420 grams! However, you need to be gentle with the leveler adjusters as they are quite fragile if handled inappropriately.
As per our tripod 3110 review, we are quite happy with our purchase and will recommend it to you.
According to us, for under ₹500, it is one of the best budget tripods for beginners. If you want a better quality product that can stretch up to ₹1000 then you can check out Digitek DTR 455 and AmazonBasic tripod as well.
Wrapping up!
These were our few cents for the tripod 3110 review. We hope you found this helpful. If you did, please share it with your friends so that it can help others before making a choice! Thanks!
What next?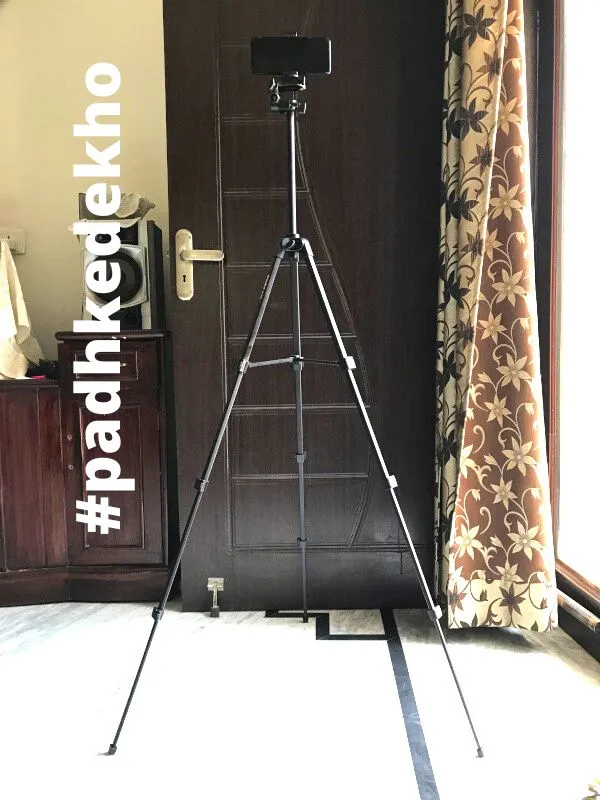 Sooner or later you will be needed a sturdy tripod that can mount your smartphones and even DSLR cameras, and for that Osaka OS OS550 (review) is a great tripod which also made in India!
Do you have doubts or queries? Then connect below or reach us out on the below social accounts. We would love to help you out! Thanks for reading guys!
Suggested Articles!