[Updated on 25 July 2023] If you are looking for LED studio lighting under 3000 Rs then it's the best-selling one on Amazon. We've been using it for over 9 months now and here's our Giftmax LED video soft light panel Review!
The reason for picking it up was easy; it came with a 7ft tripod in the box with a carry pouch. Remote control and a ball head. The design is modular so you can carry it around as per need; indoors or outdoors.
Why studio lighting is essential?
When it comes to Social Media, be it photos or videos, the brighter ones get more clicks. It goes the same for digital content. it's always the proper lighting that will get you more YouTube views or Blog clicks. In other words, good lighting can increase your blog post or video CTR.
Just have a look at both the pictures and what do you think! Will you click on the left or the other right?
So how good is this soft panel? Should you buy one? Or there are better options? All your questions are answered below. If not, please comment below or ping us on the social accounts. We love to help our readers with valuable insights!
In this Giftmax LED Video Soft Light review, you will find the Pros & Cons, Specifications, Built Quality, Features, User Experience & Verdict.
Why should you trust this review?
At PadhkeDekho, we buy tech products and use them for at least a month before publishing our reviews or comparisons. This helps readers like you make a better-informed decision.
Since we are supported by the readers, you can check out the product on Amazon through the links on this page. On any qualifying purchase, we might earn a little commission from Amazon at no additional cost to you. Thanks for the support, we are 3 years old now!
With that said, let's begin the Giftmax LED video soft light panel review with the Pros & Cons.
Giftmax Led Video Soft Light Panel Review – Pros & Cons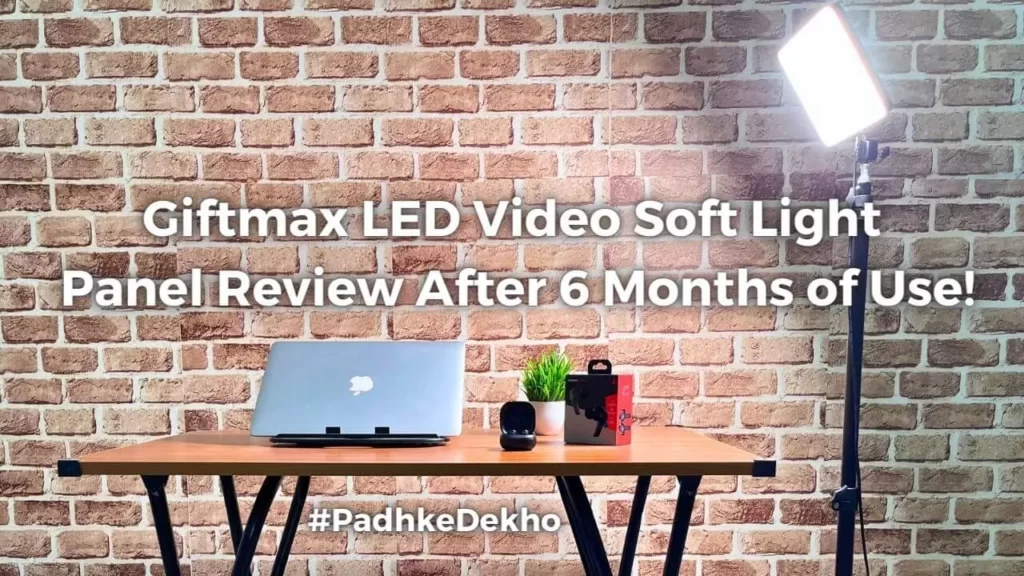 Specifications
| Features | Value |
| --- | --- |
| Model No | MM240 |
| Light Source Type | LED |
| LED Bulbs | 240 Pcs |
| Connections on LED Light | 2 Nos; 1/4 Nut Connections |
| LED Light Size | 16*23*3.15 cm |
| Color Temperature | 2700K-5700K |
| Input Power | Color Temperature |
| Best Buy Link | Amazon |
Built Quality (9/10)
Before buying any studio light you have to make sure few things. If one thing is wrong the whole experience collapses. Let's talk about those ones by one.
#1 Tripod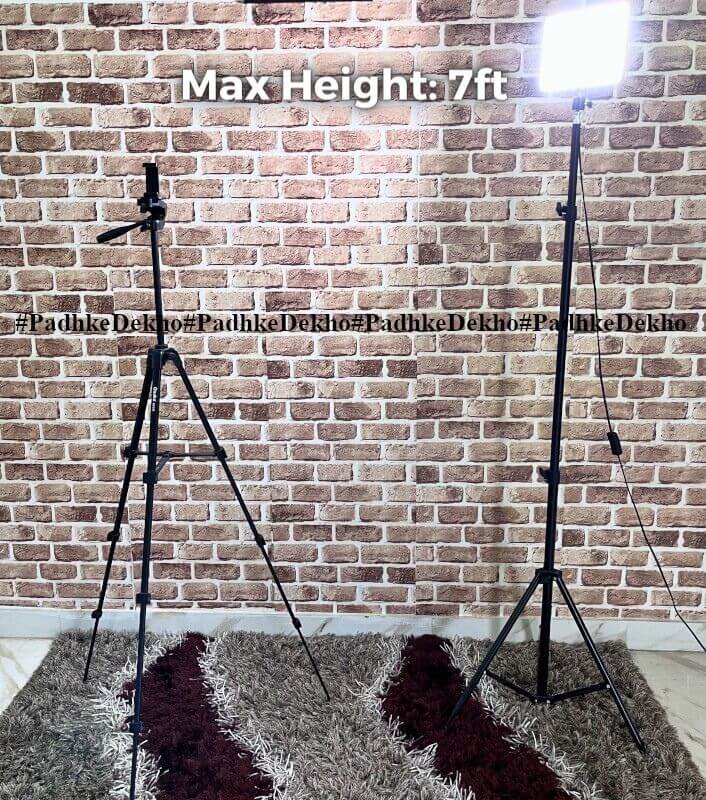 It's the backbone of any lighting equipment. If the legs are weak they can wobble and fall; resulting in breaking the LED Light. Since repairing LED needs professional supervision it's gonna cost you. Hence, a tripod is the most essential thing for a LED Soft light.
The tripod provided in the box is completely made of tuff metal and has a lot of weight to it. Unlike others, the legs are sturdy and do not have hollow legs.
This means you can stretch out the light to the maximum height and the tripod will not wobble at all.
In the last 9 months, we've never been this much confident while handling a big tripod. So supplied Tripod is of good quality metal.
#2 Clips/Locks
You never know at what height you will be recording your next video or photoshoot. Hence, you are totally dependent on the clips or the locks on the tripod for the perfect height. So you need good-quality locks which prevent the tripod from losing the designed height.
All 4 clips on the tripod (3 for height & 1 for the ball head) are a blend of plastic and metal which does a good job to hold the tripod at any height. None of the 4 locks have a free play they lock as they should. For the price, they are quite good.
#3 Ball Head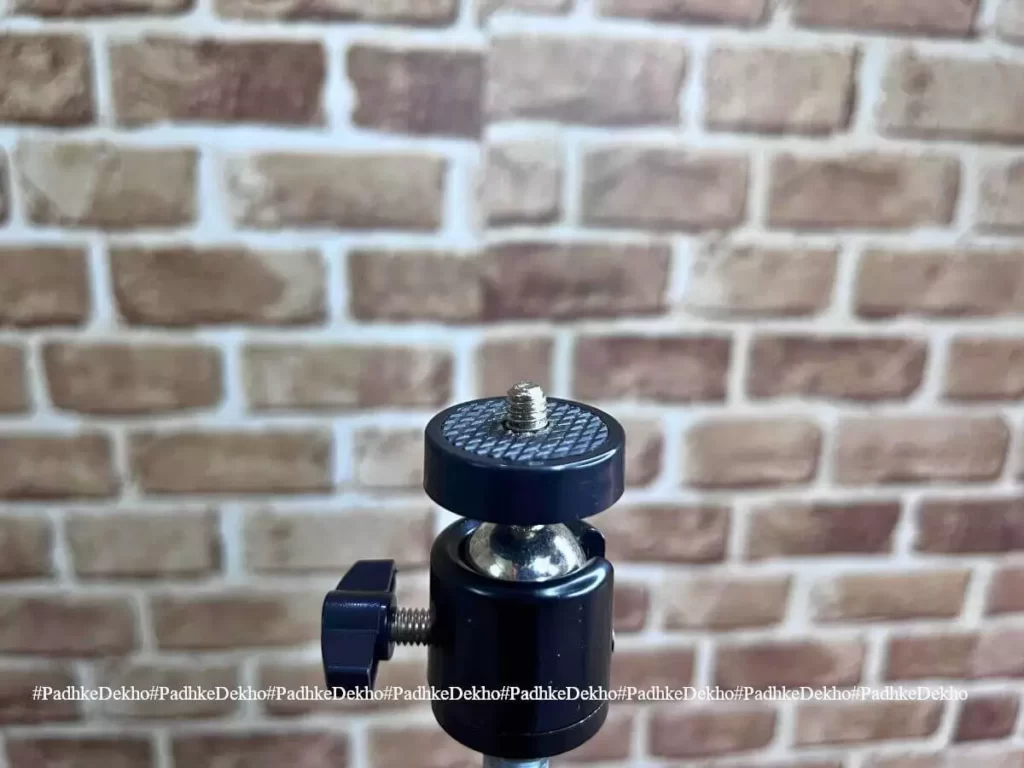 A ball head is a 360 deg rotation component that can help you place your light on any particular angle. If the ball head is of bad quality, it will not hold on to any tedious angle for long. That's the first issue.
And another issue that can come with budget studio lighting is the connection between the ball head and the tripod. if the lock is not strong, the ball head will be wobbly which means the light angle will need more adjustment.
We've been using this studio lighting for over 9 months now and both the two issues addressed above are not present on the Giftmax LED Studio light. In fact, it handles whatever you throw at it.
#4 Cable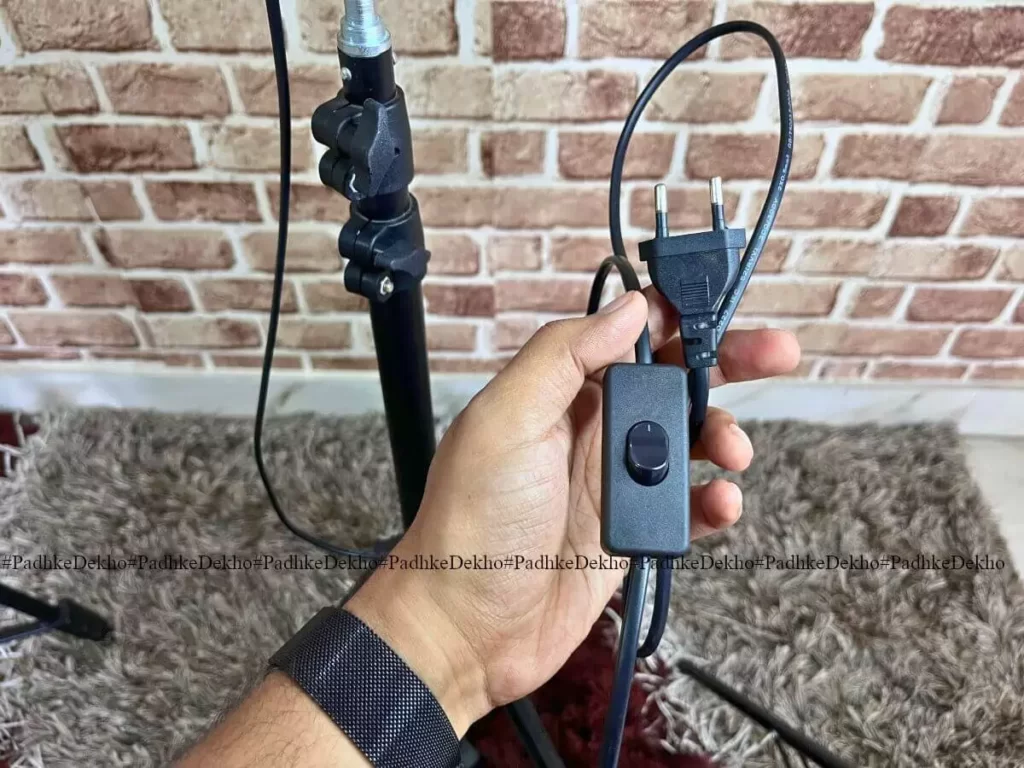 It's the power source that comes with a normal plug that can be plugged into any regular Indian plug except 16A Power ones. One end of the cable is fixed to the light and hence cannot be removed. Therefore, take good care of the cable. If the cable is damaged you will need to replace the whole light.
On the cable, you have the on-off toggle. As far as the length goes, it's about 2 meters. For better movement, it's better to get an extension board and freely use it.
So for overall built quality, Giftmax LED Video Soft Light Panel gets a 9/10.
Features (8/10)
#1 3-Color Mode: Giftmax Soft Light comes with 3 color modes; White, Soft White & Warm. As per your requirement, you can select one by pressing the Section button on the remote.
The color temperatures range from 2700k to 5700k which is a wide window to choose the best lighting. You will be pleased to know that we have used many smartphones with higher FPS and there's no flickering issue!
#2 Controllable Brightness: When you have decided on the color mode; your 50% work is done. But what about the brightness level? With the remote, you can choose between the 19 levels of brightness modes! You can make changes via the UP and Down button on the remote.
#3 Select Lighting: In the beginning, you might get overwhelmed by the color modes and the brightness so the brand has provided default presents. You can choose those either by toggling the on-off switch a few times. Or from the remote controller.
Pressing the Section button will move in a loop of White, Soft White & Warm at max brightness. If that's too much, you can press the (CT-) or (CT+) on the remote. This will allow you to choose the light color and the brightness.
#4 Remote Control: It truly helps to record videos when you are doing it all alone. You don't need to move and make adjustments; just give the commands at your comfort and continue your work. Our studio is about 15×15 and the remote accepts input from anywhere in the room; the range is very good.
So for features, it offers most of it as per the price range. Hence, Giftmax LED Video Soft Light Panel gets 8/10.
User Experience (8.5/10)
In these 9 months of ownership, this LED studio light from Giftmax has seen most part of winter and now going through 40-plus degrees of temperature so we have a lot to talk about.
Let's begin with heat. Yes, it does heat up but not like the halogen studio lights. You can feel the heat when you are standing just beside it.
It went through a stress test when one of us left it on by mistake for about 40 minutes on max brightness without any fan or AC running. When we came back it was hot but still working. After 15 minutes it was back to normal temperature with just the ceiling fan. So heat displacement is also good.
What about the color modes and brightness?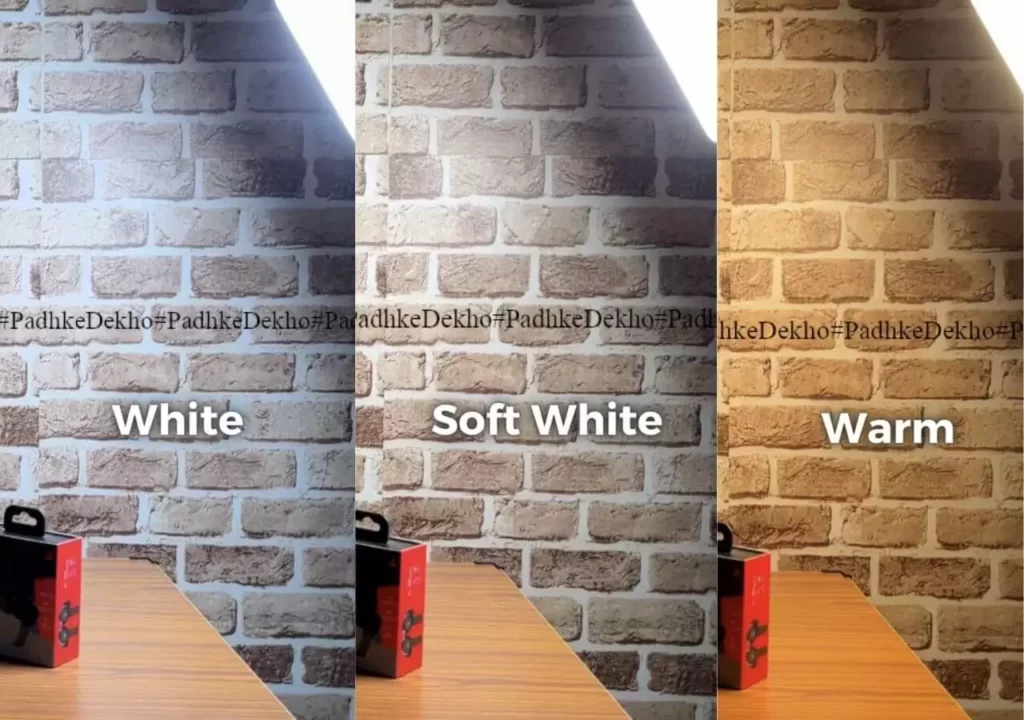 The three color modes, 19 brightness controls, and multiple color tone options via the CT+ and CT- buttons of the remote offer a wide variety of lighting conditions. Any brightness you choose, the light is consistent and does not flicker at higher FPS Videos.
The tripod that comes with it is a 7ft tall option and the lowest it can is 3ft (approx) which means you can have light in all the possible areas you can think of. Usually, you will need lighting on the side of a computer table or standing, this tripod is all you need.
We found the tripod carry bag quite useful. It adds convenience for an outdoor shoot or remote shooting. For the screen, you can use the supplied box.
Hence as for the user experience, Giftmax soft studio lighting is good and you can definitely check it out.
Should You Buy Gixtmax LED Soft Light Panel?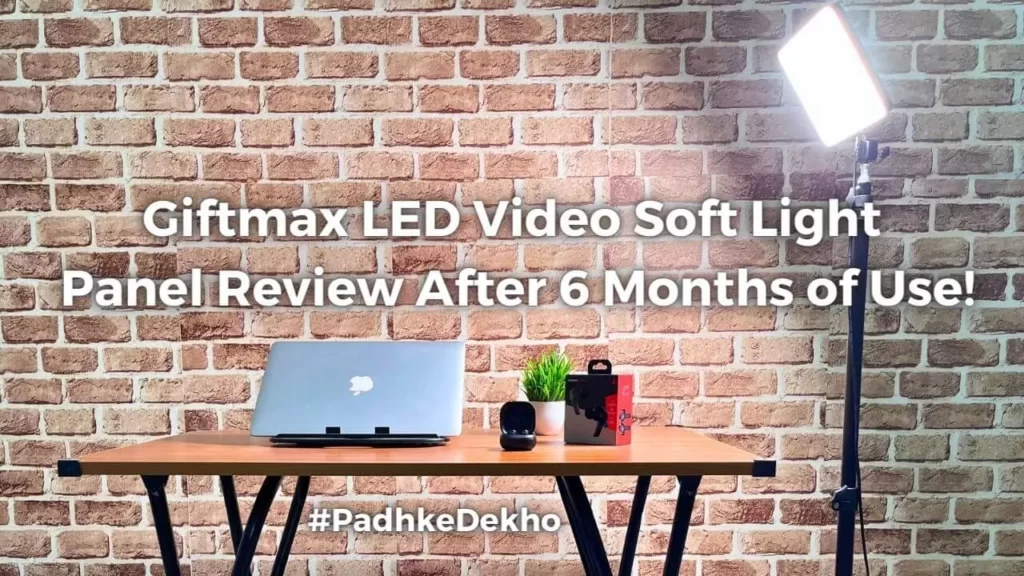 Since we've been using/testing it for over 9 months now were quite satisfied with it. So is it the best studio light under 3000 Rs in India? Yes, it's a great one! We recommend buying it. You can read out the detailed features and user experience above if you have skipped to the conclusion!
Let's talk about money and the options you have below 3000 Rs.
The biggest USP of Giftmax is the price. Under 3000 Rs you are getting a good quality 7ft tripod with a LED studio light that comes with 19 brightness controls and 3 color modes. Which to be honest, is as good as it can be. For context, Digitek LED D416 comes just with the LED light for the same price!
Keeping in mind the price, it's certainly the best option out there with all the bells and whistles. Below are our other recommendations that you can check out. The products are under testing & we will update the reviews shortly.
| Brand | Model | USP | Best Buy Link |
| --- | --- | --- | --- |
| Neewer | 10096461 | 2 LED + 2 Mini Tripods | Amazon |
| Digitek | LED D416 | LED With Controls | Amazon |
| HIFFIN | E24 | 9ft Tripod + Umbrella + Bulb Holder | Amazon |
| Prolite | B4 Studio | 9tf Tripod + Halogen Tube | Amazon |
Wrapping up!
There you have it folks. Here's our Giftmax LED Video Soft Light Panel review after 9 months of use. If you have any questions you can comment below or reach us on any social account given.
if you liked the content then please share it with friends or family who might be looking for a budget studio light under 3000 Rs. Thanks for the support!
Articles That Might Interest You!
F.A.Q
is Giftmax LED Studio Light Any Good?

Yes, it's a good product under 3000 Rs. We've been using it for over 9 months now and here's our detailed review. Tap now to learn more.
Giftmax LED Backlight Good For Video Recording?

Yes, it's good. You can use it for still photography as well as video recording. The light is consistent as a result there are no flickering issues. We've been using it for over 9 months now. Click now to read our detailed review.
is Giftmax LED Backlight Bright?

Giftmax LED Video Soft Light can go very bright. There are a total of 19 brightness levels to choose from.
is Giftmax LED Backlight Dimmable?

Yes, you can control the lighting via the remote.
What is The Height of The Giftmax LED Studio Light?

The supplied tripod is 7ft and the low can be about 3 ft.