[Updated on 25 July 2023] it's been over 3 months so far with the ring light and at first it feels delicate but we have dropped it quite a few times and seems like a sturdy product. For the price, it's good. back to the Tygot Ring Light Review!
Looking for a budget ring light under 1000 Rs? Then, you must've seen Tygot 10 inches ring light for quite under 800 Rs on Amazon. In fact, it's the cheapest ring light with a stand. Do we regret that? Find out more in this Tygot Ring Light Review!
Here we've talked about everything that can be a deal-maker or breaker for you. Started with Pros & Cons, Box Contents, Built Quality, Features, User Experience, & our verdict. So this Tygot Ring Light Review is all you need!
Why should you trust our review? Well, unlike many others, we actually buy products, use them for more than a month and then compare them with others in a similar price range. This gives our readers a real user perspective and helps in their decision-making.
As a support for local content, you can use Amazon links on this page to make your purchase. We might earn a little commission from Amazon at no additional cost to you. Thanks for your support so far!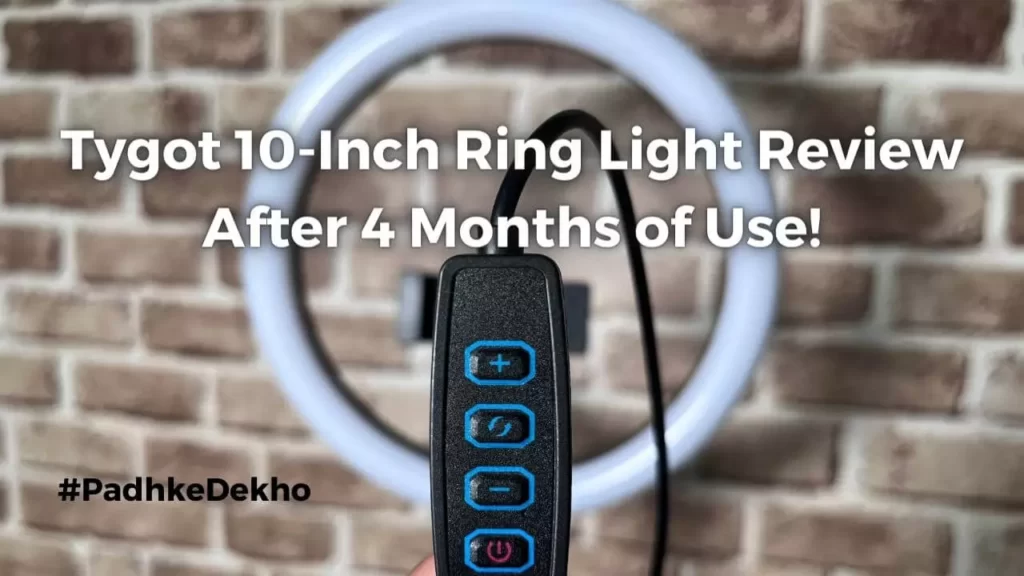 With that said, let's start the Tygot Ring Light Review with Pros & Cons.
Tygot 10-inch Ring Light Pros & Cons
Tygot Ring Light In The Box Contents
The box in which this ring light will come will be quite big even bigger than a laptop box! Anyways, in the box, you'll get:-
10-inch Ring Light
Phone Holder
Ball Head
Some Promotional Discounts on Next Tygot Product
Phone Holder Mount
For the price, the brand has provided everything they could. So your unboxing and setting up experience will be quite good.
Built Quality
Okay, here are 5 things to talk about.
Tripod: It's aluminum unlike plastic ones available in offline as well as online stores. Aluminum helps the tripod to be lightweight. Even a 6-year-old can pick it up with 1 hand! Since it is lightweight the sheet of aluminum is thin so use it with light hands.
Knobs: There are a total of 7 knobs for adjustments. They all seem to be holding the placement quite well. Certainly, for the price we have no complaints here.
Ball Head: It's good. You can move it in any direction/angle without any issue thanks to the 360 Deg rotation. It also offers an in-word cutout that can help you take overhead shots.
Controls: On the remote, there are 4 buttons out of which the power one is eliminated. The buttons are quite responsive and recognize the press quite well. No complaints in this regard too.
Cable: It's about 1.2 meters and starts from the ring light. It has a USB 2.0 interface which is fine if you'll be powering it via the USB power of the PC. You can also power it up with a power bank or a wall charger. No complaints here.
So for built quality, we do not have any issues other than the Ball Head being a little wobbly from the connection. Hence we are giving Tygot Ring light 4/5.
Features (5/5)
#1 3 Light Modes: The ring light supports 3 color modes; White, Natural Light & Warm Light. You can choose between the three by just pressing on the remote control and within seconds it changes it.
The best part is the well-controlled backlighting LED. There are no flickers while shooting videos in any light mode. This is surprisingly good at this price.
#2 10 Brightness levels: Tygot ring light 10 inches comes with 10 brightness levels to choose from. As per your video mood, you can set it accordingly. The ring light is very bright, finding the best lighting will not be an issue. Since it gets very bright at 10 it takes videos by keeping it either on the 5 or 6th level.
#3 7 Feet Tripod: You will love the various level of heights on this tripod. It can go as high as 7 feet, which most people will not use! Also, the lowest height is also good. We shot a couple of Insta Reels, YouTube shorts, and Unboxing videos, and even used it as a nightstand!
#4 360 Deg Rotate Ring Light & Phone Holder: It's just not for YouTube Shorts or Insta Reels, it has a lot of potential for other things. Thanks to the 360 deg rotatable ring light and the phone holder you can record any possible angle. It's a versatile ring light that you can pretty much use for anything. Just handle it with care
#5 Non-Existing Heating: The more lighting you will have around you, the more heat the light will produce. Since you will be speaking in the video that means you might have already turned off the ceiling fan, water coolers, or even air conditioners!
Fortunately, the Tygot ring light does not go hot in the sense you cannot touch it. It gets slightly warm but does not overheat. We tested it over 40 deg temperature for about 25 minutes continuously and it was warm with no sign of overheating.
So keeping in mind the features, Tygot's 10-inch ring light gets a 5/5.
User Experience (4/5)
Setting up a ring light is quite simple. First, you will unbox the tripod. Then on the top of the tripod, you will attach the ball head. On top of it, the ring light will mount. after mounting the ring light, now it's time to pop in the phone holder.
The total unboxing experience will take about 10 to 15 minutes and the tripod will be up and running under 20 mins. It's quite easy not manual or guidance needed. Just make sure you don't apply too much force. The odds are you are connecting it wrong!
When everything is fine and running. You will need to plug in the USB socket and start testing.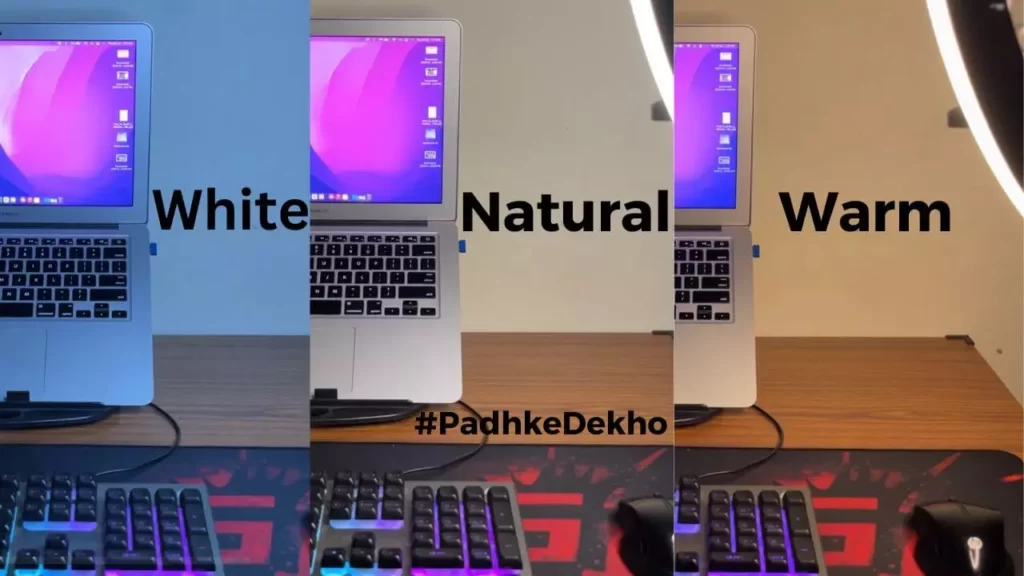 The above picture demonstrates the 3 light modes; White, Natural & Warm at full brightness. As you can see the effects are quite appealing. When taking product shots lighting effects really help. As we have mentioned in the features the brightness can go very high, it's true.
When we are not taking any product shorts or making videos, we use this ring light as a table light (do comment if you have ever used it as a table lamp).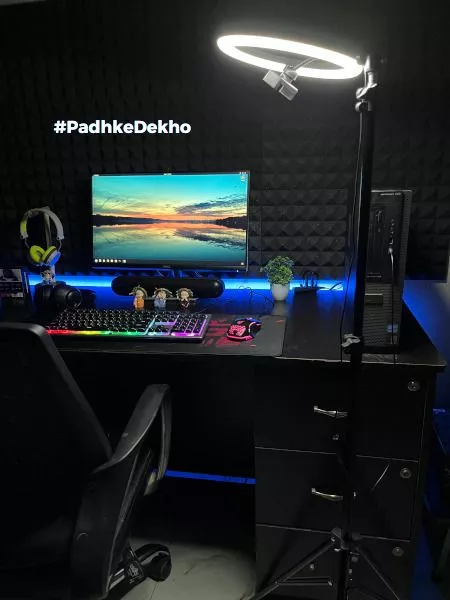 As we said, for features its total value for money. In fact, for the price it surprisingly offers so much. So should you buy one? Let's talk about that!
Should You Buy Tygot 10-inch Ring Light?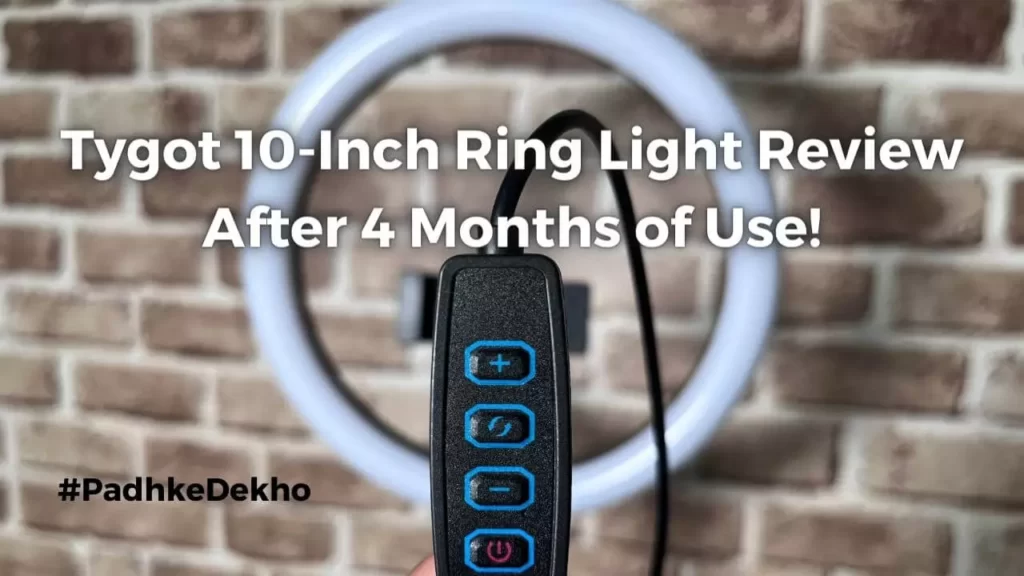 Absolutely, it's a perfect ring light with a stand under 1000 Rs. Be it overall built, features, and 10 brightness mode, does help to spark your creativity. Over the last few months, we have been testing it and did not have high hopes of it serving the harsh handling of some of the team members.
As time went by, we are more confident to carry it around in the office and try new places to record. It's been over 5 months of us using this ring light. So you can rest assured Tygot ring light is a good product.
But there are two things which could've been better.
#1 Bal Head Connector to the tripod is wobbly. It's fine but the connection between the ball head and the tripod hook is not very tight it has some wobbles in between. But once the angle is selected it does not move. It could've been better but for the price, it's manageable.
#2 Higth adjustment knob does not give a lot of confidence. With just a little push it starts to swing a little. Though, it can happen on any tripod or ring light that is maxed out in height. But the adjustment knobs can do a little better work.
Wrapping up!
For a low price of under 800 Rs, it's certainly a value product. And the niggles we mentioned can be ignored.
if you are looking for alternatives then you can check out the two options below.
Still not sure? Ping us on below social accounts, we would love to help you out in your decision-making.
F.A.Q
Which is the best Ring Light Under 1000 Rs in India?

You can check out Tygot's 10-inch ring light. It's feature packed and offers a decent build. We've been using it for over 4 months now and here's our detailed review. Tap now to learn more.
Is Tygot Ring Light Any Good?

Yes, Tygot's 10-inch ring light is good. We've been using it for over 4 months now and it's holding up quite well. Here's our detailed review which can help in your decision-making. Tap now to learn more.
More Articles That Might Intrest You