[Updated on July 25, 2023] It's been over a year with this case, and have to say it's totally worth it. You can go for it for a classy or retro look. Not ideal for someone who is looking for a workout-friendly strap! Back to the spigen Modern Fit strap Review!
Have you just bought Samsung Galaxy Watch 4 smartwatch and missing the premium feeling? It's because the silicone strap does not feel as good as metal or stainless steel!
We bought the Spigen Modern Fit Metal strap about 8 months ago and this is by far the best investment under 2000 Rs! In this Spigen Modern Fit Strap review, we will discuss everything.
So far, it's been perfect with a few cons that can be a deal-maker or breaker for you. With that said, let's get started.
At PadhkeDekho, we provide honest, customer-centric reviews upon using the product for at least 1 month. Our prime objective is to help readers like you make an informed decision.
As a support to us, you can shop using the Amazon links on this page. We might get a little commission from Amazon at no additional cost.
Built Quality (5/5)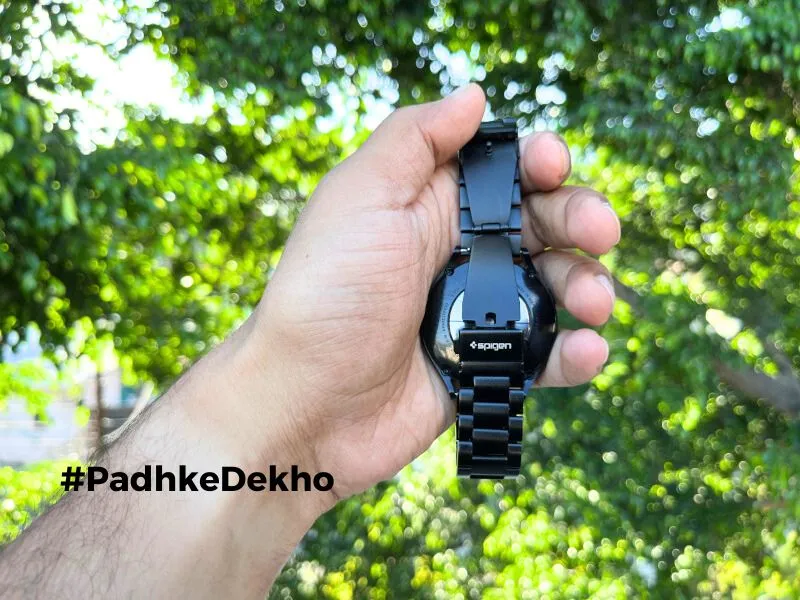 When it comes to built quality, Spigen never disappoints. Sure, it has to be because the price is also on the higher side. Be it goes across their lineup. We still have an iPhone 7 which has been rocking a Spigen case for over 4 years now and it's still good.
So if you are wondering whether Spigen offers good quality products, then yes, you can certainly trust their products for daily use and long life. The same can be said for this stainless steel strap for Samsung Galaxy Watch 4.
Some straps come with weak pins as a result they break very easily. Fortunately, we found the pins of great quality. We tried some force to bend these and had no luck!
In the same way, the metal lock is quite strong. It needs some force to unhook the watch. And it closes with a satisfying click which ensures the strap is all set and you can do what you wish to do.
So for built quality, Spigen Modern Fit Strap For Samsung Galaxy Watch 4 get's 5/5!
Looks (5/5)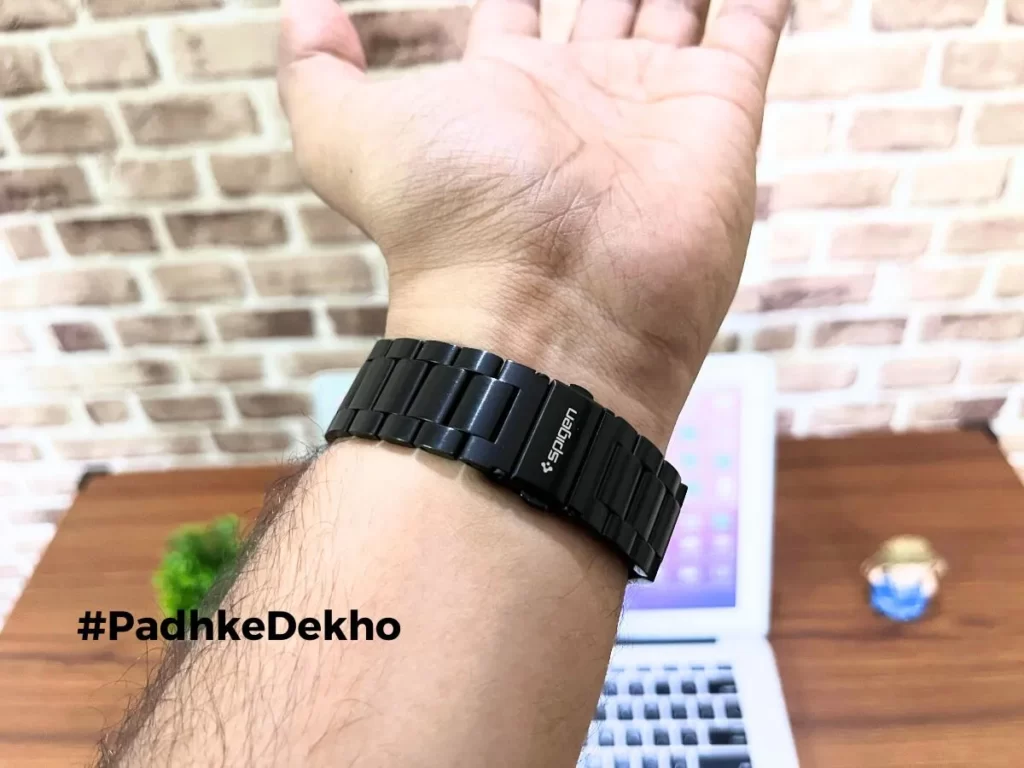 When we got the watch, the most disappointing thing was the strap. Thought it was silicone and perfect for workouts. But in terms of looks, it did not feel that premium, certainly on an expensive watch.
But Spigen modern stainless steel strap has taken the looks many folds ahead. It feels like any other premium-grade smartwatch and from the side angle it gives an impressive limeless classic design.
The Spigen branding on the metal lock is neatly done. Not in the face but visible.
We went with the black color but the strap comes in a total of 3 colors; Black (showcased in the Article), Rose Gold & Silver. All 3 are great color options.
Since Sept 2022, we've been using this case and have never removed it. It's such a great looker and changes the aesthetics totally.
So for looks, Spigen Modern Fit Metal Strap gets 5/5.
User Experience After 8 Months of Use (4/5)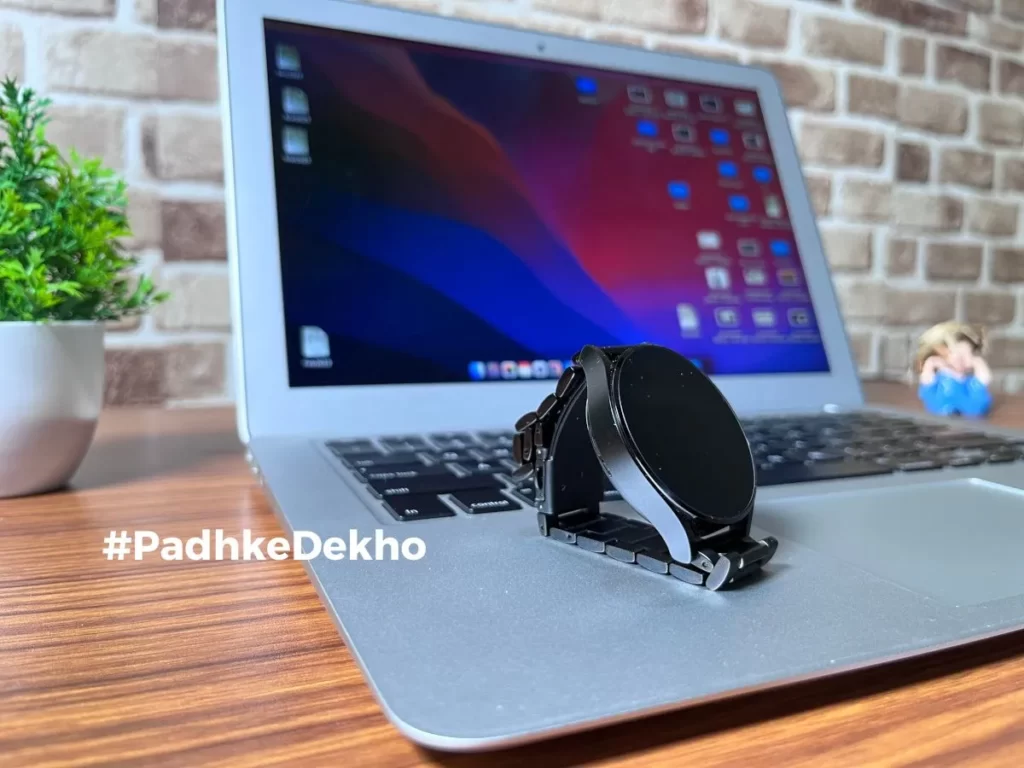 In our 8 months of ownership, we found the Spigen Stainless Steel Strap for SGW4 as worthy of the price and remarkable classic design statement. But is it for everybody? No! It's not!
Just like on a regular watch, you get two strap designs; leather/stainless steel, and then comes a silicone/TPU case. Both cases have different use case scenarios.
If you are looking for a retro timeless design along with some durability of steel on your wrist then the Spigen modern fit strap is perfect for your Samsung Galaxy smartwatch.
But for workouts or playing cricket then we will not recommend it. Though it does not get scratched that easily but why take the risk? Instead, for workouts you can use the default case which comes with your Galaxy smartwatch. Or you can buy the Spigen Liquid Air model.
What about Polish? Does it fade?
In the span of 8 months and daily wearing it for about 8 hours, we did experience very little polish fading. This is normal in any stainless steel strap. Also, in any use case scenario, sweat is quite prominent and it's one of the culprits of color fading.
To avoid it, do clean your strap with a dry cloth and wipe away the sweat. It will also prevent bad odor!
What About Scratches?
Stainless Steel does attract scratches, it's in nature and nothing extra can be done by the brand. They say we have provided coating, etc. But the truth is, whenever it will rub against hard surfaces it will get scratched. After a few days of owning it, we forget about it and lead our daily life.
How bad it can get scratched? It will be negligible if you are not performing workouts or playing outdoors. All the images in this article are the latest after 8 months of use, you can have a very good idea about it. And even after 8 months, it has not been that scratched as bad as one can think.
How to Adjust The Strap?
Spigen has provided all the tools you need to fine-tune the strap as per your liking. Since it involves small components keep these out of reach of children. It took us just a few minutes to understand and make the necessary changes.
Wrapping up!
There you have it, guys! This is our Spigen Modern Fit Strap review with Samsung Galaxy Watch 4 after 8 months of use! We are quite satisfied with the strap and recommend checking it out.
Do you have any questions or queries? Feel free to ping us on below given social accounts, we love to help our readers as much as possible.
Feel like supporting local content at no additional cost to you? Then please use the Amazon links on this page to confirm your order. We might earn a little commission from Amazon at no additional cost to you.
Spigen Modern Fit Strap Review – F.A.Q
is Spigen Stainless Strap Good?

Yes, Spigen Modern Fit Strap is great. We've been using it with Samsung Galaxy Watch 4 for over 8 months now! Tap now to learn more.
Spigen Modern Fit Strap Supports Samsung Galaxy Watch 4?

Yes, the Spigen Modern Fit strap supports SGW4. We've been using it for over 8 months now. Click now to learn more.