[Updated on 23 Feb 2023] It's around 3 years now and the phone is functioning as well as new. The article starts here. Motorola Moto G9 is the latest iteration of the highly popular Motorola G Series in India. Lately, we have seen crazy pricing of Motorola handsets that resulted in fans trying new brands. To gain back its users Motorola introduced Motorola One Fusion+ which offered great specs and was priced aggressively in India.
The Moto Fusion+ aggressive pricing strategy is carried forward on the current G series as well! On 11th September 2020, Motorola Moto G9 was launched. Luckily we got our hands on Moto G9 Forest Green Color variant. After using the smartphone for a while, here is the review as well as the verdict on whether you should buy it or not.
In this article, you will get to know about Moto G9's battery backup, camera samples, charging time, cost, display, features, etc.
And most importantly, Can Moto G9 Be The Best Budget Android Smartphone? Let's Find Out!
Motorola G9 In-Box Contents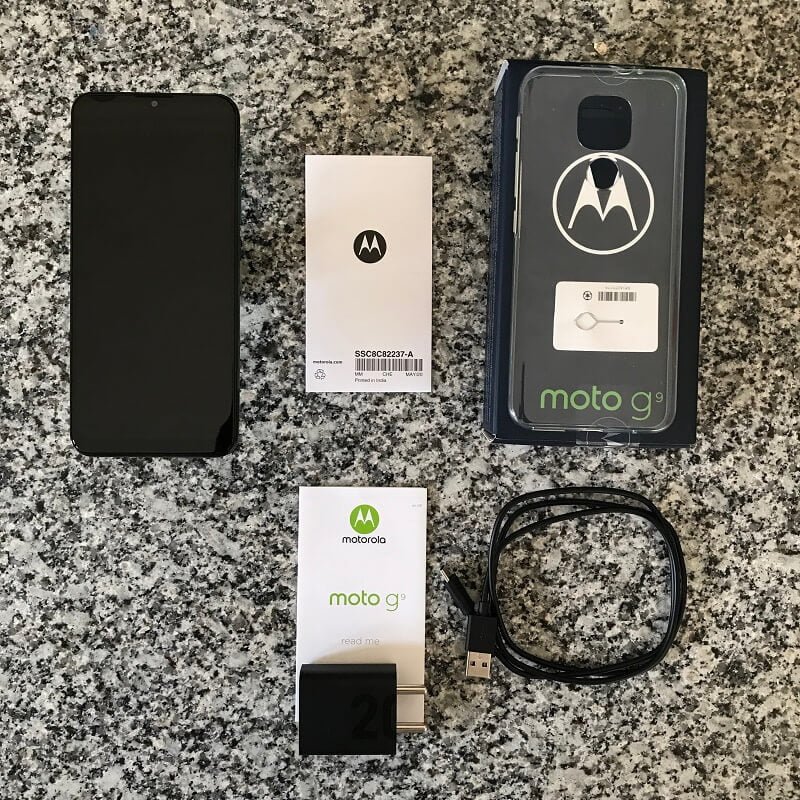 In the box, you'll get the:-
Back Cover
20-Watt Turbopower Charger
USB- C Data Cable
Sim Ejection Tool
Read me And Warranty Literature
Moto G9 Price And Specification
Moto G9 is available on Flipkart for ₹11,999 and if you plan on exchanging your old smartphone, then you can buy it for only ₹599!
This year we have seen aggressive pricing of Motorola handsets like the Moto One Fusion Plus and most recently Moto E7 Plus. Moto G9 is also on the same track. Let alone, the Moto G9 cost will be a buying factor for many people. On such a price bracket it offers great specifications and value.
Just like pricing, the specs of the device don't disappoint either. Moto G9 comes with a Qualcomm Snapdragon 662 processor along with an Adreno 610 GPU. As of now, it comes only in one variant that offers 4 GB RAM and 64 GB internal storage.
Moto G9 offers 4G dual sim compatibility on a Hybrid sim slot where you can add two sim cards or a sim card with an external memory card (up to 512 GB).
The rest of the specifications and our experience with the smartphone will be shared below in this article. Now, let's begin with the most important aspect of any smartphone; that's the battery capacity and battery backup.
Motorola Moto G9 Battery Backup And Capacity
In this budget category, we have seen manufacturers offering 5000+ mAh capacity on their smartphones. Ideally one should think, the higher the capacity higher the battery backup. But that's partially true. Battery backup on a smartphone depends on various factors, out of which the primary one is the processor.
On Moto G9 you will get Snapdragon 662 paired up with Adreno 610 GPU which provides good performance while consuming less battery. On top of it, Moto G9 comes with a 5000 mAh battery. Like all the Motorola smartphones this one also comes with a stock Android which is known for consuming less battery.
With that combination, Moto G9 is capable of providing up to 2.5 days of battery backup on regular use. Our regular use consists of frequent use of Facebook, Instagram, Snapchat, WhatsApp, Messenger, etc. Around 1 hour of audio calling as well as video calling. Also streaming a few series/movies on Netflix. Furthermore, if you need more battery backup you can use the power-saving options available on the smartphone.
In the box, you'll get a 20 Watt Turbopower charger that will crank up the beefy battery quickly. Moto G9 charging time is under 2 hours if you'll put it on a 20 percent battery. If your use case scenario is like ours, then you're going to love this phone for sure!
Moto G9 Camera Review
The current-gen Moto G9 provides a triple camera setup on the rear and a single camera on the front. You might have a mixed experience with the camera. To be honest with you, since we have upgraded from Moto G Turbo we were blown away by the camera features on Moto G9 that helps in taking better photos and videos.
On the rear, you'll get a 48 MP primary camera + 2MP (depth) + 2MP (macro) which on paper seems great but in real-life usage, it is nothing to brag about.
Rear Camera Samples
In the camera settings of the smartphone, you will not find any option to enable 48 MP at all. Because it doesn't have it. Moto uses Quad Pixel Technology on this phone that lets you capture 4 times more pixels out of a 12 MP primary shooter. This is 48 MP.
In the camera settings, you will find 12 (48 MP) or 8 MP (32 MP) for the photos and videos. By changing the MP settings, you will not see a day and night difference however it will be marginal and the size difference between both is around 1-2 MB.
For the HDR mode fans out there, you are going to like the capabilities of this phone. HDR shots on Moto G9 will be the most impressive ones for sure. As in the below picture, the camera was able to capture a better dynamic range and details on the leaves. The result will be more prominent when you'll zoom in the picture.
The Macro/Bokeh/Portrait shots on Moto G9 are not the best. It requires a few tapping and multiple clicks to take a decent picture. In the below image, the bokeh effect is quite nice and the object is clearly highlighted.
We are not very impressed with the cameras and we really hope for an update that enhances the camera experience.
Rear Camera Video Samples
The video recording on this is quite better than the still shots. On this cellphone, you can record videos up to 1080P in 30 or 60 fps. Since the smartphone offers a 20:9 aspect ratio display, you can record videos at 20:9 as well.
Below are the two video samples from the rear cameras of the Moto G9. The first one is a 1080P HD 60 FPS video. In this video, you can check out the dynamic range and focus capabilities of the smartphone.
The next one is a 1080P 60 FPS HD quality with an aspect ratio of 20:9. If you'll watch them on the handset itself, then the 20:9 video will look better. The video output could have been better, but that's just us. You be a better guide and check it out yourself.
| | |
| --- | --- |
| Pros | Cons |
| 1) Various camera options are available | 1) Photos don't feel like 48 MP |
| 2) Shutter speed is good | 2) Frequent focus hunting in the video is present |
| 3) Decent HDR shots | 3) choppiness in the camera interface |
| | |
Motorola Moto G9 Display
Motorola G9 offers a 6.5-inch HD+ Vivid display having a resolution of 1600 x 720, which is not ideal as per manufacturers are concerned. This different resolution changes the aspect ratio to 20:9 which will let you have the best viewing experience within the budget.
Usually, 20:9 aspect ratio phones are taller than wider resulting in easy-to-reach corners. However, because of the 6.5-inch display, usability with one hand is cumbersome. So if you have tiny hands then we'd suggest you use both hands for optimum working.
As per the screen, it has the finest one compared to the older G series phones. It offers a feather touch and responsiveness. You will not encounter any input lap or unregistered touches on this one!
Keeping price in mind, Motorola has offered the best screen. However, a Full HD display could have enhanced the overall experience.
Since we owned Moto G, Moto G (second generation), and Moto G Turbo, we felt the brightness on the lower side. So outdoor visibility under direct sunlight might cause some issues. To resolve the issue you can turn the slider to full and disable auto-brightness.
| | |
| --- | --- |
| Pros | Cons |
| 1) Vivid Display | The screen is not very bright |
| 2) Big Screen | Full HD would have enhanced the experience |
| 3) Responsive Screen | |
| | |
Moto G9 Display
G9 Fingerprint Sensor
From the 7th generation of the Moto G series, Motorola moved the fingerprint sensor to the back. This change was long overdue and quite appreciated by the fans.
Since we also have Motorola Fusion+ with us we were able to compare the rear fingerprint sensors on both.
The fingerprint sensor on Moto G9 is very responsive and quite comparable with the Fusion+. Unlocking speed is marginally quicker on Fusion+ which is evident since both share a different set of internals. Even with a little wet finger, we were easily able to unlock the device.
Just like Fusion Plus, on Moto G9 you get a face-to-unlock mechanism which is quite quick. So if you were looking for a smartphone with face unlock security then Moto G9 is for you. Before setting the face to unlock, keep in mind that face unlock is not as secure as fingerprint sensors. Therefore choose accordingly.
Moto G9 User Experience/Performance
The majority of people who opt for Motorola phones are primarily because of the stock Android experience. If you don't know stock Android is available on the likes of the Google Pixel series and the Nexus series that was available earlier.
Smartphones running stock Android are meant to provide a raw Android experience without running any company-specific layer on top of Android like Oxygen OS on One Plus, One UI on Samsung, MIUI on Xiaomi, etc.
The best part about Motorola Android devices is that they run on almost stock Android. That allows an AD-FREE experience for its users. Unlike a few brands of which you know, we are talking!
To enhance the user experience, Motorola has its native apps preinstalled on the device. Moreover, you will not find any 3rd party apps installed on the phone. Even if it comes with any preinstalled app, you can simply remove it, unlike some manufacturers that restrict you to do so.
Since Moto G9 is running on stock Android which is quite light if we compare it with the custom UI of other brands. Because of this, the phone feels quick to respond and lags are nowhere to be seen.
As we have stated earlier, we are not into gaming so can't comment on that. But day-to-day activities will not cause you any trouble.
If you are upgrading from the previous generation to this one, then you're up for a surprise. That you can check the below video.
On this iteration of the Moto G series, you are not going to find Powered by Lenovo in the boot screen animation or on the box of the device. It is not a deal-maker kind of a thing, but still, we thought you should know!
Some Other Important Features
Apart from the camera, battery backup, performance, etc, you should also check out other essentials before placing your order. Those important factors are as follows.
Moto G9 Audio Quality
Motorola G9 offers a bottom-firing single speaker that is quite loud while listing to music or streaming content.
Like all the phones that offer a single bottom-firing speaker, blocking the audio while watching videos or playing games is evident. If this phone had offered a Mono speaker setup or stereo speaker that would have been icing on the cake!
Motorola G9 Celular Signal Reception And Call Quality
Signal reception on a smartphone reflects the service which is provided by the network provider. But in our previous cases with other smartphone brands, we have witnessed poor reception with the same sim card.
Fortunately, Motorola phones don't have a weak network reception issue. In fact, their smartphones offer the finest modems that reduce call drop instances.
If you haven't used any Moto device and have concerns regarding Moto G9 call quality, then throw the concerns away! Like the network reception, Moto G9 also offers the best call-quality experience.
So rest assured, the earpiece is quite loud and the microphone performance is quite good too! The other user on the call will not complain even once.
Moto G9 Built Quality
Being a budget-centric phone, the smartphone offers plastic construction on the frame as well as on the back. Still, it feels very sturdy in the hands and no squeaking can be heard while using the smartphone.
Since the phone has a weight to it and a plain back design it gives the impression of glass. Trust me, we Googled it to confirm! So if you are planning on using this phone without any back cover then it will present as glass and will not crack if it falls!
On the front, Moto has offered Gorilla glass 3 for protection which will safeguard the screen from scratches and a few falls. This can be a deal-maker for some.
Moreover, it offers a water-repellent coating to prevent it from getting damaged due to water splashing. The phone is not having any IP rating what so ever, therefore it is not water-resistant.
Should You Buy Moto G9?
Moto G9 is quite an interesting phone in this price range and can be a promising choice for many users. There are a few factors that keep it apart from its rivals.
To begin with, it comes with stock Android which will not have any 3rd party preinstalled apps on the phone. Secondly, you'll not be seeing any kind of advertisements in the settings or notification panel, therefore, offering you an ad-free user experience.
The 5000 mAh battery paired up with Snapdragon 662 SOC is capable enough to make the smartphone last 3 days with moderate use and 2 days under regular use.
As there is no custom theme running on stock android, even with 4 GB of RAM the phone is quite powerful to manage day-to-day activities.
Moto G9 has the potential of being the best budget Android phone however few things pull it behind.
We felt the display was not bright enough, full HD panel would have enhanced the experience. The cameras ( both rear and front for photo/video) are decent in the price range but you should not consider them for the sole purpose of photography.
So, if the pros of this smartphone are the ones you are looking for then Moto G9 is a great buy! And if you are thinking "is Moto G9 any good?" then yes, it is!
There you go, folks!
After thorough testing, here is our Moto G9 review! We hope we were able to bring up most of the prime factors of this smartphone. If we missed a few, do let us know in the comments section or on Twitter, Instagram, or Facebook at your convenience. We will try our best to revert.
Since we are looking forward to enhancing the camera quality we would be trying a few tricks and will be sharing the same shortly so do follow us on our social media handles and be notified! Until then, we will see you around!
FAQ
1. Does Moto G9 has Gorilla Glass?
Yes, Moto G9 comes with Gorilla Glass 3 protection.
2. What is the best Motorola Phone right now?
If you are looking for a budget-friendly device then Moto G9 is ideal for you. Do check our review we have covered features that you should know before buying.
3. Are Moto phones any good?
Moto makes quite durable and acceptably powerful mobiles with stock Android. Therefore, yes Motorola phones are worth it.
4. Does Moto G9 supports 5G?
No, Moto G9 doesn't support 5G.
5. Moto G9 Android 9 or 10 out of the box?
Moto G9 comes with Android 10 out of the box.
Hey there!

Just like the above article, we share our 2 cents in the form of reviews, tips & tricks, so do check out those. And if you liked our content do share it with your friends and family! Thanks, we will see at the next one!