Just recently we compared boAt Bassheads 900 and Sony ZX110A and we explained which is best for you. Luckily we got our hands on Sony 310AP headphones. Also known as Sony MDR-ZX310AP. We used it for a few weeks and compared it with boAt Bassheads 900, the top-selling wired headphone under ₹1000. So how it is compared with BoAt Bassheads 900? Let's find out! This Sony 310Ap vs BoAt 900 comparison is really going to be an interesting one!
Update: Both headphones are at a huge discount on the Amazon's Great Freedom Festival sale. Click now to check out the deals!
At PadhKeDekho, we have done multiple headphones and earphones comparisons. If you are interested you can check those out too.
And If you are new around please hit the red bell icon on the left to be notified of our new coverage. Because we keep on bringing articles like this, tips and tricks, unboxings, and reviews about the products. Thus, achieving our goal to help you make a better choice!
Sony 310AP vs BoAt 900 Comparison
Since we want you to make the best choice, this article will be quite detailed. For better convenience clicking on the upcoming links will take you to the specific sections so that you should know what to expect from the headphones. Just like our every headphone or earphone comparison, this one will also be compared based on built quality, audio quality, mic output! So let's get going!
Primary Differences
Built Quality And Look N Feel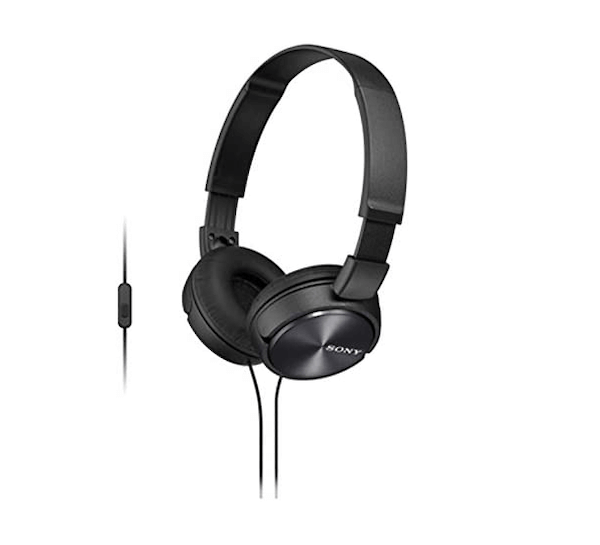 The last headphone we had was Sony ZX110A. Comparing 310AP with it definitely feels like an upgrade. ZX110A has a flimsy built whereas the 310AP headset is strong and doesn't feel fragile. If you have put Sony MDR-ZX110A or ZX110A in your consideration then go with 310AP headset with mic.
If you compare Sony MDR-ZX310AP with boAt Bassheads 900 then things are quite different. In terms of looks, it's Sony that will take the lead here. The glossy side earcups with multiple color choices and the matte headband make it look premium and much modern than boAt 900. Though looks are subjective still I will go with Sony 310AP.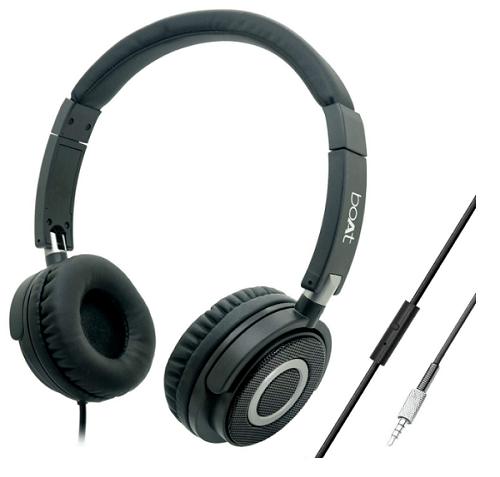 But when you consider durability into the buying factor then Bassheads 900 leaps ahead. The headband adjuster on boAt is of stainless steel where Sony is completely plastic. What makes things more complicated is the quality of the wire. Sony has used a very thin cable that seems quite delicate though it is long. The boAt has offered a medium-thick wire that is durable. We are using BoAt 900 for a few months and things are going pretty great.
For comfort, boAt has used a thick form of padding thus making it more comfortable. whereas, sony has used a thin layer of fabric that is not even breathable, unlike Sony ZX110A. While we are discussing comfort, bassheads 900 provides foam under the headband. But Sony 310AP has only hard plastic.
So if you need good looks then Sony 310AP will be better. But if built quality, longevity, and comfort are the buying factors then BoAt Bassheads 900 is the best option out there.
Audio Quality Test Sony 310AP vs BoAt 900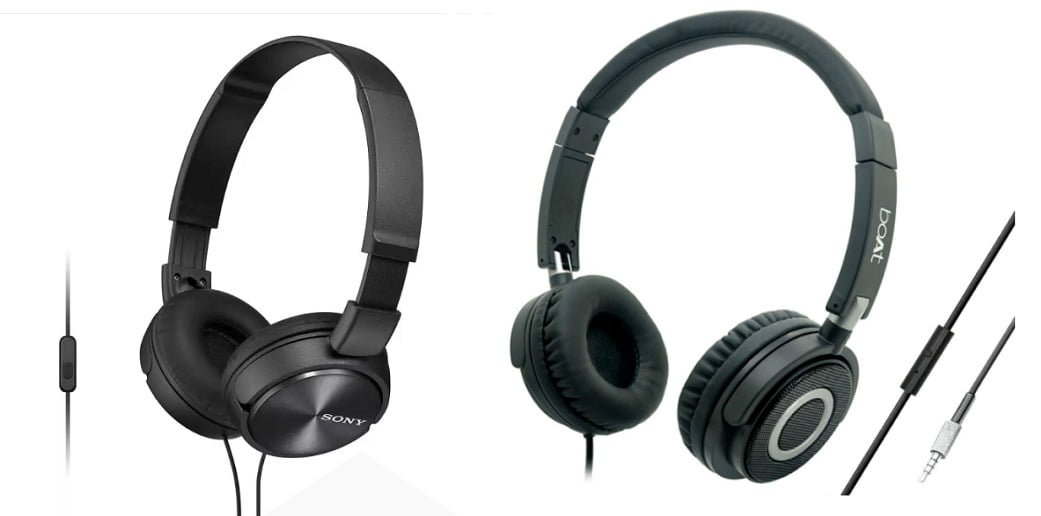 When we were comparing boAt Bassheads 900 with Boult Audio Bassbuds Q2, it took us a while to have a verdict in terms of audio quality. Because they were quite identical. This BoAt 900 vs Sony 310AP comparison is on the same level. While testing we noticed hardly any major difference.
On both headphones, you will have the best detail in everything. Be it vocals, instruments, bass, clarity, and even loudness. Going with any of the two will not let you disappointed in terms of audio output. Even on the full volume, you will have almost non-existent distortion on both.
So there is no difference at all between the two? No, that's not right! But it's marginal. Since boAt has used better fabric and material in the construction of the earcups, the passive noise cancellation is better. So on BoAt 900, you will hear less of the background noise while listing to music. So your overall listing experience will be better. Secondly, we found the audio quality of boAt louder as compared to Sony.
Now for the most crucial part; Audio leak! This is the common embarrassing situation through which every headphone user has to undergo. An audio leak is an awkward position in which the people in your close proximately i.e. in the bus or train, could listen to what you jamming! This can be inappropriate in public places.
To reduce the audio leak on any headphones, the golden rule is to reduce the volume! If that can't be done, go with BoAt Bassheads 900 as it does better in reducing the audio leak than Sony 310AP.
So with boAt 900, you get better passive noise cancellation and less audio leak. Making it a better deal!
Mic Test On Sony 310AP And BoAt 900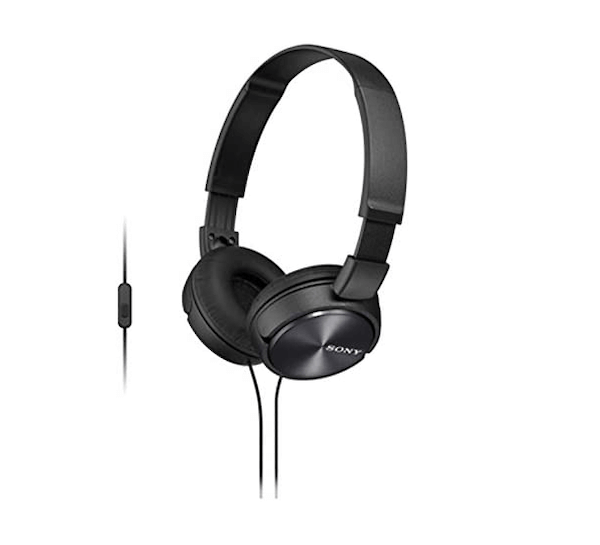 ZX110A is a good headphone however it is not having a microphone. This restricts so many people from buying it. But this time Sony worked it out and didn't forget to put a microphone on 310AP! So how is the microphone on Sony 310AP compared to BoAt Bassheads 900? In simple words; it's better!
With BoAt 900, the mic tends to capture more of the ambient noise rather than your voice. This is more evident outside like in the gallery or terrace if you are taking calls from there. However, Sony 310AP has a better mic that does a great job. Even with Bassheads 900, we have sometimes received feedback of disturbance. This has never been the case with Sony 310AP. So if you need a good wired headphone for work from home then Sony 310AP will be a better choice.
Are you planning to use the headphone's mic as an audio recording tool for YouTube videos? If yes, then BoAt 900 is better. As the mic tends to add depth and base to your voice. This adds weight to better audio output.
Note:- Is call quality your priority for WFH? Then we would recommend checking out Infinity Glide 500/501 by JBL. It is a wireless option but gives a battery backup of 20 hours and comes with 2 audio modes for the best music experience. You can check out our review for the same below.
Read More: Infinity Glide 501 Review 
BoAt Bassheads 900 Vs Sony 310AP Which One Should You Buy?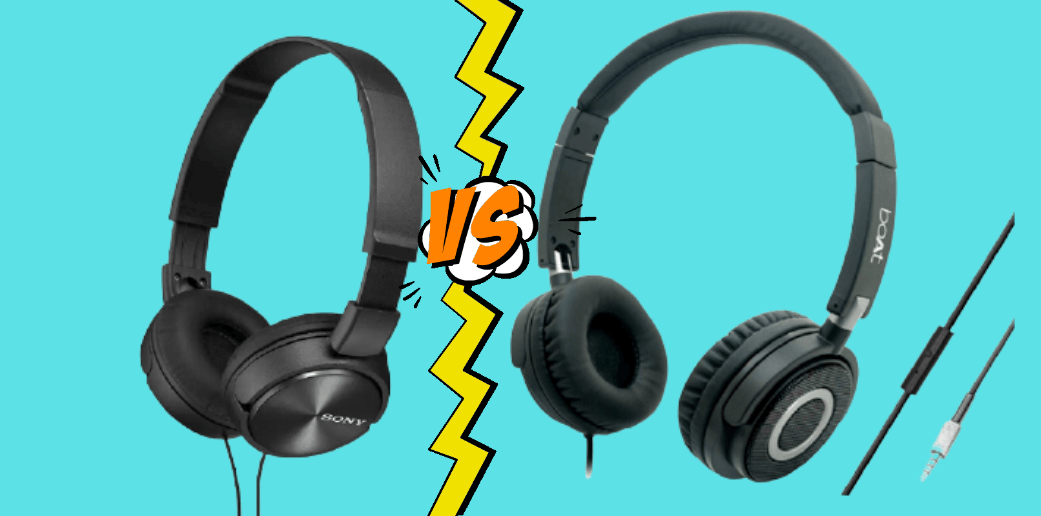 Both the headphones are quite identical in terms of audio experience. The overall details are exceptionally good on both. Going with any of the two will be a wise decision. The only differences we felt were the audio leak and loudness. In which BoAt 900 is winning. Due to the better ear cushioning on the earcups, more solid quality wire, and stainless steel headband adjuster, it's again BoAt that takes the bigger piece of the cake!
But when it comes to detail and feel factor it's Sony that looks fresh and flashy (especially in the blue color). At a first glance, it doesn't look like a headphone under ₹1000. Another area where Sony 310AP shines is the call quality. It is simply much better than boAt Bassheads 900.
Since both are wired options then you will not have any latency issues while playing games. We used them for COD Mobile and both did a very good job.
As we said earlier, going with any of the above will not be disappointed at all! Both of them will check most of your requirements. If you still got some doubts then feel free to ping us on our social handles given below!
That's About It, Folkes!
This was our Sony 310AP vs BoAt 900 comparison. If you found it helpful then, please favor us buying any of the headphones from the below Amazon and Flipkart link. By that, you will motivate us to bring interesting articles like this at no cost to you! Thanks for being a patron!
If you have any issues or queries then please reach us out at PadhKeDekho's Twitter, Facebook, and Instagram. We would love to help! Thanks for taking out your time in reading our boAt vs Sony headphone comparison! Please press the red bell icon on the left as we would love to have you around!
Just like the above article, we share our 2 cents in the form of reviews, tips & tricks, comparisons and opinions so do check out those articles. And if you liked the content do share it with your friends and family! Thanks, we will see you at the next one!
FAQ
Is Sony Or BoAt Better?
Sony makes the best top-end headphone without a doubt. But in budget price, boAt takes the lead. We just compared two of the hot-selling headphones Sony 310AP and BoAt 900 and they were pretty nech to nech! Check out now!
Boat Bassheads 900 Vs Sony 310AP Comparison?
Both were like different sides of the same coin. But there are only 2 differences that can be a deal-breaker for you. So do check out our article and make a better choice.