The budget headphones market is like a river where you have so many fishes around. You aim to grab ABC and get XYZ due to so many options to choose from. This competition is bad for the companies, but it's the customer who gains the benefit! You can find great earphones or headphones below 1000. Not only from emerging brands like BoAt, Boult, etc. you can also get your hands on Sony wired headphones. The most popular Sony wired headphone around ₹600 is Sony ZX110A AKA Sony MDR-ZX110A. And today, we are putting it against boAt Bassheads 900 (budget wired headphone champ). So this BoAt Bassheads 900 vs Sony ZX110A is going to be quite an interesting one!
Update: Both headphones are on a heavy discount at Amazon's Great Freedom Festival Sale. Click now to check out the deals!
Recently we even made a list of the top 10 wireless earphones/headphones under 500 rupees you can check that out too! Thus, without wasting any more of your time. Welcome to PadhKeDekho and let's start the comparison, shall we!
Hey There! If you are new around please hit the red bell icon on the left to be notified of our new coverage every week. Because we keep on bringing articles like this, tips and tricks, unboxings, and reviews that will help you learn more about the products and make a better choice!
BoAt Bassheads 900 Vs Sony MDR-ZX110A Differences
BoAt Bassheads 900 Pros And Cons
Sony ZX110A Pros And Cons
BoAt Bassheads 900 Vs Sony MDR-ZX110A Comparison
After the key differentiating features let me share what it feels like using both of the headphones. E.g. Hows the built quality, look and feel, audio quality, noise cancellation, mic test. So let me put some light on the built quality first as it most important for some people out there and then will cover everything mentioned above.
Boat Bassheads 900 vs Sony MDR ZX110A Built Quality/Look and Feel
If you'll ask about built quality in general, then it's BoAt Bassheads 900 that will impress you. It feels strong in the hands. The ear cushions offer more fabric. The ear cups are sturdy yet tiltable/moveable and give a reliable feeling when opening and adjusting as per your ears.
Whereas, on Sony ZX110A, the hinges that open and close the earcups seem fragile. And definitely, you will notice lesser fabric on the earcups.
The same treatment is continued on the headband or head strap. BoAt Bassheads 900 offers form/soft material underneath the headband for more comfort. Whereas, Sony has given hard plastic without any soft fabric at all. Also, the headband adjuster on boAt Bassheads 900 is of stainless steel. Unlike, Sony where you will find plastic headband adjusters. So if you plan on using headphones for many years to come, then BoAt Bassheads 900 will be a better choice.
It's not all bad news with Sony ZX110A! Though the ear cushions offer less form and fabric they are made with a breathable material. This fabric lets air pass through the earcups resulting in less sweating on the ears when you are wearing headphones for a longer time. Sweating is quite common in boAt bassheads 900 after use for continuous hours. Moreover, Sony ZX110A doesn't press your ears as boAt Bassheads 900 does. The above can be good and bad for different types of users. We have talked about it below in the audio quality test.
Boat Bassheads 900 vs Sony MDR ZX110A Audio Quality
In this experiment, we have a clear winner. When we compared BoAt Bassheads 900 vs Boult Audio Bass Buds Q2 things were very similar and it took a while to come with a verdict. But in this Boat Bassheads 900 vs Sony ZX110A comparison, things were clear from the beginning.
It's the Bassheads 900 that wins with flying colors! It shines in everything; be it vocals, bass, loudness, clarity, treble, mids, high and even lows. This might seems like I am over exaggerating but it's not. It is exceptionally good for its price.
However, with Sony MDR-ZX110A, the overall music experience was a mixed bag. The vocals and instruments are clear. You will have the best time listing to classical or even podcast. But when it comes to the bass and heavy music then you will experience mild base thumping with high treble. All of it, with decent loudness. In my testing, I kept checking the volume because even at 100 percent it was not enough.
So if you need loud headphones with a good base and overall audio quality then Bassheads 900 is the way to go. Sony ZX110A is centered towards a person who values comfort more than audio quality. What I felt about Sony ZX110A is that it is designed for a different audience.
Audio Leak
Other than audio quality, the audio leak is also quite important. In this department too, boAt Bassheads 900 will not disappoint! What is an audio leak if you ask? The audio leak is an embarrassing situation in which people close to your proximately ie standing next to you or seating closely can listen to the audio you are listing to somewhat clearly!
To save you from this embarrassing situation, boAt Bassheads 900 is for the rescue! Due to the built quality of the ear cushions, the audio from the headphones comes out way lesser than Sony ZX110A. So you can watch Carryminati's video or live streams without someone noticing what you listing!
Note:- If you don't like boAt products, then you can go with Boult Audio BassBuds Q2. It is also a remarkable wired headphone under ₹500. We have shared our review below. The article will let you know the pros and cons, built quality, audio quality, and comparison with boAt Bassheads 900. So do check it out!
Read More: Boult Audio Bass Buds Q2 Review And Comparison
Noise Cancellation
Since the fabric on the ear cushions of Sony ZX110A is breathable that means you will not get the noise cancellation like Bassheads 900. Not only this, but the audio leak will be more noticeable. So if you want to restrict the noise of the outside world then boAt Bassheads 900 will be better. Whereas with Sony MDR-ZX110A you will have an airy feel but the overall music experience will be average. The choice is yours! For me though, BoAt Bassheads 900 is the clear winner in noise cancellation!
While we are at it, both the headphones don't come with active noise cancellation (ANC). But due to built quality, the headphones generally offer passive noise cancellation. If you want to know more, then you can also check out our article that explains the differences in simple language.
Read More
Mic Test
This is not a valid test for these wired headphones. Because one of the headphones simply doesn't come with a mic at all! And that headphone is Sony ZX110A. Whereas, BoAt Bassheads 900 comes with an inline microphone which does a decent job. it can handle calls quite well. However, your voice will have depth and bass to it. It will make a positive impact if you make youtube videos with audio recordings.
However, for the professional work from home calls, I use Infinity Glide 500/501 by JBL. As it has a good microphone and I have never received a single complaint regarding my voice quality. Though it is wireless, it gives a battery backup of 20 hours and also packs in 2 audio modes for the audiophile in you. If you are interested you can check out our review below. It cost around 1500 rupees.
Read More: Infinity Glide 501 Review
So Which Is Better Boat Bassheads 900 vs Sony MDR-ZX110A?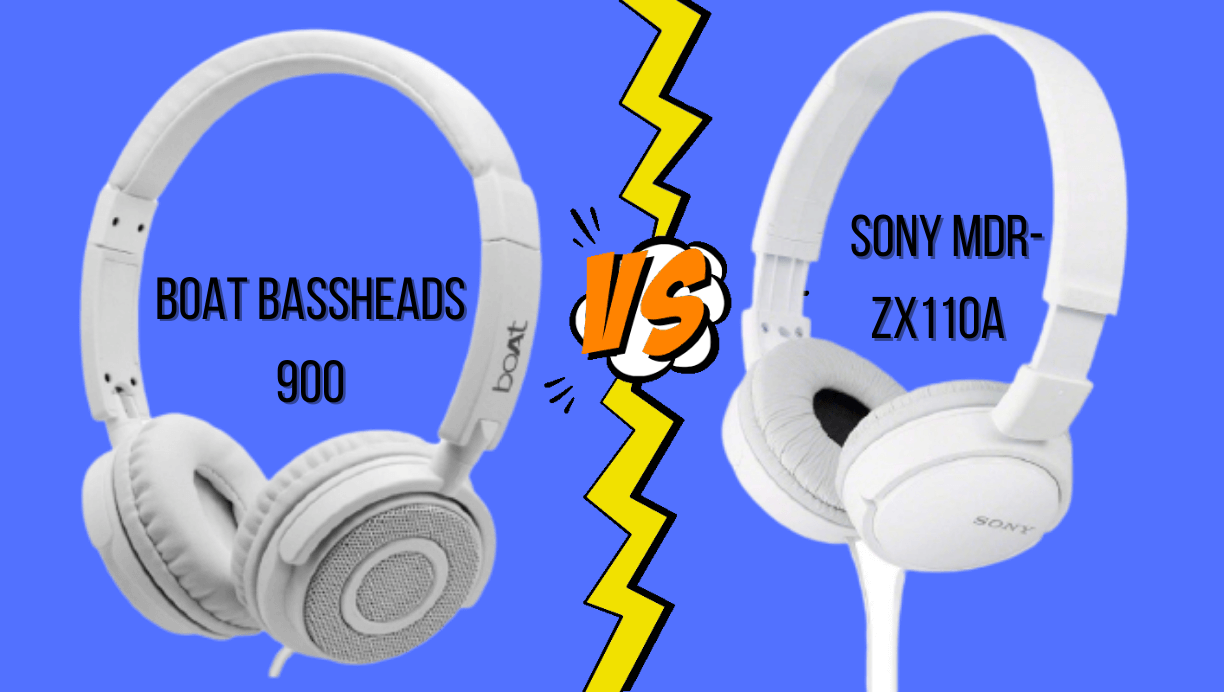 As per my experience with both of the headphones, I would say they are targeted at different sets of audiences. Let me explain!
BoAt Baseheads 900 is for an audiophile who is on a budget. For whom everything in audio is important ie vocals, bass, music, instruments, etc. The outside noise isolation takes the overall listing experience to the next level. Also, you get a microphone for calls!
Due to its strong construction, the audio leak is a bare minimum. As a result, the ear cups might feel a little tight on the ears in the beginning. This happens with most of the new headphones. With use, they adapt to your head size and offer a snug fit.
Whereas Sony MDR-ZX110A is for those who keep comfort above all. Since the fabric is of breathable material it takes the comfort level way ahead of Bassheads 900. But this cannot overcome the audio experience. I felt the overall music quality to be quite low in terms of loudness and the bass is very flat. If I've to rank it out of 10 then it will get 5/10.
This will be a good choice if you need to wear headphones with spectacles and for prolonged durations like 4 to 5 hours. Then I would recommend going with Sony MDR ZX110A. But again, with this, you need to make compromises of audio quality and no microphone.
Wrapping Up
So that's about it folks! I hope you would have found our Boat Bassheads 900 vs Sony ZX110A comparison helpful. Do you have queries? Please reach us out at PadhKeDekho's Twitter, Facebook, Instagram. We would love to help! Comments have been disabled for a while.
Thanks for taking out your time in reading our boAt vs Sony headphones comparison. Please press the red bell icon on the left as we would love to have you around!
Just like the above article, we share our 2 cents in the form of reviews, tips & tricks, comparisons and opinions so do check out those articles. And if you liked the content do share it with your friends and family! Thanks, we will see you at the next one!
FAQ
Is Sony Or BoAt Better?
We compared Sony ZX110A and BoAt Bassheads 900 as both are budget-wired headphones under 1000. The comparison consists of built quality, audio quality, noise cancellation. So do check our article and make a better choice!
Which Headphone is Best Sony Or BoAt?
Sony makes marvelous high-end headphones. But on the budget side, boAt is offering some great headphones that you should check out. We have compared some of the most popular ones. Do check out those articles.