A while ago, we bought boAt Airdopes 121v2 and shared our initial one-month review. Just recently we had a hands-on experience with boAt Airdopes 171 as well. Both the boAt Airdopes are below 2000 rupees and are great truly wireless earphones, that we have heard. So in this article, we have put them against each other and compare them. So that you know which is better for you before you press the buy now button! Without wasting more of your time here is our boAt Airdopes 121v2 vs 171 comparison.
Update: Both Airdopes are at a huge discount on Amazon's Great Freedom Festival sale. Click now to check out the deals!
In this BoAt Airdopes 121v2 vs 171 comparison, we will first bring up the similarities, differences, pros cons, and then compare the built quality, audio quality, mic performance, battery backup, noise cancellation, and finally the conclusion. So this article is going to be detailed and quite important to you. But before starting the comparison…
Let's first kick things off with the similarities, than differences, and afterward pros and cons for both of the TWS earphones.
BoAt Airdopes 121v2 vs 171 Similarities
BoAt Airdopes 121v2 vs 171 Differences
BoAt Airdopes 121v2 Pros And Cons
BoAt Airdopes 171 Pros And Cons
With the above similarities, differences, pros, and cons, you might already have decided the best one for you. But if you still want to be 100% sure then keep on reading BoAt 171 vs BoAt 121v2. We have expressed our genuine review after a thorough use. Let's first compare the built quality.
Built Quality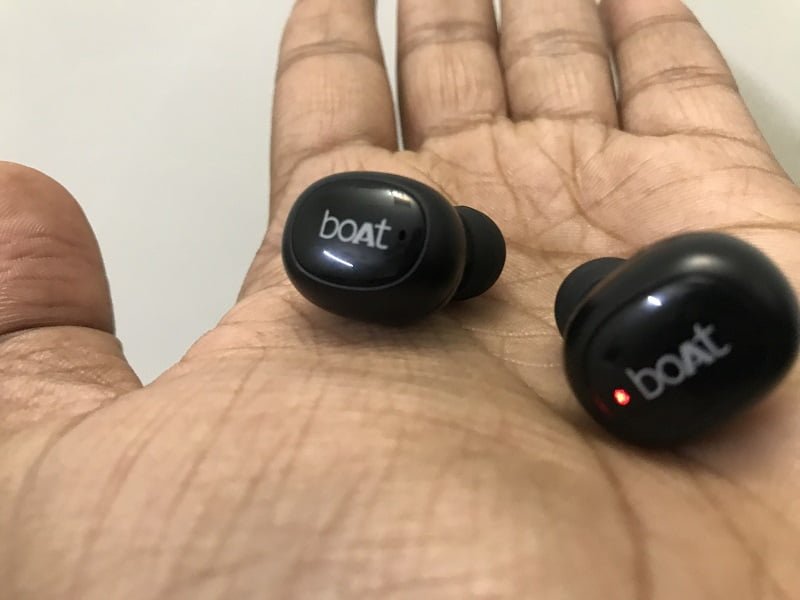 Both of the Truly wireless earphones come in plastic-built quality and rubber or silicone ear tips. With Airdopes 121v2 and 171 you will get 2 additional pairs of ear tips that will help you get the best fit for your ears. Medium ones are already pre-applied.
The built quality of the earbuds is quite good and almost similar. However, in terms of looks, due to the dual-color, Airdopes 171 gets more points. Both the Airdopes's earbuds have one big MFB (Multi-Function Button) that lets you play pause, activate voice assistant, take and end calls. To see the MFB in action you can watch our video demonstration on BoAt Airdopes 121v2.
The difference you will notice is with the quality of the charging case. The clip of Airdopes 121v2 seems fragile. I have been using those for a few months now and I take good care while opening and closing the lid. Whereas Airdopes 171 lid feels much better than 121v2.
But this happiness doesn't last for long! Because Airdopes 171 misses on TFT display to show the current battery status of the charging/carry case. You can get to know the earbuds battery status from the smartphone only. Although, Airdopes 121v2 comes with a bright and big display for the battery percentage.
So you have to make a choice between display for current battery status or better built. If I have to make a choice, it's boAt Airdopes 121v2.
Audio Quality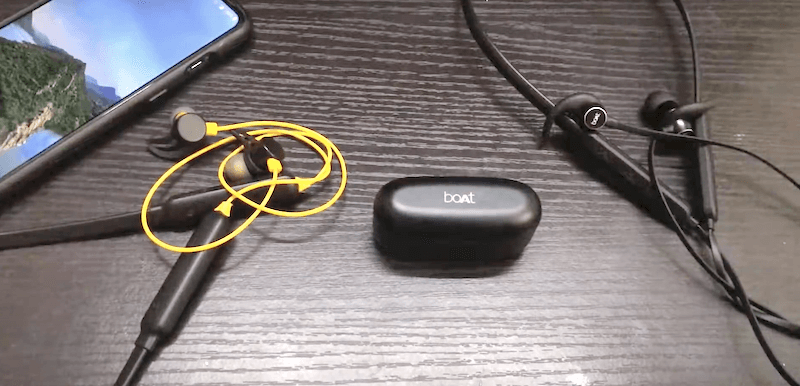 Since both are almost similar pricing earphones how much different they can sound? Well, there are tons of differences in terms of overall audio. To begin with, on BoAt Airdopes 121v2 you get 8 MM of audio drivers. While Airdopes 171 comes with 6 MM of audio drivers.
Audio drivers are responsible for producing audio ie instruments, vocals, bass, treble, etc. The rule of thumb here is, bigger the better! So in terms of audio drivers boAt Airdopes 121v2 takes lead here.
On Airdopes 121v2 you will experience clarity in vocals, instruments, loudness, and treble throughout the volume range. There is very little audio distortion on full volume(totally depends on the quality of music you are listing to). For the best combination of bass and vocals, staying in the range of 60 to 85 percent is the ideal. On full volume things are good but it seems that the 8 mm audio drivers are trying too much!
If we talk about bass then Airdopes 121v2 is still ahead. On Airdopes 171, the base is somewhat average. Other than bass, Airdopes 171 is good when it comes to vocals and treble. But for the best results, you will need to crank the volume to the max. Which is not to be seen on Airdopes 121v2.
To be honest with you, in terms of BoAt Airdopes 121v2 vs 171 audio quality, I will rank Airdopes 121v2 with the highest marks.
Note: Listing to full volume can have effects on your health. If you want to know what audio gear is best for you between earphones and headphones then you can check out this link and make a better choice. Moreover, we have also shared tips for better health while using earphones and headphones. Definitely check it out.
Microphone Performance
In the mic test, both BoAt Bluetooth Airdopes sail on the same boat! To put them in one word they are adequate. Not as good as infinity Glide 500/501 in a similar price category. We have tested and used boAt Rockerz 255 for more than 2 years and they had quite better mic output than these. The issue is not much prominent indoors thou. It comes into play when you are outdoors.
The microphone on boAt Airdopes 121v2 and 171 tend to capture more background noise instead of your voice when you are outdoors. This can be acceptable for regular calls. However, it might not be suitable for work from home.
For WFH, we would recommend checking out Infinity Glide 500. It is an on-ear Bluetooth headphone that comes with 2 audio modes and 20 hours of battery life! You can check out our article below for a detailed review.
Read More: Infinity Glide 501 By JBL Review
Noise Cancellation
Noise cancellation is a feature that restricts the noise or the ambient surrounding disturbances around you like people talking, television being played, etc. The advantage with noise cancellation is that such nuisance is restricted or in some cases; eliminated so that you can have the best possible experience.
Since the Airdopes series from boAt is an in-ear type of earphones, they generally have better noise cancellation. Both the Airdopes do a great job of reducing the tv playing in the background when you are watching some YouTubers roasting video! You can go with any of the two and forget about noise cancellation. Though the budget Airdopes series does not come with active noise cancellation, passive noise isolation is present.
People usually get confused with noise cancellation and noise isolation. If you want to know more about the differences, then you can check out the article that covers the basic differences in a very easy-to-understand language.
Read More
So coming back to the topic. In this BoAt Airdopes 121v2 vs 171 comparison, both have good noise cancellation and you will not be disappointed.
Battery Backup
On both the Airdopes you will get 380 mAh of battery on the carry cum charge case. Moreover, the earbuds as well have a little tiny battery of their own! Airdopes 121v2 and 171 have 40 and 43 mAh respectively. So if you have paired up Airdopes 121v2 or 171 you can continue to use them for around 3 hours straight.
As soon as the earbuds are out of the case, they go into search mode. And once a connection is formed they keep track of it. I am not saying they pair up like Apple AirPods but hey we can't complain!
After listing and putting them back in the case, makes the earbuds go into charging mode. They will be up and running within 2 hours. Which is good! The charging case can charge your earbuds up to 3 times. The complete process of using them and keeping them in the case is quite easy.
The carry cum charge case has a big battery of 380 mAh. So you can expect it to be charged in about 3 hours. Keeping in mind, that it can charge your earbuds 3 times. Seems impressive!
Honestly, in terms of battery, I wouldn't mind using any of the two!
So Which One To Buy BoAt Airdopes 121v2 Vs 171?

It all comes to the conclusion of BoAt Airdopes 121v2 vs 171. So finally which is best Airdopes under 1500 Rupees?
Since we have been using Airdopes 121v2 for a few months now and we think it still does things better. But yes, there are some points where BoAt did improve with boAt Airdopes 171. Let me break our experience for you.
Both are quite quick and easy to pair and plug off. The Bluetooth range is also quite similar. The battery backup is also not going to hurt you on either of two. in fact, in-box contents are the same!
Almost similar noise cancelation and microphone performance. The audio leak is the bare minimum which means even if you listen to something in full volume people nearby will have no idea! At this point, I can say you can go with any of the two.
But here things get interesting.
If you need a better-sounding pair of truly wireless earphones option then Airdopes 121v2 is hands down the best among the two. It also comes with a big and bright battery percentage display so you can manage the battery. Where it lacks though is in the built quality of the case and not having any IPX rating for water and dust protection.
And the things where it lacks, are the best points for BoAt 171 Airdopes. But it has its share of issues that we have discussed above.
*Even though boAt has not mentioned it, I have been using Airdopes 121v2 for most of the workouts that involve sweating, and they are working just as great as they were brand new.
As per my experience, I will vouch for boAt Airdopes 121v2 in this BoAt Airdopes 121v2 vs 171 comparison. If the pros of 171 impress you then it's not going to be a bad option either.
Wrapping Up
There you go, guys. This was our BoAt Airdopes 121v2 vs 171 comparison. If it was of any help then do share it with your finds so that also make a better choice!
Do you have doubts or queries? Then connect below or reach us out on the below social accounts. We would love to help you out! Thanks for reading guys!
Just like the above article, we share our 2 cents in the form of reviews, tips & tricks, comparisons and opinions so do check out those articles. And if you liked the content do share it with your friends and family! Thanks, we will see you at the next one!
FAQ
BoAt Airdopes 121v2 Vs 171 Which Is Better?

As per my experience and customers' feedback, boAt airdopes 121v2 is better in multiple things. In our comparison, we have tested audio quality, built quality, mic test and so many other things. Click now and check out before making the wrong decision!
BoAt Airdopes 121v2 Vs 171 For Gym?

BoAt Airdopes 171 is IPX4 which makes it somewhat water and dust-resistant. Whereas, 121v2 has no such protection. However, I have used Airdopes 121v2 for my workouts and it has been working well for the last 4 to 5 months.