[Updated on July 13, 2023] It's been over 3 years with this headphone and it's in pretty good shape. Only the fabric around the earcup has deteriorated which is to be expected. Other than that, the headphone is good. Back to the original article.
Are you looking for the best budget Bluetooth headphones for online classes/online meetings, or for the audiophile in you? then you're at the right spot! In this, we will share Infinity Glide 501 review. 
It is the most popular Bluetooth headphone from Infinity, a product of JBL which is owned by Harman International Industries. So is the headphone worthy to represent the name of JBL or Harman? That's what you will get to know here!
Update: Infinity Glide 500/501 is available at 999 Rupees on Amazon's Sale. Click now to check out the deals!
We will express Infinity Glide 501 headphone review covering everything from its built quality to the call quality. And most importantly should you buy one? is answered under! Before starting the Infinity Glide 501 review, please be informed what you are going to read is 100 percent honest and not sponsored by the brand, by any means.
So, without taking more of your time, let's dive in and check out whether you should buy one or let it slide. So welcome to PadhKeDekho and let's get started!
Infinity Glide 501/500 Pros And Cons
Infinity Glide 500 Vs Glide 501
Let us update you on something important. There is no difference between Infinity Glide 501 vs 500. Even if you compare them side by side on Harman's official website you will not find any difference.
The only variation we were able to research was the year of introduction. Infinity Glide 500 was introduced in 2019. Whereas Glide 501 release date is from 2020.
So don't get confused between different product postings on Amazon and Flipkart. As you will find Infinity Glide 500 on Amazon and Flipkart with Infinity Glide 501! Both are the same headphones and you can buy any variant without any issues.
Infinity Glide 501 Built Quality
Infinity Glide 501 price in India is ₹3,499. But you can get it anywhere near ₹1,500 to ₹1,800. In this price range, we have used a few Bluetooth headphones but this one offers the best-built quality and premium design (covered in the look and feel section.)
The earpads offer a soft and comfortable experience and you will not witness any discomfort even after a few hours of use. Moreover, you can twist and fold them to carry in your backpack on your trips.
While we are talking about travel it's good to add Infinity Glide 501 weight 104 Grams making it lightweight and travel-friendly. You can even let it rest on your neck without any difficulties.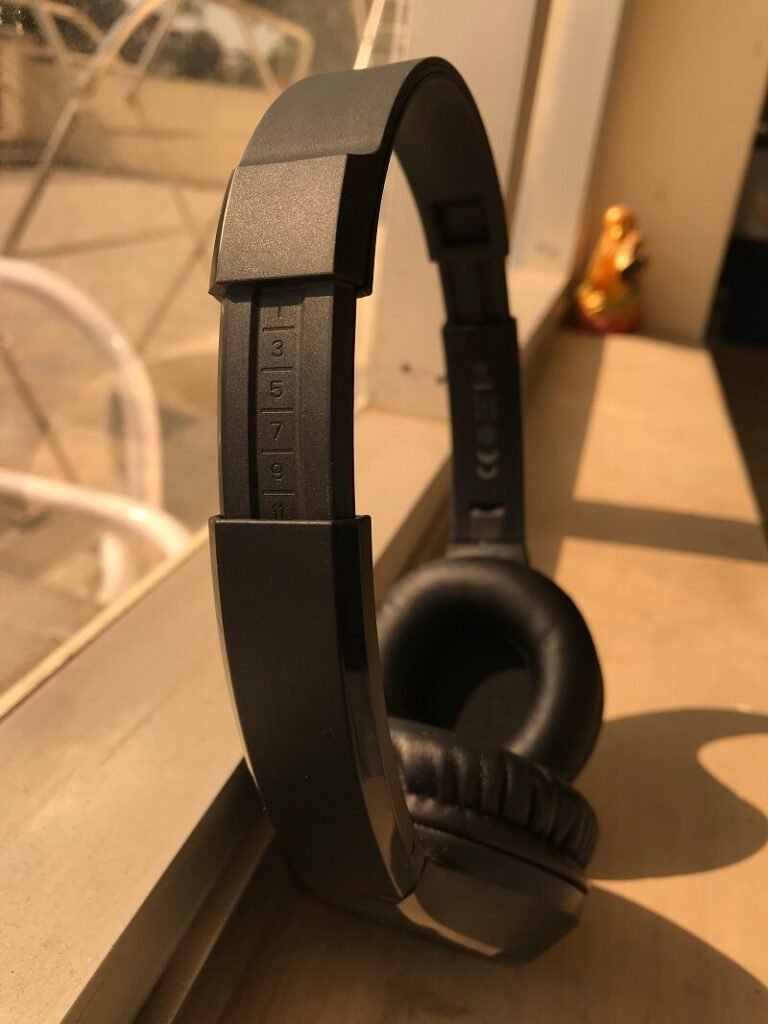 The longevity and build quality of an on-ear headphone is entirely dependent on the headband. With Infinity Glide 501 you'll get a strong and flexible headband. This headband comes with 6 levels of adjustments for a perfect fit.
Infinity (JBL) Glide 501 Look And Feel
The headphone offers a glossy matte finish design all around and Infinity branding on both the earpads in the Gold color that makes it quite appealing. The best part about the headphone is that it is not a fingerprint magnet i.e. it doesn't capture any fingerprints at all!
In terms of look and feel Infinity Glide 501 doesn't fail to impress. The headphone is available in 3 amazing colors; Charcol Black (The best-looking one!), Mystic Blue, and Passion Red.
Just like the headphone you get the same matte treatment on the headband. Large Infinity branding on the band makes Infinity Glide 501 Bluetooth headset stand out.
How Is Infinity Glide 501 Music Quality?
Infinity Glide 501 provides a great level of detail. Be it instruments, vocals, treble, bass, etc. if you are a casual user or an audiophile you will have an amazing experience. And we mean it!
To begin with, there are two audio modes; normal mode and deep bass mode. These modes are not just gimmicks they actually work!
In normal mode, things are regular like any other headphones. You will experience lesser bass, quite loud vocals, and an on-point treble. For someone who doesn't like heavy bass can use this mode.
As soon as you'll hit deep bass mode, things change drastically! The bass increases so much that you can literally feel it. Other than that, vocals also gradually increase and the treble will decrease.
Since we periodically switch from boAt Airdopes 121v2 and boAt Rockerz 255 the difference is huge! And it has to be! Those are in-ear and don't have space to add a bigger audio driver like a headphone. If the bass is among your top priority then don't hesitate and choose Infinity Glide 501.
Note:- By no means we are comparing Infinity Glide 501 and boAt In-ear earphones. We just put it in context as we have covered those. If you want to learn more about them you can check the below links!
Media Controls Infinity Glide 501
Infinity Glide 501 offers almost every media control that you could have asked for. On the right side of the earphone, you get dedicated volume control, navigate songs, change the default mode to deep bass mode, activate voice assistant (Siri/ Google Assistant), and last but not least accept or reject calls!
All the features and how to activate them are explained in the below chart.
| Feature | How To Activate |
| --- | --- |
| Deep Bass Mode | Pressing The 'Vol-' And 'Vol+' Together For 3 Seconds |
| Next Song | Hold 'Vol+' Button For 2 Seconds |
| Repeat Song | Hold 'Vol-' Button For 2 Seconds |
| Activate Voice Assistant | Double Pressing The Power Button |
| Accepting Call | Press the Power Button Once |
| Rejecting Call | Hold the Power Button For 2 Seconds |
| Play | Press the Power Button Once |
| Pause | Press the Power Button Once |
Glide 501 Battery Backup And Charging
Are you worried about the battery backup of your next Bluetooth headphone? if yes, then throw that thought out of your mind while selecting Infinity Glide 501!
Infinity Glide 501 is simply the marathon runner when it comes to battery backup! The claimed battery life is up to 20 hours of playback and we have been experiencing it for about 18 hours of battery backup! That's phenomenal guys!
If you are aiming for Bluetooth headphone that doesn't need to be charged daily then look no further and grab Infinity Glide 501.
Suggestion: Above all do you keep battery backup your priority? then selecting Infinity Glide 510 will be an even better choice!
To charge the headphone, you get a USB 2.0 charging socket on the right earpod. Do keep in mind, the company recommends using only a 5 Watt 1 amp charger for charging. If you have an iPhone, that tiny 5-watt charger will work just fine!
And what about a 10-watt charger? no problem, I also charge with a Samsung 10-watt charger and it has been causing no issues.
This headphone supports quick charging which means 10 minutes of charging will give up to 2 hours of listing. This claim is certainly close to the actual figures at around 1 hour and 35 mins!
As a result, Infinity Glide 501 charging time is anywhere near 2 hours. Unfortunately, you don't get support for any 3.5mm audio jack or AUX cable support with this one. So if the battery runs out you cannot use the headset.
Infinity Glide 501 Best For Online Classes?
Undoubtedly Yes. It has by far the best mic on budget Bluetooth headphones. I participate in various online classes and meetings and have never been pointed out for bad audio quality.
Even if you plan on taking calls on a busy street the result stays the same and it is 10 out of 10! The best part is the audio via the mic stays consistent. This has been my only issue with boAt Rockers 255 as well as boAt Airdopes 121v2. Where they tend to capture more noise than my voice!
So if you need good Bluetooth headphones with a great mic then Infinity Glide 501 by JBL is the way to go! You will not be disappointed.
Should You Buy Infinity Glide 501?
No product is perfect and there are things that are letdowns. Some devices have more cons than others. Fortunately, there are only 2 things that according to us, need a little work to be done.
The audio gets leaked from the headphone, as a result, you can listen to the song in a small room without wearing them! Therefore, I personally refrain from listening to full volume in someone's presence.
As we stated in the cons sections, the buttons could have better quality. What happens is when you press the buttons you can hear a spring making a "ting-ting" noise. This is not prominent but is there. So these were the things that dropped the ball.
Other than the two points, there is only positivity and a wonderful experience all around!
From the amazing built quality to the impressive look and feel to the best music quality on a budget, marathon battery backup, crystal clear call quality, etc nothing fails to impress.
Infinity Glide 501 is an ideal choice for you who loves to listen and enjoy music, takes multiple calls every day, and forgets the charger at home while going on a weekend trip!
This Infinity Glide 501 definitely stands up as being a product of Harman by JBL.
FAQ
Is Infinity Glide 501 Good?

Yes, it offers good built quality, high-quality audio, and best-in-class mic performance.
How to connect Infinity Glide 501 to Laptop?

Enable Bluetooth on the laptop and search for a new connection. Just the way you do pair any other Bluetooth devices.
What is Infinity JBL?

Infinity is a product of JBL, which is owned by Harman International Industries.
Does JBL Infinity Glide 500 have mic?

Yes, it has a mic which works great! Ideal for Zoom calls or calls in general.
What is the difference between Infinity Glide 500 and 501

No technical difference is there. The only years of introduction are different. Infinity Glide 500 was introduced in 2019. Whereas Infinity Glide 501 is from 2020.
Is it possible to connect Infinity Glide 500 to a laptop and mobile at the same time?

You can connect Infinity Glide 500 to only one device at a time.
So, That's It, Guys!
We hope you have liked our Infinity Glide 501 review. If you are willing to buy one, then please consider using the below link as it will help the channel and it is the biggest motivation for us to bring more product reviews for you!
Do you have doubts or queries? Then connect below or reach us out on the below social accounts. We would love to help you out! Thanks for reading guys!
Articles That Might Interest You!