Headphones under 1500 Rs can be hit or miss. We've owned 10+ headphones and kept just a few with us over the last 3 years. And some are bought again! BoAt Rockerz 400 is a fine example! In this BoAt Rockerz 400 review, we will talk about everything that can help you choose better.
At PadhkeDekho, we buy tech products use and compare them with others in the same price category. This gives readers like you valuable insights and helps in your decision-making.
As a support to us, you can check out the product using the Amazon links in this article. We might earn a small commission from Amazon at no additional cost to you! Thanks for the support! We are now three years old!
With that said, Welcome to PadhkeDekho, and let's start the BoAt Rockerz 400 review with pros and cons!
BoAt Rockerz 400 Pros & Cons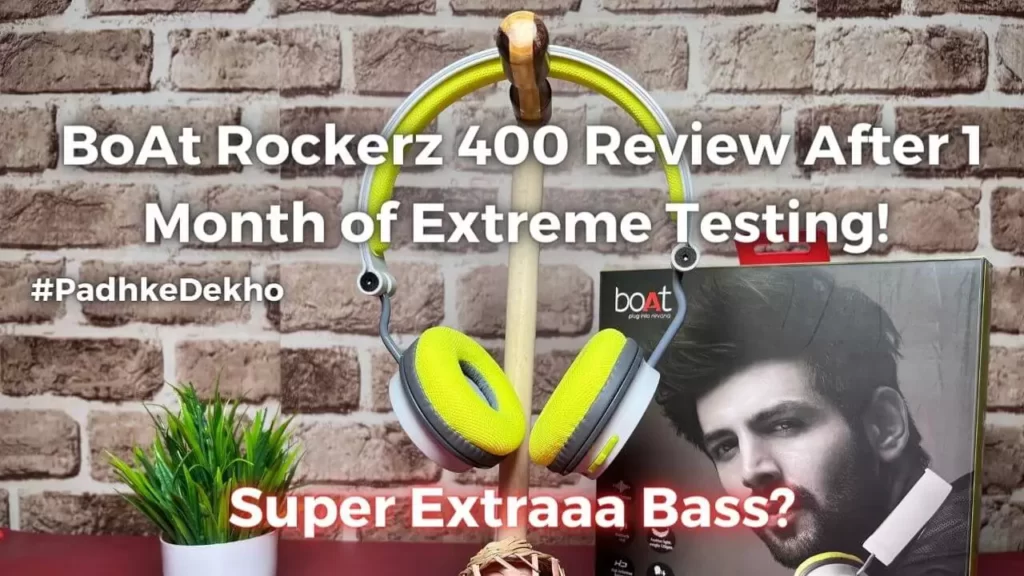 Box Contents
In the box, you get many things to start with:-
Headphone
Micro USB to USB Charging Cable
Aux Cable (Without Mic)
Warranty Card
BoAt Sticker
Docket of Other BoAt Products
So, for the unboxing experience, you are getting many things in the box. The Aux cable and the charging cable are of good quality.
Built Quality 10/10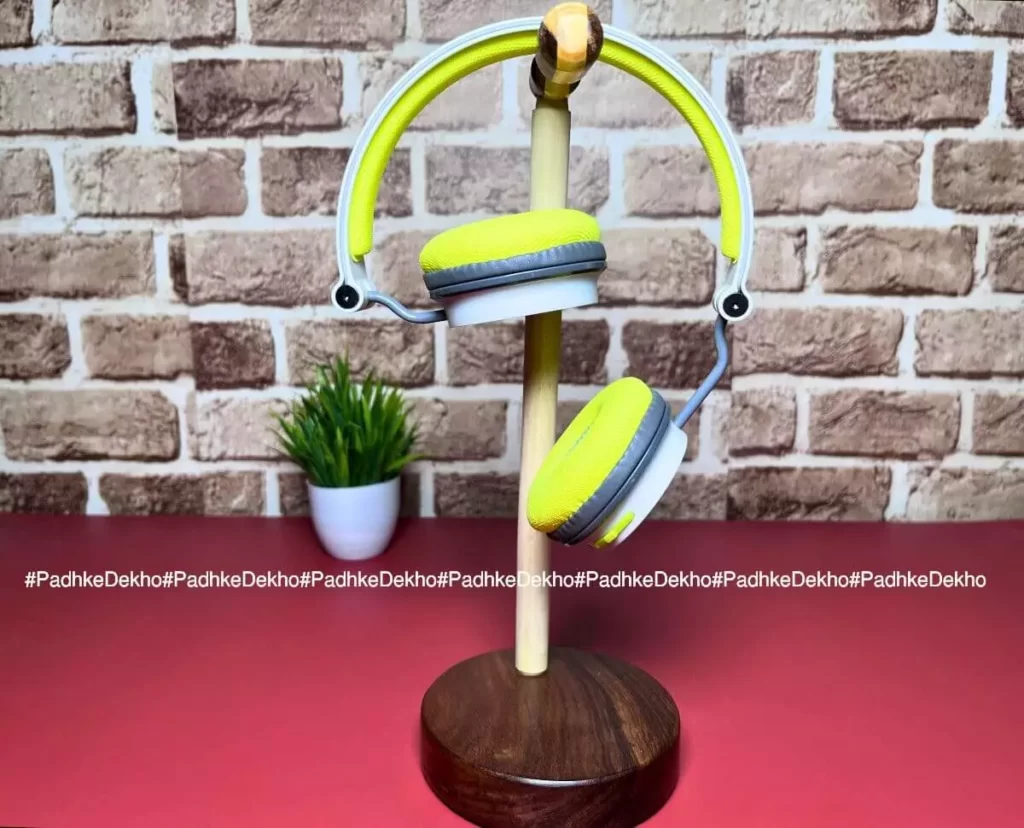 BoAt Rockerz 400 is a very special headphone under 1500 Rs. Why? Because there are so many things to talk about it. First, the overall build; it's plastic for the most part but headband adjusters are metal which is very important.
As of today, headphones costing triple the price come with all-over plastic construction, even the headband adjusters. As a result, they break quite easily. This is the second time we have bought the same headphone though in a different color. Because we could not get any headphones which offer such great built quality.
Another reason was the foldable design. The metal adjusters fold inwards as a result the ear cups rest quite well. You can put them in the backpack or your neck.
If you will be traveling a lot carrying these then get a headphone bag it will help prevent damage. The buttons are quite good too. Though there is a little rubbery feel to then the click press is responsive.
So for built quality, BoAt Rockerz 400 gets full 10/10 marks. It can't get better than this.
Looks 9/10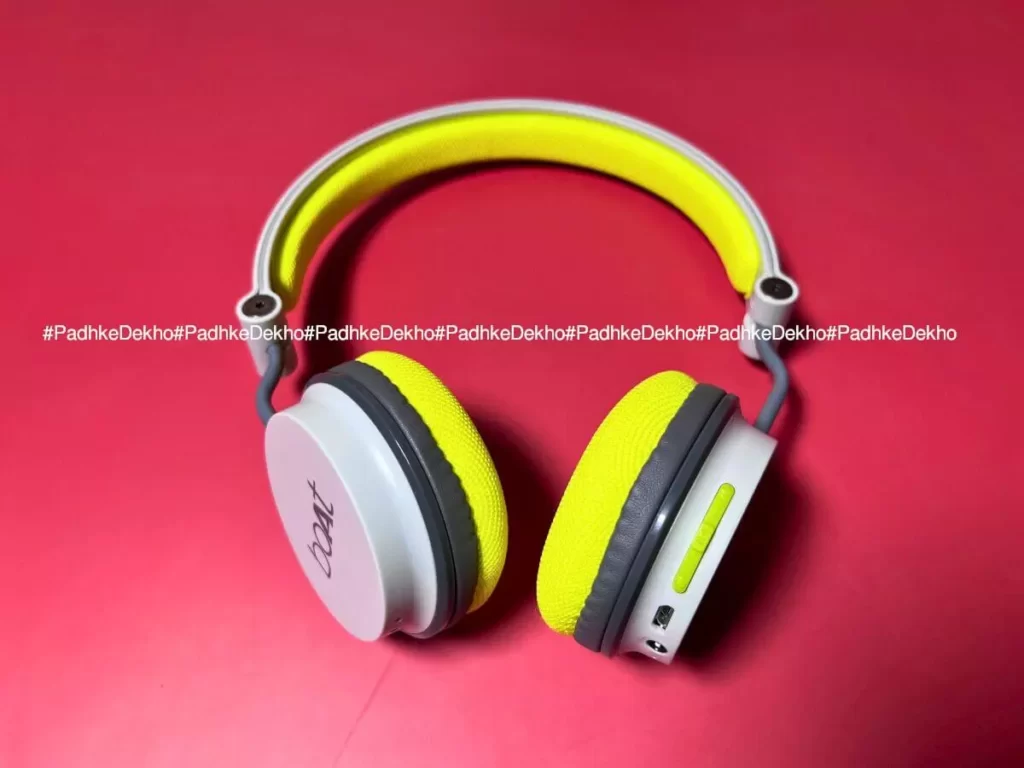 BoAt Rockerz 400 has two color options; Black & Red || Grey & Green. To be honest, both are good-looking ones. We earlier had the Black & Red and this time around it's the Grey and Green. Since looks are subjective you can pick any of these.
We feel that Black & Red is quite a "pro user" choice while Grey & Green is eye catchy. Also, this combination enlightens the mood. In both colors, the detailing is amazing.
But, it's the Grey & Green that is more eye catchy and looks more vibrant, especially with their "Cosco cricket ball" color on the headband cushion, ear cups & media controls! Then you will see the light grey color headband adjustment rod along with the overall design.
So for looks, we like the Grey & Green Color more than the Black/Red combination because it looks fresh and certainly unique. Hence, BoAt Rockerz 400 gets a 9/10.
Comfort 7/10
BoAt Rockerz 400 is quite a comfortable headphone. There are 4 factors to consider about comfort.
First is the weight of the headphone. At around 120 Grams, BoAt Rockerz 400 is a very lightweight headphone. It's very light on the head too.
Second, comes the ear cups fabric or cushioning. It's not leatherette but it's more like net fabric. It is quite soft and comfortable.
Third, is the swivel ear cups. The ear cups swivel in both the left and right directions. It helps to find the best comfortable spot for any user. Up and down swivel is not present.
Forth, is the clamping force. It's the pressure that the headband puts on the ears. Generally, On-Ear headphones have high claiming force as they are designed for outdoor use.
All these points are neatly executed on BoAt Rockerz 400.
So does this mean BoAt Rockerz 400 is a very comfortable headphone? It is as comfortable as any on-ear headphones can be. if you do not wear spectacles then you will find these quite comfortable for long hours of use.
But if you wear spectacles it will become uncomfortable within 15 to 20 mins. To avoid this, you can reinsert the spectacles while wearing the headphone. It will help.
Will it suit you?
if you are switching between on-ear headphones then yes, but if you are coming from neckband or TWS earbuds then these will have time to get used to. One more thing, if you have been using over-ear headphones, then these are not the right choice for you. You can check out BoAt Rockerz 558/550 (Review), Zebronics Zeb Duke (Review), or Blaunpkt BH11 (Review).
Hence BoAt Rockerz 400 gets a 7/10 for comfort.
BoAt Rockerz 400 Features 9/10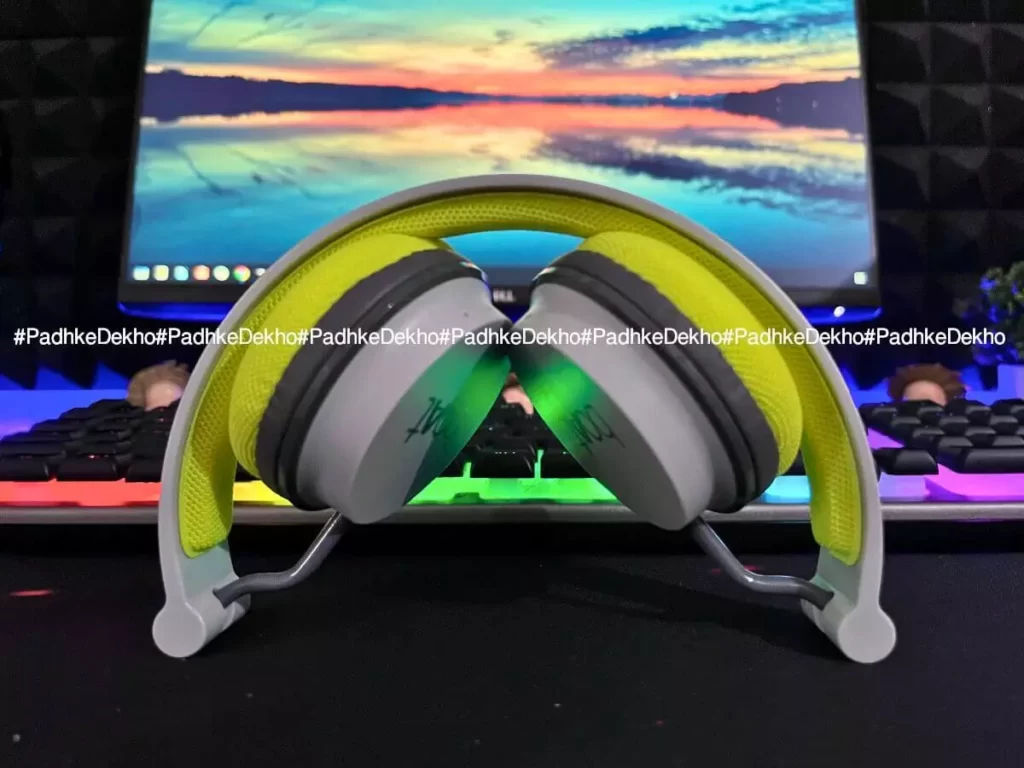 #1 Compact & Lightweight: At around 120 Grams, BoAt Rockerz 400 is very lightweight. Makes it perfect while traveling. I personally used to take neckbands on traveling inter-city but not anymore!
Secondly, BoAt has designed it in such a way that they look quite compact. It can comfortably rest on your neck without rubbing your chin.
Since it does not weigh unlike over-ear headphones you can wear these on and off without much weight on your head or around your shoulder.
#2 Foldable Design: BoAt Rockerz 400 are foldable and that's the beauty of this headphone. You can easily fold it and keep it in your backpack without worrying about it getting damaged. Though we always recommend buying an additional headphone case for added protection.
Many headphones can fold what is so special about BoAt Rockerz 400? We get this a lot in DMS! It's because of the metal headband adjusters and the same is used to fold the headphone.
This means the headphone will certainly not break while folding. Unlike, other headphones that fold and have a plastic mechanism that cracks within months of ownership.
#3 Bass Heavy Sound: BoAt has branded this headphone as bass-heavy headphones, and their claim is not wrong! We've tested many headphones under 2000 Rs that claim "best bass" (review soon), and this one is among the best. Why? Because it is the cheapest of the lot!
It's actually very boomy you can feel it all around your ears. It's a must-buy if bass excites you! More about it in the audio quality section below.
#4 Dual Connectivity: Rockerz 400 comes with dual connection i.e. Wireless as well as wired mode.
For wireless, you get Bluetooth 5.0 which is not the latest but the connection is very strong. We did not have any audio break under 3 to 4 meters away from the connected device. So it will certainly add convince for about 8 hours.
And when you are low on battery, you can always pop in the aux wire and all the battery anxiety disappears! Unlike many headphones, this headphone has similar audio outputs be it Bluetooth or aux-in connection.
Audio Quality 9.5/10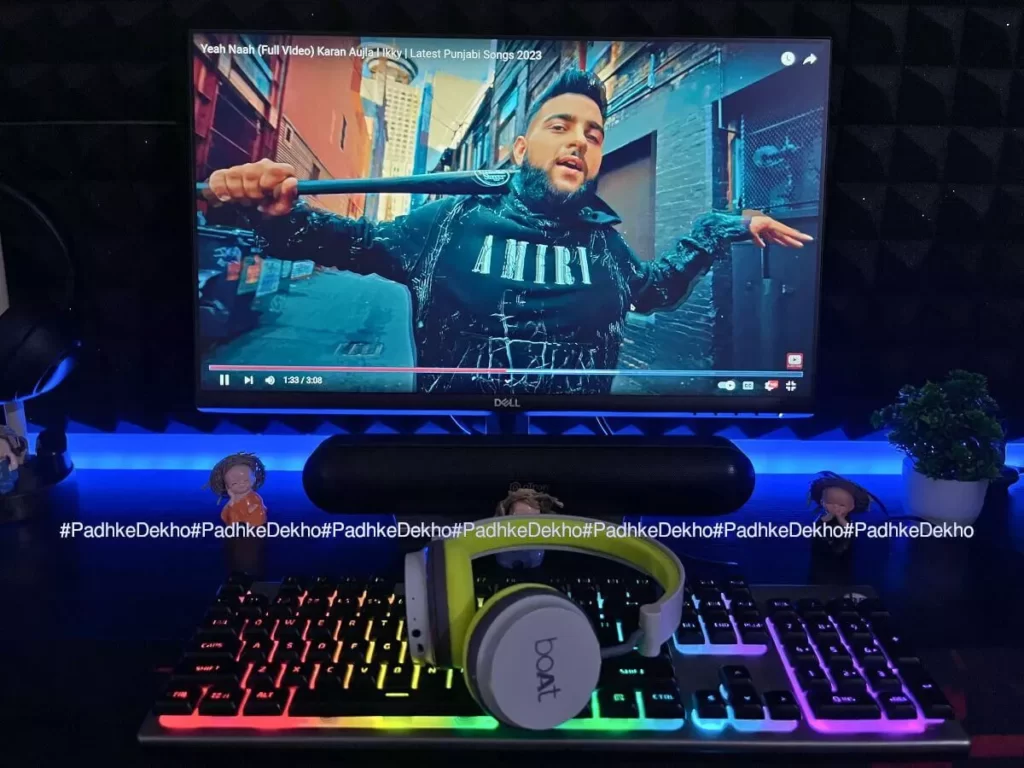 BoAt Rockerz 400 comes with 40mm drivers which are certainly bigger for the headphone size! Does this bigger size help in better audio overall? Yes! It does! So after burning BoAt Rockerz 400 for over 100 hours here's what we think about it.
Let's talk about bass first, it's a monster! We did not expect such thumping bass on this one. It's just not the low-end frequencies but the way the audio driver moves and causes a thumping sensation all around the ears. Just like a home theater speaker or any subwoofer. You can feel it.
What about other things like vocals, instruments, audio quality, and distortion?
The 40mm drivers just not only focus on bass. Other factors are very well fine-tuned. The second best thing we liked about the headphone is the vocals. Even at max volume, the vocals do not lose clarity.
Then comes treble and we were shocked to experience it. Many bass-heavy headphones' audio signatures cut out treble to compensate for more bass. That's why they sound muddy. But BoAt has really tuned these 40mm audio drivers In a very good way.
The overall sweetener in this whole deal is the loudness. The headphone can go very loud without losing anything in return. If you are listing HD audio content, you will not find any audio distortion even at max volume.
But, just like any on-ear headphone audio leak is present, and staying around 80 percent is decent and people in close proximity cannot understand what you are listing to.
So for audio quality, BoAt Rockerz 400 gets 9.5/10.
Call Quality 8/10
In this 1 month of testing, we took many calls; personal and professional, and there's a lot to talk about.
if you take a lot of calls or calling is one of your priorities then yes you can buy BoAt Rockerz 400. Out of 10, we have given it 8 marks and there are a few reasons for it.
The most essential one is the call quality. The other person did not complain about my voice being robotic or cheap in any possible sense. Not even when I was outdoors! You can say it's as good as Infinity Glide 510 in the same context.
Other than voice, we did not experience any audio lag or voice breaking even in Metro where the phone usually stays in the pocket for safety reasons.
What about ENC or does it have one?
Well, it's from 2020 hence it does not offer any ENC or Environmental Noise Cancellation. Which means it will not cut out the ambient noise around you. But, trust me, many ENC-powered audio gears are not that good.
Does this mean outdoor calling will be bad? No! It's the other way! Since there is no ENC, your vocals are unedited and hence always in focus which means the other person on the call will be aware of your surrounding but can also hear you clearly.
If the call quality is so good, why you gave it 8/10?
We cut 2 marks because of the constant static disturbance. Though it's barely marginal it's there you can hear it in the audio recordings sample. That's also true none of the callers complained about it. But when we were testing the mic we found it found and nothing can be done.
That's why we give BoAt Rockerz 400 8/10.
Battery Backup (8.5/10)
BoAt Rockerz 400 comes with a 300 mAh battery and lacks fast charging support. This might seem offputting but it's not and let me explain.
Rockerz 400 is from 2020 when fast charging was new and only found in expensive over-ear headphones. What boAt did they cut off the battery size? Because back then Over-ear headphones were easily having 500 mAh battery.
By cutting 200 mAh, BoAt Rockerz 400 was taking the same amount of charge (around 2 hours) similar to an Over-ear headphone with fast charging support!
So even as of today, 2 hours of charging is not bad! What about actual battery backup?
As per BoAt, Rockerz 400 can be used for about 8 hours wirelessly. And when you need more adrenaline to kick in, you can always use the aux cable and go as long as you want. Just so you know, the mic will not work with the supplied aux cable. Getting a 3.5mm aux cable with a mic can do the trick.
During our testing, we crossed the claimed figures a few times by staying around 60% volume. if you prefer staying at max volume, you will get anywhere around 7 hours.
This is a good battery backup if you think about dual mode (wireless as well as aux-in)
So, in terms of battery backup and charging time, we'd give BoAt Rockerz 400 an 8.5/10.
BoAt Rockerz 400 Worth it?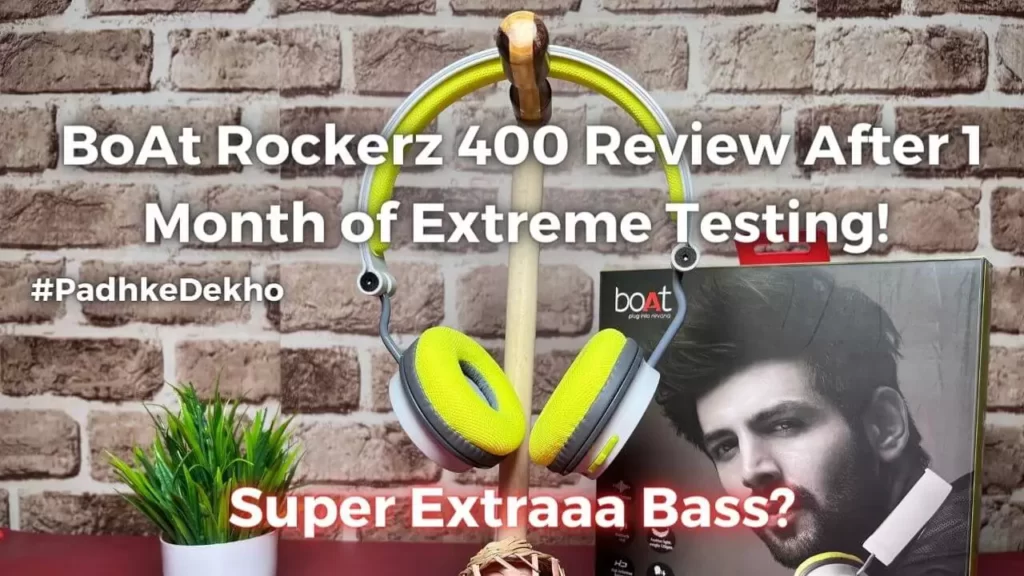 In our 1 month of testing, we were quite impressed by the overall package that BoAt puts on the table. Be it the tuff and durable design thanks to the metal headband adjusters. Eye catchy design that appeals to young blood out there.
Its lightweight and compact nature makes it ideal to gift somebody who travels a lot. Many headphones break during travel or while folding and that's what boAt worked on and added metal for durability.
The most essential part for which many people buy headphones; it's to listen and in that context, BoAt engraved us. The thumping bass sound signature, sharp vocals, and distortion-free instruments along with treble make it the best 40mm driver headphone we've tested.
Usually, BoAt headphones are not that good for calling but Rockerz 400 certainly gets our approval for your calling needs.
So for the price, it's a remarkable headphone. You will not get anything better than this under 1000 Rs.
But, there's 1 thing that can be a deal breaker for you.
It's the comfort on offer. if you are coming from over-ear headphones then you will not like any on-ear headphones ever. And if you wear eyewear then things are not in your favor too. You will need to adjust the spectacles for the best comfort.
Other than that, we are sure you will be having a great time with BoAt Rockerz 400. Hence, we recommend checking out BoAt Rockerz 400!
Wrapping up!
There you have it, this is our BoAt Rockerz 400 Review after 1 month of Testing. if you have any questions about it then feel free to ping us on below given social accounts. We exist to help our readers!
Did you find the content of BoAt Rockerz 400 review helpful? Then please share it with your friends and family who might be looking for new budget headphones under 1000 Rs.
Other Articles That You Can Check Out
F.A.Q
Is BoAt Rockerz 400 Good?
Yes, BoAt Rockerz 400 is a great overall package. We've been testing it for over a month now and here's a detailed review that you must checkout. Tap now to choose better!
Does BoAt Rockerz 400 Have Mic?
Yes, BoAt Rockerz 400 has a good mic. We have taken many calls and found it quite interesting but there's one thing that you know. Here's link to our detailed article. Tap now to learn more.
Is BoAt Rockerz 400 Good For Gaming?
BoAt Rockerz 400 can be used for gaming. Prefer using it via aux mode for no latency issues.
How to Connect BoAt Rockerz 400 to PC?
You can connect via Bluetooth as well as an aux-in.
BoAt Rockerz 400 Price?
BoAt Rockerz 400 MRP is 2990 but on Amazon, you can get it for around 1000 Rs. Click now to find the latest price.
You have reached the end of the BoAt Rockerz 400 review! if you have any complaints or corrections you can reach us at care@padhkedekho.com. We will look into it. Thanks!