Headphones from BoAt are very popular and price competitive. For around 1100 Rs, you can get BoAt Rockerz 400. And just adding a few hundred, you can pick BoAt Rockerz 550. We've been using BoAt Rockerz 400 and Rockerz 550 for over 6 months now. So, this BoAt Rockerz 400 vs 550 comparison will be very helpful.
In this comparison, we have talked about the Pros & Cons, Major Differences, Built Quality, Looks, Comfort, Features, Audio Quality, Call quality, Battery Backup, and our verdict that you can check out.
Why should you trust our reviews and comparisons? At PadhkeDekho, we buy tech products, test them for at least a month and publish our feedback. Our reviews and comparisons give readers like you insights, that actually help in making a better-informed decision.
As we are supported by our readers. Buying any product using the Amazon links on this page will help us earn a small commission at no additional cost to you. Thanks for your love and support, we are 3 years strong now!
With that said, welcome to PadhkeDekho, and let's start the BoAt Rockerz 400 vs 550 comparisons with pros and cons!
Pros & Cons
BoAt Rockerz 400
Pros
On-ear Design
Foldable/Tiltable
Lightweight & Travel Friendly
Metal Headband Adjusters
2 Amazing Color Options
40mm Audio Drivers
Dual Mode (Bluetooth 5.0 + Aux-in)
Bass-heavy Sound Signature
Headphone Can Get Very Loud
Ideal For Gym Workouts
Good Battery Backup
Cons
Not Ideal For Wireless Gaming (Prefer Aux-in for Gaming)
Initially Not Very Comfortable For Long Hours of Use
BoAt Rockerz 550
Pros
Over-ear Headphone
Earcups are Swiveable
Metal Headband Adjusters
5 Amazing Color Options
50mm Audio Drivers
Bass-centric Audio Quality (Wired Mode)
Very Comfortable For Long Hours of Use
Battery Backup is Monster
Cons
Call Quality Could've Been Better
Not Ideal For Games (Aux-in Helps)
BoAt Rockerz 400 vs 550 Major Differences
| Feature | BoAt Rockerz 400 | BoAt Rockerz 550 |
| --- | --- | --- |
| Headphone Style | On-Ear | Over-Ear |
| Weight | Approx 120 Grams | Approx 260 Grams |
| Foldable/Tiltable | Yes/Yes | No/Yes |
| Color Options | 2 | 5 |
| Audio Driver (mm) | 40 | 50 |
| Battery mAh | 300 | 500 |
| Claimed Battery Backup | Up to 8 Hours | Up to 20 Hours |
| Best Buy Link | Amazon | Amazon |
BoAt Rockerz 400 vs 550 Comparison
Built Quality
When choosing a headphone, you should always pick up one which offers metal headband adjusters over plastic ones. Because plastic breaks in a few months. This does not apply to Infinity Headphones. They use High Tensile PP Material which is the toughest plastic we've ever used.
With that in mind, both Rockerz 400 and 550 offer metal headband adjustments so you can pick any of these.
But which one works better or differently?
The adjustment mechanism of both is different. Boat Rockerz 550 has a stand leveler that you must have seen. But the Rockerz 400 adjusts via the metal rod. You can move the earcup to find a comfortable spot.
In terms of durability, both are better than the plastic one but the mechanism is better on Rockerz 400. Since the adjustment is unique on Rockerz 400 we will give it more marks.
So BoAt Rockerz 400 gets a 9/10 while BoAt Rockerz 550 an 8.5/10.
Looks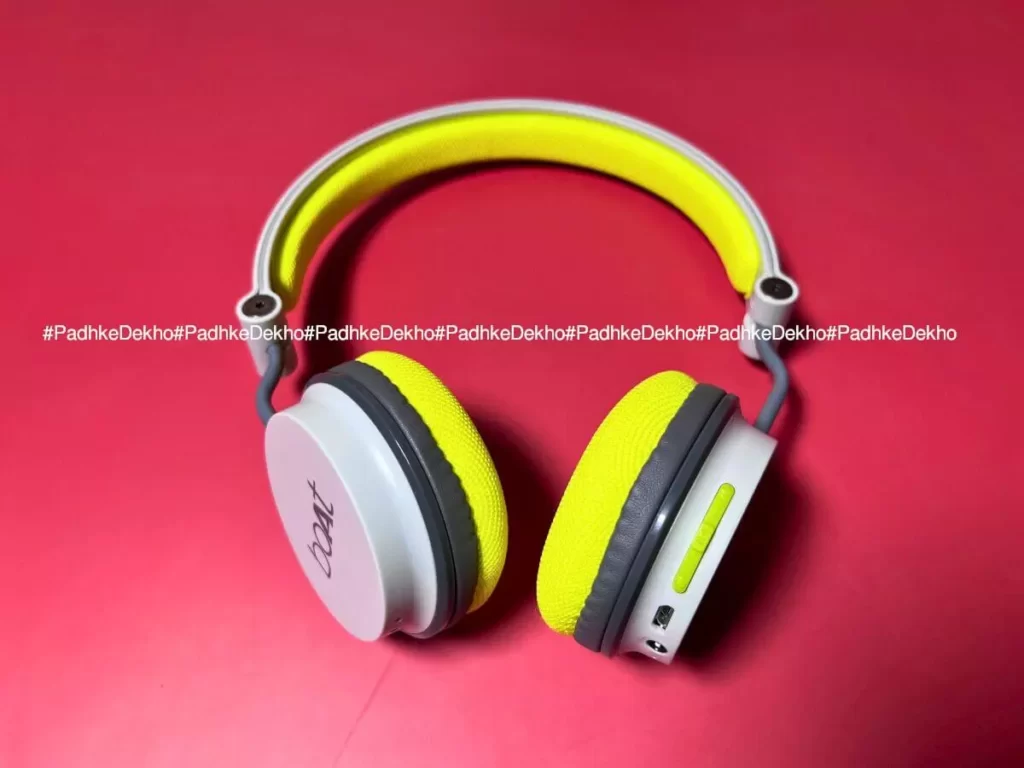 Before picking one as a better option, let's have a look at the looks or designs of the headphones. Both are exceptionally good-looking. While one offers more of a retro design language while the other one offers tons of design elements to suit most of the audience.
BoAt Rockerz 400 has the old-school retro design language. Which is unique in terms of looks, especially in the Grey/Green color. Though Black makes it look more premium and up-market.
Whereas, BoAt Rockerz 550, offers tons of decals to choose from. We've been using the Army Green color and people in public places ask which model is it. It's trendy and eye catchy without being overly done with design language.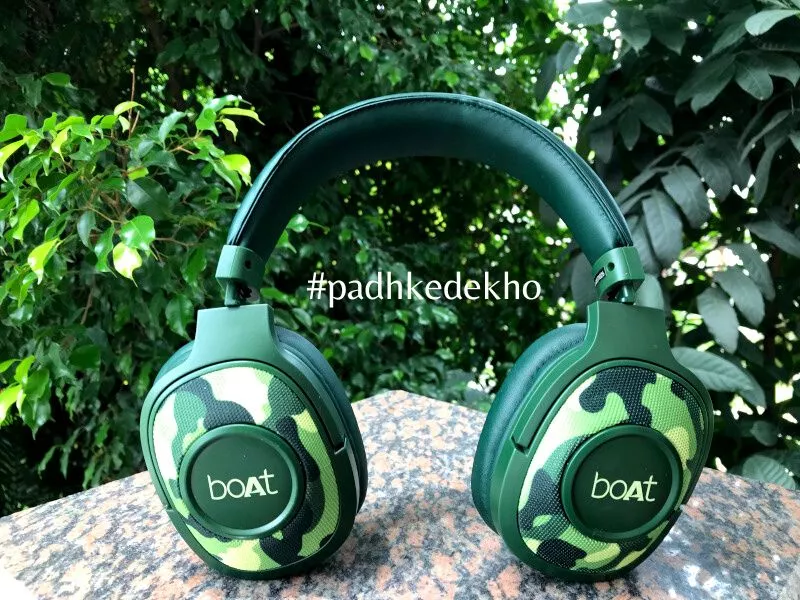 If you are fine rocking a Grey/Green or Black headphone in public then you can check out BoAt Rockerz 400. Whereas, BoAt Rockerz 550 has more pleasant color schemes; especially the Army Green, Sunburn edition, etc.
As per my personal choice, it's BoAt Rockerz 550 (Review) which looks better indoors as well as outdoor use! Hence, BoAt Rockerz 400 gets 8.5/10 while BoAt Rockerz 550 gets a 9/10.
Comfort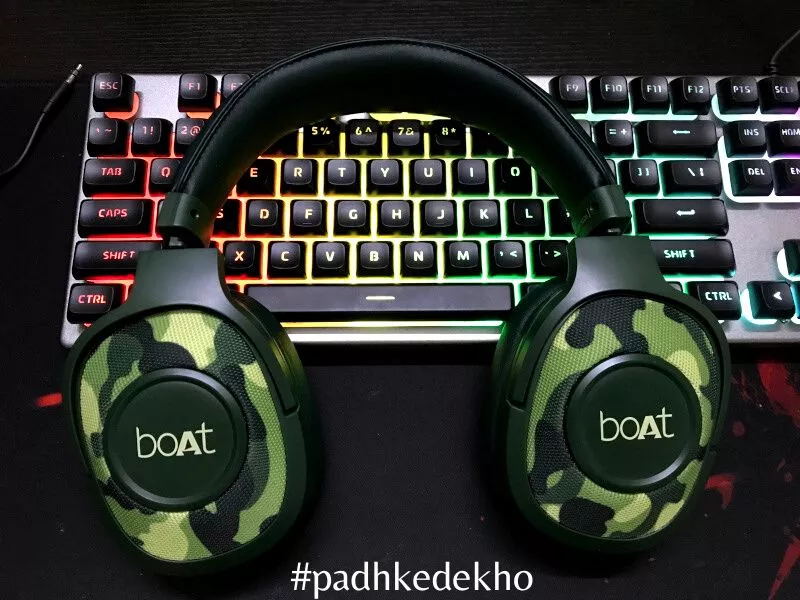 Doesn't matter how good your headphone sounds if you can't wear them for more than 1 hour? That's why comfort is important. Unfortunately, you cannot check that, before buying, that's where we come in the picture.
When it comes to headphones, there are two varieties to choose from. One is On-Ear while the other is Over-ear. BoAt Rockerz 400 is an On-ear type of headphone. While BoAt Rockerz 550 is an Over-ear headphone. What's the difference?
On-ear headphones, rest on the ears and are ideal for people with small head sizes typically teenagers and women. Since they are small in size, the claiming force is high and you can use the headphone for workouts. But due to the high clamping force, comfort is not that great. Hence, you cannot wear these for long hours, in the beginning.
This issue with on-ear headphones gets better with use. Ideally, headphones take 5 to 7 days to adapt to your head size.
Whereas, Over-ear headphones cover up the ears perfectly and are ideal for people who have bigger heads or wear headgear below the headphone. Since they rest on the skull, the ears are not in any pressure contact.
As a result, you can wear over-ear headphones for 5 to 6 hours or even more without any major discomfort other than sweat! But, due to less clamping force, wearing these to workouts will not be the right call.
if comfort is your most important need, then BoAt Rockerz 550 is the one to grab. Whereas, BoAt Rockerz 400 is someone who needs a good gym headphones under 1100 Rs.
Features
The biggest USP of BoAt headphones is the features. But what will happen if we put BoAt vs BoAt? That's what happened here. Let's talk about that!
BoAt Rockerz 400 comes with a 40mm audio driver that is targeted as a bass-heavy headphone. Comes with a 300 mAh battery that can power it up for about 8 hours. The overall design is foldable and tiltable ear cups. Due to its on-ear nature, the headphone is around 120 grams which makes it very lightweight. Along with that, you get dual-mode; Bluetooth, and Aux-in mode.
Whereas, BoAt Rockerz 550 is a powerhouse with 50mm drivers, up to 20 hours of playback with a 500 mAh battery. The headphone does not fold but the ear cups are completely tiltable. Just like Rockerz 400, it also comes in Dual mode; Bluetooth as well as Aux-in mode.
Unlike TWS earbuds, headphones are not over-packed with features. But what they do, is beyond comparison. E.g. you get physical buttons to control the volume, accept the call or reject it. And when paired with a Laptop or PC via Aux-in the gaming performance gets impressive. Hence, headphones are more suitable for a seamless experience with a PC over earbuds.
Hence, for features, both are good and you can pick up one as per your liking.
Audio Quality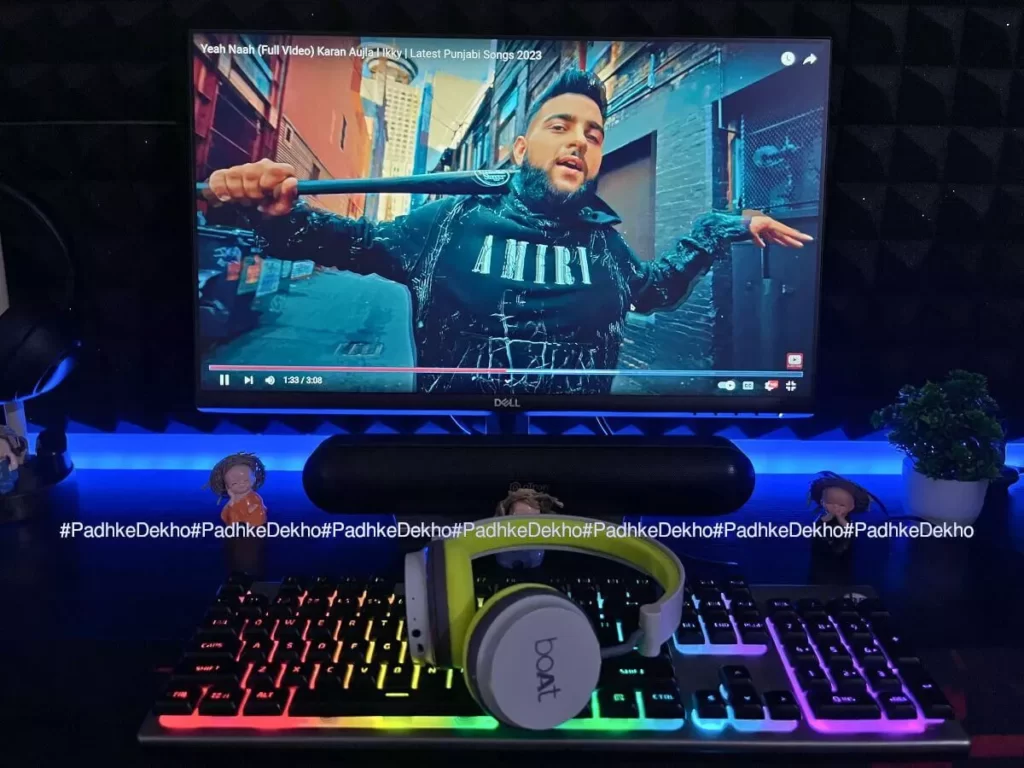 As far as audio quality goes, BoAt Rockerz 400 comes with 40mm audio drivers while Rockerz 550 packs in 50mm drivers. The latter is the biggest you can get in this price range. But does it matter? Let's talk about that.
BoAt Rockerz 400's 40mm audio signature is bass-heavy with sharp vocals. The instrument separation is very good and the loudness is beyond comparison. The icing on the cake is the distortion-free audio output. Even at max volume, you will not experience any disturbance.
Whereas, BoAt Rockerz 550 does not have a bass-centric sound signature. But, its main priorities are vocals and instrument separations at any volume.
What does this mean?
if you are looking for a bass-heavy headphone that can provide you with thumping bass along with good audio quality then go with BoAt Rockerz 400 you will not be disappointed.
On the other hand, BoAt Rockerz 550 is for media consumption like watching movies, listing to podcasts, or music where the bass is not a dominating feature.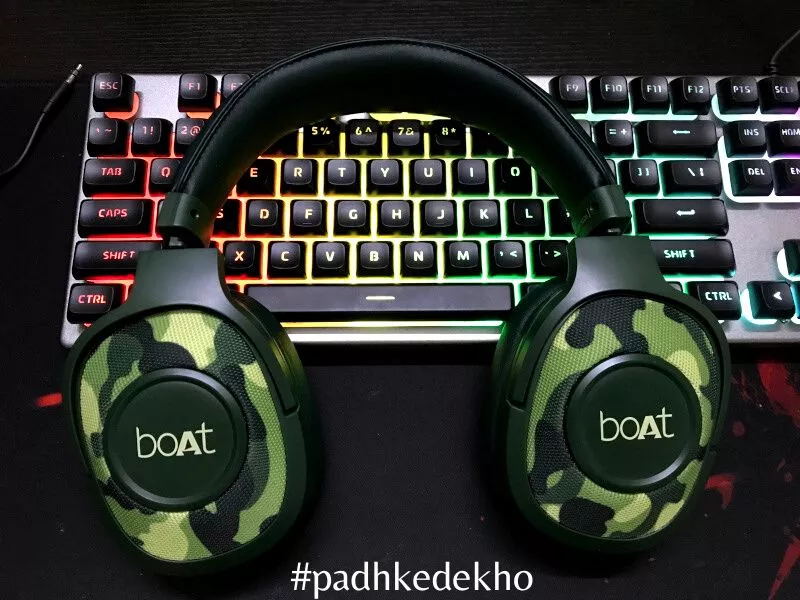 Does BoAt Rockerz 400 & 550 Leak Audio?
Yes, both headphones do that. If you are not aware, an audio leak is a situation when some audio "leaks" from the headphone, and people in close proximity can hear what you are listing to.
This is not a problem but can be embarrassing listing to "Dhinchak Pooja" in public!
So which one leaks more & what volume? It's the BoAt Rockerz 400 that leaks more. If you need to stop the audio leak you will have to stay around 70% volume on Rockerz 400. While you can stay around 80% on BoAt Rockerz 550.
Call Quality
Under 2000 Rs, headphones in general have very basic call quality. Some have static signal noise, while many sound distant from the mic. These issues are present on both of these headphones. So for calling, you should not have high expectations with these.
With Rockerz 400, the transmitted voice is clear, the other caller will not complain of low volume. Which is good, but the static disturbance is present. You will not experience that during a call but the other person will certainly complain of that.
Whereas, with BoAt Rockerz 550 there is no static noise disturbance but the other person on the call will certainly ask you to come close to the mic! Which means you will be required to speak a little loudly.
Out of 10, we will not give any of these more than 7. But if you are willing to buy one of these, then go with BoAt Rockerz 550. It's not great but will get the job done.
if you are okay with a different brand, then check out Infinity Glide 510 (Review). It packs in a great microphone and the call quality is stellar.
Battery Backup & Charging
We've owned more than 20 BoAt products and all have great features and remarkable battery backups. Sometimes we have experienced more battery backup than what the brand claims!
Before getting into the figures, do keep in mind that these headphones come with Aux-in support. This means you can plug it in and use it as long as you wish even without a single drop of battery juice.
Note: While using headphones in aux-in mode, the microphone will not work. If you need mic access, then you will need to buy an Aux-cable with a mic. Here's the one which we use.
Where do these stand for battery backup?
Let's talk about the BoAt Rockerz 550 first! It packs in a 500 mAh battery which is certainly bigger in the headphone segment. This has to be done as the audio drivers are also the biggest! So what can you expect?
The claimed figures are 20 hours and we are confident you can hit the figure if you stay around 60% volume. At 80% volume, you can expect anywhere between 14 to 16 hours of juice. At max volume, the BoAt Rockerz 550 can go as long as 14 hours.
These figures are great and we all have different listing habits. So we are quite impressed by 550.
What about BoAt Rockerz 400? Well, Rockerz 400 has a 300 mAh battery. It's not an issue as the driver size is small it used less power. The claimed battery backup is 8 hours. But what figures you can expect?
Just like BoAt Rockerz 550, you can achieve the claimed figures by staying around 50% volume. You can get around 5-7 hours of playback at max volume. Which is also good. Keeping in mind, the smaller battery and audio drivers.
What About Charging Time?
BoAt Rockerz 550 with a 500 mAh battery gets charged between 2.5 to 3 hours. While Rockerz 400 gets ready within 2 hours.
Both headphones come with a Micro-USB charging socket which means they do not support fast charging. But keeping in mind, the battery backup we do not mind the time they take to charge.
BoAt Rockerz 400 vs 550 Which One Should You Buy?
So which one should you buy Boat Rockerz 400 or BoAt Rockerz 550 (558)? Let's break down the overall experience in a simple sense.
If you are looking for a comfortable headphone that you can wear for long hours then get BoAt Rockerz 550. it can be a little heavy in the beginning but comfort will be on another level.
Do you travel a lot and feel like having travel-friendly headphones? Then look no other and grab BoAt Rockerz 400. It's 120 grams and is foldable which makes it the ideal choice during travels.
What about music? Do you prefer a bass-heavy audio signature? If yes, BoAt Rockerz 400 makes more sense. It has everything tuned perfectly with a deep and punchy bass. While Rockerz 500 is good for vocals and instruments.
Do you take a few calls indoors or outside? Then you should consider BoAt Rockerz 550. It does not have any static signal transfer. But you will need to speak a little loudly.
For gaming, you can buy any of these and stick to the wired mode for gaming. Otherwise, with Bluetooth, you will see latency issues.
So to sum up both are great headphones for different sets of people. This comparison will have certainly helped in your decision-making.
Wrapping Up!
There you have it guys! This is our detailed comparison of BoAt Rockerz 400 vs 550. Here's a table comparison to brush up on the comparison.
| Feature | BoAt Rockerz 400 | BoAt Rockerz 550 |
| --- | --- | --- |
| Headphone Style | On-Ear | Over-Ear |
| Weight | Approx 120 Grams | Approx 260 Grams |
| Foldable/Tiltable | Yes/Yes | No/Yes |
| Color Options | 2 | 5 |
| Audio Driver (mm) | 40 | 50 |
| Battery mAh | 300 | 500 |
| Claimed Battery Backup | Up to 8 Hours | Up to 20 Hours |
| Best Buy Link | Amazon | Amazon |
You can ping comments below or ping us on any social account given below in case of any questions. If you found the content helpful then do share it with others and spread the word with your friends and family!
Articles That Might Interest You
F.A.Q
BoAt Rockerz 400 vs 550 Which is Better?

We've been using both of these for over 6 months now and we do have an answer for you. Tap now to learn more!
BoAt Rockerz 550 vs 400 Which One Has Better Bass?

For Bass, you can go with BoAt Rockerz 400. It's a bass-heavy sound signature. Want to learn more? Check out a detailed comparison here. Tap now!