[Updated on July 19, 2023] This headphone is over 2 and half years and it's still working well. Battery backup is fine. Only the fabric on the earcups has decorated with sweat. Which is expected as it's well-used! You can certainly check these on-ear headphones. Back to Infinity Glide 510 Review!
You can find so many headphones under 2000 Rs, but not all have great audio quality. Secondly, workout-centric headphones are quite rare too.
If you are one of those who value audio quality while working out, then the options are even more limited.
One such headphone that meets both criteria is JBL Infinity Glide 510. In this Infinity Glide 510 Review, we will talk about audio quality along with its built quality, comfort, features, audio quality, battery backup, mic quality and so much more!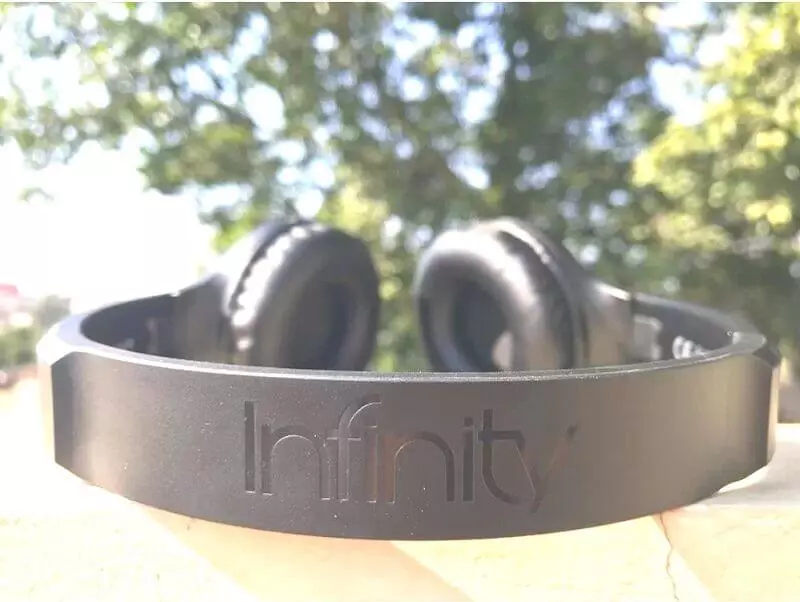 Padhkedekho.com is supported by readers like you. buying anything using the below Amazon links will help us earn some commission from the brand at no additional cost to you. This, however, doesn't affect our feedback regarding the product.
So let's get started with the Infinity Glide 510 review.
Infinity Glide 510 Pros And Cons
Built Quality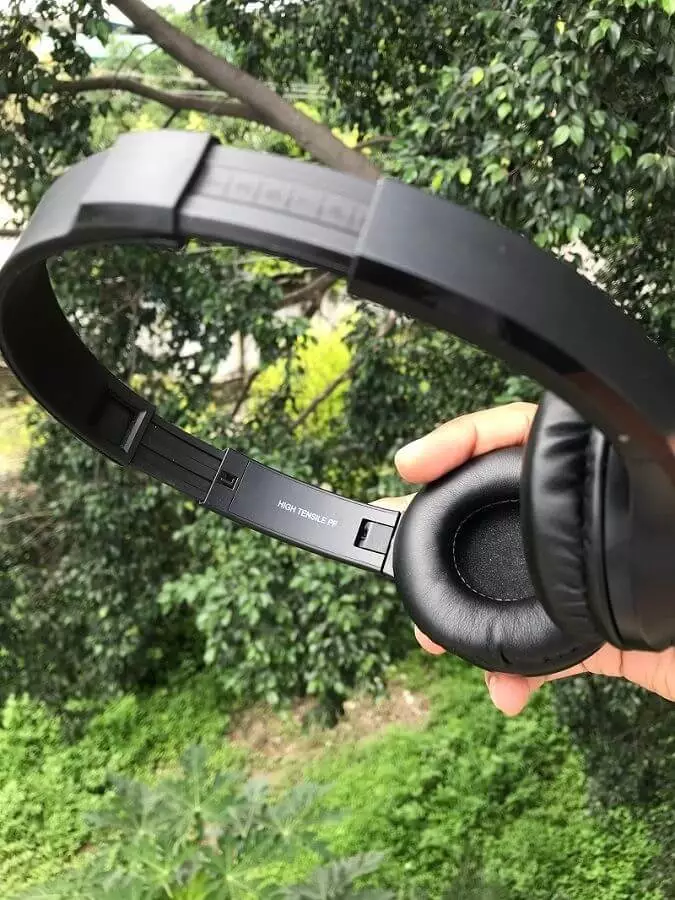 Built quality is the most important thing for a headphone. Because if it's broken it cannot be used. Even if you apply duck tape, the fit will not be the same. Hence, the built quality is quite essential.
Under 2000 Rs, you will mostly find headphones with entire plastic built. Sure, there are some that offer stainless steel or aluminum headband adjusters like the BoAt Rockerz 550.
So plastic ones are bad? not necessarily, it depends on the type of plastic used. In the case of Infinity Glide 510, you will find High Tensile PP which is considered to be the best form of polycarbonate.
Does that mean it's unbreakable? No! It will break if you want to break it! It's been in the office for the last 2 years and has not even shown any sign of aging. You can understand how people use a product when it is not paid for by them!
Therefore, in terms of built quality, you will not be disappointed.
Built Quality: 4.5/5
Look & Feel + Comfort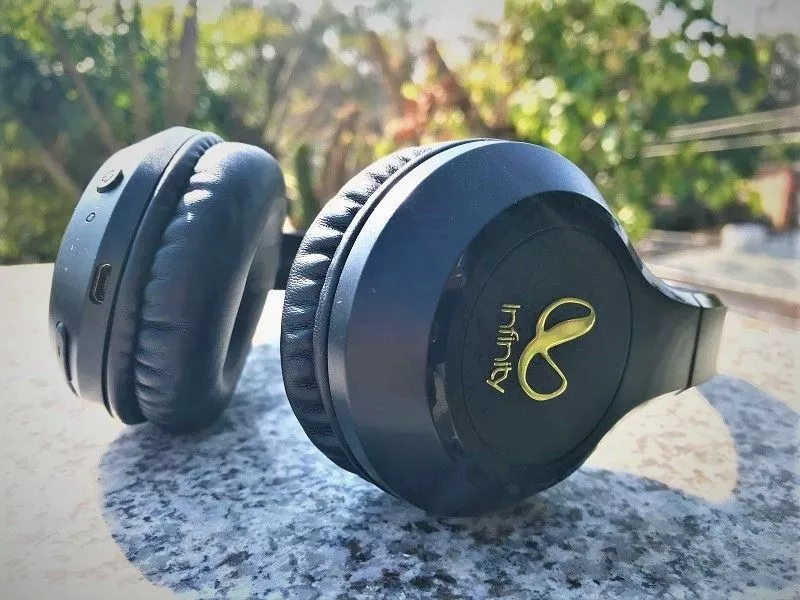 In terms of looks, Infinity Glide 510 is not a boring-looking headphone. It's got a big golden Infinity logo on both sides. Secondly, you will find elements of glossy detail language too. on the other hand, the headband offers a matte design with a big Infinity branding.
After testing many headphones, the Infinity Glide series has a design language of its own. I.e it's not a beefy/bulky design instead it is compact and lightweight.
Since looks are subjective, I kind of like the minimalistic design. Headphone looks a little more expensive than the price you will be paying for them. Infinity Glide 510 is available in 3 colors: blue, black, and red.
As far as comfort goes the padding on the ear cups is decently soft. Even though the headphone is an on-ear type, it provides a good amount of noise cancellation.
Since it is designed for workouts, the clamping force is high. As a result, you can wear it during morning runs or workouts it will not fall off that easily. If listing to music while working out is your thing, then Infinity Glide 510 is the best option for you.
However, as the clamping force is high there is a big impact on the comfort department. This will be more noticeable if your wear spectacles.
In other words, if you need a headphone that you can rock on for 3 to 4 hours on a go then it will be fine. But if you wear spectacles then you would need to take a break every two hours.
There's some amount of compromise to do if you aiming for workout-friendly headphones. Because if it will have a lower clamping force the headphone will fall even if you perform a slight movement.
Look N Feel: 4/5 || Grip During Workouts: 5/5 || Comfort: 3.5/5
Hygiene
Whatever audio gear you use, after a few months it starts to accommodate sweat and wax. An amalgam of both of these not only distorts the audio distortion but also infects your ears. Hence, proper cleaning is required.
Many headphones don't offer removable ear pads. Hence you cannot thoroughly clean the foam and the net. Whereas, Infinity has worked on it and provided replaceable earcups.
So if yours turn dirty or start to lose some fabric you can just buy the replacement and no need to buy a new headphone just for the sake of it!
Hence Infinity has thought about personal hygiene and we really appreciate this step. That's why we would give Infinity Glide 510 full marks for at least thinking about end-users.
Hygiene: 5/5
Features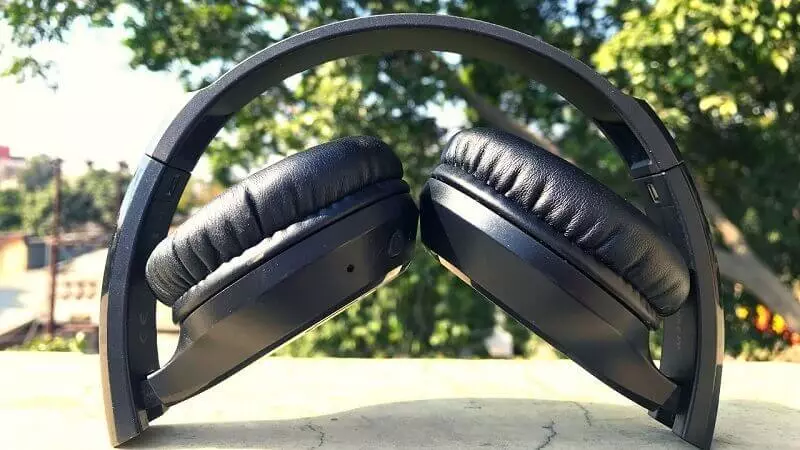 Headphones in general are the best ones when it comes to features. For e.g. you get volume control, which many TWS earbuds don't even offer in 2022! Rest pretty much is common.
However, when we think of features, it's BoAt that offers many more than the competition. But Infinity Glide 510 is not too behind!
To begin with, it comes with 610 mAh of beefy battery! Infinity claims 72 hours of juice. We did our test and in the battery section of this article, we have talked about it as well!
JBL has not cut corners with the Infinity Glide series, as this one also comes with Dual EQ mode support namely Normal Bass and Bass Boosted. We've talked about it in the audio test section of the article.
With the use of high Tensile polycarbonate, Infinity has managed to keep this headphone at about 110 grams which makes it fairly lightweight. So you can be a little more flexible and concentrate on your workouts.
So as far as features go, Infinity Glide 510 packs in great features. However, there's only one thing that can break your heart, and that's the lack of Aux Support. But 10 mins of charge that can give you 2 hours of juice can rectify that!
Features: 4.5/5
Audio Quality
Over the last few years, we've tested and owned many headphones whose reviews you can find here! Point of saying this is that once you try diverse headphones you get to know how they genuinely sound. Some have a bass-centric audio profile that lacks mids and highs. Some are great at mid and highs but the low end is lackluster.
So where does Infinity Glide 510 stand? Well, it packs two modes one is Normal Bass and the other is Bass Boosted.
In the normal mode, you'll experience crystal-clear vocals and instruments. This is great for watching movies and consuming video content. If you wish to watch horror movies then you would love this even more. The 38mm audio drivers are very loud even at 35 percent volume you can hear the dialog very easily.
When you feel like listening to songs then Bass Boosted mode will keep you entertained. In this, you will experience deeper bass with clear vocals. Comprising a little on the treble side. The audio drivers will keep your ears humming for good!
For the bass lovers who also like to enjoy clear vocals then Infinity Glide 510 is the headphone to get under 2000 Rs.
Overall Audio Quality: 4.5/5 || Bass: 4.5/5 || Vocals: 5/5 || Treble: 4/5 Normal mode || Trebel: 3/5 Bass Bossted Mode
Battery Backup
Battery backup will not count much if your headphone supports both wired as well as wireless option. But it's a serious matter when the headphone only has wireless connectivity. One such headphone is Infinity Glide 510.
You get a big battery but no support for aux mode. I.e. you cannot use it with a wired connection. So to compensate, JBL has given a big 610 mAh battery that can literally give you juice for 72 hours of playback. This is quite a big claim!
With our testing, you can pretty much hit even more around 75 hours if listen at about 60 to 75% battery. Such kind of battery backup is phenomenal and certainly kills the anxiety of charging it again.
You might be wondering if it has a big battery that might take many hours to charge but that's not the case! Infinity Glide 510 supports fast charging too! With just 10 mins of charge, you can get around 2 hours of audio bliss.
Charging it from 0 to 100 percent takes about 3 hours. It depends on the charger too. We usually charge it with Samsung 10 Watt charger so it takes a little longer. But if you have a higher watt charger then it will be much lower.
Hence in terms of battery and charging, we all are highly impressed with Infinity Glide 510.
Battery Backup: 4/5
Check The Deal Price on Amazon
Mic Test
Since nowadays many people are working from home they need a reliable mic for Zoom meetings or normal calls. If you are looking for one, under 2000 Rs then it's going to be a risky one. As we can count the ones that have decent to good mic quality.
The truth is, under 2000 Rs brands are focusing more on features than the mic. But don't lose hope, here's a piece of good news for you. Infinity Glide 510 has a great mic for calling. It's even good for YouTube videos too!
At PadhKeDekho many videos are recorded via Glide 510 and received good feedback.
So if you need good call quality or professional grade calling experience then Infinity Glide 510 is the best choice.
Call Quality: 4.5/5
Should You Buy JBL Infinity Glide 510?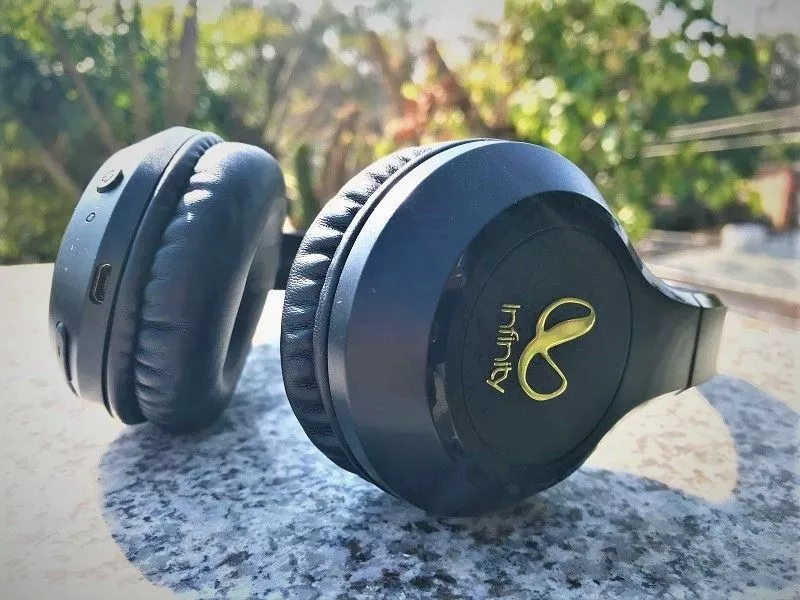 Infinity Glide 510 is a "great" headphone. It offers good built quality, sturdy form factor, marathon-like battery backup, killer audio profiles (Normal Bass & Bass Boosted mode), impressive mic performance, and a grip that will let the headphone fall off. But still, there's a catch.
And that is the clamping force. After years of use, the headphone offers a great snug fit. This can be a good or bad thing for you. Let me explain.
A higher clamping force means that the headphone is more suited for workouts that involve quick physical moments like running, jogging, weight lifting, etc. if you plan is to do a workout while listing to music and have a surety that it will not fall off then Infinity Glide 510 is the best choice.
Now, higher clamping force directly affects the comfort level. Don't get me wrong, you can still wear this for 3 to 4 hours. But it's not as comfortable as Blaupunkt BH11 or BoAt Rockerz 550 under 2000.
So if you need soft and comfortable headphones then this is not the one. You can then go with the Over-ear headphones. Here are the best Over-Ear headphones (both wired and wireless options) we have used and recommend.
Infinity Glide 510 by JBL Overall Score: 4/5
Wrapping up
That's our Infinity Glide 510 review after a few years of use! if you found this helpful then do share the word as it will certainly help them know what to expect. Are you having last-minute doubts? Then Don't worry! Reach us out on the below social accounts we love to help our readers.
Did you like the content and ad-free experience? Then do support us by making your purchase using the below Amazon button. It will help us earn a small commission from the brand at no additional cost to you. Buy this way, we ensure you an ad-free experience every time!
Similar Articles For You!
F.A.Q
Infinity Glide 510 Pros And Cons?

Well, there are many pros but a few cons. Here's a quick list.
Pros: Good built quality, lightweight and portable, tiltable earcups, two sound equalizers (normal & bass mode), support for fast charging, 10 mins charge 2 hours music, around 70 hours of playback.

For cons, Click now to learn more!
Is Infinity Glide 510 Good?

Infinity Glide 510 is a solid and workout-friendly on-ear headphone with good features with the highest priority to audio quality! In this detailed review, we've talked about everything in detail. Click now to learn more.
Should You Buy Infinity Glide 510?

You should buy Infinity Glide 510 because it packs good features, built quality, distortion-free audio quality, and so much more at a budget-centric price. This review is going to be very informative for you. Tap now to make a better choice.
How do You Change Bass Mode in Infinity Glide 510?

You can change the modes by pressing the volume rockers for 3 seconds.
Is Infinity Glide 510 Noise Cancelling?

if you are wondering about the mic reducing the ambient noise, then no, it does not have noise canceling. But the construction and the ear padding are capable to isolate some nuances around you.