if you search for a headphone under 2000 Rs, you will see BoAt Rockerz 450 on top charts at every e-commerce platform. It's that popular. In fact, BoAt 450 has more than 1 lakh customers and 4+ ratings on Amazon. This shows people are buying it in full confidence.
We have tested more than 20+ BoAt products and most of them are great deals but is BoAt Rockerz 450 worth the hype? Well, that's what you are here for and this search brings you to the right place.
We've been using it for over a month now and it's the right time to cover, BoAt Rockerz 450 Review.
if you are new to PadhkeDekho, we buy tech products use them for at least a month, and then publish our review. Not just that, we compare products from similar price brackets so that you should know what to expect.
As a support to us, you can shop for products using the Amazon links in this article. It will help us earn some commission at no additional cost to you. Thanks for your support, we are 3 years old now!
Since we also invest our earned money, the feedback you are getting is true from the heart as a customer, so you make a remarkable choice.
With that said, let's begin the BoAt Rockerz 450 review!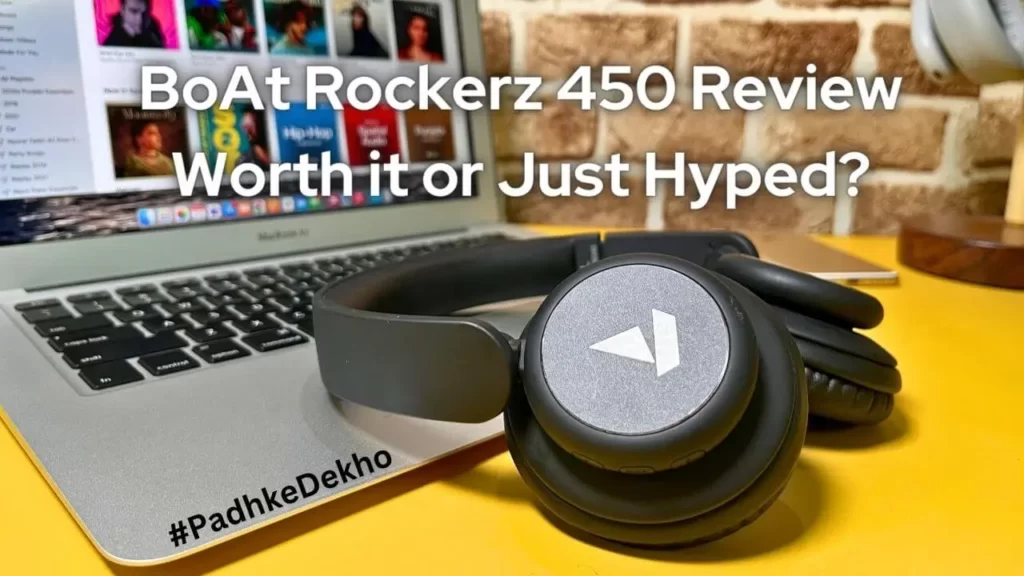 BoAt Rockerz 450 Pros And Cons
Built Quality (8/10)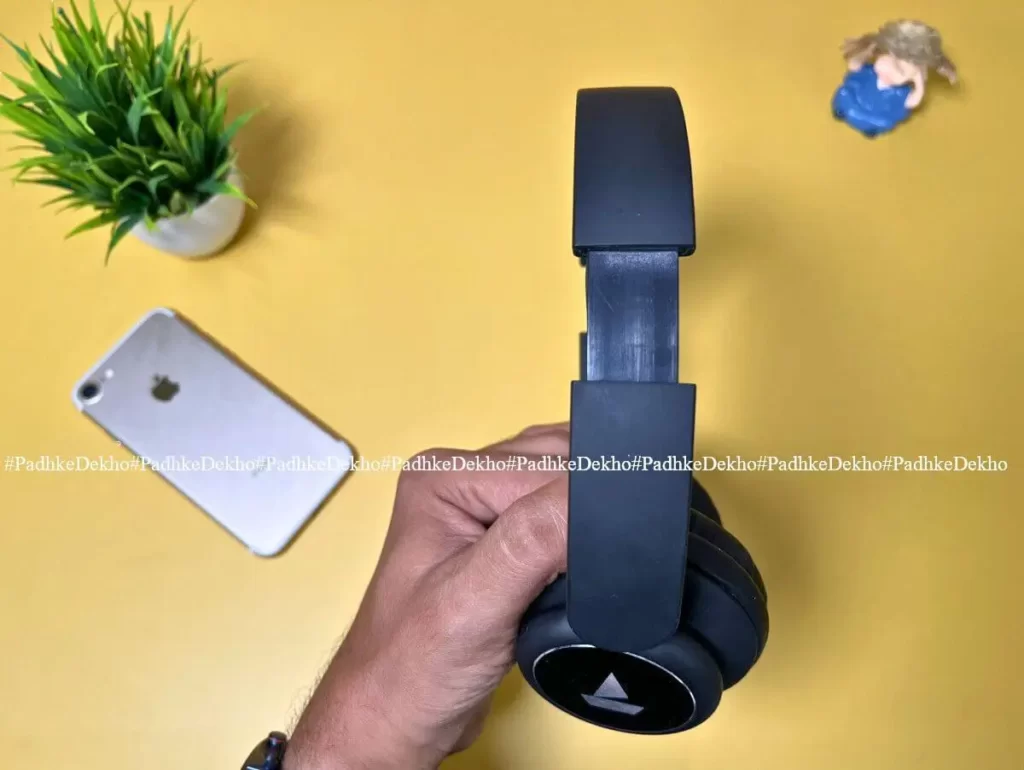 Under 2000 Rs, many headphones are made of plastic. BoAt Rockerz 450 is no different either! Being plastic, the headphone does not feel weak. Even the swivel ear cups & the mechanism to fold the headphones do not make any rattling sound.
As far as the headphone adjuster goes, it's all plastic but the adjustment inspires confidence. Overall the built quality is quite good and the headphone is fairly durable.
We've traveled quite a lot with these on the neck or in the bag-pack just like that and it survived quite falls as well.
So does this mean, it's the most tuffest on-ear headphone under 2000 Rs? Well, No! You can always check out Infinity headphones because they use Tigh Tensile plastic which is the toughest plastic used for headphones.
With that in mind, you can check out Infinity Tranz 710 (Review Soon) or Infinity Tranz 700 (Review Soon).
if you wish to be with BoAt then, check out BoAt Rockerz 400 (Review). It offers metal headband adjusters.
Hence for built quality, BoAt Rockerz 450 gets 8.0/10.
Looks (9/10)
BoAt Rockerz 450 is a good-looking headphone under 1500 Rs. It comes in many color options and Marvel as well as DC-designed themes. But we went with the signature color and there are no regrets.
The overall matte theme, with the silver BoAt logo along a circular ring on both earcups, gives this headphone a distinctive look. Thanks to the flat headband design, the BoAt Rockerz 450 looks slim and check marks the "blend in" kind of headphone.
If there's an award for the most colors and themes on a headphone, then BoAt Rockerz 450 deserves it! There are more than 11 shades to choose from!
if you are confused between the colors, then you can go with Black or Aqua Blue color, we have seen that in person too and it looks more premium.
So for the looks, BoAt has done a good job. Therefore, BoAt Rockerz 450 gets a 9.10.
Features
#1 Compact & Lightweight: Since it's an on-ear headphone the earcups are small and the overall size is quite compact. That's the recipe for comfortable wear. Secondly, the overall weight of the headphone is under 100 Grams which makes it very lightweight too.
#2 Foldable & Tiltable: The main USP of this headphone is the design. You can not only tilt the earcups to make them flat, you can also fold the earcups inside which makes it very convenient to carry around in the bag pack or on your neck.
#3 Dual Mode: The practicality of a headphone increases when it offers dual mode i.e. Bluetooth as well as wired mode. So, if you wish to preserve the battery for later use, you can plug into the aux-in and enjoy the content lag-free, even games. Many brands are focusing away from dual mode and we are glad BoAt is not among those.
#4 Powerful Drivers: Usually we do not consider the size of the audio driver as a feature because specs can be deceiving. But this, 40mm drivers on such small form factors produce good sound signatures. More bass-heavy. More about it in the Audio Section below!
Comfort & Grip (8.5/10)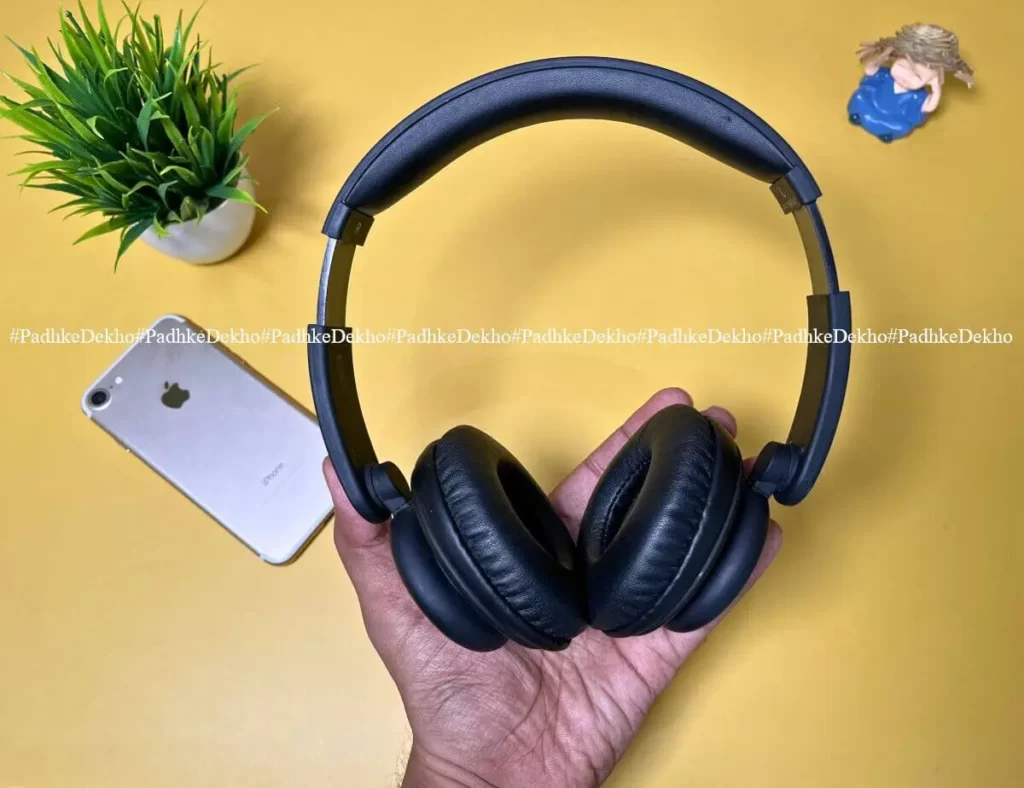 On-ear headphones are known for their workout-centric nature thanks to high clamping force. if you don't know clamping force is that pressure on the ears and skull which keeps the headphones in place when you are moving around.
As you would've guessed, high clamping force means that the comfort on offer will not be great. BoAt thought about it and thus BoAt Rockerz 450 is somewhere in between.
It's one-of-a-kind on-ear headphones that you can wear to the gym or wear for your long lectures or morning walks without any discomfort.
Wearing on-ear headphones with spectacles is a task too because of the high claiming force and small form factor. This puts pressure on the stems of the spectacles or sunglasses. Resulting in discomfort and pain after continued use.
Here you will not experience any of that, because the credit goes to the soft ear cups as well as the thick padding below the headband.
Hence for comfort and grip, BoAt Rockerz 450 gets an 8.5/10.
Audio Quality (8/10)
Let's talk about the reason you will be buying it; to listen to audio. How good is it? But before that, you should know that it comes with 40mm audio drivers.
40mm drivers might give you a hint of BoAt using the same driver of BoAt Rockerz 400. Well no, both are not the same! There are many differences in the audio quality, but today we will only focus on Rockerz 450.
BoAt Rockerz 450 is a bass-heavy headphone that produces decent frequencies but most of the time your ears will be thumping! There's a wide range of loudness on offer. The best sweet spot is around 80-85% volume.
What about vocals? Well, the vocals are well-tuned. Be it any volume, you will not face audio distortion. Since the audio signature is bass and vocal-heavy, the treble is not that prominent. Bass remains the highlight.
This is not a problem because high bass generally means detuning of either vocals or treble or both, but BoAt has detuned only the treble.
What does that mean? Well, this means whatever you listen to, bass will be a prominent presence, followed by vocals then comes instruments along with trebels. So this sound signature works with most of the folks out there!
Hence for audio quality, BoAt Rockerz 450 gets an 8/10.
Call Quality (8/10)
Finding a good-sounding headphone is a little easier than finding a one with great call quality. Because there are many factors to consider. You will not only take calls from the silent office environment. Sometimes you are on public transport or maybe in a busy street.
We do a lot of testing or using headphones on calls, Zoom meetings, Google Meet, etc. Be it indoors or outdoors. So let's see where BoAt Rockerz 450 stands in terms of calling.
After deep testing, we are quite impressed by BoAt Rockerz 450.
Most budget headphones have a few issues; first, they sound distant from the microphone. Second, some static disturbance is transmitted which you will not hear. Third, focus more on ambient surroundings than your voice. Fortunately, BoAt Rockerz 450 has none of the issues.
While on the call, the mic picks up the voice quite clearly even if you are speaking slowly. However, the ambient surround will stay the same as there's no ENC or any other noise cancellation. But for the most part, under a silent environment, the call quality is quite acceptable even for professional use.
So for call quality, BoAt Rockerz 450 gets 8/10.
Battery Backup & Charging (8.5/10)
With BoAt headphones one thing is sure that battery backup is never a problem. This headphone also holds a strong battery. The brand claims about 15 hours of juice on constant use. On top of it, the headphone also supports aux-in which makes the deal sweeter.
What about the BoAt Rockerz 450 real-world battery figures? The headphone offers a 300 mAh battery that is capable enough to power up to 12 hours of juice on max volume. If you use headphones for about 2 hours a day at any volume then you will only require charge once a week. This is quite good.
And if you feel like the battery is low, you can always switch to the wired mode and experience better gaming performance and no battery drain at all!
What about charging time? BoAt Rockerz 450 does not support fast charging and charges using the Micro USB cable. With that in mind, the charging time stays between 2 to 3 hours. This is fine as you will be getting a full week of juice to run!
Note: To prevent the battery from degrading quickly, do not charge the headphones with heavy-watt chargers like 20 or 40 because it can damage the battery in the long run. Instead, use a 10-watt or 5-watt charger.
Hence, for battery and charging, BoAt Rockerz 450 gets an overall score of 8.5/10.
Gaming Test (7/10)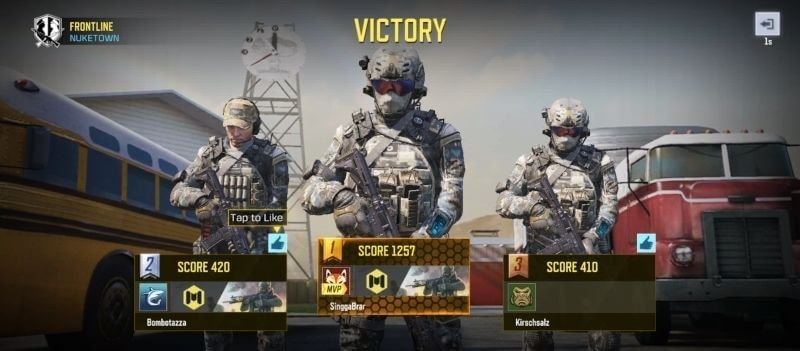 When it comes to gaming we always prefer wired headsets/headphones because of almost zero latency issues. Maybe in 2024, we will see headphones with low latency gaming modes but at the moment most of the wireless headphones have a bad gaming experience.
Here we are not talking about the TWS earbuds or neckbands.
As a way around this, you can use BoAt Rockerz 450 for gaming via the Aux-in mode. With that, you will have a lag-free experience. Other than the lag, the enemy footsteps, and dialogues in the game sound clear, and even the direction of sound is quite accurate.
However, the Bluetooth mode for gaming is not it's strong suit. The latency is quite high and Online FPS games will give you a hard time.
Hence for gaming, BoAt Rockerz 450 gets a 7/10.
Should You Buy BoAt Rockerz 450?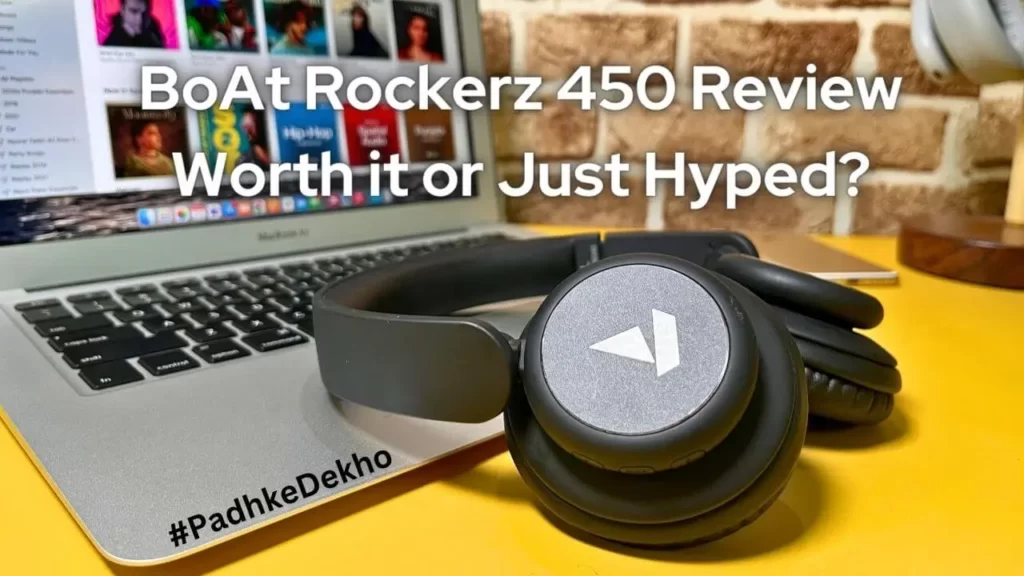 So it all boils down to the verdict of whether you should buy it or not. Let's divide the feedback for whom this headphone is or not.
You should buy BoAt Rockerz 450 if you are looking for good quality headphone with a great design, lightweight/compact form factor, bass-heavy sound signature, good call quality, and battery backup. As you can see it covers up wide variety of users out there.
However, there are some points that you should know to avoid BoAt Rockerz 450. If you value treble more than bass then it's not right for you. Second, is the average gaming performance in Bluetooth mode.
Other than that, the headphone is a great product under 1500 Rs. You can buy it with confidence. You will not regret it.
Wrapping up!
There you have it folks! That's PadhkeDekho's BoAt Rockerz 450 review after months of testing! If you have any questions you can comment below or connect with us on the social account mentioned.
Feel like supporting genuine and local content? We would appreciate it if you found the headphones to your liking you can please order at Amazon using the below link. This will help us earn a little commission from Amazon at no additional cost to you. Thanks for your support we are going to be 4 years old soon!
Also, you can share this article with your friends who might be looking for a new headphone.
Suggested Articles!
BoAt Rockerz 450 F.A.Q
BoAt Rockerz 450 Bluetooth Version?

BoAt Rockerz 450 Bluetooth Version is 4.2. But this does not mean it offers bad reception. In fact, the reception is beyond 5 Meteres.
BoAt Rockerz 450 Battery?

BoAt Rockerz 450 comes with a 300 mAh battery which provides good battery backup. Here's our detailed article after months of use. Tap now!
BoAt Rockerz 450 Charging Time?

The 300 mAh battery takes about 2 hours 30 mins to 3 hours to fully charge.
BoAT Rockerz 450 Details?

Not able to find BoAt Rockerz 450 user insights? Don't worry! Here's our review after months of testing. Tap now!
is BoAt Rockerz 450 Foldable?

Yes, BoAt Rockerz 450 is tiltable as well as foldable. This means you will have no issues while traveling around your neck or in the bag pack.
is BoAt Rockerz 450 Good For Gaming?

Yes, it is good for gaming only with aux mode. During Bluetooth connection, the latency is quite high which is just average. For better gaming, switch to wired mode.
is BoAt Rockerz 450 Worth Buying?

Yes, BoAt Rockerz 450 is totally worth it. It packs decent features, but the biggest advantages are the built quality, looks, mic for calling, and audio quality. Here's our detailed article after months of testing.
For any feedback regarding the BoAt Rockerz 450 Review, you can reach us at this email ID.