We all know and appreciate how USB-C has impacted our lives. Now, we only need one charger/cable for the smartphone laptop, tablet, etc. But one place where we as tech creators don't feel pumped up is on laptops.
We've seen many laptops with an introduction to TYPE-C ports letting go of other ports like HDMI, LAN, and even MicroSD card slots. Take it as a blessing or a curse, we took it as a necessity to get the job done.
In the past couple of years, we've ordered many Type-C Hubs and one was highly ordered back and forth! And that's the one you are here for. This is the Portronics C-Konnect Type C adapter review after years of use!
Why do you need it anyway? Here's a little about me. Since my daily driver is an Apple Macbook Pro in Early 2017, I just have 2 USB-C ports and 1 headphone jack and that's it! I can either charge or use an Addiital mouse and that's about it!
Due to the lack of ports, Life does get a bit messy with adapters and dongles to get things running. But that's the new normal!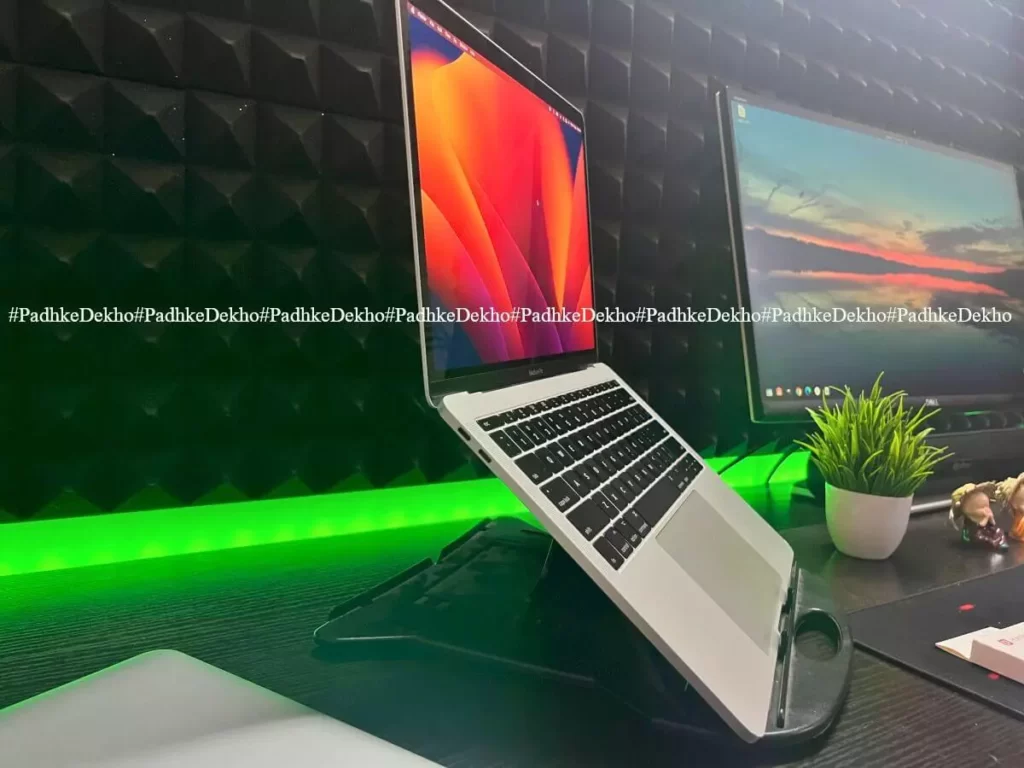 So, if you can relate to the above situation, having a connector like the Portronics C-Konnect Type C adapter is a necessity. But why this? There are many even cheaper than this. Well, those are also good but the connector having an HDMI port, USB 3.0, and additional USB-C port makes the overall deal sweeter.
Since we've been using it daily for many years now, here's our detailed review of the Portronics C-Konnect Type C adapter.
Note: PadhkeDekho.com is supported by readers like you. If you shop using the Amazon links on this site, we might earn a little commission at no additional cost to you. It helps us boy more products and bring genuine customer-centric reviews upon using a product for over a month.
Let's kick things off with the Pros and Cons.
Box Content
In the box, you don't get much other than the multiport hub itself. One thing that Portronics can work on is by putting a seal. It ensures customers with confidence and a sense of ownership that they received a sealed box.
Why we are saying it? Well, that's our 5th purchase from Portronics and none came with any seal. A brand that is gaining a lot of traction can take this feedback in a good way.
Built Quality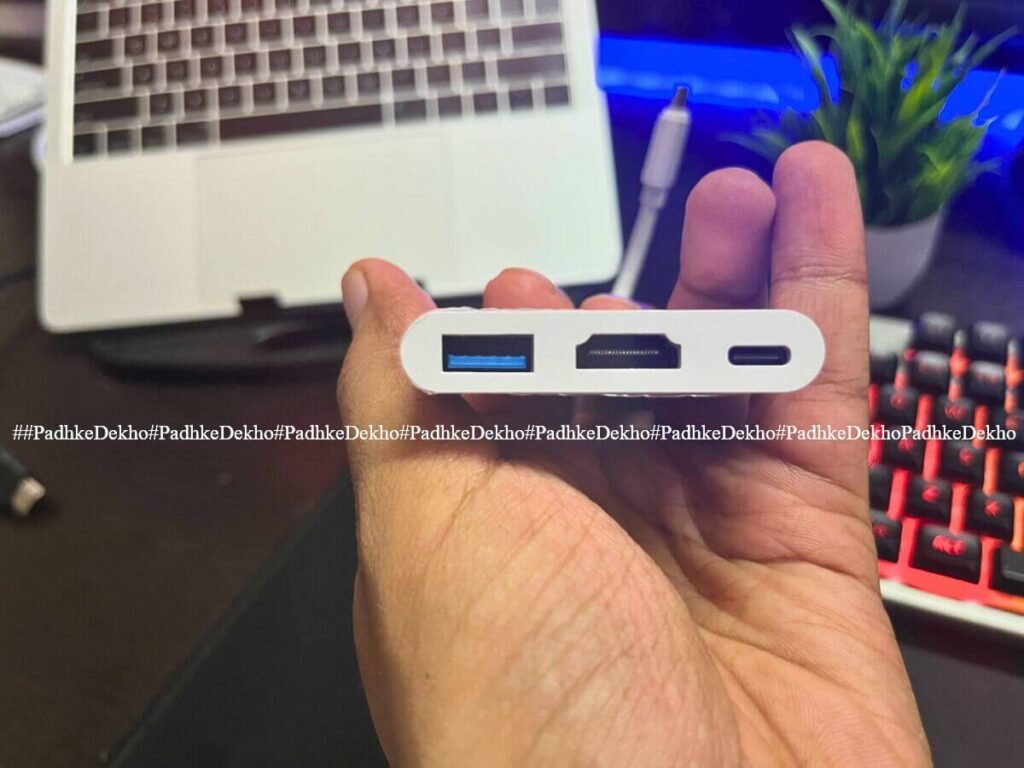 Type-C Dongles come in two types; plastic and metal/aluminium. The budget ones (like this) come in plastic while premium ones like the options shared below in the conclusion section are available in metal as well as aluminum.
As far as overall built quality goes this multipoint hub feels strong. The ports do not wobble, no ruffed edges to be worried off. We really liked how well the cutouts are done; evenly. If you plan to use generic cables even then you will not face any issue of compatibility.
Another thing to talk about here is the thickness of the cable as well as the "port" of the USB-C. The cable is short just like others but the port feels good and connects with confidence.
Hence for built quality, the Portronics C-Konnect Type C Adapter gets 9/10.
Features
#1 Stream 4K @ 30Hz: if you have a Macbook Air or the latest MacBook or Google Pixel Book, you will be able to stream top-of-the-line lag-free transfer to a projector or even additional HDR display. Within seconds of connection, you can stream a projector or a big TV with up to 4k Resolution at a 30Hz display.
So, you can use your Mac to broadcast the India World Cup Final and your friends or colleagues can enjoy it together!
#2 USB 3.0 With Speeds up to 5 GBPS: if your PC/laptop/Macbook is powerful enough you will be able to witness data transfer of up to 5GBPS speeds! Will be a must-have for a video or movie creator. It's a blessing to transfer 10 GB of data in under 2 minutes!
No worries, if you don't have a 3.0 capable pendrive you can use your USB 2.0 pen drive and it will work. Though upload and download speeds will be different.
#3 100 Watt Charge Ready: Just think about it; you are in a presentation and the big projector is sipping juice every second. You don't know how long it will take along with the QNA afterward. So, with this TYPE-C adapter, you will have a continuous charge. With the Portronics C-Konnect type-c adapter, you can be stress-free.
#4 Purposely Design 3-in-1 Allrounder: Most brands, especially in the budget segment, try to fill the voids with maximum features. But ultimately, most of them do not work. Portronics C-Konnect Type C adapter does it the right way.
You get 3 features; An HDMI Port (that allows up to 4k @ 30Hz resolution), a USB 3.0 Slot (Up to 5 GBPS Speeds), USB-C Slot (That's capable of 100-watt charging). All these serve a purpose and in the best possible way.
Hence for features, the Portronics C-Konnect Type-C adapter gets 9/10.
User Experience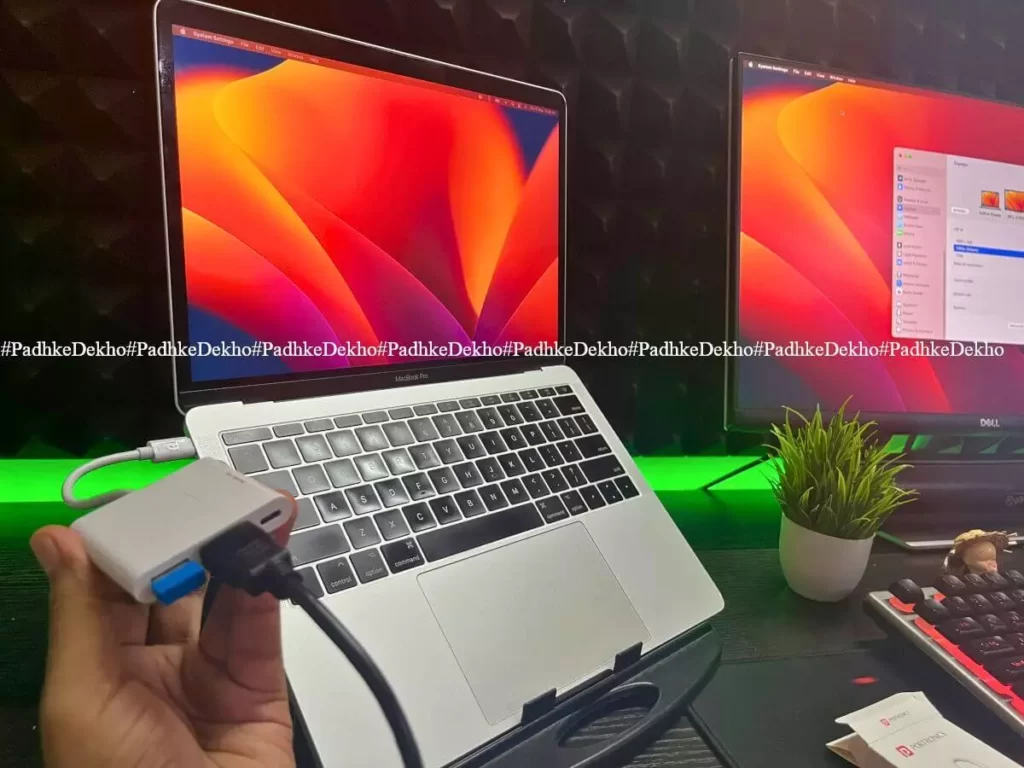 Okay. What this dongle can let you do? Well, this dongle has a USB 3.0 slot, an HDMI port, and a USB-C port. You get all these options just by compromising one USB-C port!
What will you achieve by this? You can keep your Macbook to charge, pair up an additional monitor or connect a projector, and connect an additional hard drive still left with one free USB-C socket on your MacBook!
That's the purpose of this Portronics C-connect type c connector!
Like many other dongles, the cable is compact and can be left attached to the laptop or a Macbook. Since my daily work requires to use of an additional display, wireless peripherals like the mouse and keyboard and also connecting a portable hard drive, this connector helps me do that!
The brand claims up to 5 GBPS speeds for upload and download. Since we've tested on quite a few laptops the maximum we were able to cap was at 200/MB. Kindly note that the upload and download speed is dependent on the machine you are using and not the adapter.
In my use case, of pretty much everything, I do not mind buying this adapter again and again. The reason for us to buy it again quite frequently does not mean the product has built quality, but it's more like mis-keeping!
Should You Buy a Portronics C-Konnect Type C Adapter?
Since wireless/without ports is the future, we have to be ready for this! This can be a drawback or a feature, totally depends on you, but we take this as an alternative to get the job done!
When looking for a multipoint hub one should look out for the port's quality; do they wobble even a little bit? Then avoid it. Luckily, Portronics has taken good care of it.
Second, Functioning Ports: yes, that's right all ports work on pretty much any multipoint hub but I am saying it as the features point.
Like with Portronics C-Konnect, you get up to 100-watt charging, up to 5 GBPS speed to transfer data, and an HDMI slot that's capable of 4K resolution up to 30 Hz.
So with that image in mind, the Portronics C-Konnect USB C adapter is worth the price.
Below are some of our recommendations that can help in choosing a better product. if you don't mind the plastic built you can go with the Portronics C-Konnect USB-C 3-in-1 Multiport Hub. Otherwise, you can check these out.
| Brand | Model | Meterial | Link |
| --- | --- | --- | --- |
| Portronics | C-Konnect USB-C 3-in-1 Multiport Hub | Plastic | Amazon |
| Amazon Basics | Hub Dock 7-in-1 | Aluminium | Amazon |
| Verilux | Hub 6-in-1 | Aluminium | Amazon |
| Spigen | ArcDock | Aluminium | Amazon |
Wrapping up!
There you have it, folks! This was our Portronics C-Konnect Type C Adapter Review after a few years of daily use! It's been a traffic purchase along with other Type C Adapters that we've shared above.
if you come across any issues or have any queries, you can always reach us on below given social accounts, we would love to help as much as we can!
Did you find the content helpful? if yes, then please consider buying a Portronics C-Konnect Type C Adapter via the links on the website or the button just below. It will help us earn a little commission at no additional cost to you. This helps us, keep the website running and shop for more products. Thanks for being a patron, we are 3.5 years old today!
Suggested Articles!
Portronics C-Konnect Type C Adapter F.A.Q
Best Type C Adapter For Mac on a Budget?
It's going to be a Portronics C-Konnect Type C Adapter. Why? It offers an HDMI port, a USB 3.0 Slot, and a USB-C Port. What makes it so special? Here's our detailed review that will help you choose better. Tap now!
Portronics Mutli Port Type Adapter Any Good?
Yes, it's a good product under 1000 Rs. We've been using the Portronics C-Konnect Type C Adapter for over 3 years now and we are quite happy with it. Here's our detailed review!