[Updated on July 13, 2023] It's been more than 2 years and the mouse is still going very strong. No sign of aging! The buttons are working fine. Back to review.
The demand for computer peripherals has skyrocketed making them the top-selling products on most E-commerce platforms. Especially wireless mice and keyboards. Around 2 years ago, we bought Logitech M170 wireless optical mouse. So in this article, we are sharing the Logitech M170 review after 2 years of use!
Update: Logitech M170 is at a heavy discount on Amazon's Great Freedom Festival Sale. Click now to check the deal!
My coverage of the Logitech M170 is going to help you learn about its built quality, battery backup, design, look and feel, size, user experience, gaming performance, and much more! So this article is going to be very important to you. Therefore, without wasting any more time of yours, welcome to PadhKeDekho, and let's get started!
Hey There! If you are new around please hit the red bell icon on the left to be notified of our new coverage. Because we keep on bringing articles like this, tips and tricks, unboxings, and reviews that will help you learn more about the products and make a better choice!
Logitech M170 Wireless Optical Mouse Review
Logitech M170 Specs
| | |
| --- | --- |
| | |
| Supported Opearting Systems | We testedon On Windows 10, macOS Big Sur, Ubuntu 20.04 (Linux) |
| | |
| | |
| | |
| | |
| | 70.5 Grams Including Battery |
| | No, Invisible Optical Lazer |
| | |
Design
Unlike regular mice that usually have a curvature in the design, the Logitech M170 wireless mouse offers a slanting curve. This gives it a modern look. I got used to it very quickly and going back to the Hp X500 feels bulky and boring. This is going to be subjective though. I loved the design, in fact, got a few compliments from my office colleagues as well! So it's a win-win for me!
If you have medium to small hands then this is going to be very comfortable even for a complete 8 hours shift or extended office hours. But like me, if you got large hands then you can go with Logitech M190. If I would have known this before buying then could have bought Logitech M190! By large hands, I mean a person who can use a 5.5 to 6-inch screen phone single-handedly.
Due to my big hands, I found it a little less comfortable than my HP X500. So if you also have large hands then either go with the above suggestion or compromise a little. Thus in design, I will give it 3/5.
Built Quality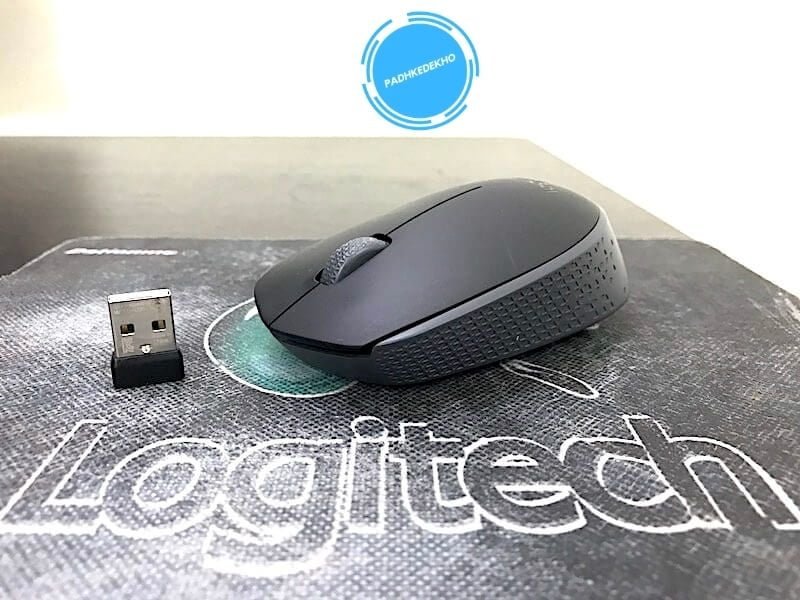 The built quality of Logitech M170 hard plastic is strong. The buttons are equally good and the same can be said for the scroll wheel. When I was ordering it there were a few reviews saying bad about the scroll wheel. Since I have been using it for 6 months now, the authenticity of the reviews is questionable.
M170 has taken a few falls on the ground and ruff and tuff handling as well. Even then, the scroll bar and buttons show no sign of issues. If you avoid eating on your computer table, then I don't think it will ever go bad that easily.
You can feel the weight on the palm side where your hand will be resting. Unlike HP X500 where the weight is all in the center. While we are at it, the weight of the Logitech M170 is 70.5 Grams with a battery making it lightweight and compact making it ideal for work from home.
I am more than satisfied with its built quality. There is no squeaking or noise while trying to press the body of the mouse. So I would give it 4.5/5 in terms of built quality.
Look And Feel
In terms of looks, on the first glance, it doesn't appear like a regular mouse. Due to the slanting slope, Logitech M170 has a sharp-looking aerodynamic shape. And most importantly it doesn't look like a budget device. The engraved pattern all around the sides prevents the mouse from losing grip due to sweating or moisture in the palms and fingers. This was such a relief since my older HP X500 was plain and frequent cleaning was required.
Therefore in terms of look and feel, I would give it 4/5.
Battery Backup
When it comes to battery backup, just forgot about it! You get a complimentary ALCALINE AA battery pre-installed in the mouse. This battery is capable to work for the complete 12 months/complete year. In my 6 months of use, this seems like a reachable tenure.
Close to 1 year and 3 months, the mouse started to lag and the culprit was the battery. So, when you feel the mouse is being slow to respond it's probably the battery.
AA batteries are readily available and are quite cheap. So I don't think it can be an issue while maintaining Logitech M170. Thus, in terms of battery backup and availability, I would give it 5/5.
Size
Logitech M170 dimensions; width 61.5 mm, height 97.7 mm, and depth 35.2 mm. So it is a compact wireless optical mouse. A compact wireless mouse brings a lot of features to the table. To begin with, they are lightweight. And their Bluetooth nature makes them usable even when they are away from the laptop or computer. Let's say you are stretched out and chilling on a couch while the pc monitor is a little far away.
They are also useful when you are outdoors and you don't have much space to keep a big mouse like on a train or a flight. Since they are small in size they are quite "handy" and are best companions while traveling friendly.
Logitech M170 How It is To Use?
While doing day-to-day activities like surfing websites, going through Facebook posts, Twitter feeds, and even Instagram, this optical mouse is very smooth and fast. The speed of the mouse (DPI) is different from the sensitivity you have set on your macOS or Windows. With the DPI of 1000 and pointer speed set to performance then you can see some impressive results.
The left and right button clicks are not very loud. Definitely much more silent than HP X500. The clicky noise is not going to bother you that much. Mouse clicks are very precise and you will not miss a click. The same can be said for the scroll wheel. It is very smooth and provides scrolling line by line which is quite helpful while reading articles or text documents. Unlike some budget wireless mice that make noise while scrolling web pages or documents. This Logitech M170 scroll wheel makes very little noise that can only be heard by putting your ear very close to it.
Due to its small form factor and faster optical sensor at the back, the mouse feels responsive and no lags or hiccups can be felt. And one more thing regarding the optical sensor. This sensor uses an invisible optical laser unlike most of the mice that have a red beacon below. This actually makes a lot of difference when working at night!
How To Use Logitech Wireless Optical Mouse?
Connecting the Logitech M170 is a piece of cake. All you need is to insert the USB receiver into the USB 2.0 of your laptop/mac or computer. And turning the toggle "on" from the bottom of the mouse. It's that simple. You don't need to install any mouse drivers for it to work. So it saves you time for making a Google search like "Logitech M170 Driver".
On Windows 10 however, you might be asked to download the latest software. Otherwise, on other operating systems like macOS Big Sur, and Ubuntu 22.04 it works out of the box.
If you don't know you can use a Bluetooth mouse and keyboard on a computer that doesn't have Bluetooth hardware at all! All you need is a Bluetooth USB receiver. But the catch here is that you'll need to buy a wireless mouse and keyboard combo. The best one we are using in the office is the Dell WH32 combo!
Logitech M170 For Gaming Any Good?
It works well! It is not a gaming mouse though as it misses on the side buttons and RGB lighting and stuff. But it will not disappoint. Since it is a lightweight wireless mouse you can pan around quickly like in the pic above, I was playing COD 2 and the mouse response was good.
The Logitech M170 DPI is 1000 which is decent, keeping in mind the price. If you wish to increase the DPI of a mouse you can do it using the Microsoft Mouse And Keyboard Center. Here is the list of supported mice with changeable DPI.
As of my experience so far with the Logitech M170 optical mouse, I haven't faced any issue in regards to mouse lag or anything.
Should You Buy Logitech M170 Wireless Optical Mouse?
Definitely, it is a good buy at this price. Why? Because it offers the best-built quality, battery backup, buttons feel, no red LED light below. Other than that, it is among the best lightweight mouse for any work. Due to its form factor, it doesn't take up much space on the table.
As per durability, I have dropped it on the ground dozens of times and everything seems to be working fine. While doing any work i.e. video editing, scrolling through Facebook, or reading text documents I haven't witnessed a delay or lag in response. Even while gaming, this budget wireless mouse will get the job done. Though my gaming does disappoint that you can see in the video (coming up soon)!
Isn't it too good to be true? well yes, it is! In my Logitech M170 review after 6 months of use, the only thing that restricts my experience is the size. For large hands, i.e. if you are comfortable using a 6-inch phone with one hand then going with Logitech M190 is a better choice.
Otherwise, there is no deal-breaker issue or concern. So yes, you can say it is a good wireless optical mouse for under ₹1000. Very confidently, I can recommend you try out this wireless optical mouse for work from home!
Wrapping Up!
That's it for our Logitech M170 review. I hope you would have found our few cents helpful! Do you have any queries? Please reach out at PadhKeDekho's Twitter, Facebook, and Instagram. We would love to help!
If you have decided to buy this wireless mouse then please use the below Amazon link. It will help us in keeping the website up and running and in that way, you will be helping out genuine content creators at no cost to you!
Thanks for taking out the time in reading our Logitech M170 review! Please press the red bell icon on the left as we would love to have you around!
Articles That Might Interest You!
Just like the above article, we share our 2 cents in the form of reviews, tips & tricks, comparisons, and opinions so do check out those articles. And if you liked the content do share it with your friends and family! Thanks, we will see you at the next one!
FAQ
Is Logitech M170 a Good Mouse?
Yes, it is worth your money. In this article, we have shared our 6 months review with it. Do check it out to learn more!
How To Connect Logitech M170
Logitech M170 is a plug-and-play kind of wireless mouse. All you need is the USB connector and turn the mouse on!
Logitech M170 Silent?
It is definitely silent than HP X500 but the clicks are acceptably loud.
Does Logitech M170 Lags?
No, in my 6 months of use, I haven't faced any lag or delay in operation. Even while gaming.