Looking for a gaming mouse under 1000 Rs that is actually good? Then you are at the right spot! Here we have two of the best-selling RGB gaming mice that we've been using for a very long now. So this Redgear A15 vs Lenovo Legion M200 comparison is all you need!
Here we have compared many factors. Clicking a link below will take you to the respective section. But we'd advise taking out 5 to 10 minutes of your time and reading the detailed comparison because they are so many things to look out for! Here, you will find factors like Pros & Cons, Built Quality, Looks, Comfort, User Experience, Verdict, and Psst! There's also a bonus for you!
With that said, welcome to PadhkeDekho, here we review and compare tech products after using them for at least a month. This gives our readers insightful information that helps in their decision-making.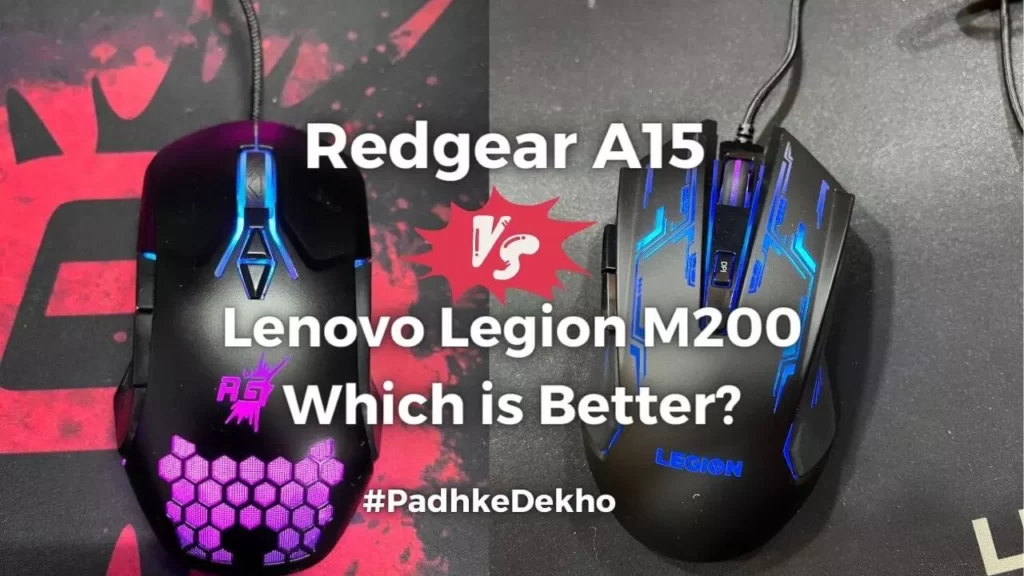 As a support to local and genuine content, you can use the Amazon links to check out the products. On qualifying purchases, we might earn a small commission at no additional cost to you. Thanks for being a patron!
With that said, let's begin the Lenovo Legion M200 vs Redgear A15 comparison with the pros and cons.
Redgear A15 Pros & Cons Over Legion M200
Pros
Built of Both is At Par; Good
Better Design; Thanks to Honeycomb Mesh
Customizable RGB Modes
Brighter RGB Lights
Can Even be Used Without The RGB
User Editable Controls
Redgear Software Support For Windows
Plug-and-Play Works Good
Up to 6400 DPI; Miles Ahead of Legion
DPI Are Color Coded
1 Year Warranty
Cons
Software Does Not Work on Ubuntu OS
Non-Gold Plated USB Socket
Lenovo Legion M200 Pros & Cons Over Redgear A15
Pros
The Design is Unique, Yet Looks Good
Overall Better Built Than A-15
Cable is Longer & Comes With a Velcro
USB Socket is Gold Plated
7 RGB Modes
Up to 2400 DPI Which is Decent
Side Buttons Are Well Placed & Responsive
No Software Required
Plug-and-Play Works Good
3 Years Warranty
Cons
No App Support
Customizing Buttons Can Only be Done in Game Settings or 3rd Party Software; Not Easy
RGB Effects Can't be Controlled
2400 DPI is no Match For A15's 6400
Built Quality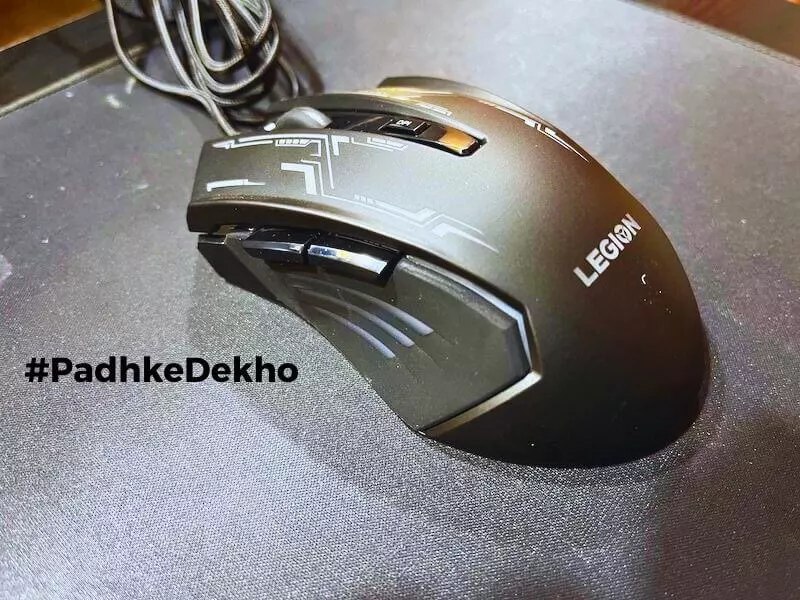 When it comes to built quality both are incredibly good. Their outer shell is plastic but the body is strong. We tried to press the body and frame only to get some panel squeaking noise and we found a little bit of it after applying a lot of force.
For the buttons, things are very similar. The buttons react to a minor tap anywhere on the big surface. Which means you have a wide area to play width. This will help teenagers use the devices with comfort.
I myself have large hands and prefer a full-size mouse. My niece is 13 years old and she had no discomfort with using any of the mice.
But one clear winner here is Lenovo Legion M200 takes a little lead in the wire department. Though both offer braided cable, the length of is Lenovo Legion M200 is significantly longer than Redgear A15, and also the connector is gold-plated.
With that in mind, we'd give 8/10 to Redgear A15 and 9/10 to Lenovo Legion M200.
Looks
Let's talk about the looks aspect of the comparison. Both mice offer an overall matte design a lot with a good amount of RGB! if you like RGB then both of these will certainly appeal to you.
The biggest difference is how the RGB is implemented. On Redgear A15 the RGB is on the sides, below the buttons, scroll wheel, Redgear logo, and the honeycomb grill. Whereas, on Lenovo Legion M200 RGB is mostly on the top of the buttons, Legion Logo, sides, and scroll bar.
So aesthetically both have done a good job of RGB. At night, both look quite good. But, It's Redgear A15 which is brighter and looks alive in the daytime too.
For looks, we'd give 9/10 to Redgear A15 and 8/10 to Lenovo Legion M200.
As far as the design goes, both are quite similar. They are an inward slope and extended back, which makes them easy to grab. So which is more comfortable? Coming up in the comfort section below!
Comfort
No feature can cover up if the mouse is not comfortable to hold. Also, there's a thing that you should know before buying a new mouse for your PC or Laptop.
And that's size; is it a full size or a compact/small size?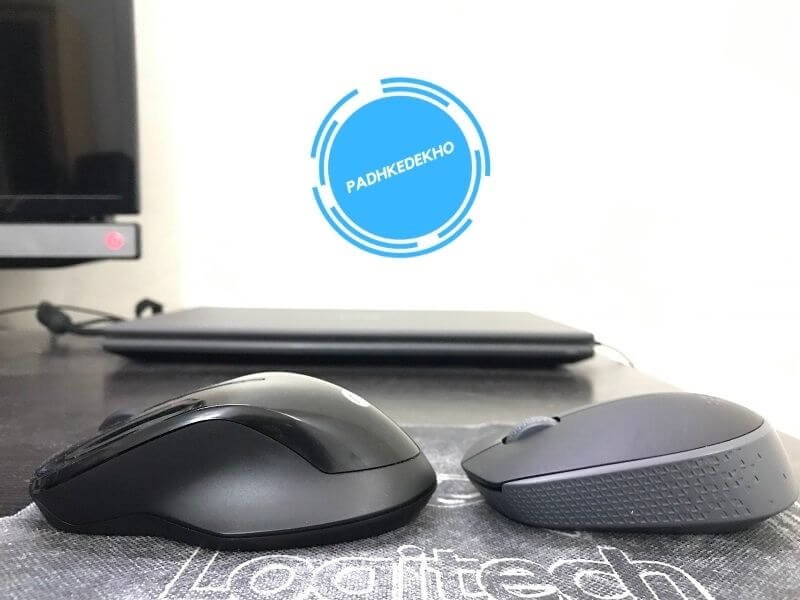 In the above picture, you have HP 250 mouse (review) which is a full-size one. While the other is Logitech M170 (review) which is a compact mouse. You can clearly see the difference, this difference has both pros and cons, let's talk about that quickly.
A full-size mouse is comfortable to hold by most people for long hours. At the same time, it will be slightly heavier than the regular or small form factor. While the compact mouse is easy to use for people will normal to small hands for many hours. But it's not comfortable for people with long and thin fingers for a longer time.
Where do these RGB Mice Stands?
Both of these are full-size mice which means you'll get proper handrest for your thumb, palm, and pinky finger! If you got big hands, then these two are perfect for daily use or gaming, or even video editing.
At about 150 grams both are slightly on the heavier side, but with the higher DPI, you do not need to pick up mice and reposition them. If you think the mouse movement is slow you can increase DPI or buy a speed-type gaming mousepad. We bought Redgear MP80 a few months ago and it's been perfect for both the mice. Here's our detailed review if you are interested.
So both are comfortable and you will get used to them in a few days of use.
if weight is a deal maker for you, then we'd advise checking out Cosmic Byte Orcus (review soon). What is so special? It's under 75 grams which is half the total weight of these two!
Redgear A15 vs Lenovo Legion M200 – Which is Better? User Experience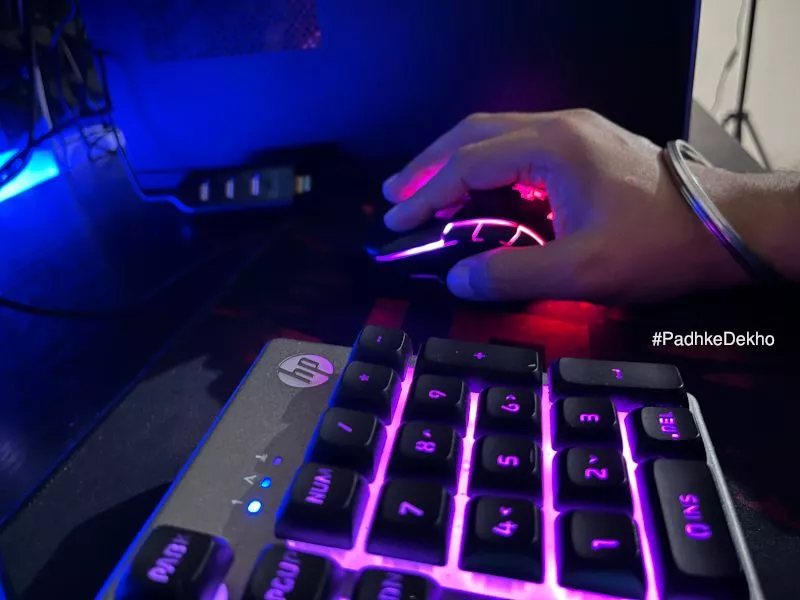 It all comes down to user experience. Let's talk about that.
Lenovo Legion M200 does not come with any software which means you cannot control or change the RGB effects, DPI, or key mapping via your PC. Whereas, Redgear A15 comes with app support where you can do pretty much all the things which Legion M200 cannot do.
So, Redgear A15 takes more votes if you have a Windows PC or laptop.
if your PC is running on Linux or Non-Windows Operating System then both are the same, when it comes to features! What you can do with these mice on Ubuntu or another Linux distro?
Well, you can change the DPI from the mouse itself. And for mapping keys on the top and bottom (side buttons) you can use key mapping software like Input Remapper which is a little complicated but can be done.
Or if you can get your hands on a Windows PC you can download Redgear software and customize the buttons. The custom buttons will be saved and you can use those on any OS now.
So if have Windows PC or laptop then go with Redgear A15 you will be able to customize it as per your need. Whereas, Lenovo Legion M200 is going to be standard across any Operating System.
With that said, Redgear A15 gets 9/10, and Lenovo Legion M200 a 7/10.
Redgear Vs Lenovo Which Gaming Mouse is Better?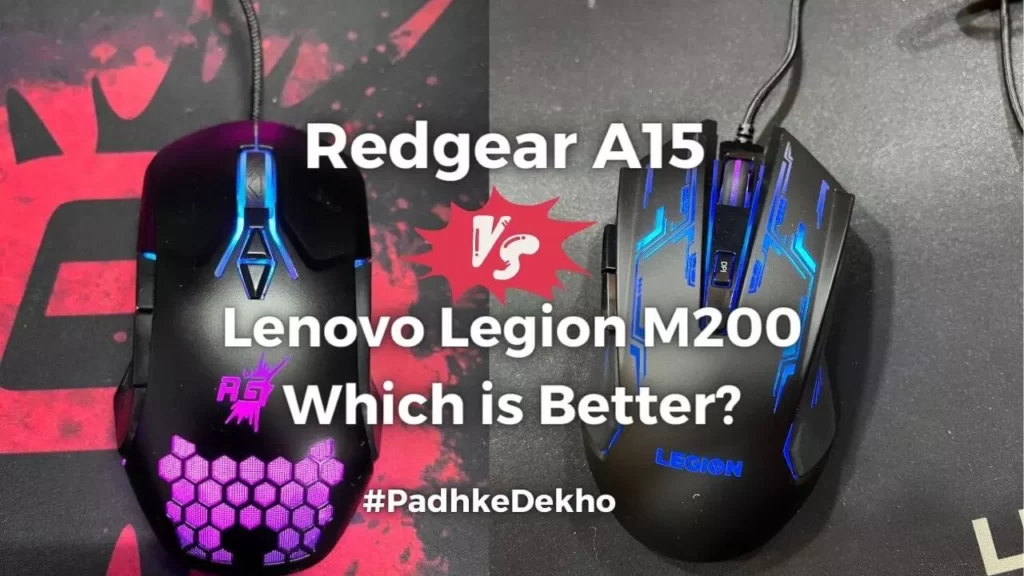 While we were testing both the mice side by side for the Redgear A15 vs Lenovo Legion M200 comparison, it took us a while but this is what we have to say.
Both mice are "great" when it comes to built quality, comfort, practicality, and "on-table use" over the "on-the-go" type where the compact mouse takes charge. So for these parameters, both are quite great deals under 800 Rs and we can totally vouch for them.
But if we talk about gaming in particular then one is "great" while the other falls into the "good" category. Here, Redgear A15 is great. Why? because of software support and higher DPI (up to 6400 DPI on Redgear and 2400 on Lenovo). Also, control over RGB improves the overall experience better.
What makes Lenovo Legion M200 good? There are many reasons like slightly longer cable, velcro to tie the rest of the cable, gold plated USB socket, amazing box packaging, and 4 modes of DPI up to 2400. Though 2400 DPI sounds less appealing in context to Redgear, however, it's much better than the regular mouse that you can get for under 1000 Rs that come with 800 DPI.
So choosing between the two goes in your hands now! if you are still confused between the two we've also used other gaming mice under 1000 Rs that you can check out below.
Bonus!!! Here Are The 5 Best Gaming Mouse Under 1000 Rs That We've Tested!
Wrapping up!
You have reached the end of the Redgear A15 vs Lenovo Legion M200 article! if you have any questions or queries about any of these or any other PC tech or electronics then feel free to ping us on below given social accounts. We love to help our readers.
Feel like supporting local and genuine content? Then please use the Amazon links on the page or the button below to make your order. It will help us earn a small commission from Amazon at no additional cost to you.
F.A.Q
Redgear A15 vs Lenovo Legion M200 Which is Better?

Both are certainly worth the price and great deals. But which one should you buy? Here is our detailed comparison after 1 month of use. Tap now to choose better.
Lenovo Legion M200 Good For Gaming?

Yes, it's good for gaming but not great! Here's our detailed comparison with Redgear A15 which is its biggest rival. Tap now to choose better.