[Updated on July 14, 2023] It's been over 2 years since we bought this and it's still working fine. This TP-Link USB WIFI Adapter For PC Review is all you need!
We get so many questions like; can we convert the wired desktop internet connection into wireless? will a USB WIFI adapter work on a desktop?
Therefore, to answer such questions we have bought TP-Link USB WIFI Adapter for pc model number TL-WN725N. So in this TP-Link USB WIFI adapter for PC review, we are sharing our experience of using such wifi USB adaptors for PC for over 2 years now!
So how it is to use? And is this the best wifi adapter for pc in India? Don't worry! You are going to find most of your answers here! Also, we are sharing the top 6 reasons why you should buy TP-Link USB WIFI Adapter for your PC!
Thus, without anything else… Hey there! Welcome to PadhKeDekho! 
Here at PadhkeDekho.com, we buy tech products and use them for at least a month before sharing our verdict. This gives users like you insights that help in their decision-making. unlike others, who do sponsored content and take readers for granted.
As we are supported by the readers like you. You can buy any product using the Amazon links on this page. It will help us earn a little commission at no additional cost to you. Thanks for the support, we've been helping readers for over 3 years old now!
TP-Link USB WIFI Adapter Pros And Cons
TP-Link TL-WN725N Specifications
| | |
| --- | --- |
| | |
| | |
| | |
| | WEP, WPA/WPA2, WPA-PSK/WPA2-PSK |
| | |
| | User Manual, Nano USB Dongle, Driver Disc |
| | |
In-Box Contents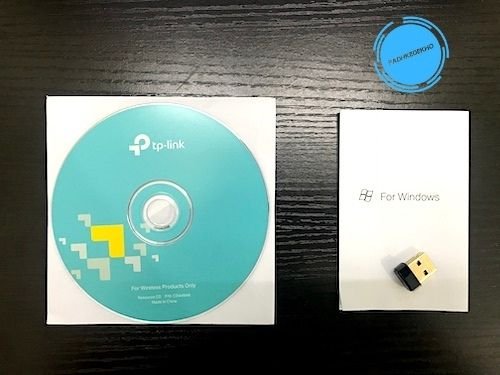 Installation CD With Drivers for Windows(ver. 7 to 10), And Mac Drivers
User Manual
The 2.0 USB Wifi Adapter
Supported Operating Systems
We have tested the product on multiple devices like macOS Big Sur, Windows 11, Windows 10, Ubuntu 20.04, and Windows 7. We had no issues with the plug-and-play nature of this USB wifi adapter. With Windows 10 it gave us the best possible experience. So it is the best wifi adapter for Windows 11 & 10. If you are running Windows 7 then you need to install the drivers. Otherwise, it's all plug-and-play.
After going through some reviews on Amazon saying they had issues with installing drivers on Ubuntu (Linux). We also got worried. But later it turns out you don't even need to install the drivers! Just connect the Wi-Fi USB adapter to any USB 2.0 and you will see the various wifi network available around you. So don't worry about TP-Link USB WIFI Adapter For Pc compatibility!
How To Use TP-Link USB Wi-Fi Adapter For PC
Using a TP-Link USB WIFI adapter for pc is very simple and completely logical. If your desktop computer is running Windows 10 then you don't need to install the drivers at all! So in most cases, it is plug and play. All you need is to connect the USB wifi adapter to the USB 2.0 of your computer.
Within seconds, you will start seeing green color-led blinking confirming that the USB WIFI receiver is up and running. Just select the network with which you need to pair and enjoy surfing the web wirelessly!
This tool is not only a wireless network adaptor for pc but this device can also be used on laptops that have damaged network drivers or hardware components. Moreover, I have tried this with my car's infotainment system and it does work! So if you need internet in your car then just plug it into the 2.0 USB and enjoy your mobile data as a hotspot!
As we did the setup and testing on a very aged Compaq Presario computer running on Windows 7. We actually put it through a lot! Since it is an old computer, the DVD/CD drive was dead. We had to copy the driver files from the cd to the Pendrive and then install the drivers. All this time, I had a strong feeling it will not work. But finally, after installing the driver it was up and running!
We transformed the LAN cable internet connection into much more modern wireless within minutes. So I would give full marks to the installation and setup process.
Should You Buy a TP-Link USB WIFI Adapter For Pc?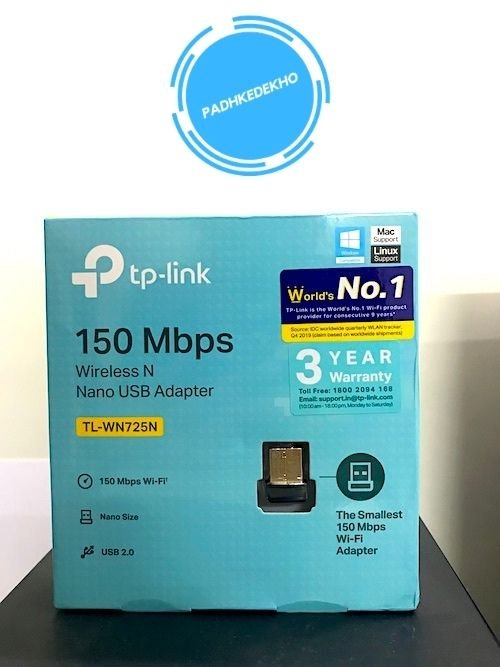 You should buy this TP-Link Wifi adapter tl-wn725n if you are looking for a tiny device for your wireless internet needs. This particular model is just the size of a regular 2.0 USB slot. And it will not impact the next USB slot on your computer.
Secondly, let's now talk about internet speed. Mostly I use Airtel 4G through my smartphone by utilizing the hotspot feature.
I generally get 21 MBPS on a busy day and after pairing the computer with the hotspot I get the same results every time. So if you thought your internet speed will fall then don't worry it will not affect you. Unless you use are subscribed to a broadband connection that has more than 150 MBPS plans.
Note: If you need more Download & Upload Speed and the distance between the internet source and the Laptop is more then you can check out TP-Link High Gain USB Antenna (Review).
The third reason is the wireless range. I usually work on my computer from a distance of about 7 to 10 meters and it works great.
After 15 to 20 meters you can expect a drop in range; thus the speed will fall. We also tried to connect with a 5 GHz connection and it did work. So number 4 reason is 5 GHz connectivity.
5th reason for this nano USB adapter is the built quality. Once you will hold it in your hand you will not get a clumsy or delicate feeling. Moreover, the adaptor is gold-plated so it looks quite premium. Even The USB Wifi adaptor of Dell doesn't have gold plating (Dell KM117 Wireless Keyboard Mouse Combo in particular)!
Now for the most crucial part; peace of mind. So the 6th point is that TP-Link provides 3 years of warranty on this USB Wifi adapter. So don't worry about it and use the internet from your own comfort!
Few More Things!
With all the 6 reasons and our experience so far with this wifi adapter, we can vouch for this product. TP-Link USB WIFI Adapter for pc TL-WN725N is the best wifi adapter for desktops under 500 Rupees.  
So if you are looking for a dependable, good-built quality Wifi USB adapter for your computer then don't hesitate and buy it. Your purchase will be a good investment! Since it is a highly demanded product, its price keeps on fluctuating. So you can check the latest Amazon price here.
This was our TP-Link USB WIFI adapter for pc review. If you think we helped you in decision-making, then please support us by buying this Wi-Fi USB adapter from the below Amazon link as it will help the website grow at no cost to you!
Do share this with your friends and family so that it can help more people in decision-making. Thank you so much for reading and if you are new to our website, then hit the red bell icon on the left to be notified of our new coverage.
If you have any issues or queries then please reach out at PadhKeDekho's Twitter, Facebook, and Instagram. We would love to help! Thanks for taking out the time in reading our TP-Link USB WIFI Adapter for PC!
Just like the above article, we share our 2 cents in the form of reviews, tips & tricks, comparisons, and opinions so do check out those articles. And if you liked the content do share it with your friends and family! Thanks, we will see you at the next one!
Articles That Might Interest You!
F.A.Q
Which Wifi Adapter Is Best For Pc?
We have tried a few wireless adapters but TP-Link Wireless Adapter For Pc Model Number TL-WN725N gave us no issues while testing. So we would recommend you giving it a try. If you want to learn more you can check out our detailed review here.
Are USB Wifi Adapters Any Good?
Yes, they make a great choice for someone looking for a wireless connection. Secondly, they give you flexibility. But not all USB Wifi adapters are good! We have reviewed TL-WN725N from TP-Link at it is by far the best. Why? Check our review for the same.
What Does A USB Wifi Adapter Do?
USB Wifi adapters simply let your computer, laptop, or even car's infotainment system connect with WIFI or Hotspot wirelessly. Without buying any additional hardware for your computer.
Will A USB Wifi Adapter Work On A Desktop?
Yes, any USB Wifi adapter can connect to a desktop even if the computer doesn't have any network card hardware. So that you can connect internet wirelessly! To know more in detail please check out TP-Link USB WIFI Adapter For Pc Review.
TP Link Wifi Adapter TL-WN725N Works On Big Sur?
Yes, we have tried this USB Wifi adapter on Big Sur version 11.3.1.
TP Link Wifi Adapter TL-WN725N Connect To Hotspot?
Yes, it can connect to Wifi and Hotspots without any issue.