Are you confused between BoAt Bassheads 900 and BoAt Rockerz 510? or planning to upgrade from boAt 900 to Rockerz 510. Then this article is very important for you. In this, you are going to know what differences they have, how different they sound, and built quality along with other comparisons. Thus our BoAt Bassheads 900 Vs BoAt Rockerz 510 comparison is what you should definitely check out.
Update: Both headphones are available at a huge discount on Amazon's Great Freedom Festival sale. Click now to check out the deals!
Here at PadhKeDekho, we have done multiple headphones and earphone comparisons. If you are interested you can check those out too. These comparison articles are written after using the products for a while, or feedback from customers, and some technical specs provided by the manufactures. So as you should know what to expect from your next purchase before buying it!
But before starting, if you are new around please hit the red bell icon on the left to be notified of our new coverage. Because we keep on bringing comparisons like this, tips and tricks, unboxings, and reviews about the products. Thus, achieving our goal to help you make a better choice!
BoAt Bassheads 900 Vs BoAt Rockerz 510 Comparison
In this comparison, you will get to know their differences, pros and cons, built quality, audio performance, noise cancellation and audio leak, mic output. To save your time, clicking on any of the previous links will take you to a particular section. So that being said, let's begin the comparison with differences.
Differences
| | | |
| --- | --- | --- |
| | | |
| | | |
| | | |
| Media Controls On Headphone | | |
| | | |
| | | |
| | | |
| | | |
| | | |
| | | |
| | | |
| | | |
Pros And Cons
1. BoAt Bassheads 900 Pros And Cons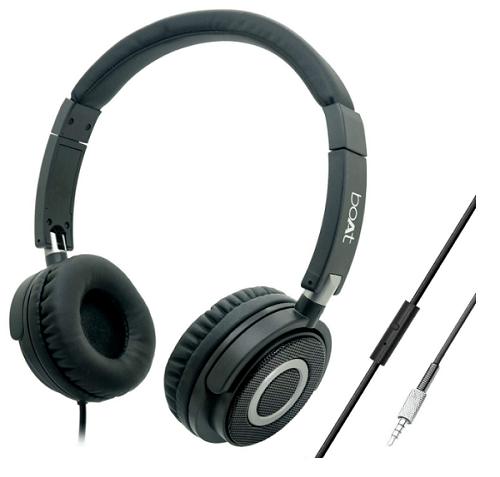 2. BoAt Rockerz 510 Pros And Cons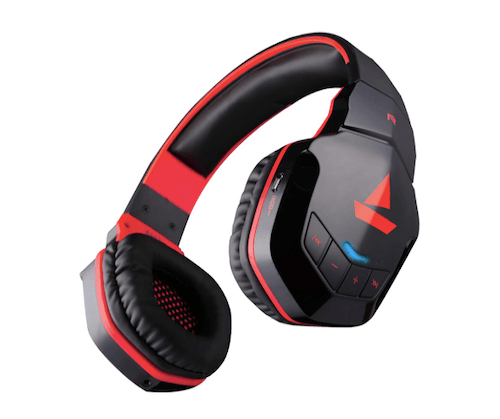 Built Quality And Feel Factor
Under 2000 Rupees headphones with plastic built are dominating the market. Because of various reasons. Primarily being lightweight. Both of these are no exceptions either. You will find use of good quality plastic. Not only it makes them look good but also offers a high-grade feel and durability.
But it is Rockers 510 that leaps ahead in terms of built quality. The earcups are big as a result your ears will rest into the ear cups and you will also experience an even better-sung fit. Whereas boAt 900 is small and you can feel some amount of pressure onto your ears. So, for an extended period of use, going with Rockerz 510 will be better.
Rockerz 510 headband is also wide and full of form/soft fabric beneath that enhances grip and comfort. While we are at it, boAt has ditched stainless steel headband adjuster with plastic (though good quality one on Rockerz 510). Whereas, boAt Bassheads 900 comes with stainless steel adjusters!
I am not saying BoAt 900 has bad built quality or less comfort. It is just that Rocker 510 excels being a successor. So if you are considering switching from boAt bassheads 900 to Rockerz 510 then don't worry about built quality and comfort.
In terms of looks, I found Rockerz 510 to be quite colorful and eye-catchy. So if you are a college student or high school kid then you might like the vivid color taste of it. It is quite evident from the looks, that this headphone is designed for the gaming audience.
For me though, it's still boAt 900 in the Black color that takes my vote. Don't judge me, if you like colorful headphones it all cool…!
Audio Quality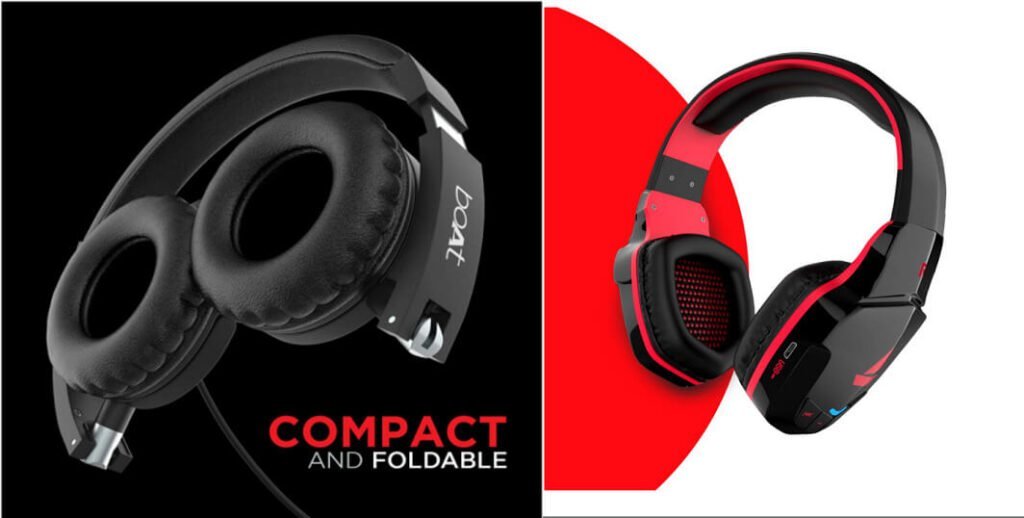 In our previous headphones comparisons under 1000 Rupees, BoAt Bassheads 900 has always made its mark. Even when we put it against Sony 310AP it was a tough choice still boAt 900 won. Why you may ask, is because of the crystal clear distortion-free audio experience. Even if you talk about bass, loudness, treble, vocals, and whatnot it will impress you. I enjoy listing to every kind of music especially bass boosted audio tracks and classical songs. All this audio creation is done using the 40 MM drivers of the headphone.
BoAt has taken things even further with Rockers 510 by introducing it with 50 MM audio drivers! With this 10 MM increment, you can hear and feel a more powerful bass, loudness and clarity. If you are a bass lower then you will not be disappointed with any of these two headphones. But it's Rockerz 510 that can even let you feel the thumps around your ears!
"Bigger is better" doesn't apply everywhere and it goes quite well in this context! Even though the Rockers 510 has 50 MM audio drivers, it is still not for everyone. For someone who likes heavy bass and nothing else then Rockerz 510 is the best choice. But if things like vocals, instruments, treble and moderate bass are your things then you can buy or stay with Bassheads 900.
Note: Are you bored with BoAt 900 and want to be part of team wireless? Then we would also recommend checking out Infinity Glide 500/501 by JBL. Below you can find our review and video expressing our few month's experiences with it! Do check those out!
Noise Cancellation And Audio Leak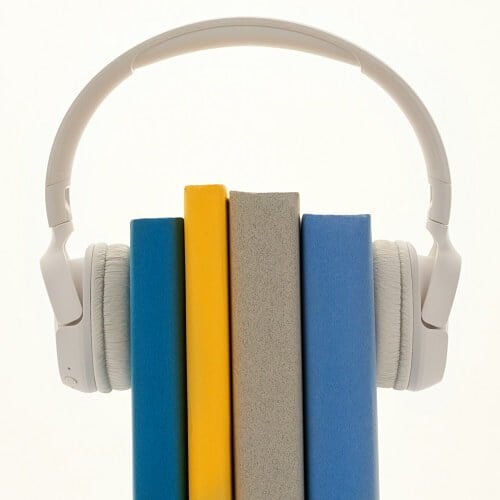 Noise cancellation is a tool that prevents the outside noise from interfering when you are listening to something or watching a movie. Like T.V. being used near you, people chatting in the room, parting neighbors, etc. With both the headphones you can restrict some of the nuisance entering but not completely. Because they have passive noise cancellation and not active noise cancellation.
However, keeping in mind the price, they do a pretty good job! Due to bigger ear cups, it is Rockerz 510 that restricts more noise. So between BoAt Bassheads 900 And BoAt Rockerz 510, it is Rockerz 510 that does better noise cancellation.
But when it comes to audio leaks, Rockerz 510 leaks more. If you don't know audio leak is a problem with most of the headphones in the market. You might be wondering what is an audio leak? To answer this, the audio leak is a situation in which the audio produced in your headphone comes out of the earcups and mixes with your ambient surrounding.
Let's say in a bus, metro or in your room. Though this has no side effect on you because you don't know whether it is happening or not. You will only know when people seating or standing next to you, request to lower the volume! You can avoid such embarrassing encounters by lowering the volume. For Rockerz 510 volume of 60 to 70 is the sweet spot as then the audio leak is the bare minimum. With boAt Bassheads 900 you can listen to music at up to 80 percent volume.
Moreover, you can check audio leaks by yourself on any headphones. All you need is to crank up full volume and cover both the earcups with your hands, just like the ears do. So you will find how much audio is getting leaked. And how much you should lower the volume!
Mic Test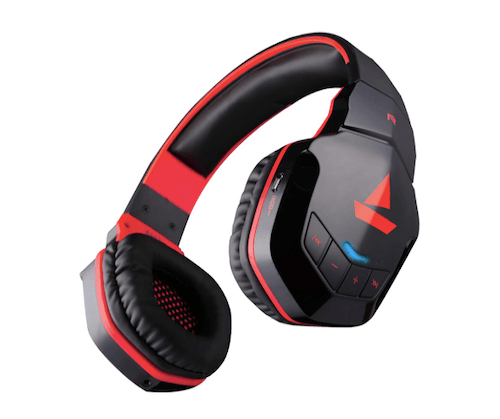 While testing the mic we kept few things in mind; transmitting less background noise and receiving more clarity while taking calls. Considering most people will be using their headphones for WFH requirements or online classes. We have a piece of good news for you! Both of the headphones performed well.
Even though the in-line mic of Bassheads 900 is close to your mouth. Whereas, boAt Rockerz 510 mic is placed on the headphone. It is still Rockerz 510 that impressed us. Moreover, we had no issues of latency or audio delay while it was connected via Bluetooth. Not even distortion which is usually not the case with boAt budget Bluetooth products. For someone who is using Bassheads 900, Rockerz 510 is a nice upgrade.
So if you need a good WFH wireless headphone under 2000 Rupees that can also take care of your calling needs then BoAt Rockerz 510 is a good consideration. Also, you can try Infinity Glide 500/501 By JBL.
Which Is Better BoAt Bassheads 900 or BoAt Rockerz 510?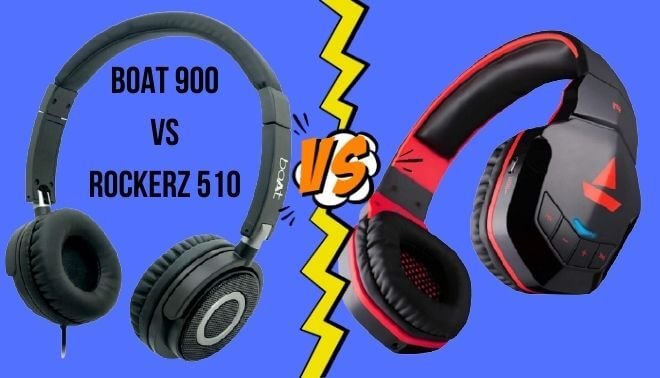 Both of these are great pairs of headphones. Everything from their built quality to audio output, noise cancellation, and audio leak, etc. they handle just fine. But if you need a better mic and all of the above then Rockerz 510 is the best option. Otherwise, I don't see any harm going with Bassheads 900 except wireless connectivity.
For someone who is using boAt Bassheads 900 for a while, upgrading to Rockerz 510 will enhance your experience. Like better loudness, thumping bass all over your ears, latency-free wireless connectivity, good battery backup. And once the battery is low or you want to preserve it, then you can switch to wired mode. That enhances the loudness even more!
So all in all, both headphones offer win-win situations for different audiences. And the primary choice difference is going with a wired or wireless connection and also call quality via the mic. If I had to pick one, I would go with Rockerz 510 due to the dual-mode (Wireless as well as wired). Rest is up to you. But that's for sure even if you buy any of the two, the deal is good and money will be well spent.
That's About It, Folkes!
Do you have doubts or queries before buying? Then do drop it on PadhKeDekho's Twitter, Facebook, and Instagram. We would love to help! Expect earliest replies. Or even if you just want to talk we are there :)!
If this article has helped you in your decision making then please buy any of the headphones using the below Amazon Links (Best Buy Links). As it motivates us to bring more interesting comparisons and reviews at no cost to you! Thanks for reading our BoAt Bassheads 900 Vs BoAt Rockerz 510 comparison! Stay Safe And Keep Smiling!
Just like the above article, we share our 2 cents in the form of reviews, tips & tricks, comparisons and opinions so do check out those articles. And if you liked the content do share it with your friends and family! Thanks, we will see you at the next one!
F.A.Q
Is BoAt Rockerz 510 Good?

BoAt Rockerz 510 is a great blend of audio and built quality. A sweet spot for heavy bass lovers and a must-have for someone who needs a wireless headphone with good battery life. We have shared our review in the form of a comparison with boAt Bassheads 900. So if you also planning to upgrade from something to Rockerz 510 then this article is important for you!
BoAt Rockerz 510 Support 3D Sound Quality?

Yes, boAt Rockerz 510 support 3d sound quality. But not in wired mode.
Does Volume Control Volume Work In Wired Connection Of BoAt Rockerz 510?

Yes, the volume controls work in wired connection.
Is Rockerz 510 Good For Mild Songs And Playing Keyboard?

For mild songs or music with less bass, you will have a balanced experience. For playing keyboard you will enjoy!
What Happens If BoAt Rockerz 510 Gets In Contact With Water And Sweat?

BoAt Rockers 510 doesn't come with any IP Rating so avoid to use while raining. I've used it while working out so far faced no issues.
Is BoAt Rockerz 510 Is Supported With Realme 5?

Every device that has Bluetooth can be connected with BoAt Rockerz 510. So, yes you can connect it with Realme 5.
Does The Buttons Work On BoAt Rockerz 510 When AUX Cable Is In?

Yes, the media controls work in Aux mode.
Is BoAt Rockerz 510 Have Good Vocal?

Vocal and loudness are a strong point of BoAt Rockerz 510.
Does BoAt Rockerz 510 Turn Off Automatically?

To preserve battery the headphone powers off when it is on but not connected to any device.
Is Boat Rockerz 510 Good For Online Classes?

Yes, it is a good wireless headphone for online classes or meetings. Because the ear cushions are soft, the mic output is clear, and no network latency faced during classes or meeting.
How Long Does BoAt Rockerz 510 Battery Lasts?

As per BoAt up to 10 hours. But you can expect anywhere around 7 to 8 hours in a single stretch. I change it once a week and use it daily for around 1.5 to 2 hours.
Does BoAt Rockerz 510 Come With A Carrying Case?

No, BoAt Rockerz 510 doesn't come with a carry case. Only a 3.5 mm cable and USB 2.0 charging cable is in the box.