Under 2000 Rupees, boAt Rockerz 550 and 510 are the most popular Bluetooth Headphones. Due to their 50MM audio drivers and colorful design scheme, they might have got your attention. So out of the two, which is going to be the best wireless headphone for you? Thus, in this BoAt Rockerz 510 Vs 550 Comparison, we have put them against each other and did a lot of testing and we have reached a conclusion. Moreover, we have shared our recommendations in the article for specific requirements. Therefore, read the article completely!
Update: Both headphones are available at a huge discount on Amazon's Great Freedom Festival sale. Click now to check out the deals!
In this comparison, you will get to know what type of material is used, how they feel, level of comfort, how they sound and how different they are, how long their battery will last, which has a better mic, and so much more.
Here at PadhKeDekho, we have done multiple headphones and earphone comparisons. If you are interested you can check those out too. These comparison articles are written after using the products for a while, or feedback from customers, and some technical specs provided by the manufactures. So as you should know what to expect of your next purchase before buying it!
But before starting, if you are new around please hit the red bell icon on the left to be notified of our new coverage. Because we keep on bringing comparisons like this, tips and tricks, unboxings, and reviews about the products. Thus, achieving our goal to help you make a better choice!
BoAt Rockerz 550 Vs 510 Comparison
For better navigation, we have divided this detailed comparison into specific sections, and clicking on any of the upcoming links will take you there. In this article, we have talked about their differences, pros and cons, built quality, look and feel, level of comfort, sound quality, mic output, noise cancellation and soundproofing, battery backup and finally our verdict. So let's begin with the differences, followed by pros and cons and then the rest.
Difference Between BoAt Rockerz 510 And 550?
Pros And Cons
1. BoAt Rockerz 510 Pros And Cons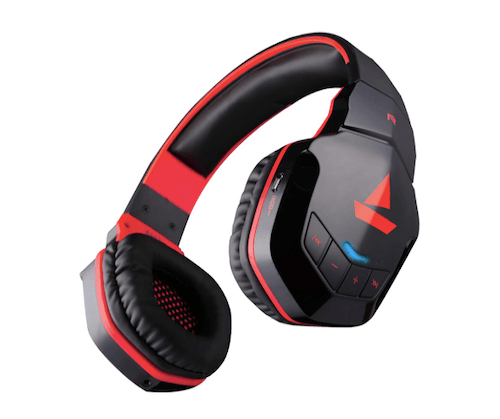 2. BoAt Rockerz 550 Pros And Cons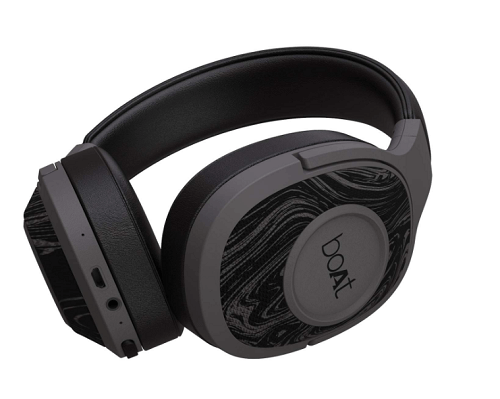 Built Quality
Both the headphone are made of plastic as it is expected in the price range. However, the quality difference is evident. On BoAt Rockerz 550 you will get a better-built quality be it ear cups or even the headband. Due to the more reliable build, the ear cups are tiltable. Whereas, they are fixed on BoAt 510. As a result, you will find a better grip on your ears.
BoAt rockerz 550 ear cushions are ample and soft even below the headband, which is not very common in this price range. So Rokcerz 550 will be fine for a very long extended period of use. In the same context, 510 is not very soft but can easily be worn for 4 to 5 hours. But there's one more thing regarding extended use that I will talk about in the look and feel section below.
For long life, Rockerz 550 comes with stainless steel headband adjusters. Unlike, Boat 510 where you will find plastic adjusters. Therefore, in terms of built quality, boAt Rockerz 550 is slightly better in every aspect be it ear cups or even headband longevity.
Look And Feel
In terms of looks, both seem to target different sets of audiences. While on both of the headphones you will find colorful options yet they are so much different. BoAt Rockerz 510 is a gamers-centric headphone with glossy/shiny earcups while keeping the matte finish on the top of the headband. Rockerz 510 is available in 4 striking colors; Red, Orange, Blue and Green.
On the contrary, Rockerz 550 has a matte theme going throughout the headphone. So it looks good in all the 5 shades like Black, Black Symphony, Red, Mehroon, Army Green (My favorite).
Looks are subjective hence I cannot say what will be good for you. But as per my experience, if you are in high school or in the initial year of college then 510 will make you stand out and happening. While Rockerz 550 is more inclined towards people who like their headphones to blend in. And definitely, it becomes a nice headphone to gift someone in their twenties!
Which Is More Comfortable?
Their size and form factor sets them apart in terms of comfort. As BoAt Rockerz 510 is an On-ear type of headphone. Whereas, Rockerz 550 is Over-Ear. As a result, you will find bigger and much more comfortable ear padding on the Rockerz 550.
With circular and bigger diameters of ear cups, any size of the ears will find a comfortable spot. Usually, I have issues with on-ear headphones due to big ears and I was pleasantly surprised with the comfort on offer with Rockerz 550.
On Rockerz 510 you'll get a little tilted squared type of design and the same treatment is done on the ear cushions. This setup is good if you have small to medium size ears for a better sounding audio experience (More about it in the sound quality test below).
Otherwise, you will feel tightness or some pressure being applied due to the design of the earcups. This tightness is good for noise isolation (more about noise cancellation and audio leaks below), but if you wear spectacles then it will become tighter, and might not be able to use it for longer hours like 5 to 6 hours. If that's the case, then going with Rockerz 550 is better.
While testing we used them continuously for 3 to 4 hours and one can easily do that. It's not like they are extremely tight or something. But if you require headphones for prolong use then Rockerz 550 is the way to go.
What About Sound Quality?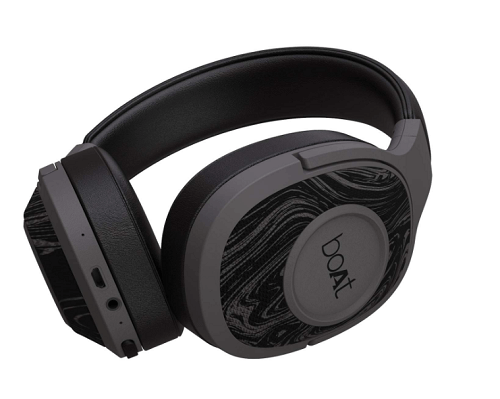 Since both the headphones have 50 MM audio drivers one can assume similar sound quality but that's not the case. Due to the form factor, both generate different kinds of frequencies. Let me first tell you what is going to be similar. Vocals, instruments, good bass, and distortion-free audio experience are forte of both of them. Other than those, things are very different.
With boAt Rockerz 550 you will experience clarity, well-controlled treble, moderate bass. In few words, BoAt 550 is an overall audio package with the good of everything and will certainly check most of the boxes. But if you prefer high bass, then Rockerz 510 is a better choice. But you have to compromise on high trebles.
You can push the headphones to the maximum volume still you can enjoy them. But to be honest hitting full volume on either of the two will be a little discomforting because they go loud, very loud! The ideal volume should be around 80 to 85. In which you can feel good bass, treble, vocals, and instruments.
Noise Cancellation And Audio Leaks – Which Handles Better?
Other interesting things to discuss in our BoAt Rockerz 510 Vs 550 Comparison are noise cancellation and audio leaks.
Due to the different structures of the headphones, both are good at one thing and will leave you desired for one. You have to choose what you need. In terms of restricting outside noise or isolating noise, BoAt Rockerz 550 does better noise cancellation. Why is it so? Because of the bigger and better quality cushions. So with boAt 550, you can enjoy your music or movies with less disturbance of car horns nearby, parents watching Television, or outside street vendors!
But when it comes to limiting audio leaks, then Rockerz 510 takes the bigger pie of the cake! As I told you in the comfort section above, it makes a stiff and snug fit on the ears. This prevents audio from the headphone leaking into your close surrounding like people standing or seating close to you in a bus or train. It's not serious but can be embarrassing when someone tells you to lower the volume. While you are listing to publically inappropriate singers like Dhichak Puja!
On both headphones keeping the volume around 70 percent will give you a great blend of less audio leak and more noise cancellation. However, going above 70 on Rockerz 550 will leak more audio. While Rockerz 510 will lack noise isolation. So choose wisely!
BoAt Rockerz 550 Vs 510 – Best For Calling?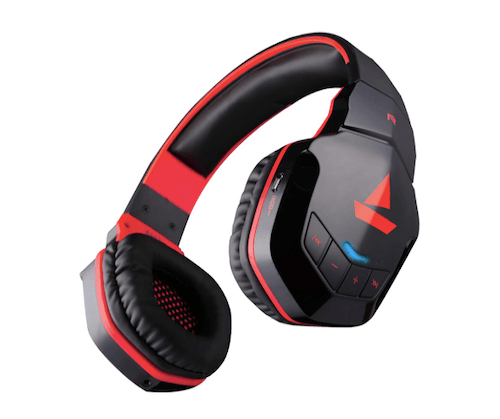 While testing the microphone, I was most impressed by Rockerz 510. It was producing the other person's voice quite clearly and also transmitted my audio without distortion or audio breaking. I did quite a few online meetings and also online classes but it's Rockerz 510 that delivers a good overall calling experience.
Another good thing about these is the connectivity. The Bluetooth range is around 10 meters and within which you will not experience any latency or signal drop. So if you are listing to music or taking calls, you will not experience any voice breaking or disconnection.
But in BoAt Rockerz 550 mic test things are slightly less appealing. It's not bad but the voice transmitted through the mic feels like a robot is speaking! Therefore, for normal calls, you will not have any issues. But for professional calls or online classes, it's better to go with Rockerz 510.
Note: For work from home purposes, I prefer and recommend Infinity Glide 500/501 by JBL. In every budget Bluetooth Headphone comparison, we vouch for it because it has not only the best mic under 2000 on any wireless headphone but also the audio quality is superb. Do check out our Infinity Glide 500 long-term review for more details.
BoAt Rockerz 550 Vs 510 Battery Backup
You don't need to worry about battery backup in any of these boAt headphones. As we tested they are very close to their suggested values. But yes, it is completely dependent on your ideal listing volume. BoAt Rockerz 510 comes with a 400 mAh battery so you can expect battery backup of around 6 to 7 hours on full volume. And it can go as high as 8.5 hours at 70 percent volume. Therefore, by reducing the volume you will not only get more battery backup but also lesser audio leaks!
While Rockerz 550 comes with a 500 mAh battery so it can go even more than 13 hours. Rest it depends on your ideal volume. Moreover, on both the headphones you get support for aux mode( cable included in the box). With this 3.5 mm cable, you can listen to music without consuming the battery of your headphone!
So Which Is Better BoAt Rockerz 510 or 550?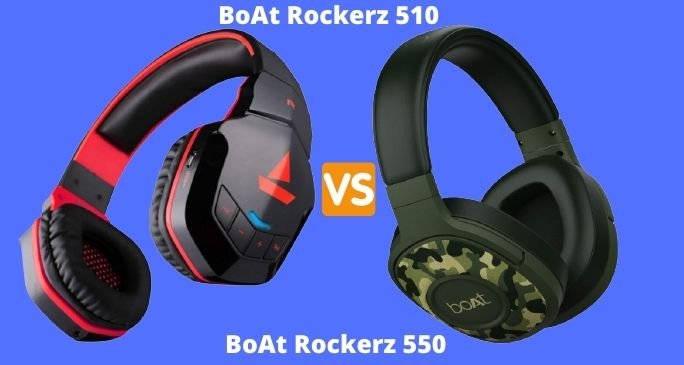 While testing these headphones, we did spend time while writing the conclusion because both are good at things and lacking in others. So we are breaking our verdict into two parts one in the favour of BoAt 510 and the other for boAt 550 on the basis of scenarios.
If you need good-sounding headphones with heavy bass then Rockerz 510 is the clear winner. It produces fewer audio leaks and comes with a great microphone. However, you'll have to deal with high trebles. But due to lack of ear cushioning and rigid headband structure, wearing it with spectacles for long hours can cause you some pain. So getting used to it will take time. Also, the glossy plastic look might not appeal to all. And lastly, the plastic headband adjusters raise questions for long-term use.
Whereas on Rockerz 550, you will get an overall great listing experience. With good passive noise cancellation for uninterrupted entertainment. The Over-Ear design and soft cushioning on the tiltable earpads take comfort to the next level. If you need to wear headphones for 5 to 6 hours then it's an easy task. Due to the matte design, the headphone feels more premium. The overall construction and use of stainless steel on the headband adjusters make it considerably better than Rockerz 510. But it somewhat lacks in the mic department and the bass is good but not great.
With both the headphones you will receive good battery backup, aux support, dependable Bluetooth connection, and a great design language. One thing is confirmed, that you will not regret buying any of the headphones!
Wrapping Up!
That's it for now, folks! I hope you would have found this BoAt Rockerz 510 Vs 550 Comparison helpful. If you have doubts or need our opinion before buying? Then do drop a comment below or reach us out at PadhKeDekho's Twitter, Facebook, and Instagram. We would love to help! Expect earliest replies!
If this BoAt Rockerz 510 Vs 550 Comparison article was of any help in your decision making then please buy the best one using the below best buy links from Amazon. As it motivates us to bring more interesting comparisons and reviews at no cost to you! Thanks for reading our BoAt Rockerz 510 Vs 550 Comparison! Stay Safe And Enjoy Music!
F.A.Q
What Is The Biggest Difference Between BoAt Rockerz 510 And 550?

The biggest difference between the two is one being On-Ear and Other is Over-Ear.
Which Is Better BoAt Rockerz 510 Or 550?

After testing both the headphones we have pointed out the most relevant pros and cons. Even though they are around the same price bracket but there are tons of differences and we have covered all of them. So to choose better, check out our comparison.
Should I buy BoAt Rockerz 550 Or 510?

Both are great pairs of Bluetooth Headphones. Buying any of them is a good call. But to make the best choice, read our article as we have compared them not just on the basis of technical specs but also after using them for a while.
Which Colour Is Better Furious Red Or Black Symphony For BoAt Rockerz 550?

All the colors offer a matte finish look so going with any will be fine. But if you need your headphone to stand out in public then Furious Red. Otherwise to blend in Black is always good! My favorite color though is the Army Green!
Can We Connect BoAt Rockerz 550 In A System With Bluetooth v4.2?

Yes, you can connect it with any device. All you need is a Bluetooth connection (doesn't matter which version).
Is BoAt 550 Rockerz Connects With Vivo Y53 Mobile Or Not?

BoAt 550 can connect with Vivo Y53 (or any other smartphone/laptop/computer/tablet/etc.) granting your device has/supports Bluetooth.
How Can I Know My Boat Rockerz 510 Is Charging?

The constant glowing L.E.D on the right earcup confirms the charging state. Once it turns off, the headphone is completely charged.
Which Is Best BoAt Rockerz 510 And 550?

It depends on what you are looking for in your next headphone. We have used and compared them in detail. So click now to learn more and make a better choice!
Which Is Better BoAt 510 Or 550?

Both are great headphones and there are so many factors that differentiate them. We have talked about all of them and shared them in this article. Click now and find out which is best for you.
Does BoAt Rockerz 550 Have Noise cancellation?

BoAt Rockerz 550 has passive noise cancellation. Which does a pretty decent job in blocking some outside noise. In this article, we have talked about it in detail. So click to learn more!
Is BoAt Rockerz 550 Worth Buying?

Definitely, Rockerz 550 is a good Over-Ear headphone. It will checkmark most of your requirements. In this article, we have reviewed it and compared it with Rockerz 510 for a better understanding. So click now and make a better choice!