[
Updated on July 14, 2023]
After 2 years the heating element of the kettle needed service which was done by a local repair shop for just 200 Rs. A kettle worth 600 Rs needed part worth 200 Rs after 2 years is not a bad deal! Hence, you can confidently read or buy Pigeon Amaze Plus Electric Kettle! Back to the article.
Do you drink hot or warm water first thing in the morning? If yes, then your immune system is much better than those who don't! Don't worry you can also take advantage of so many health benefits by consuming warm water.
However, before reaching the gas stove for the warm water you stumble upon the fridge and drink cold water instead? then this is bad. To avoid this you can keep an electric kettle next to your bedside table.
Since you need it for hot water only, you don't need to buy an expensive electric kettle. To achieve your goal you can buy an electric kettle from a brand like Pigeon for under 800 Rupees! And we are talking about the Pigeon Amaze Plus electric kettle A.K.A Pigeon by Stovekraft Amaze Plus electric kettle 1.5 liters.
We bought it and used it for a month before writing our experience. So this Pigeon Amaze Plus Electric kettle review is going to be important for you!
Pigeon By Stovekraft Amaze Plus Electric Kettle Review
In this article, you will get to know the pros and cons, features, in-box contents, build quality, how to use, and what we feel after 2 years of use! Let's kick things off with the pros and cons.
Pros And Cons
Features
2. Be Aware - It Can Only Warm Or Boil Water Nothing Else
3. Can Boil Up To 6 Cups Of Water
4. Looks Plush And Premium
5. Cable Is Of Good Quality
In Box Contents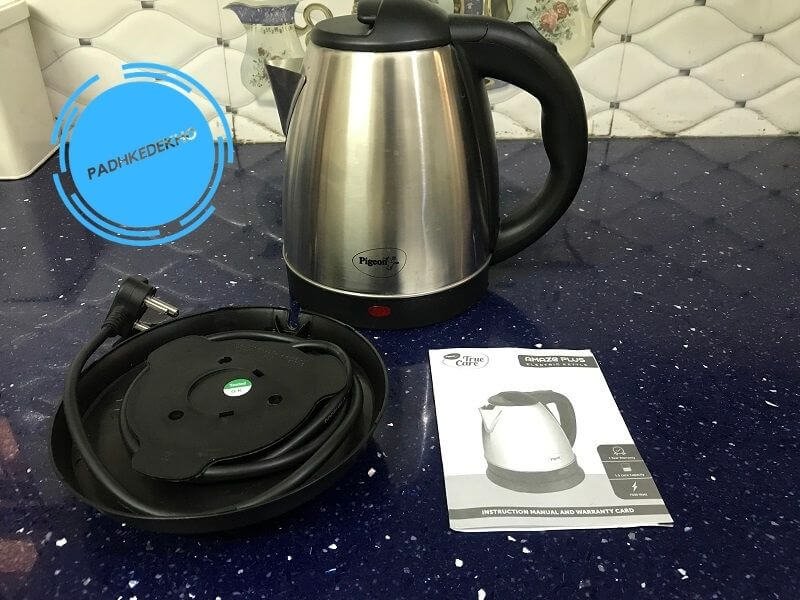 In the box you'll get the:-
360 Deg Swivel Base
Instruction Manual And Warranty Card
Electric Kettle
Built Quality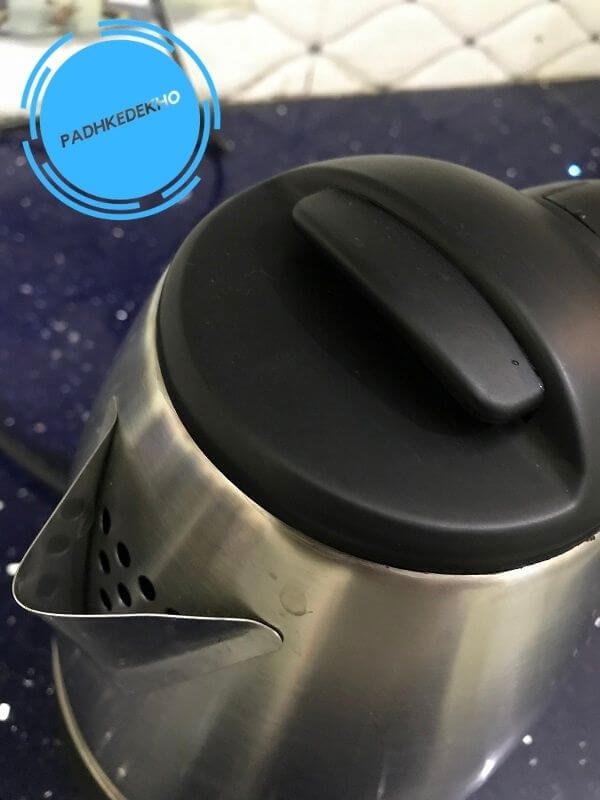 The Kettle is made up of stainless steel and in terms of looks, it seems good in this price range. If you have stayed in a 2 or even 3 stars hotel odds of you seeing this is quite high. The silver finish not only makes it look decent but also adds durability while handling.
The one-piece closing lid locks tightly and there is not a single sign of leakage while boiling water to the maximum. Considering its price, the closing lid offers good built quality. Moreover, the handle of the kettle doesn't get hot under any circumstances.
Now for the most important part; the cable. You would like to know that is around 1 meter in length and is quite thick making it more sturdy. So keeping it on the side table of your bed or on the kitchen slab will not be an issue. There were some reviews on Amazon talking about the wire being small, but we had no issues with it.
The 360 swivel or base of the electric kettle is not of the best quality but it works. In fact, you can keep the kettle at any angle on the base you will not face any problems.
But, the swivel is not flat from the bottom. Hence, you will find the base wobbling while setting the kettle on top. But once, it is settled you will not find the wobbliness.
How To Use Pigeon Amaze Plus Electric Kettle
Since it is a basic electric kettle there is not much on offer. All you got is a power-on-heat-then-power-off system in total. Once you are ready for using it for the first time. All you need is to plug in the cable and power it on through the button on the handle.
You will notice the red light glowing on the bottom. This represents that the heating has started. Within seconds the water will start boiling.
But Before using it for the first time you have to keep a few things in mind which are very important. Since the kettle will be in a packed environment for months it is advisable to clean it before starting to use it.
To clean the kettle from the inside, pour water until the "max" marking on the leveler in the kettle then close the lid and turn it on. It will start boiling the water. Once water is boiled the light will go off and it will auto-cut after a few minutes.
Then pour the water in a sink or somewhere but DON'T CONSUME IT. Repeat the process 2 to 3 times, so as to kill all the impurities collected in the packed state. Secondly, always remember to keep the water in the low to high "level" marked in the kettle. Doing so will add life to the heating element.
Thirdly, if you are not going to use the kettle for a few days it's better to remove the water and let it dry for some time. And last but not least clean it regularly for a longer life!
How To Clean Pigeon Amaze Plus Electric Kettle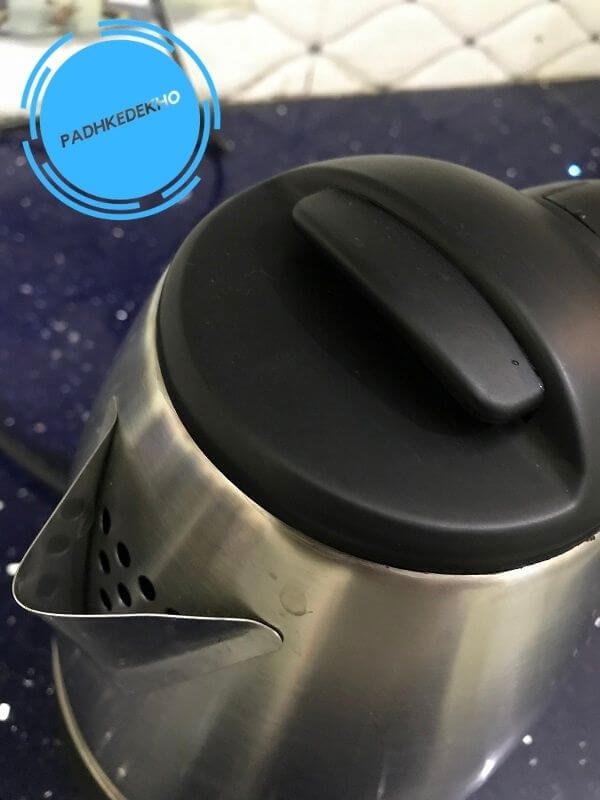 Before cleaning makes sure you've turned off the kettle and disconnected from power. Every week you can perform general cleaning in which you can wash the kettle with warm and soapy water. Then dry it out with a soft and clean cloth.
Now, for the best internal cleaning process that should be done every month or depending upon usage. If you find residual then deep clean frequently.
To deep clean use half a liter of white vinegar( I used Sam's White Vinegar which can be used for cooking and cleaning), or you can use lemon water juice in a 1:2 ratio and let it stay there for 1 hour.
Then, pour the vinegar into a container as it can be used later but don't use it for cooking. Now on the bottom of the kettle, you will find waste/residual. Clean it with a wet cloth.
Dry it out and boil water 2 times. Don't consume this water. Afterward, thoroughly rinse the kettle with clean water 4 to 5 times. You can clean the outside using a wet damp cloth. Let it go dry and don't use it for some time.
Should You Buy Pigeon Amaze Plus Electric Kettle?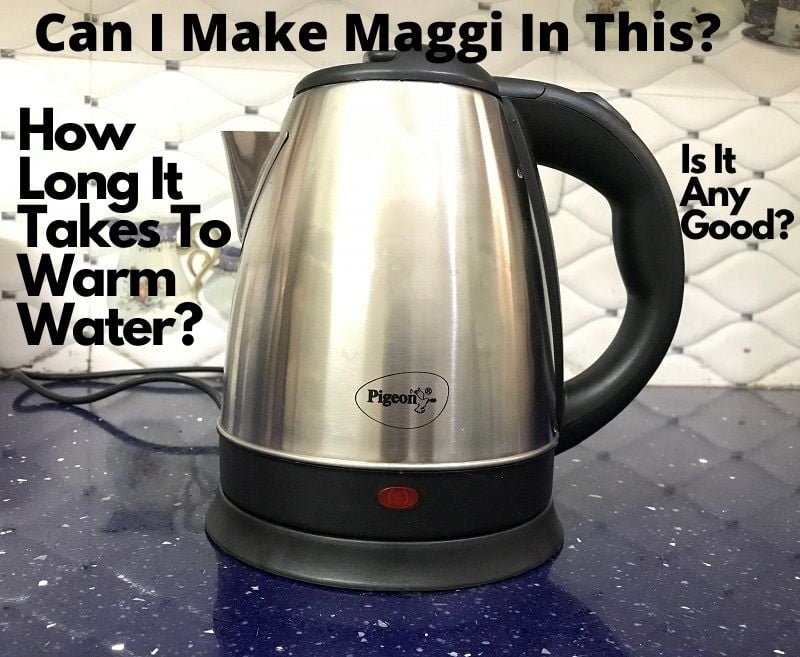 This electric kettle works as it is meant to be; to boil or warm water for instant consumption. Other than that you cannot use it for making Maggi or soup in it. Though you can boil water in it and use it for preparing Maggi in a different utensil or pan. The same goes for soups and other hot beverages.
While using this kettle, your warm glass of water is only a minute away! And for hot/boiling water all you need is to wait for 2 to 3 minutes. The kettle is capable of boiling up to 6 cups in about 7 minutes, which is quite good keeping in mind the price.
I drink warm water all day and tea a few times. This electric kettle has reduced my time spent in the kitchen while finding the pan and wasting L.P.G. for such work. Since boiling water using an electric kettle is quick, I get my cup of tea within minutes!
In terms of practicality, I am quite satisfied with this electric kettle. Not only it works well but being a product of Pigeon at such an entry-level price makes it an even better deal. So I would suggest buying this kettle if you are low on budget and need a quality product. Moreover, it is among the best gift you can give to your parents!
That's A Wrap, Guys!
If this article was of any help in your decision making then please buy using the below Amazon link. As it motivates us to bring articles like this and it helps us to keep the website up and running at no cost to you! Thanks for being a patron!
Do you have doubts or need our opinion before buying? Then ping us at PadhKeDekho's Twitter, Facebook, and Instagram.
This is what we had to say about this budget electric kettle. If you found our Pigeon Amaze Plus Electric kettle review helpful then do share it with your friends and family. Thanks for reading and have a good day!
Just like the above article, we share our 2 cents in the form of reviews, tips & tricks, comparisons, and opinions so do check out those articles. And if you liked the content do share it with your friends and family! Thanks, we will see you at the next one!
Articles That Might Interest You!
F.A.Q
Can I Make Maggi In Pigeon Amaze Plus 1.5 Litre?

You can boil water be it for tea, Maggi, soups, etc. But you cannot make those items in the electric kettle.
How To Wash Pigeon By Stovekraft Amaze Plus 1.5 Litre?

Washing any electric kettle requires some steps to be followed. In this article, we have shared steps to properly clean this kettle.
Is The Base Detachable?

Yes, the base is detachable.
Can We Boil Barley Seeds?

No, this kettle is meant for boiling or heating water.