[Updated on July 14, 2023] It's been over 1 year and the mouse is as good as new. The buttons & scroll wheel work brilliantly. You can confidently check out the product.
You might agree that HP 250 Wireless mouse is quite a different-looking one! Without a doubt, it will have a hate it or love it kind of first impression (mine was the latter one!). So you must be thinking, with this different design, it is just for looks or it works differently too? Or is it actually comfortable for long use?
Therefore, in this HP 250 wireless mouse review, I have answered these questions along with others over the last 1 year of use!
Update: You can grab HP250 at a huge discount on Amazon's sale. Click now to check out the deal!
With this HP 250 wireless mouse review, you will get to know about its pros and cons, key specs, in-box contents, built quality, look and feel, and much more. So let's get started!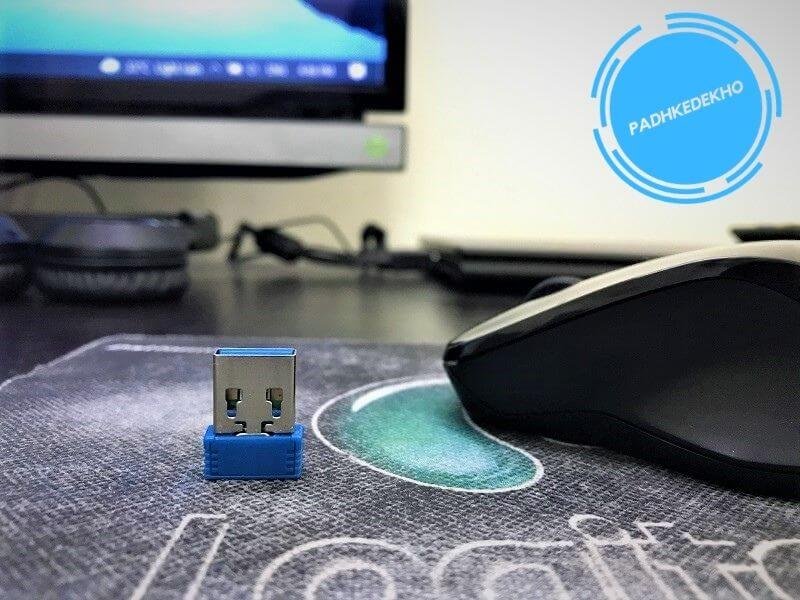 Welcome to PadhkeDekho. Here, we buy tech products and use them least a month before publishing our review or comparison. This gives readers like you a real customer experience and insights that help in decision-making.
As we are supported by readers like you. Buying anything using the Amazon links on this page helps us earn a little commission at no additional cost to you! Thanks for the support, we have been helping readers for over 3 years now!
HP 250 Wireless Mouse Pros And Cons
HP 250 Wireless Mouse Specifications
In-Box Contents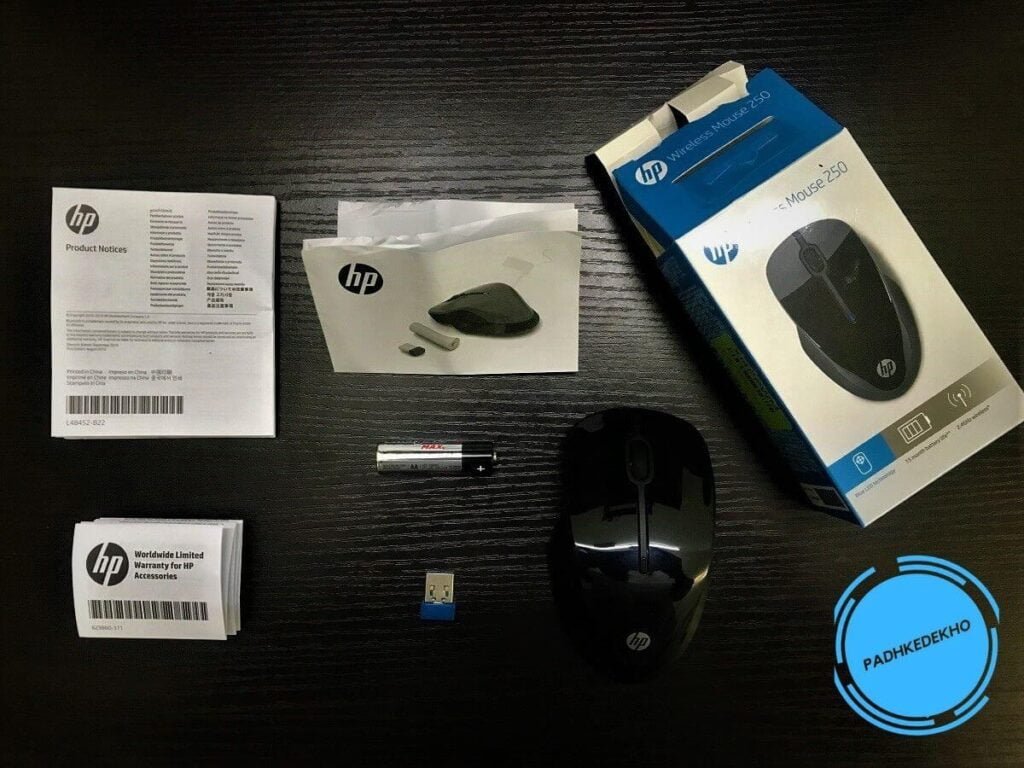 HP 250 box contains:-
Few documentations
How to use and setup
USB 2.0 receiver
Complimentary AA battery
Mouse itself
Built Quality
HP 250 wireless mouse is a premium mouse for sure. Though the overall construction is plastic, neither it feels cheap nor it looks. Once it's in your hands you will notice a good grade of plastic used in construction. It is so good that you will not experience any squeaking or panel pressing.
On the top, you will find glossy plastic which is quite reflective. And a big HP logo where your palm will rest. The sides where your thumb and pinky finger will hold the mouse are all matte which increases the grip. I appreciate HP for going with matte on the bottom part of the mouse.
The glossy buttons on the top offer a good tactile feel. Moreover, the width and length of the buttons are quite good and you will enjoy pressing them or resting your fingers on top.
Design/Look And Feel

This is the most different-looking mouse I've ever owned. But it was also the primary reason for selecting it. Just by looking at the pictures, I felt it to be super comfortable and smooth. And lucky, my assumptions were true!
First things first, if you have large hands then trust me you will enjoy every second holding this mouse. The sides have an inwards curvature as a result your hand will hug the mouse perfectly. Due to this strong grip, you will always be in control of the mouse and it just asks for direction, the rest it does automatically.
Your three fingers i.e. index, middle, and the ring will slightly bend but most of the time resting on the 3 mouse buttons perfectly. And the best part, the mouse buttons are much wider and bigger than any other compact size one in the market. This makes it fit all hand sizes perfectly.
For testing, I gave it to my niece who has fairly small hands, that small that she can't use iPhone 5 with one hand! Even for her, HP 250 was working its magic of comfort!
Since your thumb and pinky finger will hug the mouse perfectly, then it's all comfort for the palm! I have considerably large hands and with this mouse, my fingers and palm are having the time of their lives! In terms of comfort, I am more than satisfied.
How To Connect HP 250 Wireless Mouse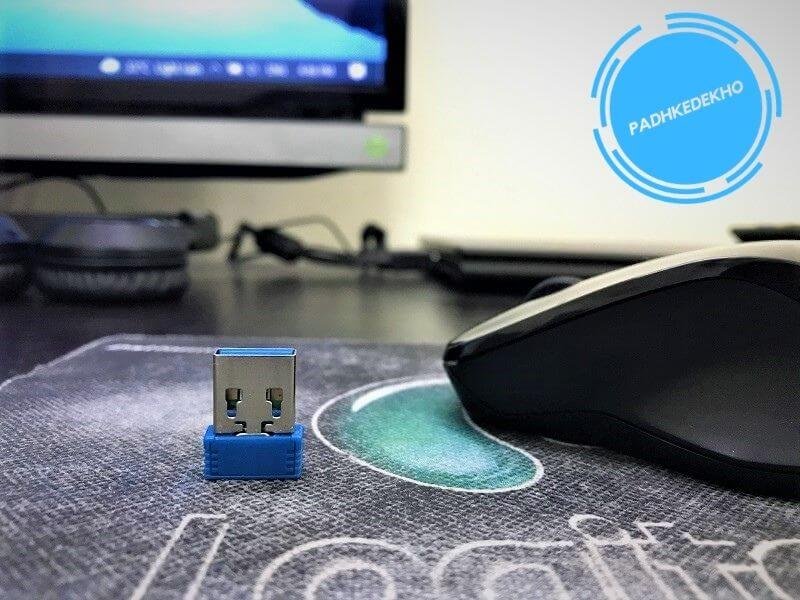 Connecting HP 250 wireless mouse to a Windows, Mac or Ubuntu device is very easy. All you need is to insert the tiny USB dongle into the USB 2.0 of your equipment be it a computer, laptop, smartphone (via OTG cable) or even smart TV. The only thing that is left is to turn the toggle "on" from the bottom!
Within seconds, it will get connected and will be up and running. I've tested with Windows 7, Windows 10, Ubuntu 20.04, macOS Big Sur and had no issue. So in terms of connectivity, HP 250 wireless mouse is good.
The USB dongle is very sturdy and with a blue color side profile, it clearly resonates as an HP product. However, you will not find any branding on the side. Unlike, Logitech where you get "logi" engraved.
How To Change the DPI of HP 250 Wireless Mouse?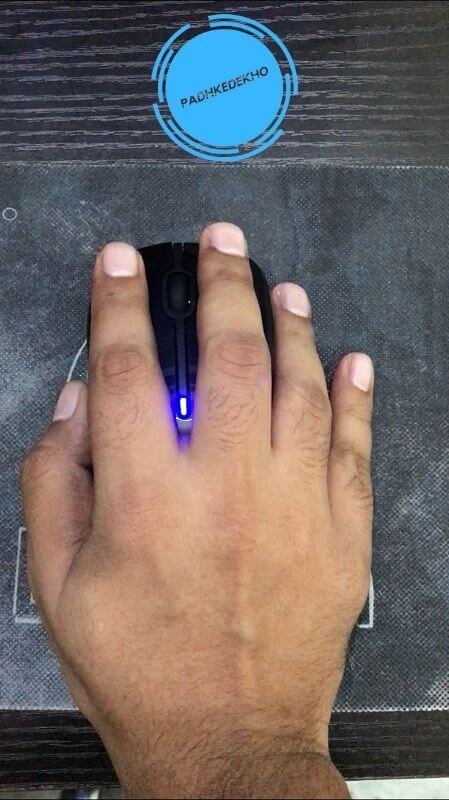 Changing the dpi of HP 250 is quite simple. You need to press and hold both the left and right buttons with your index and middle finger for 3 seconds. In between in your fingers, you will notice a few blue color blinks.
These blinks represent the dpi. HP 250 supports three types of dpi namely 1000, 1200, and 1600. One led blink means 1000, 2 blinks is 1200 and 3 blinks set it to 1600 dpi.
Changing dpi is easy. if you are at 1000 (default out of the box) pressing both the buttons for 3 to 4 seconds, will give you two blinks. This means the dpi is now 1200. Repeating it again will max it out at 1600 with 3 bright blicks. Once you have selected the dpi it will preserve it automatically even after restarting it. Unless you want to change it.
This was the first time I've experienced 1600 dpi. The change of dpi is evident and can be easily felt. The effect in response be it button clicks or navigating it becomes quick. If you have set your pointer speed on the higher side and this mouse at 1600 dpi then you will see some fast and furious happening!
How Loud Are The Button Clicks?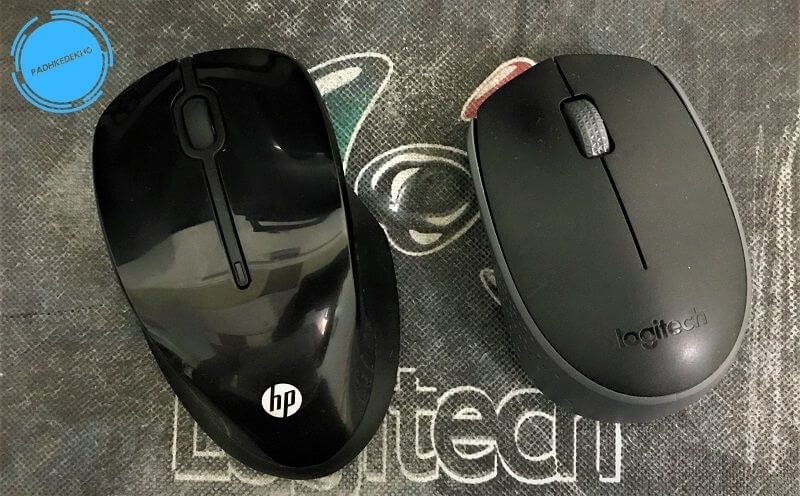 I've used HP X500, Logitech M170, and HP 250. Out of these, I found HP 250 button clicks to be short but slightly louder than the Logitech M170. Considering HP 250 is a full-size mouse, the click noise is negligible and will not disturb you at all.
What About The Scroll Wheel?
Coming to the scroll wheel, it is quite good. Just like any mouse in this price range, it scrolls content line by line so if you read a lot of articles or work on docs then you will enjoy it. The best part is the wheel is accurate.
For e.g. Let's say you only want to scroll five lines and it will do it just the way you want it. You can literally feel the scroll wheel. This is something that I missed on Logitech M170. don't get me wrong it was smooth but not very precise. Just like most of the mouse, the scroll wheel is clickable and you can pan quickly to any direction as per need. So it will add speed to your work.
How Good Is The Optical Scanner?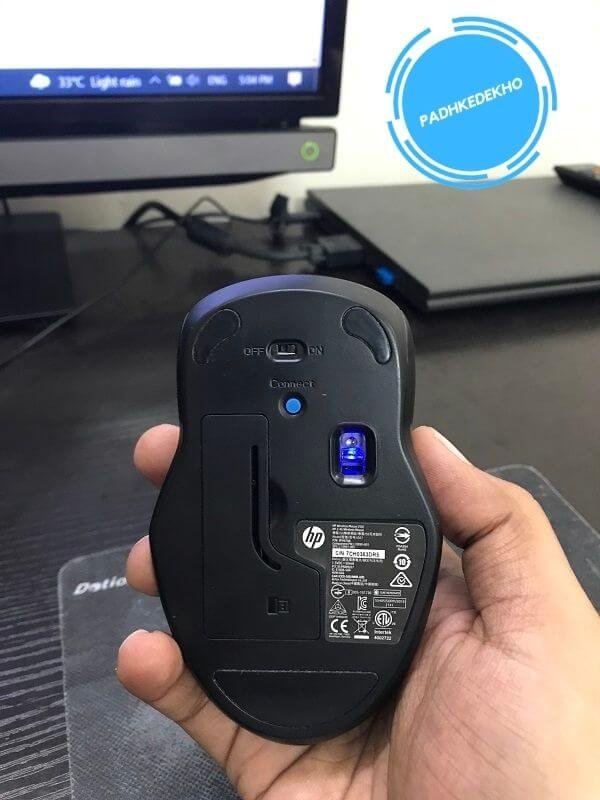 Usually, budget-oriented mice use optical scanners with red color lasers. However, the expensive ones tend to have blue or invisible optical lasers. With HP 250 you will get a blue-colored laser on the bottom. You must be thinking "other than the color shade is there any other reason?"
Then Yes! there are! In general, the color of the laser helps the mouse work on any surface. Thus, it can navigate on your computer screen smoothly. So if you got red, blue, or even invisble laser it will work quite identical. But things will change drastically if your mouse has a blue optical laser and supports differed dots per inch(dpi). Therefore, with HP250 you will experience smoother and higher accuracy.
If you want to learn more about the red and blue optical scanners and lasers then you can check out this interesting post here from DigitalWorld839.
Battery Backup
In the box, you are supplied with a AA battery that can provide juice for up to 15 months. Just like any battery, its life is dependent on use. Since it's been only a week, I cannot say how long it will run. But before upgrading to this, I was using Logitech M170 that also came with a AA battery. I've used it for 6 months and I had no issues regarding the battery. So I am expecting the same from HP 250.
Additionally, AA battery or pencil cell as we call them in India, are easily available and are quite cheap so I guess it will not cause any issue.
HP 250 Can Be Used For Gaming?
HP 250 is not a gaming mouse. But it doesn't mean you can't use it for gaming! The higher dpi actually helps in faster panning of the surrounding or your character depending upon the game. Secondly, the left and right clicks are very short means you will kill the enemies quite instantly.
Since earlier I was using a compact size mouse the level of comfort while playing games for hours is easily noticeable. Though I don't play many games, but when I do it helps in many ways. So in terms of gaming, I am having a good time!
Should You Buy HP 250 Wireless Mouse?
It depends… If you are looking for a compact size wireless mouse then you can check out the Logitech M170. Before upgrading to HP 250 I used it for 6 months. You can read the article here or watch my review. It is certainly a great wireless mouse under 1000 rupees.
HP 250 is ideal for someone who has large hands and needs a big mouse for comfort. I use it for a very extended period of time like 10 to 12 hours a day, even then it doesn't give any issue. Secondly, the built quality is by far the best I've experienced under 1000 rupees. You will not find a single squeaking from the body or even the buttons except the removable slot below the mouse.
The third reason is the multiple dpi modes to choose from. These 1000, 1200 and 1600 changeable dpi make it the best choice if you want to photoshop or panning through thousands of lines of code or being a better player in those fast pace shooting games.
As far as the buttons go they react quickly to the press and are not very loud as such to disturb. Moreover, the scroll wheel works as it should. So all in all, HP 250 justifies the price tag. Moreover, my initial experience is going very strong and I've never been this satisfied with a wireless mouse, period. In my point of view, it is a great buy for under 1000 rupees.
If you are not liking it for some reason then you can go with Logitech M190(review coming up soon). I've tested it a few times it is also a great mouse.
Wrapping up
This was our HP 250 wireless mouse review. If you found this helpful, then do share it with your friends and family so that they also choose better. Got Queries or have doubts before buying? Then ping us on PadhKeDekho's Twitter, Facebook, and Instagram. We will get back to you as soon as possible!
Just like the above article, we share our 2 cents in the form of reviews, tips & tricks, comparisons and opinions so do check out those articles. And if you liked the content do share it with your friends and family! Thanks, we will see you at the next one!
Articles That Might Interest You!
F.A.Q
Best HP wireless mouse under 1000 Rupees?

HP 250 is the best wireless mouse from HP under 1000. In this article, we have shared our 1-week review for it. Do read it before making your choice!
How to change DPI of HP 250?

By pressing the left and right mouse button simultaneously for 3 seconds changes the dpi. While doing so you will see a set of blue lights in between the fingers. One flash represents 1000 dpi, 2 flashes 1400, and 3 flashes 1600.
Are HP mouse good?

I have owned 2 mice of HP so I can say their products offer the best-built quality and are very durable. However, are somewhat more expensive than the competition.