[Updated on July 21, 2023] It's been over 6 months now and the mouse is working with all the keys. LED is quite bright. if your PC is running Windows, this is a must-have under 600 Rs. Back to Redgear A15 Gaming Mouse Review.
Nowadays you can buy a good RGB mouse under 1000 that will certainly give you an edge over another player using a standard mouse, there is no denying it. It's all possible with brands like Redgear!
So with a budget of RS 600, we went with the most popular choice; Redgear A-15 in Black color. And here's our Redgear A15 Gaming Mouse Review.
So who is it for? It's got RGB which means it's meant for gaming. Above all, it offers 7 programmable buttons that can allow you convenience in repetitive tasks like copying and pasting or reloading or any custom choice of yours.
After using it for a month here's our Redgear A15 review. In this article, you will find the Pros & Cons, Specifications, Built Quality, Looks, Comfort, Features, Using it, and finally our verdict.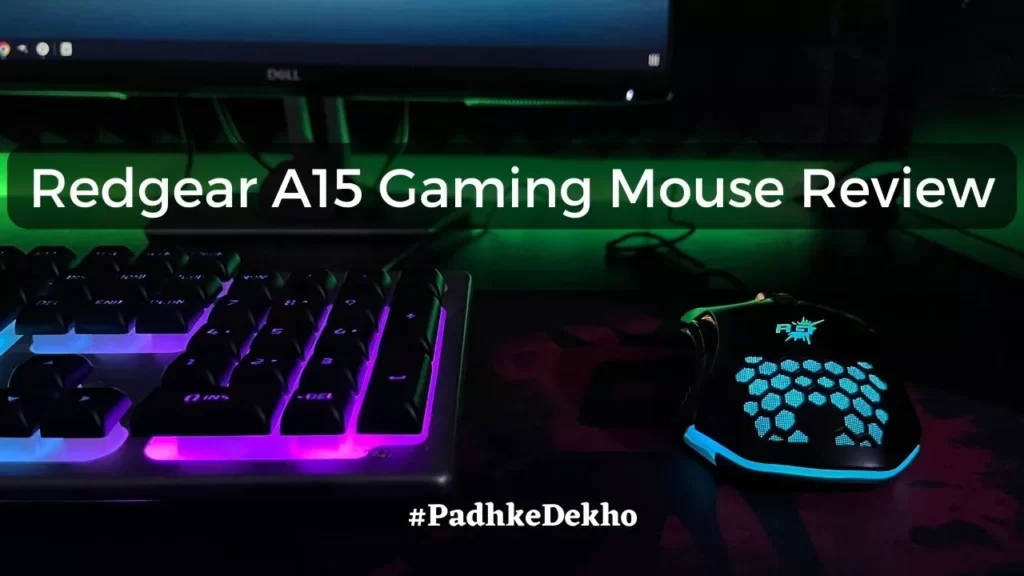 If you are new at PadhkeDekho, we buy tech products; Review and compare them after using them for a month. It gives our readers added value to make a better-informed decision.
As a support to us, you will find Amazon links on this page that you can check out if you are interested in the Mouse. We might earn some commission on a qualifying sale. Thanks for your support so far.
Redgear A15 Gaming Mouse Pros & Cons
Specifications
| Feature | Value |
| --- | --- |
| Input Mode | USB 2.0 |
| Programmable Buttons | Yes, 7 Buttons |
| Customizable DPI | Yes, Up to 6400 |
| Cable | 1.2 Mtrs, Braided |
| Multiple Modes of RGB | Yes, Via Software & Mice |
| PadhkeDekho Rating | 8/10 |
| Best Buy Link | Amazon |
| | |
Built Quality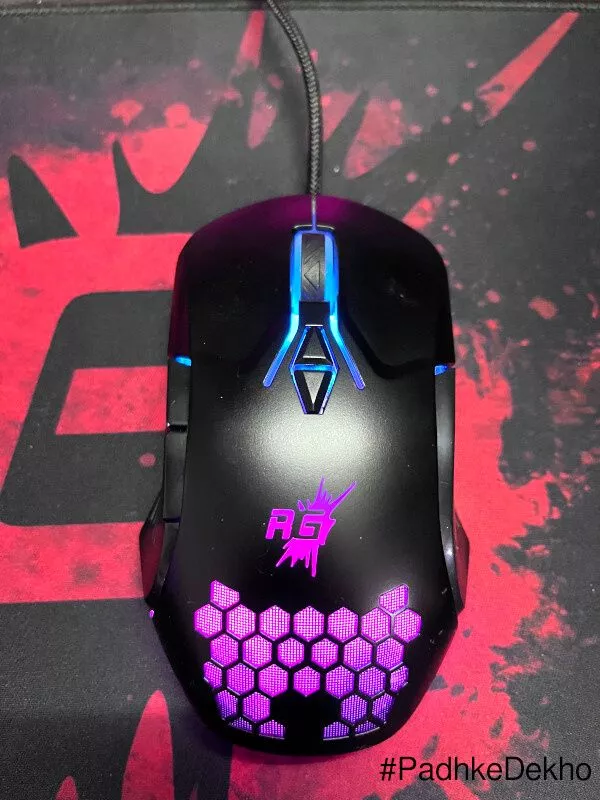 Most of the consumer mice are made of plastic and Redgear A15 is no exception. The overall build of Redgear A15 is quite sturdy. In day-to-day use of holding and leaving the mouse, you will feel none. Though, there is some amount of panel squeaking if you deliberately try to push harder.
On the other hand, the buttons & scroll wheel are quite good. In 1 month of testing with games and working on video editing you can understand how many clicks must have done on a daily basis! The buttons do not wobble which is a good thing as we have seen gaming mice that do not feel this good.
Another good thing about Redgear A15 is the braided cable. It's thick than most wired mice and is long enough. It's approximately 1.2 meters. Also, the USB connector is quite strong. Though not gold-plated.
So in terms of built quality, Redgear A15 is quite sturdy for the price. Hence, 8/10.
Looks
Since the introduction of RGB, it's been easy to identify the mouse type. I.e. is it going to be work-centric or gaming? Without a doubt, the Redgear A15 design is flawless. It looks & feels like a gaming mouse. It's not like Redgear added RGB and called it a day!
All the cuts, creases, buttons, and RGB inside makes it look many folds more expensive than the sale price. We really liked the way RGB flows below the left and right click, travels from the sides by making an arch and then glowing RG logo, and finally the biggest source of RGB; honeycomb design.
To be honest, Redgear A15 is the nicest-looking RGB mouse that you can buy for under 1000. On a scale of 10, we would give it 9.5.
Comfort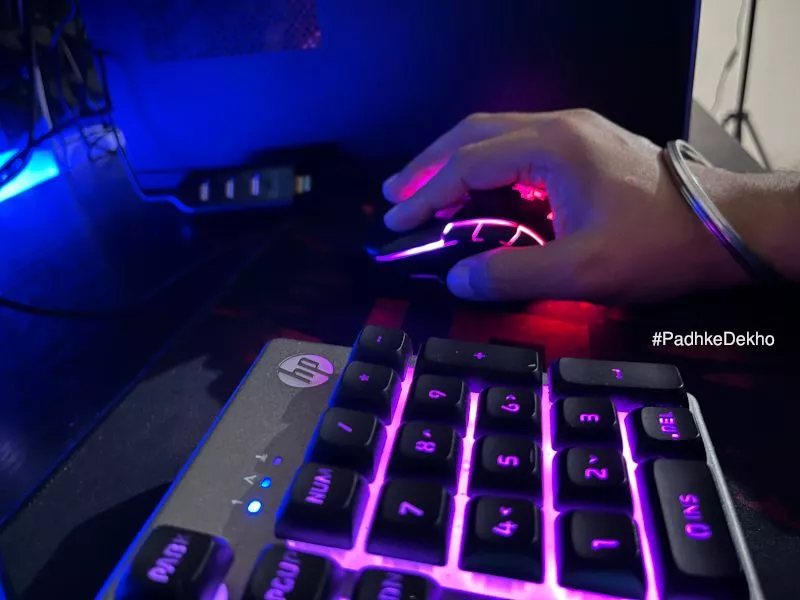 The mouse is one of the products which connects instantly with the user. Just like the magic wands chooses the owner in Harry Potter Movies!
The Redgear A15 gaming mouse is designed for people with medium to large hands. You can easily rest your fingers, palm, thumb, and pinky finger! Since my primary driver is HP250 wireless mouse (review) which is fairly bigger than the many Logitech mouse in this range.
The buttons have a large area and feel responsive to touch. Even the slightest press will trigger the click. This is a nice thing for gaming and video editing. Also, the bigger area means someone with normal hands can also use it.
My niece is 13 years old she could use it for a painting competition. So no complaints there. There are no rough edges that can hinder your experience for long time use.
I daily spend about 9 hours using this mouse and did not experience any issues either with the button clicks. One more thing, the button click is not loud.
If you will use it at night and you share the room with someone, the other person will not complain (Tested!)
So for comfort and usability, Redgear A15 gets 9/10.
Redgear A15 Gaming Mouse Review – Features
#1 Up to 6400 DPI: if this is your first time with a high dpi mouse then you can take it as an ice hockey machine in a mall! In short, the mouse glides on the mouse pad which ultimately gives a faster response time that can decide whether you took the shot or got shot!
Generally, mice of this price segment can go up to 1200 DPI which is already quite fast. This Redgear mouse takes things to the next level.
Other than the advantage in gaming, fast mouse movement means you can easily glide on your 24 or 27-inch monitor without moving the mouse too much. Resulting in less or no pain for continuous use.
#2 All LED Setup: The best aspect of this mouse is the looks thanks to the breathing LEDS all over the top. It does not feel overly done or insufficient at night. Sets a great combination with an RGB keyboard and table RGB.
There are a total of 7 types of LED styles to choose from like DPI, Multicolor, Rainbow, Flow Light, Waltz, Four Seasons, and Off. However, there is no constant color mode it will stay breathing.
During testing, we did not find a single LED beacon to break out and reflect on the roof of the room! Good job there Redgear!
#3 7 Control Buttons: There are 7 buttons and each is customizable to the user's needs. Even left and right buttons can be swapped. This budget mouse takes button key customization to the next level for the price. The only caveat is the customization of buttons is only possible in Windows.
#4 Long & Braided Cable: Depending upon your space or computer setup, your CPU might be on the table or below. Ultimately resulting in distance from the USB socket. Redgear thought about it already hence they offered a long 1.2-meter cable that is braided very well.
This cable will help longevity and a better aesthetic on the table. So that you will have more space to move your mouse comfortably.
Can we use Redgear A15 on Non-Windows Computer/Laptop?
Well, yes and no!
Why yes? Because you can control the DPI and LED lights from the mouse itself. The middle button or scroll wheel works as a copy-paste button. Just selecting the word, considers it as ctrl+ c. The lower button will navigate the current web page to the home page of the browser.
The up and down buttons allow a few functionalities too.
Pressing the up and down arrow will let you change the DPI. The DPI means dots per linear inch. The rule of thumb here is; the higher the number the less you need to move the mouse or the faster the pointer will react.
DPI on Redgear A15 is color coded hence the image below needs to be addressed. Once you have decided which DPI option you need, navigate to the specific color using the up and down button.
Once you have selected one, leave the button and It will be activated by blinking the same color 4 or 5 times.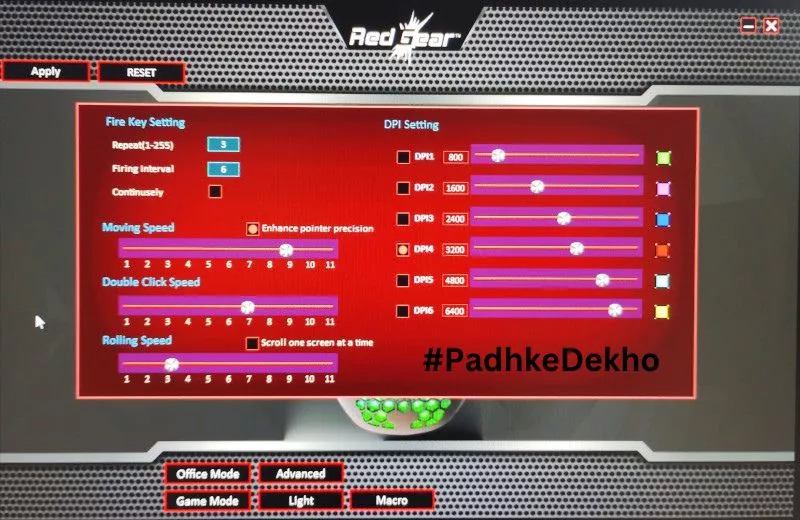 Why this mouse is not good on other OS than Windows? Because you cannot customize the buttons or LED color combinations. Forget about dual modes like work and gaming re-mapping controls. Also, you will not be able to turn off the RGB.
Because Redgear A15 Gaming mouse software is only supported on Windows. So, if you don't have Windows then you will only be able to change the DPI from the mouse.
Redgear A15 Gaming Mouse Worth it?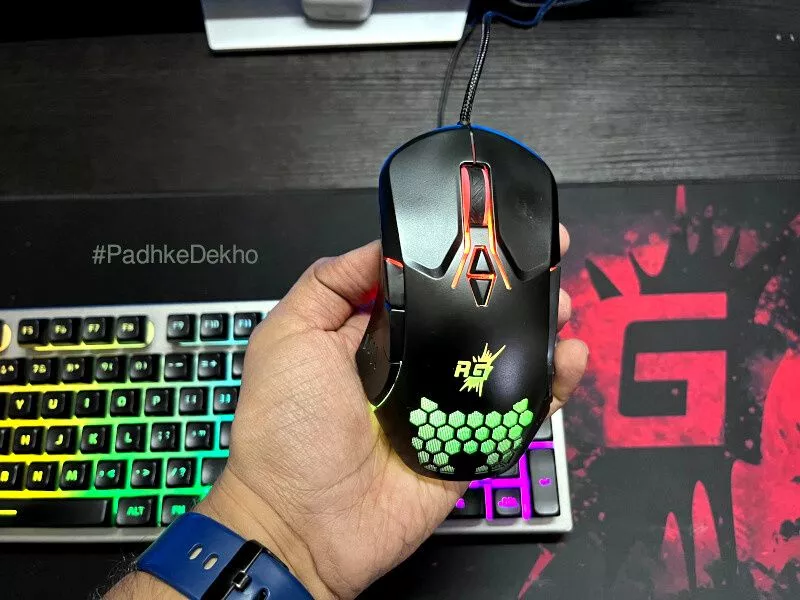 Under 600 Rs you can get a mouse with RGB however getting the features that Redgear offers is quite hard. For context changing DPI from the software, customizing the RGB Setup, re-mapping buttons separately for games and work, etc.
If you leave aside the RGB and gaming for a moment, you should also know that the mouse is quite sturdy. We game casually but work a lot and in the last 1 month, this little mouse has been "really tested" so we all give our approval for it!
We really liked the button's feedback while gaming or working. The clicks are not very loud which is great. The scroll wheel is smooth but it's not Logitech levels silent. Moreover, the braided cable is a nice addition to the price. It really enhances the look.
So to answer the question, yes Redgear A15 Gaming Mouse is worth the price if you have a Windows computer. Otherwise, you'll have to compromise on some features that we shared above.
Just the lack of support for macOS and Ubuntu limits us to test the customizability but still, we will give it an overall score of 8/10.
Wrapping up!
After 1 month of testing here's our Redgear A15 Gaming Mouse Review. We hope it will help you make a better-informed decision. Got queries? No problem! Just ping us on any social account below, and we would help you choose the best product!
Feel like supporting honest and genuine content? Then please use the below Amazon button to order one for yourself. We might earn a small commission at no additional cost to you. Thanks for your support!
Redgear A15 FAQ
Is Redgear A15 RGB Static or Breathing?

On Redgear A15 the RGB is breathing. You can either have breathing mode or turn it off from the software.
Is Redgear A15 Lightweight?

No, it's quite a heavy mouse. Since the DPI can go up to 6400 the pointer moves fast and with precision.
Does Redgear A15 Works on Ubuntu or macOS?

Yes, you can change the DPI from the mouse. However, customizing the buttons is only supported on Windows.
Are The Buttons Customizable?

Yes, all the keys even the left & right mouse keys can be mapped to other features as per your liking. But only if you have a Windows computer/laptop.
Does Redgear A15 Has Plug and Play Option?

Yes, Redgear A15 has plug and play option.