If your work also demands navigating between many devices like a laptop, tablet, or a PC simultaneously then the odds of you being tired navigating between the devices. We understand this situation as we are sailing the same boat! We have ordered a few mice and this one is the most unique and impressive. Here's our Portornics TOAD 2 Review.
Why is it so special? It can connect to 3 devices, yes, that's right, 3 DEVICES through which you can easily switch! The overall size is compact and pocketable. And there's a lot to talk about.
So, should you Portronics TOAD 2? Well, it depends on many factors. Let's talk about those. Here, we've talked about the Pros & Cons, Built Quality, Looks, Features, User Experience, Battery Backup, and finally our verdict with other recommendations.
PadhkeDekho.com is supported by readers like you. Buying anything using the Amazon links on this website helps us earn a little commission on qualifying purchases. Be assured you will not be charged a penny extra.
With that said, Welcome to PadhkeDekho, and let's get started with the Pros and Cons.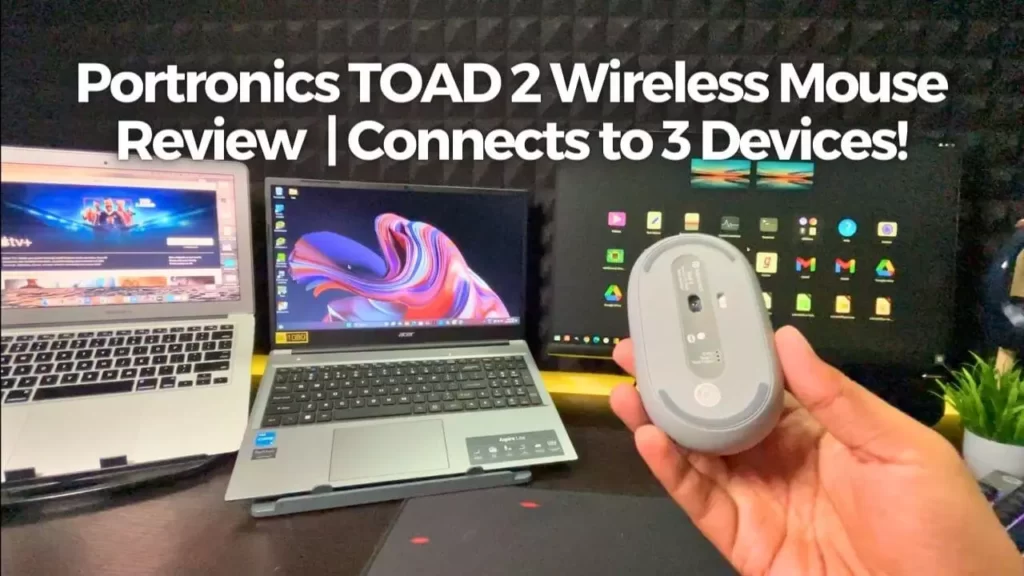 Box Contents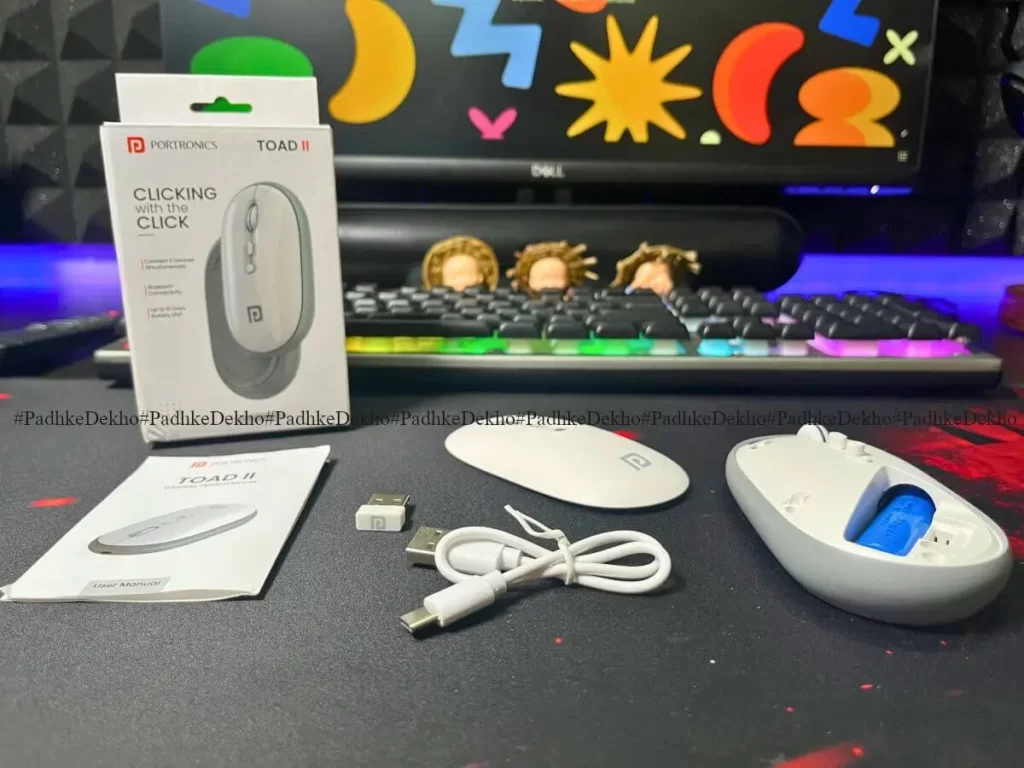 So the box contains;
1: User Manual in English
2: USB Nano Reciever (In the Mouse)
3: USB-C Charging Cable
4: Mouse Itself
5: Register Your Product Card (Lost Before Clicking!)
And that's about it. Hence, the unboxing experience is very similar to products of a similar price range. People at Portronics if you are reading please add a seal on the box, it will build up trust with your new buyers.
So here's our 8/10 for Portronics tord 2 Box contents.
Built Quality
The overall build of the mic is plastic which is quite understandable keeping in mind the price. But how good is the plastic built? Does it squeak? rough panels? Nothing like that, the build is quite good.
Even if you apply some pressure you will not hear any squeaking noise on the mouse surface. Since the top is a convertible, it does squeak a little. Why does it open you might ask? Well, there's a USB NANO dongle that is kept safely.
So when you feel like making 1 device as default or fixed then you can take it out and plug it in.
The mice seem durable. The button clicks offer a large area and the response is quite good. Most mice that we've used do not offer a soft and less noisy scroll wheel, and this Portronics TOAD 2 has helped us with that!
Hence for built quality, Portronics TOAD 2 gets an 8.5/10.
Looks
Portronics TOAD 2 is not a regular type of wireless mouse. Its compact nature and quite flat design help many people out there. However, I prefer full-size mice like the Lenovo Legion (Review) & Redgear A-15 (Review).
After spending a few days with it, I started enjoying using compact mice as well. Because compact and small form factor mice help in many things. To start with, it's quite easy to take along. In fact, can be used on the go.
Looks can be deceiving; in the above picture it looks "similar" to Redgear A-15 but here's another image. This white dotted line depicts the height of the HP K500F full-size keyboard with num pad (Review) which is an RGB keyboard under 1000 Rs! Mind you, the keyboard raisers are not open in this image! See how low the mouse is!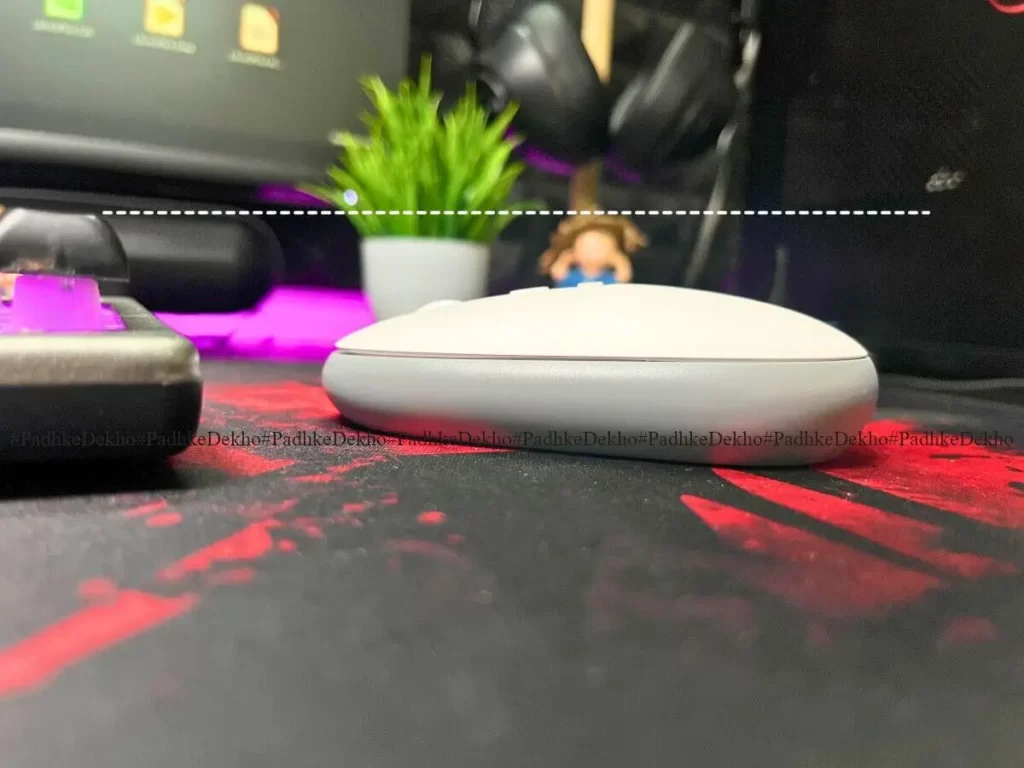 As far as design goes, it comes in dual dual-color combination of White and Grey color. However, the brand calls it Grey! The top body is pure white which is matte and does not reflect or is glossy which is a good thing. As scratches will not be easily visible after months of use. Also, you will find the Portronics logo in Grey which goes very well and does not look cheap.
While the bottom is all Grey. This color combination is quite good and seems professional.
Hence for looks, the mouse looks good and expensive. You can easily take it office and it will certainly blend in. Because looks like a regular IT peripheral. Therefore, Portronics TOAD 2 gets a solid 9.5/10.
Features of Portronics TOAD 2?
#1 3 Device Connect: As we said in the beginning; it can connect to three devices. Below we've shared how you can connect 3 devices. We've also bought HP as well as Dell Duaandmouse and they only connect to 2 devices. So Portronics went ahead and took the bigger pie of the cake!
#2 Changeable DPI: Portronics TOAD 2 offers 3 DPI options 1000, 1200, and 1600. On their website, they show 5 DPI numbers that can be easily understood as 5 options. Whereas, they are just showing a meter and the marking starts at 1000 DPI. So, the mouse has 3 DPI modes to choose from with the push of the small circular button below the scroll wheel.
#3 Chargeable Mouse: Unlike other mice, this one comes with a recharge battery that can charged with the USB-C cable. To be honest, this is quite a unique feature at this price range. We will talk about more in the Battery section below.
#4 Show Desktop Button: This is also a unique feature. With just one push of the oval button, it will take you to the Desktop while minimizing every application or folder's open. It can also be useful if you don't want others to peek into what you are doing.
#5 Compact & Travel Friendly: Thanks to its design this mouse is quite compact & lightweight at around 82 grams. It does not require much space like a full-size mouse. Moreover, I was traveling and had a good time on a flight with my tablet and mouse on the tray/shelf!
#6 1-Year Warranty: Many generic mice around Rs 500 do not come with any brand support. Whereas, Portronics offers a 1-year warranty on product design, features, and functionality-related faults.
Hence for features, Portronics TOAD 2 gets a good 9/10.
Truly Portronics TOAD 2 Can Connect to 3 Devices?
With Portronics TOAD 2, you can connect three devices in total and switch between the devices with just one press of a button. The mouse comes with a USB NANO receiver that you can insert in your fixed device like a computer or laptop. Whereas, the two other devices are connected via Bluetooth 5.1.
On the back of the mouse, you will see 2.4G, Toad ||, Toad || Plus. What does this mean? Well, it means, the first device is connected via the USB Nano receiver. It can be a PC or a laptop. Toad || means the second device or first Bluetooth device that you would pair. Whereas, Toad || plus means the third or second Bluetooth device of your choice.
So that's how you can connect three devices.
How to Pair 3 Devices to Portronics TOAD 2?
Let's say the first device you wish to pair is a PC that does not have a Bluetooth option. Or a laptop with broken Bluetooth drivers.
Here, you can connect the USB NANO receiver to the USB slot of your device and just turn on the mouse from the back. It will automatically pair within seconds. We've tested it on Windows 7 above, macOS (Catalina Above) and Ubuntu (18.04 above).
For the first Bluetooth device, you have to make sure where would you like to pair it; whether it will be Toad || or Toad || plus. Let's say you wish to pair your laptop on Toad || mode. For this to happen. Press the white button on the back of the mouse marked with a Bluetooth logo.
The LED will change from Red to Green and blink quite slowly. Now press and hold the Bluetooth button for 2 seconds, it will increase the green blinking speed which means the mouse is looking for a Bluetooth connection. Here you will go into your laptop settings and pair it with a TOAD 2 wireless mouse.
Now two of your devices are connected; One via USB Receiver and the other via Bluetooth. But 1 more Bluetooth device can be paired. Let's do that!
Here you will need to repeat the step; of pressing the Bluetooth button on the back and navigating into Toad || plus mode. Now the LED will turn from Green to Blue and blink slowly.
Again press and hold the Bluetooth button for 2 seconds and the Bliw glowing LED will pick up pace which means the mouse is looking for the 3-device or 2-second Bluetooth device. Pair it up and all your devices are connected.
How to Switch Between The Connected Devices on Portronics TOAD 2?
Now, you know how to connect 3 devices to Portronics TOAD 2. But how to switch between the devices? Well it's quite simple; lets have a look.
Let's take the first device as a PC which does not offer Bluetooth pairing. Here you can connect the Nano USB port into any USB 2.0 or 3.0 on your computer and it will connect. Just make you sure to turn on the mouse.
Lets move to the first Bluetooth device it can be a laptop or a tablet. Lets assume its a laptop.
Turn the Bluetooth on your laptop incase if its off and just press the Bluetooth button on the bottom part of the mouse. It will turn Green from Red meanss it in the Bluetooth mode and switched to first Bluetooth device.
To switch to the third device, all you need is to press the Bluetooth button again on the bottom and the LED will change from Green to Blue resulting in successful switch to device 3 or second bluetooth device.
With the push to the Bluetooth button you can switch between the devices.
As far as our 1 month with this mouse, we liked the switching speed which almost instant.
So let's talk about the user experience after 1 month of testing!
User Experience
You will be buying this mouse for multiple device connections and switching. Fine! What next? Good buttons click and smooth panning around? Good DPI? What next? Portability; that will make it more versatile and use anywhere. Let's talk about all of these.
Three device switch is a good initiative and we totally liked it. But, why is the button placement on the bottom? It's a little uncomfortable as to turn it around and change the device back and forth, as per your need.
So this makes TOAD 2 a bad deal? No! We've also bought Dell mouse as well as HP one and both cost 3 times the Portrnoics and offer switching devices from the bottom.
So this is not a deal breaker but certainly could've been better. Infact, one more button on the top would have done the thing!
What about the button clicks?
Well, the buttons clicks are not loud. They sound soft and do not disturb much. Ive personally tested it at home as well as office. It its not loud mouse like the cheap ones under 400 Rs sound.
So they are super silent? No! A button click has a click sound which is not very loud neither silent. On the scale of 1-10 where 10 is the loudest and 0 the silent its around 4.
The mouse offers 3 DPI to choose from. Starts from 1000 then 1200 and finally 1600. These are useful for different tasks. With time you will get used to.
For context, lets assume you are a photo editor you will need more precision then speed. So you can switch to 1000 DPI and work.
Are you video editor, who needs to pan in and out in the timeline? Here you will need more speed. So sticking to either 1200 or 1600 is going to be helpful.
The 1600 DPI is for those who switch between many apps on many devices and want to move more with less mouse movement.
So Portronics TOAD 2 does it very good. Just one thing, if there was a DPI color or LED like we see on Redgear A15 mouse it would be easy to know in which DPI mode you are. Here on TOAD 2 you have to manually check by playing with the mouse a little.
With all these in mind, Portronics TOAD 2 is a good wireless mouse under 800 Rs. packs in quality and hardware features to choose from.
Hence, 8.5/10
Battery Backup & Charging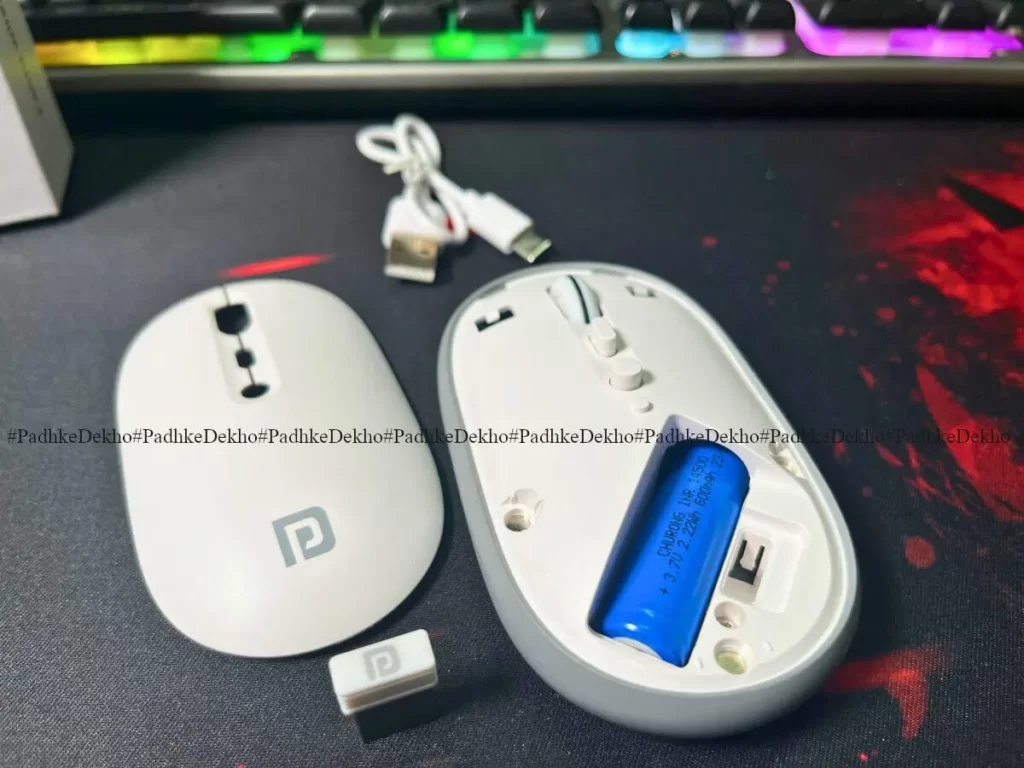 Portronics TOAD 2 does not come with a replaceable battery. Instead, it has an inbuilt non replaceable one and charges via USB-C. This is certainly unique in this price range.
So how would you know that your Portronics TOAD 2 needs charging? How long will it work? Well, to answer the first question; it will simply stop working. During our testing or even today, it does not give any warning or low battery indication (or if given it's totally missed out; we will update it after using it for even longer).
To the second answer, let's first have a look at what the brand claims. The Portronics TOAD 2 can be used for up to 10 days. Whereas, on the Portronics website it says up to 7 days of battery backup. Which one is right?
Well after a month of use, we have the real-time figures with you. Let's have a look.
if you will be paired with 3 devices and switching between these quite a few times every day and use the mouse for about 5 to 6 hours, then you can expect anywhere between 8 to 11 days. This is good keeping in mind the multiple devices are connected and switching does not take more than 1 second.
Let's say you are using only two devices and switching between them quite rarely, then you can expect around 15 to 20 days of backup. Again not that bad!
And lastly, let's say you are just using it as a normal mouse with only 1 device that too via USB receiver or 2.4 Ghz mode then you can experience about a month of battery backup.
What about charging?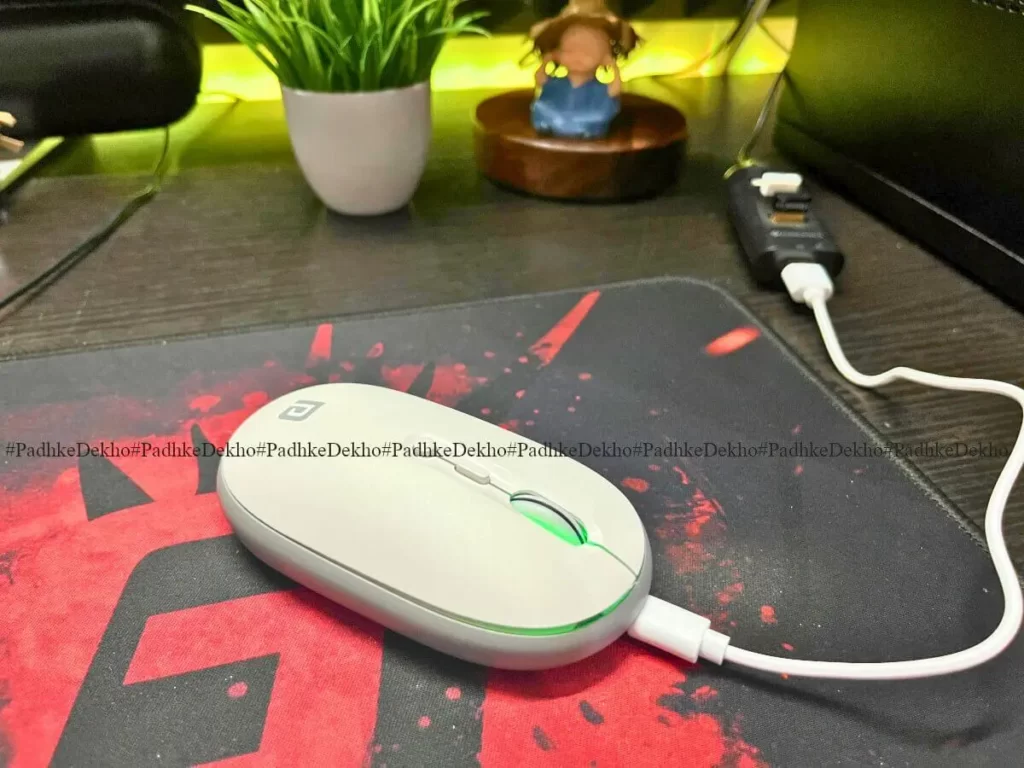 In the box, you are given a USB-C cable that can be used for charging. Just insert that with your Type-C Charger and the mouse will be ready in about 1 hour.
If you wish to charge it with your laptop when you will be using the trackpad it will take a little over 1 hour and 40 mins.
So as per the battery backup and charging, we are more than satisfied with the results and we can happily recommend it to you!
Should You Buy Portronics TOAD 2 Wireless Mouse?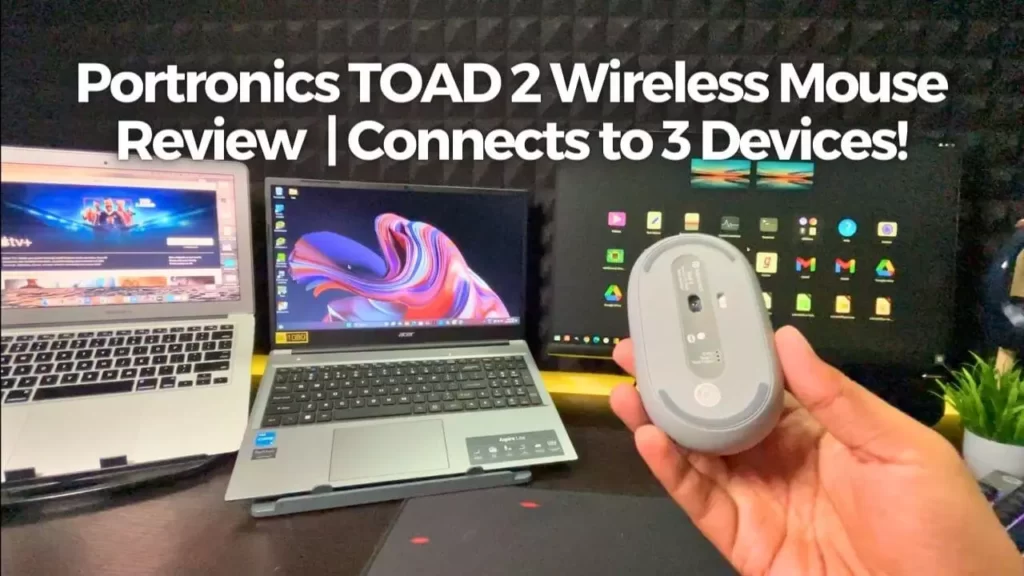 Portronics TOAD 2 is a good mouse under Rs 700. Why? Because the build it offers is impressive. It does not squeak at all. Buttons clicks are moderately soft and a light click is always heard. The scroll wheel moves line by line which makes it great for reading e-books.
As far as looks go, the White/Grey combination makes it look premium. if you have a Macbook or Grey/Silver laptop it will go very well with it. Totally office-approved; clicks do not make a lot of noise and will not disturb even you!
The device is very compact and makes it ideal for traveling. It does not take up much space in the backpack. if you are looking for one that is compact, then you should check out Portronics TOAD 2.
3 Device Connect is a wonderful feature and works very well. If you have read the how-to above you will not be needing any video to know it. Though the overall process is quite streamlined, first-time user who has never used a mouse with dual connectivity will find it a little techy. This mouse has a lot of features above its sleeves that make it even better.
The changeable DPI option is a great one as well. With one button press, you can switch between 1000, 1200, and 1600 DPI. However, you have to guess which DPI option you are on. Some notification on the monitor or software or some LED on the mouse would've improved it.
So should you buy one? Yes, you can certainly pick it up if the above pointers suit your needs. Portronics TOAD 2 is a good option if you are looking for a wireless mouse that can connect to 2 or more devices and can switch between them.
Portronics TOAD 2 Has Some Limitations too!
If you have bigger hands you need some time getting used to the compact form factor. Most part of your hand will be resting on the mouse pad! Which you might like or not like!
Second, it can go up to 1600 DPI, but still, it's not enough for gaming. Hence for gaming needs, stick to a wired RGB gaming mouse like the Lenovo Legion M200 (Review), or the Redgear A-15 (Review).
The third point is the ergonomics. Sure, everyone will like the "DPI change button" or even some will like the "go to desktop button" but the main purpose of the mouse is multiple devices connect.
There should be a dedicated button on the top instead of the bottom, that you will need to press to switch between paired devices. Though it's not a big issue, as mice double or even triple the cost do it like this.
So to sum up, Portronics TOAD 2 is a great wireless mouse that can connect to three devices. Hence if you are looking for one, it can get the job done.
| Brand | Model No | Feature | Amazon Link |
| --- | --- | --- | --- |
| Dell | MS3320W | 2 Device Connect || Optical Sensor (No Red LED on the bottom) | Check Price |
| HP | M300 | 2 Device Connect || Optical Sensor (No Red LED on the bottom) | Check Price |
| Portronics | TOAD 2 | 3 Device Connect || Compact || Only 89 Grams | Check Price |
| Portronics | TOAD 3 | 3 Device Connect || 7 Buttons | Check Price |
Wrapping up!
There you have it! Here's our Portronics TOAD 2 Review after a month of testing. if you have any questions or queries then feel free to ping us on below given social accounts. We love to help as much as we can.
Did you like what you read and feel like supporting local content? Then please share the article with your friends and family who might be looking for a genuine review of the product. Additionally, you can buy the product using the Amazon link below. It will help us earn a little commission at no additional cost to you. Thanks for being a patron!
Portronics TOAD 2 FAQ
Portronics TOAD 2 Bluetooth Version?

Portronics TOAD 2 Bluetooth version is 5.1
How many devices can be connected to Portronics TOAD 2?

3 in total; 1 via the USB adapter & 2 via Bluetooth. Here, we;ve explained how you can do that. Tap now!
Does Portronics TOAD 2 come with warranty?

Yes, Portronics TOAD 2 comes with 1-year manufacture warranty.
How would you know that Portronics TOAD 2 Needs charging?

Well, it will stop working! if you turn it around you will see it will block a few times and go off. That means it has no power to work. Put it on charge. Good thing, you can still use the mouse even if the battery is charging.