[Updated on July 24, 2023] It's been 5 months since we've been using this gaming mouse, and have to say it's quite a good mouse. The buttons are responsive, the LED setup is quite different and looks cool. Totally worth it gaming mouse. Back to Lenovo Legion M200 Review!
New gamers start with budget gaming peripherals and there is nothing wrong with it. In fact, we restarted our gaming journey with a Redgear A15 wired gaming mouse (review), and it's also good.
But getting a mouse that is gaming-centric from a brand like Lenovo surely raises eyebrows! So in this Lenovo Legion M200 review, we have explained whether it's a good gaming mouse or a great one!
Here we've talked about the pros & cons, built quality, look and feel, features, user experience, and our verdict & Other recommendations.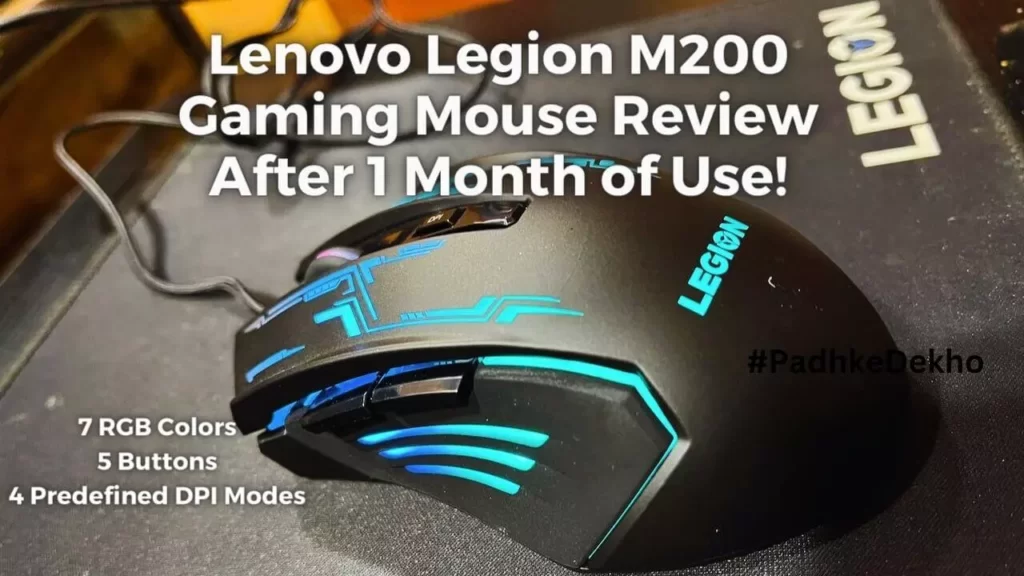 At PadhkeDekho we buy tech products use them for at least a month and then share them with readers like you. This achieves our motive of helping readers like you make a better-informed decision.
As a support to us, you can check the product on Amazon using the links on this page. It might let us earn a small commission from Amazon at no additional cost to you. Thanks for your support!
With that said, let's begin the Lenovo Legion M200 wired gaming mouse review with the pros & cons.
Lenovo Legion M200 Pros & Cons
Pros
Good Built Quality
Buttons Clicks Are Precise & Light to Tap
The Design is Comfortable For Long Use
The Cable is Braided & Long
USB Socket is a Gold Plated One
RGB Setup is Neat
7 RGB Modes
Up to 2400 DPI Which is Decent
Side Buttons Are Well Placed & Responsive
No Software Required
3 Years Warranty
Cons
It's always RGB; you cannot set one color all the time
Lacks Customizations (No App Support)
Built Quality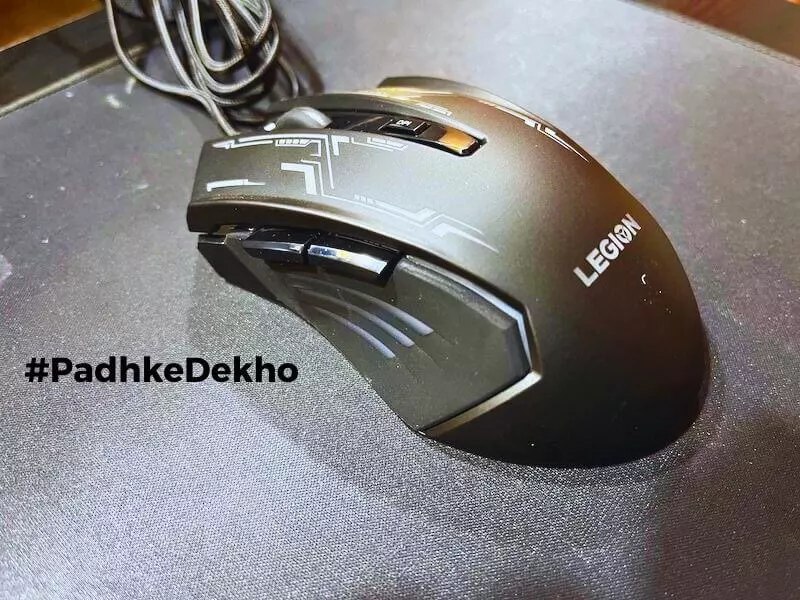 Keeping in mind it's an entry-level model from the Legion lineup, it still feels quite sturdy. In our 1 month of testing, we did not find any panel squeaking or flimsiness. The same can be said for the buttons.
They have a big surface area and pressing anywhere on the button addresses as a click. For testing, a teenager used it for some time and gave us positive feedback. This gives us assurance that people with small hands can also use this mouse.
What about the side buttons? Well, they are also decent-quality ones. We used them a lot in gaming as well as in day-to-day tasks of navigating between folders quite easily.
We were also impressed by the braided cable and the gold-plated USB plug. Wish it was real gold! Anyways, it gives a premium look for sure.
So, for the built quality we would give Lenovo Legion M200 a solid 9/10.
Look & Feel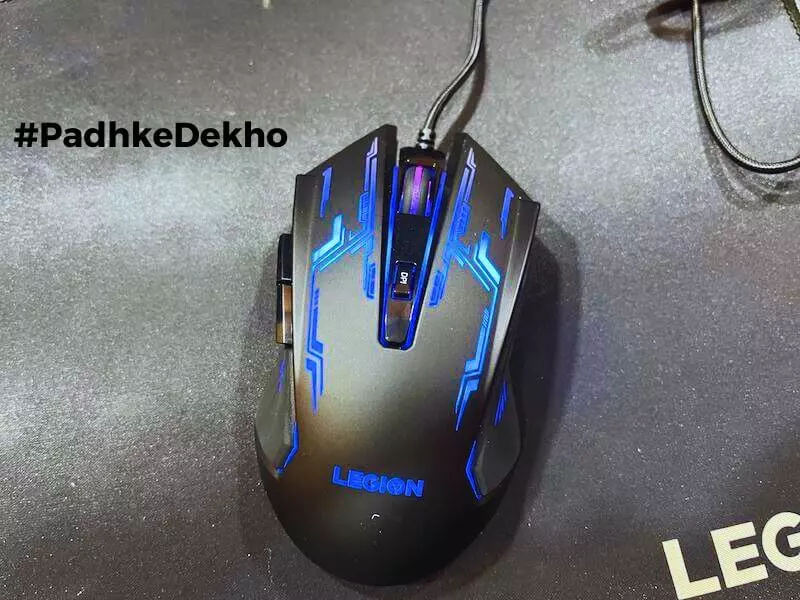 At first look, the mouse looks like a gaming mouse. The cutouts which look like "guns" hold the RGB lights. Secondly, the inverse design with the side buttons. Then comes the RGB branding of Legion by Lenovo. So aesthetically it is a good-looking gaming mouse.
And the icing on the cake is the matte design all over. It just adds more value to it.
RGB lights are a major contributor to the looks. At night, the RGB looks dope! However, in the daylight, it feels dimmer. It's actually a case with many RGB-powered mice, so no complaints there.
if you are looking for a gaming mouse under 1000 Rs, then this is certainly a good-looking option. Hence, 8.5/10.
Features
Gaming-centric mice have a set of features that make them apart then a regular mouse. Let's have a look at the Lenovo Legion M200 features.
#1 Changeable DPI: Having a mouse that can change the DPI as per the user's needs is the most important thing for gamers or even content creators like video editors. Because it helps to move quickly and with full prediction.
Be you are gaming or working on a long video where you have to pan and move a lot, with this mouse you get 4 DPI presets that you can choose from. More about it in the user experience section.
#2 RGB Modes: RGB lighting is standard for all gaming peripherals. Be it a mouse, keyboard, or even mousepad! Some people hate it while gamers appreciate it as it visually enhances the look in dim lighting. This mouse takes the RGB to the next level with a total of 7 colors of automatic switches within seconds.
#3 Customizable Buttons: Unlike traditional mice that come with 3 buttons, this one packs in 5 buttons; left-click, right-click, DPI switch in the center, and up and down buttons on the left side!
What use do these 2 buttons have? Well, you can set these as per your liking via the key mapping option on your Operating System. This really helps to pick up a pace if you need it!
#4 Braided Cable & Gold Plated: You might be wondering why this point in feature. Well, it's because it's meant to be. Usually, the cables on budget mice are not this good. Sure some offer braided cable but still not as long, and thick, and with a Velcro to tie the rest is simply amazing.
What makes it even better is the gold-plated USB socket. It really gives the impression that Lenovo wants you to feel premium/important without spending so much on it.
#5 Lightweight: This is a full-size mouse which means it has to have some weight otherwise it will move here and there and you will miss the shot. Not good if you are going for a headshot!
Lenovo has surely added some resistance so it does not glide on the mousepad but it surely gives precision. At 150 Grams it's not the lightest but surely doesn't feel that much while using it.
For features, we can give it 8/10.
User Experience
Okay, the most controversial part for any mouse. On paper, some devices are so good to be true but when you put your hand's on you relieve something else. Fortunately, we were quite happy upon using it.
First of the mouse is plug and play, you just plug in the USB and wait a few seconds so that Windows can identify and look up any drivers if they are needed. On Ubuntu and macOS, the plug-and-play is almost instant and the RGB starts glowing!
By default, the mouse comes at the lowest DPI setting and you can feel it slow like any other fixed DPI mouse. Pressing the DPI button will move to the second stage, which improves the speed. You get two more options but the 4th one is where you will stay most of the time!
Another beauty of the Lenovo Legion M200 mouse is the no-app support! This means you can immediately change the DPI settings instantly. And once you are done finding the best DPI you can move to your favorite game and change the controls and being the up and down button alive!
Should You Buy it?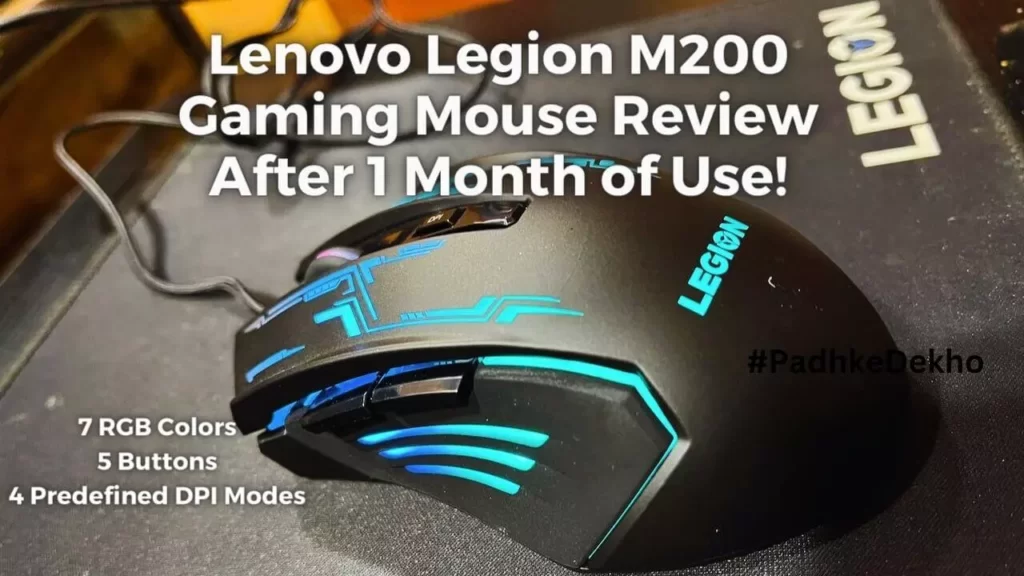 Okay here are a few things that you should know. First is it good for gaming? Yes! So, is it the best choice for gaming under 1000 Rs? Then no!
There's a fine line between good and best, that's why we put it as good, not best. Because under 1000 Rs we've tested more than 5 gaming mice and you have better options. For context, Redgear A15 (review), can go as high as 8400 DPI which is many folds ahead.
So why Lenovo Legion is good? Because it's an overall package. It's more compatible thanks to no third-party app download, and feels best; premium, not the highest when it comes to DPI, but weight goes in its favor, and the gaming experience is good.
Alternatives?
In the last few months, we've developed an interest in gaming and keep on testing budget gaming mice. Here are 5 other options that you can try. We will be publishing the detailed reviews very soon.
Wrapping up!
There you have it, folks, this is the Lenovo Legion M200 review after 1 month of testing. if you have any questions or queries then feel free to comment below or ping us on any social account below. We love to help our readers.
Liked the review and want to support genuine content? Then please use the below Amazon button to make your purchase. We might earn a small commission from Amazon at no additional cost to you. Thanks for the support!
Suggested Articles!
Lenovo Legion M200 F.A.Q
How to map keys in Lenovo Legion M200?
Since there is no software support, you have to do it manually using Key mapping on your PC or laptop Operating System. Alternatively, you can map keys using the native game's control settings.
Lenovo Legion M200 worth it?
Yes, it's a good overall package. It's durable and we've been using it for more than a month and have not faced a single problem. Here's our detailed review. Tap now!
How to change the DPI on Lenovo Legion M200?
Just press the DPI button