[Updated on July 21, 2023] It's been 7 months since we've been using this USB dongle. It's good for faster speed and better range. Though, Linux (Ubuntu) shows less signal reception the real internet experience is lag-free. This gets our approval. Back to the TP-Link N150 USB Dongle review!
Do you have a laptop with a broken network driver that is stopping you from enjoying Wi-fi? Or your PC is old and does not come with a wireless connection to the internet?
If yes, this USB Wi-fi dongle can help you connect your Windows/Mac/Ubuntu computer to the wireless internet. Our TP-Link N150 USB Dongle review is all you need for a stress-free life!
At PadhkeDekho, we buy products and use them for more than a month before publishing our reviews and comparisons. This gives our readers added value instead of repeating the marketing "mumbo jumbo". Hence, you can trust the opinions shared by our editorial team.
As a support to us, you can buy the USB dongle using the below Amazon links. We might earn a small commission at no additional cost to you.
So that being said, let's begin the TP-Link N150 USB Dongle Review with Pros and Cons. Inbox contents, Specifications, Features, Compatibility & User Experience, how-to-use, and our verdict.
if you got questions or doubts do reach us on below given social accounts, we love to help our readers!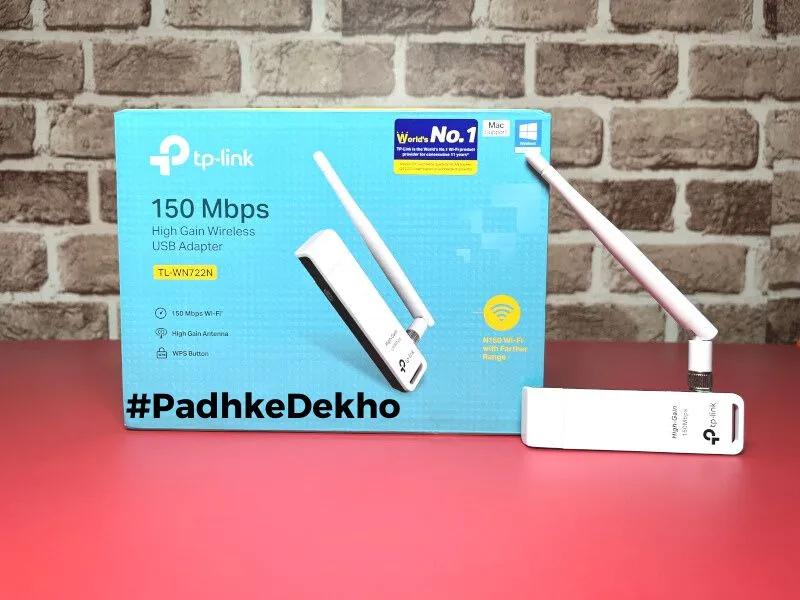 TP-Link N150 USB Dongle Pros & Cons
In-Box Contents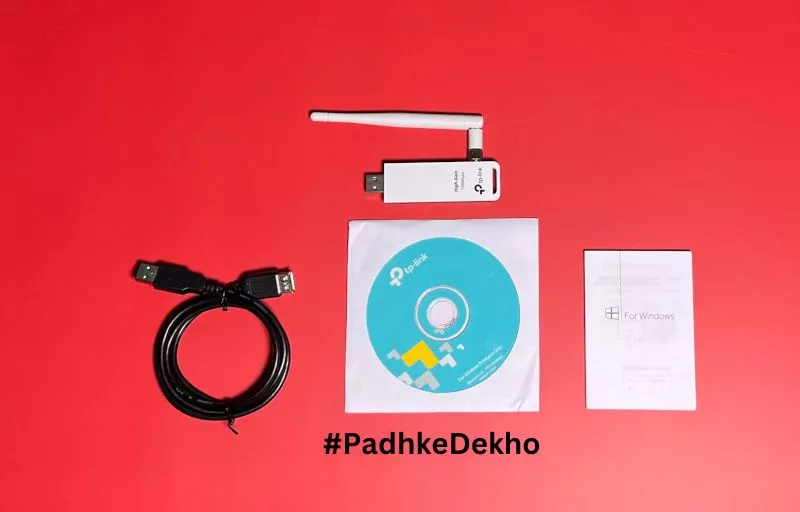 TP-Link N150 USB Dongle Specifications
| Feature | Value |
| --- | --- |
| Max Speed (Mbps) | 150 |
| WPS Present | Yes |
| Compatibility | Windows 11/10/8.1/8/7, Mac & Ubuntu (22.04/24.10/18.04) [Tested] |
| Model Number | TL-WN722N(US) |
| Plug-and-play Supported | Yes |
| Interface | USB 2.0 |
| Security | WEP, WPA/WPA2, WPA-PSK/WPA2-PSK |
| Best Buy Link | Amazon |
TP-Link N150 USB Dongle Review
TP-Link N150 USB Dongle Features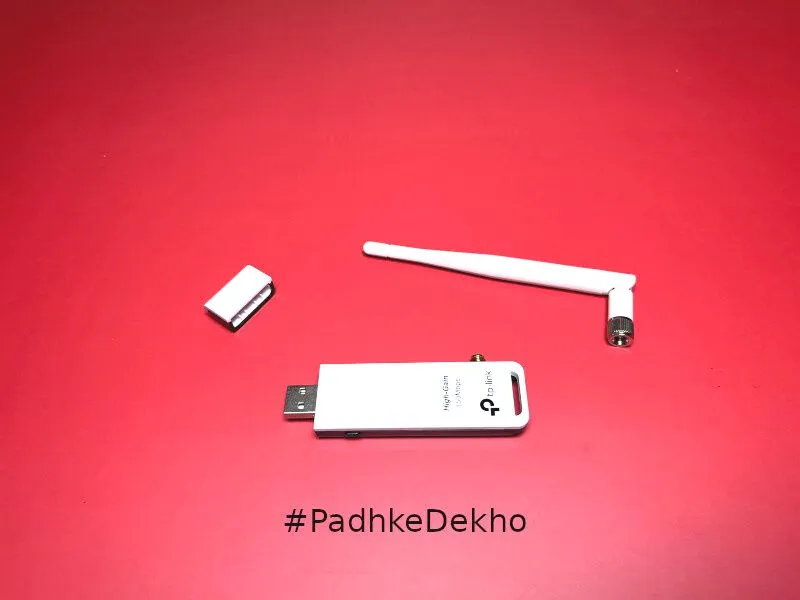 #1 High-Gain Antenna: This is the biggest USP of this wifi dongle. If you are a little far off from the router the high-gain antenna can help you gain more speed.
Though it might not show that in the notification panel but do a speed test or general browsing, and you will feel the difference.
#2 Detachable Antenna: Unlike some USB dongles, this one has a detachable antenna. This means if you are close to the router you can remove it. As it will take less space behind your PC or/in your personal space with a laptop.
#3 Up to 150 Mbps Speed: It might not appeal very high if your bandwidth is high but someone who is using a mobile hotspot will appreciate this high speed. Generally speaking at present 4G in my area can get me around 20 MBPS. So anything above 40 will be great!
#4 WPS For Easy Login: Sometimes people don't feel like sharing Wifi passwords not because they don't feel like sharing but because sometimes the password sounds funny!
To avoid this situation, you can bypass the need for a password thanks to the WPS login on TP-Link 150 High Gain antenna!
#5 Maximum Device Support: With TP-link you can rest assured that your Operating System will be supported even after it's not mentioned. We have some Ubuntu-powered machines and experienced no issues!
Compatibility/User Experience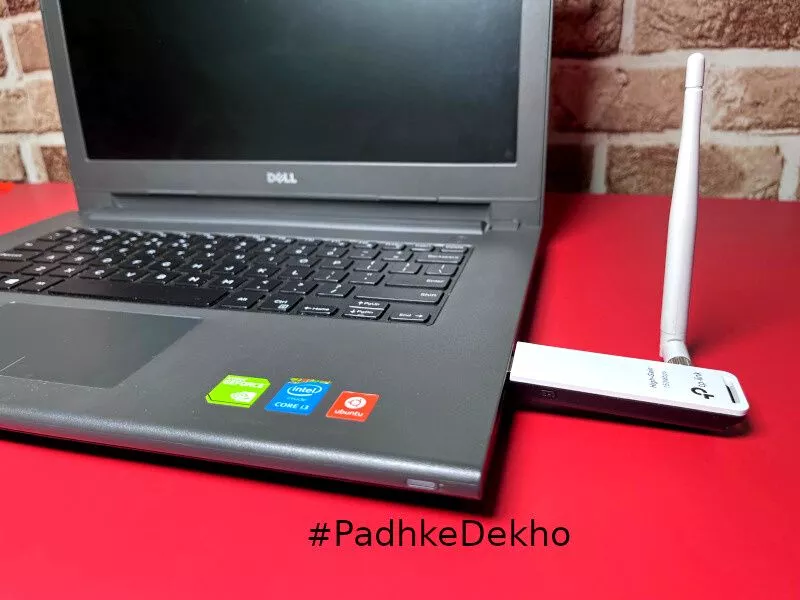 Okay here's the thing, we have many pcs at our office and all are running on different operating systems. All major ones like Windows (7,8,8.1,10 & 11), Mac (running on 12.6.3), and Ubuntu (18.04, 20.04, 22.04). So we got a fair share of devices to try!
We were skeptical about this USB dongle because there was no mention of Ubuntu or Linux support on the packing or the website. So we went with it, regardless. Before this, we are already using the TP-Link Nano USB receiver for two of our machines.
One is an old PC which does not have the possibility of a LAN connection as well as Wifi. And the other is a laptop with broken hardware! So that's why we are here testing the devices and found TP-Link to be the safe bet.
TP-Link N150 USB Dongle or the TP-lINK High Gain USB Dongle is compatible with all the major operating systems from Ubuntu, Windows, and Mac. However, the process of working is slightly different.
On Ubuntu, the plug-and-play works the best. Just insert the dongle, and it will start glowing and blinking green light and you will see your WIFI momentarily. No complaints!
However, on Windows and macOS you'll need to install the drivers. This is fine as there is a cd inside that has the drivers. Otherwise, you can download the latest drivers from the TP-Link website.
So the overall experience was smooth and we did not experience any issues. So we would give it 4.5/5.
Wifi Range = Internet Speed
Earlier we used the TP-Link Nano USB Adapter for your wireless Internet solution. Which is fine to be used but only in short range. The moment the router is on a different floor or 2 rooms away, you will feel very low Internet speeds.
This is where TP-Link 150 High Gain Antenna comes into the picture. The biggest advantage it has over the tiny adapter is the higher range which fetches higher Internet speed.
Here is a detailed comparison with the speed test of both the NANO USB receivers.
So in the above video, you have seen that the High Gain Adapter is better than the NANO adapter in a far-off Wi-Fi router. That's why you should always opt for a High Gain antenna just to be prep for any Wi-fi changes around you.
How to Use TP-Link 150 MBPS High Gain Antenna?
if you are going to be new to this technology then don't worry we will explain everything in detail and you will not need to read or watch any videos! Let's break the ice with simple information.
The use of this high gain antenna is to capture more speed and stable internet connection. But it needs to know the direction of the internet you will be connecting to.
Scenario 1: if you have Wifi on the first floor and the target device or your pc/laptop on the second floor then you will need to set the antenna facing down just like the image below.
Because the signals of the internet are coming from the bottom to upwards.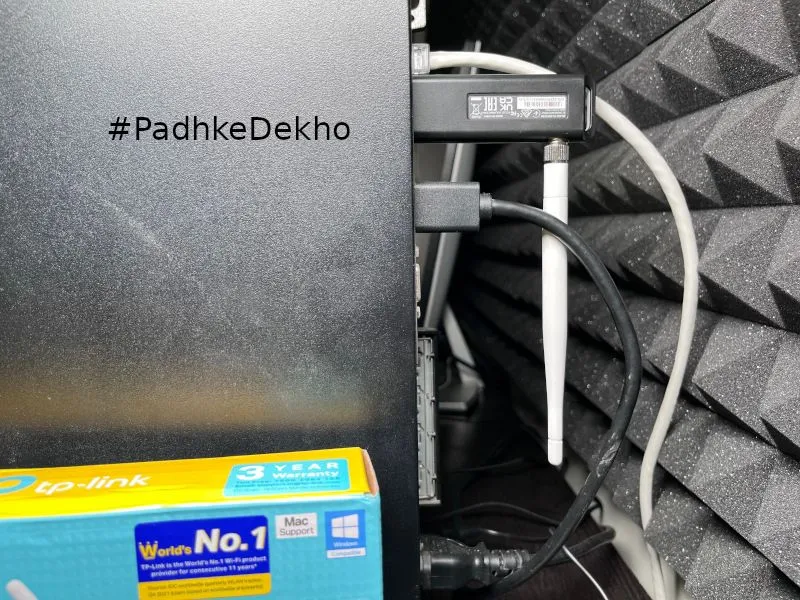 Scenario 2: if the wifi router or your mobile hotspot is on the same floor then you will need to set the antenna upwards as it will communicate with the network better. And if you feel like using the USB adapter without the antenna then also you can do that.
It will not cause any drop in speed if the router or mobile hotspot is very close or in the same room.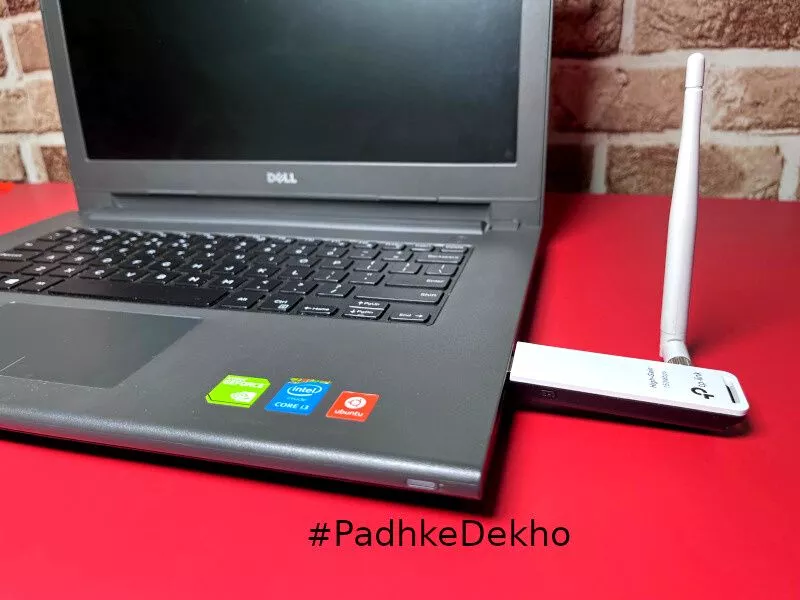 Should You Buy TP-Link High-Gain Antenna?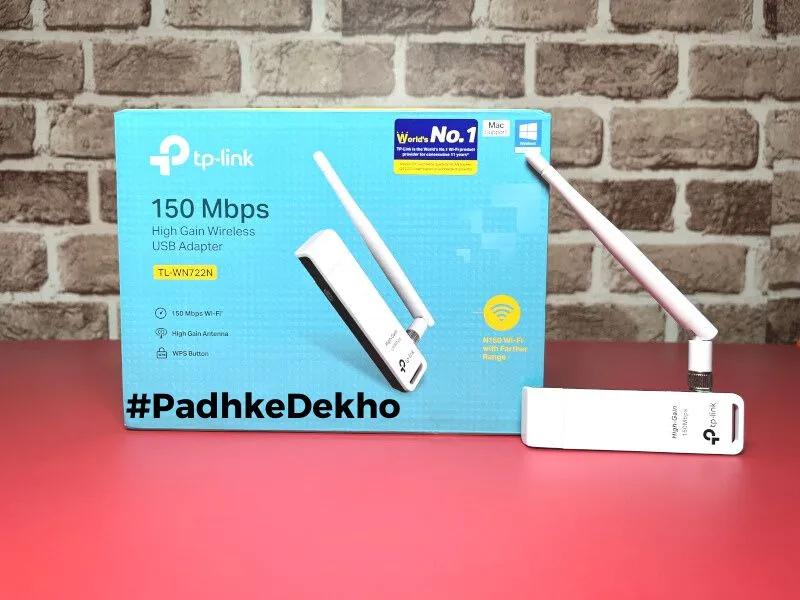 Now the most important part is whether you should buy it or not. The answer is yes because of a few factors.
1. We've tested a few listings from Amazon/Flipkart and they were on and off most of the time. Sometimes the device was identified most of the time not.
2. Many products are local and do not come with a manufacturer's warranty, as a result, you will have to reach out to the seller for services.
3. Compatibility was an issue. Getting support for all Windows, macOS, and Ubuntu was the biggest issue. That's why we did not publish reviews of those products and don't encourage you to buy and waste your money.
Instead, go with TP-Link as all the above points are met. Along with that, you will get an amazing overall experience.
First of all, all TP-Link products come with 1 year of warranty so you get a longer piece of mind.
Secondly, the plug-and-play works great. On Windows and Mac, you may need to install drivers.
Moreover, you also have WPS support with the help of that you can sign in to wifi without typing the password. The on-screen commands will guide you to sign in.
Another solid reason is the better range and download speed. Which is the primary purpose of this device.
So out of 10, we would give it 8/10. Why?
2 marks were cut because of displaying a low range which is a glitch as the Internet source was very close and Internet speed was not affected by it. Maybe they can fix that with an update.
Wrapping up!
There you have it guys, this is our TP-Link N150 USB Dongle Review after 1 month of use. if you have any questions related to this dongle or are confused about which to buy then feel free to ping us on the below social accounts. We love to help our readers!
Did you find the content helpful and feel to support genuine creators? Then please use the Amazon LInks on this page or you we find just below. It will help us earn a small commission at no additional cost to you. Thanks for your support so far!
Similar Articles!
F.A.Q
What's Your TP-Link N150 USB Dongle Review?

Well, we liked the High Gain Antenna! It offered better speeds, higher range, and better support with many Operating systems like Windows, Mac, and Ubuntu (Linux). Here's our 7-month review that you could certainly check out.
Is TP-Link NANO High Gain USB Dongle Compatible With Ubuntu?

Yes, we've tested it on Ubuntu 18.04, 20.04, and 22.04. The plug-and-play works perfectly.