[Updated on 21 July 2023] It's been over 6 months of daily using this Bluetooth receiver. So far it has shown no issues whatsoever. We tested it with Windows 11, Windows 10, Windows 8, Windows 7, Ubuntu 18.04, Ubuntu 20.04, 22.04, and even 24.04. It gets our approval.
In this TP-Link UB500 review, we shared our opinions after using the product for a month. if you are considering this Nano Bluetooth receiver then this article is for you.
How to connect wireless headphones to a PC without Bluetooth? Can I Pair BoAt Airdopes With Laptop Without Bluetooth? How do these Nano Bluetooth dongles work? We get these types of questions a lot on Instagram!
These dongles have bombarded online as well as offline stores. They are available from 300 Rs and go above 2000 Rupees. So to answer these questions, yes, these USB dongles can let you connect your non-Bluetooth computer to your Wireless TWS.
The one we have shared is value for money and it's just plug-and-play. Moreover, it's fully compatible with Windows, Mac, and even Linux (Ubuntu). This USB dongle is from TP-Link and cost just around 600 Rs. So how good or bad is it? Should you buy one? Here's PadhkeDekho's TP-Link UB500 Review after 1 month of use.
In this TP-Link UB500 review, you will find the Pros & Cons, Specifications, Features, How-to connect, and finally our verdict. if you have any issues or queries about this product then feel free to ping us on below given social accounts. We love to help our readers as much as we can!
At PadhkeDekho, we buy tech products and use them for more than a month before publishing our reviews and comparisons. This gives our readers added value instead of the marketing points you will get from the others! We use a product just as a customer would do hence, you can trust the opinions shared by our editorial team.
As a support to us, you can shop using the below Amazon links. We might earn a small commission at no additional cost to you.
That being said, let's begin the TP-Link Bluetooth 5.0 receiver review with Pros and Cons.
Pros & Cons
Specifications
| Feature | Value |
| --- | --- |
| Model | UB500 |
| Inbox Contents | USB Adapter & Quick Installation Guide |
| Compatibility | Windows, Mac, Linux (Tested) |
| Can be Used With Wireless Keyboard & Mouse? | Yes, if Your Peripheral Supports Bluetooth Connection (not just wireless) |
| Bluetooth Version | 5.0 |
| Best Buy Link | Amazon |
In-Box Contents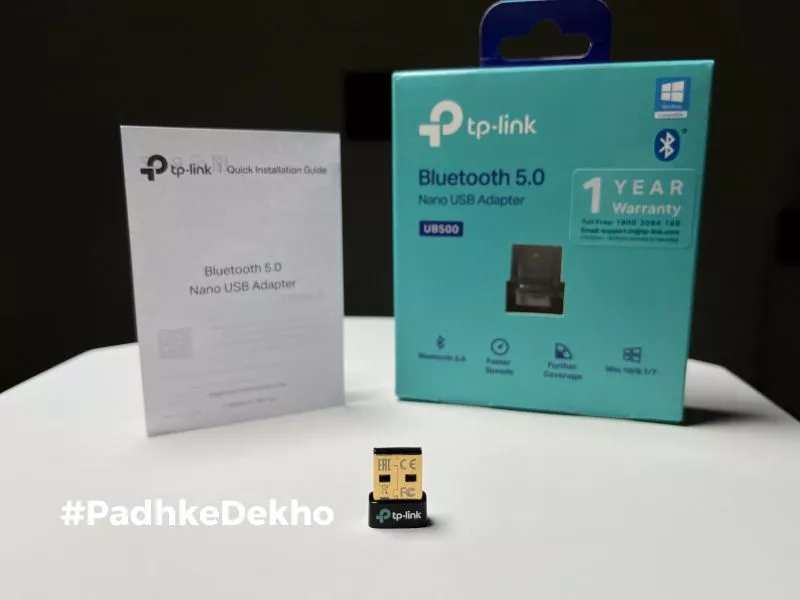 TP-Link UB500 Review – Features of TP-Link UB500?
#1 Portability: Since it's a tiny USB solution for Bluetooth you can put it on any laptop or computer and can connect your favorite audio gear with it without worrying about wires or opening the CPU casing to access the modem.
#2 365 Days Warranty: A few years ago we bought the TP-Link USB Wifi Adapter for our PC and it's working well (review)! Just like that, this Nano USB Bluetooth adapter comes with a 1-year warranty. So you'll have peace of mind!
#3 Support For All Major Operating Systems: We've few computers and for productivity, we use Ubuntu and supported hardware for it is not easy to find. Hardware brands talk a lot about macOS and Windows but Linux or Ubuntu is not given much thought.
So after testing on many devices, This TP-Link UB500 Bluetooth 5.0 receiver works well with Ubuntu (18.04, 20.04, 24.04), and Windows (7, 8, 8.1, 10, and 11). For Windows, you will need to install the driver that comes with the CD or download it from the TP-Link website.
#4 Bluetooth 5.0: The cheaper variant of TP-Link supports up to 4.0. Bluetooth version. Whereas, this one is the latest one and offers better signal strength and better support with newer Bluetooth devices. Since we test a lot of Bluetooth 5.1 or 5.2 devices we did not find any latency issues as such.
#5 Faster Speed: We've tested a few other USB Bluetooth dongles and they had two bad things; Continous Blue blinking and slow boot up. You get non-on TP-Link UB500.
So for the price of 600 Rs, TP-Link UB500 is a worthy purchase. But the question is; how will you connect your headphone to a computer without Bluetooth? Coming up next!
How to Connect PC With Bluetooth Using TP-Link?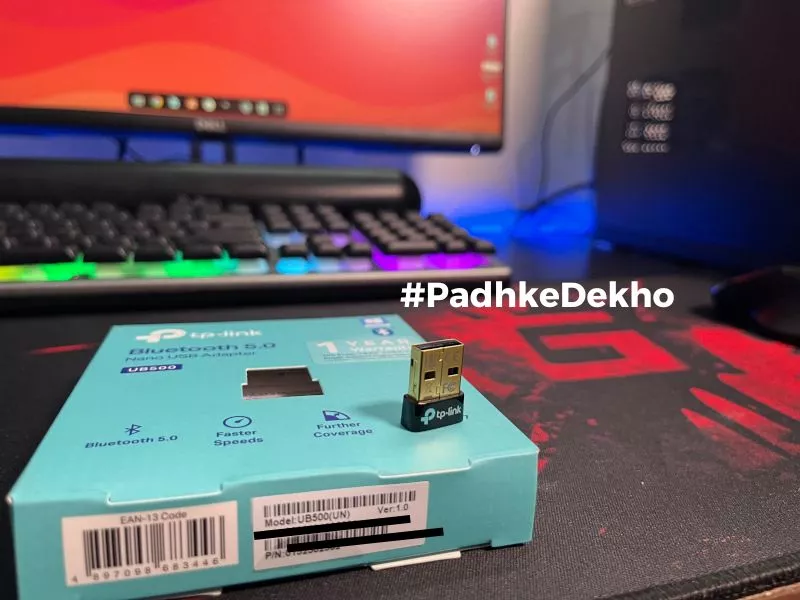 if your computer does not offer a Bluetooth connection then you have 2 options to get Bluetooth working on it.
First, you can buy a Bluetooth modem from Amazon or a computer hardware shop around you. For that, you would need to know your computer's motherboard type and hunt for compatible Bluetooth modems in the market.
if you are tech-savvy and how how to build a computer yourself then it would be a walk in the park. Otherwise, It's a total nightmare of wasting money.
Or, the second and most practical choice is to buy a USB dongle from TP-Link. All you need is to plug in the USB dongle in any vacant USB 2.0s slot of your computer and you are done. You will see Bluetooth next to Wifi settings. If you have Windows, you will need to install the drivers from the cd provided.
For Mac and Ubuntu (Linux) you do not need to install any driver the plug-and-play works excellently. I've tested TP-Link UB500 on Ubuntu 20.04 LTS, Windows 7, 8,8.1,10 & 11.
So you have pretty much covered with TP-LINK Bluetooth 5.0 Nano USB solution.
Should You Buy TP-Link UB500?
We get that. There are many Bluetooth dongles available for 300 Rs online. Why would you spend 600 Rs? Well, We've tested those and they do not work. Some do, but the Bluetooth range is very bad. TP-Link is a trustworthy brand and the product has worked flawlessly in our month of testing on multiple devices.
You can read the features if you have jumped to the verdict!
You can buy the TP-Link 4.0 but will have connectivity issues or even latency issues with the newer Bluetooth version. Moreover, the 5.0 model offers backward compatibility where you can connect the old headphones with Bluetooth 4 or even lower.
In our one-month review, we did not face any compatibility or not responding errors. Even the range was fine just like our smartphone. While testing the 300 to 500 Rs ones, we found the blinking of the Blue light distracting when the device formed the connection.
Whereas, on TP-LInk there is no Blue light which means you can use this at night without any blinking LED.
So should you buy a TP-Link Bluetooth 5.0 USB dongle? Well, yes you can confidently pick one. It's a durable product and counts less than 1 Cheese burst medium pizza!
Suggested Articles
TP-Link UB500 Review – F.A.Q
Is TP-Link UB500 Bluetooth 5.0 Good?

Yes, it's good. The plug-and-play works well. Supports all major operating systems and works out of the box.
How to connect Bluetooth to a pc without Bluetooth?

There are many ways to do that. First, you can buy a Bluetooth modem for your PC. or alternatively, a Bluetooth USB dongle for half or even less price. Here we have talked about the latter and you can read how to do that too. Click now to learn more!