[Updated on 25 July 2023] It's been over 4 months with it and we are quite impressed. Especially the sound signature, ANC and call quality. Hence, if you are looking for an overall package under 2500 Rs, then it's good for you. Back to the BoAt Airdopes 413 ANC Review
We've tried many earbuds for under 2500 Rs, but BoAt Airdopes 413 ANC is a pretty interesting earbud, primarily because of the Active Noise Cancellation. We've been using it for over 4 months now and there's a lot to talk about.
So spare a few minutes as this is the only BoAt Airdopes 413 ANC review that you need!
Here we've talked about Pros & Cons, Box Contents, Built Quality, Looks, Comfort, ANC Features, User Experience, Audio Quality, Mic Test, Battery Backup, Gaming Performance, & finally Verdict with some recommendations.
At PadhkeDekho you will find Reviews, Comparisons of tech products after months of testing. It gives our readers detailed insight to make an informed decision. As a support to us, you can check out the products via the Amazon links on this blog. We might earn a small commission from Amazon at no additional cost to you!
With that said, let's begin!
BoAt Airdopes 413ANC Review With Pros & Cons!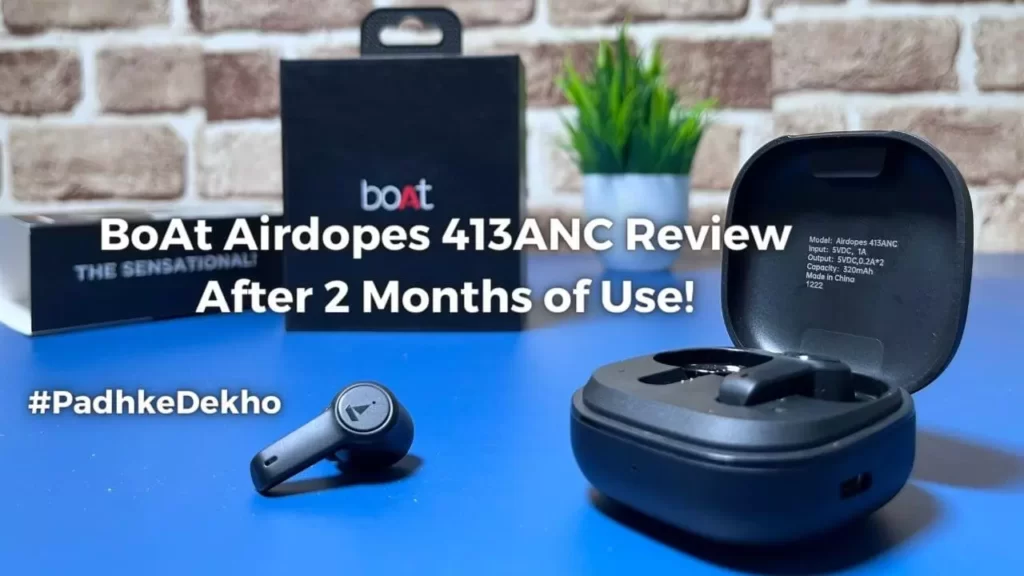 Box Contents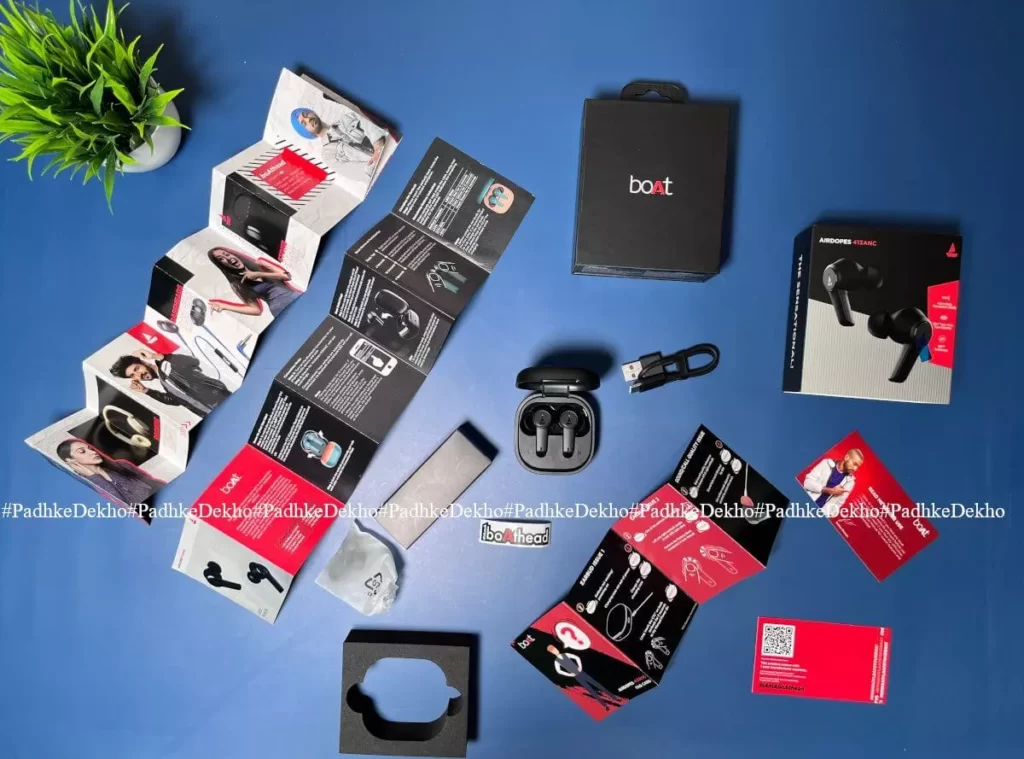 In the box, BoAt Airdoeps 413 ANC comes with:-
Earbuds in the case.
BoAt products catalog.
User manual.
2 Additional pairs of ear tips.
USB 2.0 to USB-C charging cable.
FAQ gude.
1 Year warranty card.
Social account details.
Keeping in mind the price tag, BoAt has given a magnetic box. Even brands selling earbuds for the same amount do not do so. Therefore, the unboxing experience seems more premium and gives a worthy decision feeling. So 10/10 for the unboxing experience.
Built Quality (9/10)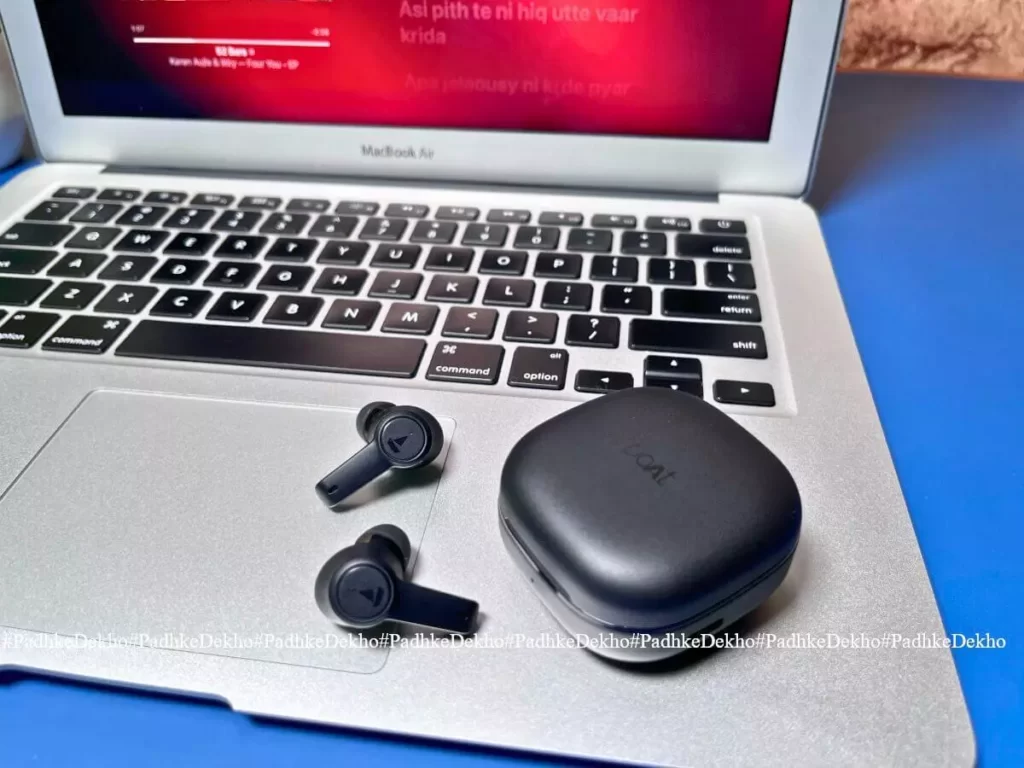 When you'll upgrade from a budget earbud to a 2500 Rs you will notice many differences, starting off with built quality.
Though the overall build stays plastic the quality changes drastically. Budget TWS has weak hinges and does not provide a strong feeling. But with BoAt Airdopes 413 ANC you will certainly like the rigid feeling especially when opening or closing the lid.
The magnetic pull is so strong that you prefer to open the lid with both hands and the lid will close with a satisfying click.
What about the earbuds themselves?
You will find the earbuds notch above the budget segment. Some entry-level earbuds don't skim on features but the in-ear feel is somewhat missing. But we can confidently say that BoAt Airdopes 413 ANC are at par with OnePlus Nord Buds (Review).
The buds are strong, do not have any squeakiness, and above all, have no sharp edges that can hamper your long hours of use!
So for built quality, BoAt Airdopes 413 ANC gets 9/10.
Looks (8/10)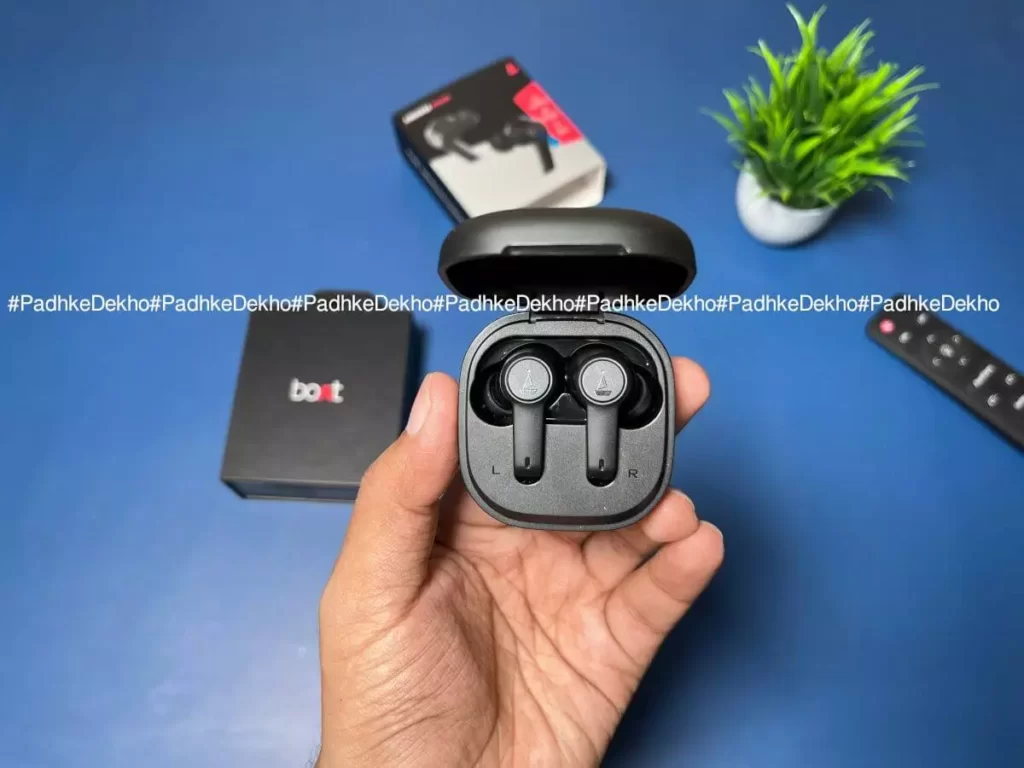 Like the built quality, the looks of BoAt Airdopes 413 ANC is quite premium. Especially due to the matte design overall. Like glossy cases, matte also gets scratched but it's not as fingerprint magnet as the glossy can be especially in the summers!
Unlike many other TWS even from BoAt The case looks very different. It's compact and lightweight. Fits in the pocket very well while making a bulge.
As far as the buds go, they are also matte in design and house nothing but touch controls and two magnetic connections for charging.
Since we went with the Black color hence the case is also black from the inside but if you'll opt for Very Purple you will get a more vibrant look. Also, save you a few hundred Rupees!
On the front, you will see only 1 LED light which lets the whole story more about it in the features section below.
So for looks, we do not mind it hence BoAt Airdopes 413ANC gets a 8/10.
Comfort/Grip (9/10)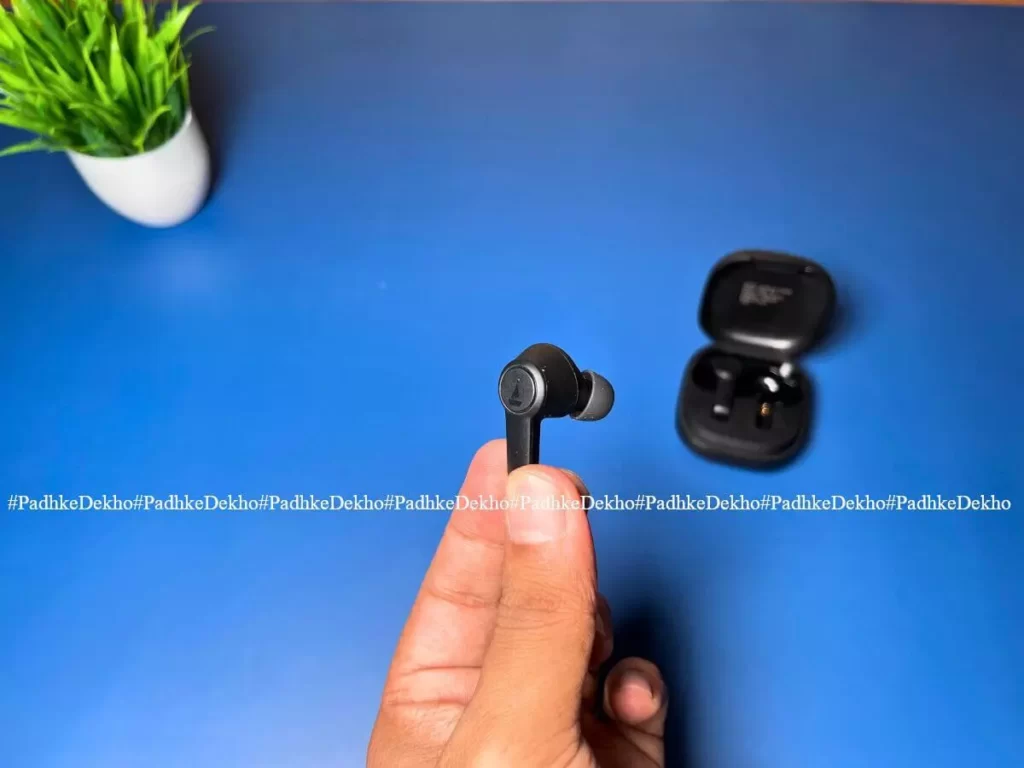 Just like headphones, earbuds also come in many shapes and sizes. For many people, BoAt Airdopes 413ANC will be very comfortable. Who are those? People who have medium to large ears or those who prefer earbuds with silicone tips are the main audiences for it.
Also, you get 3 pairs of ear tips (Small, Medium & Large) to choose the best grip. As per your need, you can check all of those and find the sweet spot. For convenience, medium ear tips are already applied.
The design of the earbuds is remarkably done. It makes a snug fit the moment you will wear these. As a result, you can easily wear these for workouts or even running. Since I am more into workouts, I found it quite good and does not fall out even after sweating.
How long can you wear these? Well, the bud's design is slightly on the thicker side but surprisingly it's very comfortable. During testing, I wore it for around 5 to 6 hours.
So BoAt Airdopes 413 ANC is perfect for comfort and grip hence 9/10.
But…
if you have small ears, then BoAt Airdopes 413 ANC is not the right option. Since we have female team members who have small ears, they prefer half-in-ear design earbuds like this.
For small ears, you can check out Oppo Enco Air 2 or Oppo Enco Air 3.
BoAt Airdopes 413 ANC Features
You have paired the earbuds with your device and wondering how ANC will get activated. Well, let's talk about that. Both earbuds have similar ANC features and does not matter which command you give based on the duration it will activate.
So with that, if you press any earbud for 3 seconds, you will hear "ANC Mode activated". As soon as the announcement goes off you will witness the charge in your ambient noise. For paper specs, BoAt Airdopes 413 ANC can filter out up to 25dB of noise around you.
In fact, we tested many tws earbuds with ANC under 2000, and out of all Airdopes 413 ANC was taken as the best option.
Once you are in ANC mode, pressing any earbud for 3 seconds will activate "Normal Mode".
In normal mode, it turns into any ordinary earbud without ANC. This does not bring any fancy features to the table but helps to explain the next topic which is "Ambient Mode" which can be activated from Normal Mode by pressing and holding any earbud for 3 seconds.
In Ambient Mode, the quad mics of the earbuds pick up the surrounding noise and transfer those to the ears. Doing so will help you be aware of the surrounding without removing the earbuds.
Going back to ANC mode will require you to press and hold any earbud for 3 seconds. In other words, it's a loop of ANC Mode, Normal Mode, and Ambient Mode. Now, let's talk about the experience.
BoAt Airodpes 413 Active Noise Cancellation Any Good? User Experience!
Are you most interested in BoAt Airdopes 413 ANC Review for only ANC? if yes, then you are in for a treat!
Let's first talk about ANC performance Indoors
Indoors you will notice the biggest difference. E.g. You are in a closed room or office where Air Conditioner is running and a few ceiling fans. The moment you will turn on ANC mode all the motor noise of the AC and ceiling fan will turn off completely. You will only feel the air coming from a certain direction!
What about people talking around your back or on the next cubical? You will hear them but their voice will not be in total focus. if you wanna know what they are talking then you can switch to Normal Mode (some help) or Ambient Mode (helps to focus on the surroundings, in stealth mode!).
if you wish to be aware of you're surrounding then enable Ambient Mode and keep volume below 50%. Because at higher volumes, you might not hear the ambient sound due to the snug fit.
What if you are watching TV? ANC will help to cut the ambient sound around you but not a decibel on TV audio! But it will help! E.g. One fine day I was watching an episode of Kapil Sharma with my family and surprisingly it let me focus more. So yes, it works when watching TV.
What About ANC Performance Outdoors?
Since the earbuds can block noise of about 25 decibels it means most of the constant low humming will be blocked out. Like factories or industries in your area. If you are on a city bus then the engine noise will be cut out. Even motorcycles crossing you will be blocked out for the most part.
What about the people in your close range or in a restaurant? The results are similar to outdoor use; constantly running machines like coffee machines or soda dispensers will be completely blocked up. But people talking around you will be detuned a little as in they are not in focus.
This means you can confidently carry it outdoors and experience good ANC. So BoAt Airdopes 413 ANC gets 9/10 for indoor use and 8/10 for outdoors.
BoAt Airdopes 413 ANC Audio Quality (8.5/10)
Under 2500 Rs, you can see many earbuds offering 13mm or 14mm audio drivers, while BoAt is just giving 10mm drivers. What does that mean? Is it bad? Not worth it? No! It's not like that. Many people take the driver size into consideration and "bigger" might sound "better". It's not true! Better audio totally depends on the quality of the driver.
We've owned around 5 earbuds for under 2500 Rs and BoAt is the one with the smallest driver. We put them against each other and got surprising results. You can check it out here!
So how's the audio quality of BoAt Airdopes 413 ANC?
For the most part, it's great and blissful for bass lovers! The 10mm audio drivers provide a good range of low frequencies making it great for bass lowers on a budget of 2500 Rs. The vocals and treble are quite well done. In fact, we did not notice any audio distortion even at max volume.
The lows, mids, and highs have their distinctive presence and they do not blend in! Hence we would recommend BoAt Airdopes 413 ANC if you want a great audio experience. if you are coming from budget TWS earbuds then surely you will get better overall audio quality.
But if you are coming from OnePlus Nord Buds (Review) or Realme Air 3S (13mm or bigger drivers) then you will feel the loudness is a little less.
Hence we would give BoAt Airdopes 413 ANC an 8.5/10.
Call Quality (8/10)
In the past, we had a lot of issues with the mics used by BoAt, especially with BoAt Airdopes 121v2 and Airdopes 161. The problem was the final call quality. It was more robotic than the real voice.
But recently has shown exponential growth, it all started with BoAt Airdopes 141 (Review).
BoAt Airdopes 413 ANC call quality is good. Be it indoors or even outdoors; on public transport or personal. BoAt has done that with the ENx technology which is Environmental Noise Cancellation (not to be confused with Active Noise Cancellation).
With ENC it uses the quad mic setup (2 mic on each earbud) to cut ambient noise around you and focus more on your voice. So how does it work?
The mics do cut out ambient noise by about 40 to 50%. It is fine to make your voice the center of focus. This means your voice will not sound robotic and also some of the background noise will be filtered out, which is good.
So for call quality, BoAt Airdopes 413 ANC gets an 8/10.
Battery Backup (9/10)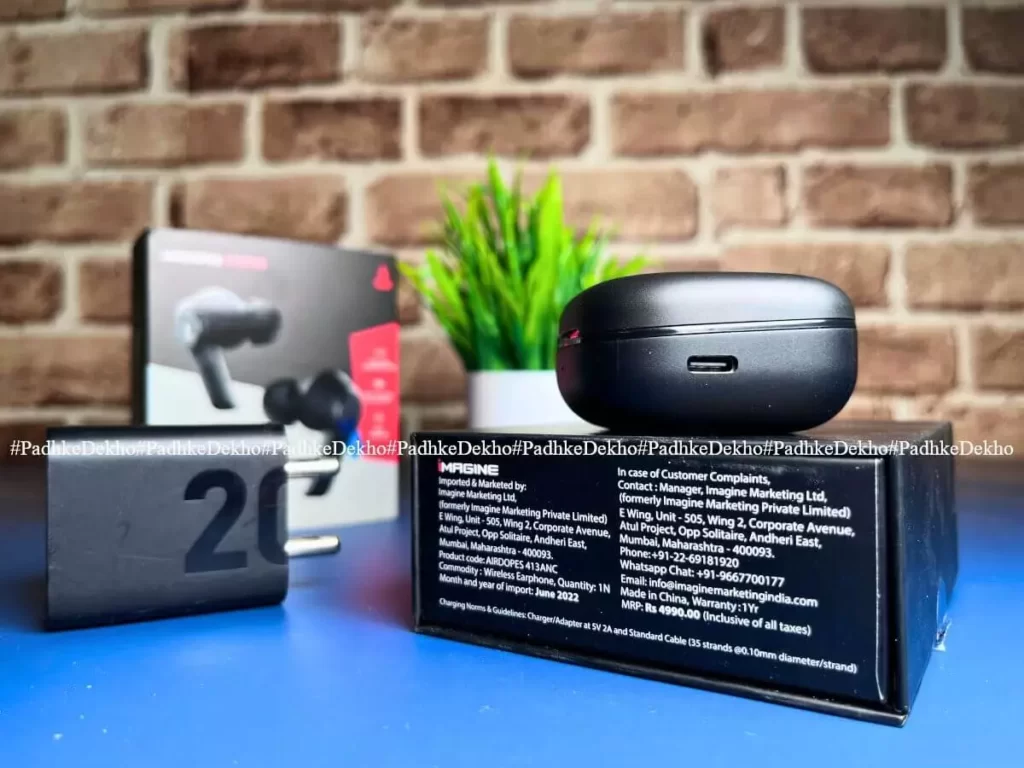 While some earbuds can be used for 8 hours on a stretch but the ones with ANC can last about 6 hours. This is so because ANC earbuds use microphones all the time maybe for ANC & transparency mode as per user's need.
So where does BoAt Airdopes 413 ANC stand?
BoAt Airdopes 413 ANC has 37 mAh batteries on each earbud while the carry case has a 320 mah capacity.
The 37 mAh batteries on the buds can get you around 5.5 hours of battery backup if you listen to music at max volume with ANC on. Reducing the volume to 80% with ANC will help you gain about 1 hour more. And without ANC you can extract near of 7 hours.
Most of the time I prefer to wear these with just ANC and then the battery backup is about 6 hours. So for battery backup, you do need to worry at all!
What about charging time?
BoAt Airdopes 413 ANC supports fast charging and we use a Moto 20-watt charger as we do not recommend using higher-wattage power bricks 40 or even 80 watts. Though they will not damage the earbuds we prefer one charger for all devices!
So with a 20-watt charger BoAt Airdopes 413 ANC case chargers within 1 hr and 30 minutes from zero battery.
Let's say the buds are out of charge. Just put the buds in the case for 10 minutes and enjoy up to 1 hour of audio playback with ANC!
With that battery backup and charging time in mind, we're quite happy with the results. Hence BoAt Airdopes 413 ANC gets 9/10.
How to Find The Case Battery Percentage?
Since there's a single LED notification on the case it works a little differently. It shows three LEDs; RED, Orange, and Green (for 10 seconds) when you'll take the buds out and re-open the case.
When the case shows a RED LED that means the battery is lower than 20% and you should charge the case soon. Orange LED means the battery is between 20% & 80% and you have a decent battery left. Green LED means you are between 80% to 99% battery.
When you'll put the case on charge it will also show the same LED style but this time it will be constant. I.e it will stay red when you are below 20%. Then it will turn yellow and then switch to green. Don't pull the charge when it's green it does not mean 100%. When you'll see no LED this means it's fully charged and you can unplug it from the charger or the power bank.
With my 4 months of use, I did not have any issues with the battery backup or the charging speed. As a fact, BoAt Airdopes 413 ANC charges faster than OnePlus Nord Buds with the 20-watt charger!
BoAt Airdopes 413 ANC Gaming Test (7/10)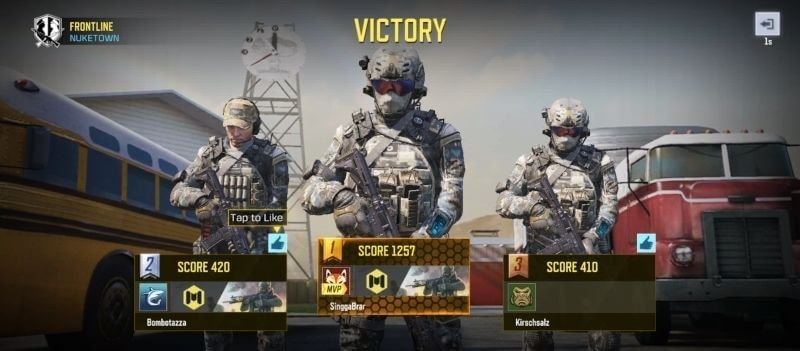 When it comes to gaming on wireless audio gears then it can be hit or miss. Because of the latency issues.
What it means is there is not a perfect sync between the gameplay and the audio. That mili-second delay can be an issue while playing games like COD Mobile or other fast pace shooter gamers.
So how well can you play with BoAt Airdopes 413 ANC?
If you are a casual player who plays games like Subway Surfers, and Temple Run, which are not online multiplayer or heavy games, then it's fine you will have no complaints.
Even games like COD Mobile and Fortnight were decently playable with BoAt Airdopes 413 ANC. You can say the latency was about 60ms which is not good or that bad either.
So for lightweight "for fun" gaming, you can consider this. However, if gaming means a lot to you and especially fast pace shooters then you should look out for earbuds with low latency OnePlus Nord Buds (Review) or Realme Buds Air 3S (Review soon).
Hence for gaming, BoAt Airdopes 413 ANC gets a 7/10.
Should You Buy BoAt Airdopes 413 ANC?
In our 4 months of testing, we used it extensively indoors and outdoors; in the gym or simply running. It tickmarks most of our daily demands. Hence we recommend BoAt Airdopes 413 ANC.
To start off with the unboxing experience BoAt nailed it and it's the best packaging we have seen in this 2500 Rs price bracket.
The build is exceptional; The case snaps with a satisfying click and the magnets are so strong the case is hard to open with one hand. On the same front, the design is quite well done; it's compact and easy to carry around.
The biggest USP i.e. Active Noise Cancellation is quite good. It can help to block about 80% of ambient noise. Sure, it will not work with all the surroundings just those which are below 25 decibels.
Ultimately you are buying for entertainment and it's quite good. The bass, vocals, and treble are very tuned. You will not witness any audio distortion or breaking. Though loudness is a little less compared to OnePlus Nord Buds (Review).
The folks who take calls at home or simply anywhere will like it even more! The Environmental Noise Cancellation works brilliantly and you will have a good calling experience.
So all in all, it's BoAt Airdopes 413 ANC is a great tws under 2500 for RS.
But… There are three things that you should know before buying it.
First, you cannot change the song with the touch buttons. You can do that with the connected device only. Second, the gaming performance is decent; Could've been better. Third, is the price difference of all three colors. Why? It should be the same for every color.
For these 3 reasons and if they mean a lot to you, you can check out OnePlus Nord Buds 2 (Under Testing) at a few hundred Rs difference.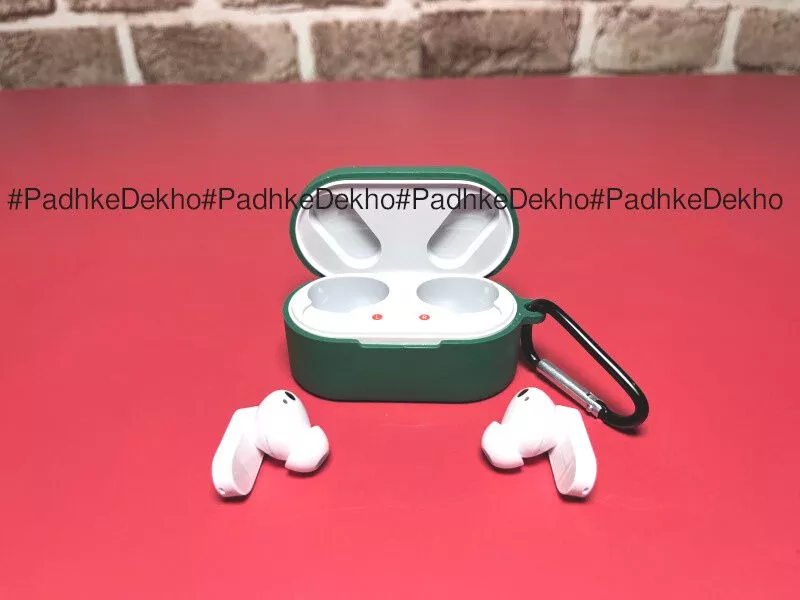 Other than that, BoAt Airdopes 413 ANC is a great TWS earbud and we recommend it to our readers.
Wrapping up!
There you have it guys! This is BoAt Airdopes 413 ANC Review after 4 months of testing! If you have any questions then please comment below or ping us on below social accounts. We love to help our readers!
As a support to us, please share this article with others who might be looking for a detailed review of BoAt Airdopes 413 ANC. Thanks for the support so far, PadhkeDekho is 3 years old now!
Other Articles That Might Intrest You!
BoAt Airdopes 413 ANC FAQ
Does BoAt Airdopes Have Noise Cancellaiton?

Not all Airdopes have Noise Cancellaiton. Here's our BoAt Airdopes 413 ANC review which is an Active Noise Cancellation equipped Airdopes from BoAt under 2500 Rs. Tap now!
How to Activate ANC on BoAt Airdopes 413 ANC?

To Activate ANC on BoAt Airdopes 413 ANC, wear both earbuds (ANC does not work with a single earbud), and tap and hold any earbud for 3 seconds. Earbuds will say "ANC Activated" and it will start immediately after that.
What is The Price of BoAt Buds 413?

BoAt Airdopes 413 ANC cost 4990 on MRP. But on Amazon, you can get anywhere between 1700 to 2500 Rs. Check the latest price here.
How to Charge BoAt AIrodpes 413 ANC?

BoAt Airdopes 414 ANC charges the same way any earbud would. Since it has only one LED on the front, charging is slightly different. Here, in this article, we have explained the complete charging process and the way the LED interacts. Tap now!