[Updated on 21 Feb 2023] It's been more than 6 months of using this keyboard. It's in perfect condition and worth it. Get's our approval.
Are you planning to bring some RGB to your desk without spending a fortune? Then, This HP K500F keyboard is just that! It's a "pleasure to type" kind of keyboard with double-injection keycaps. Packs in many RGB modes along with 26 anti-ghosting keys for gaming. We've been using it for a month and there's a lot to talk about! So here's HP K500F Keyboard Review for you.
In this article, we have talked about everything from pros and cons, alternatives, built quality, look and design, features, what kind of keyboard is this, RGB controls, and finally our verdict. Hence this article is all you need to make the right choice. if you are in a hurry you can click any of the prior links, it will take you to the respective section.
At Padhkedekho, we provide customer-centric reviews and comparisons of products after using them for a month. Just to give you an honest review that will help in your decision-making. As support to us, you will find Amazon links that will help us earn some commission if you place an order. We assure you will not be charged a penny extra! Thanks for your support so far.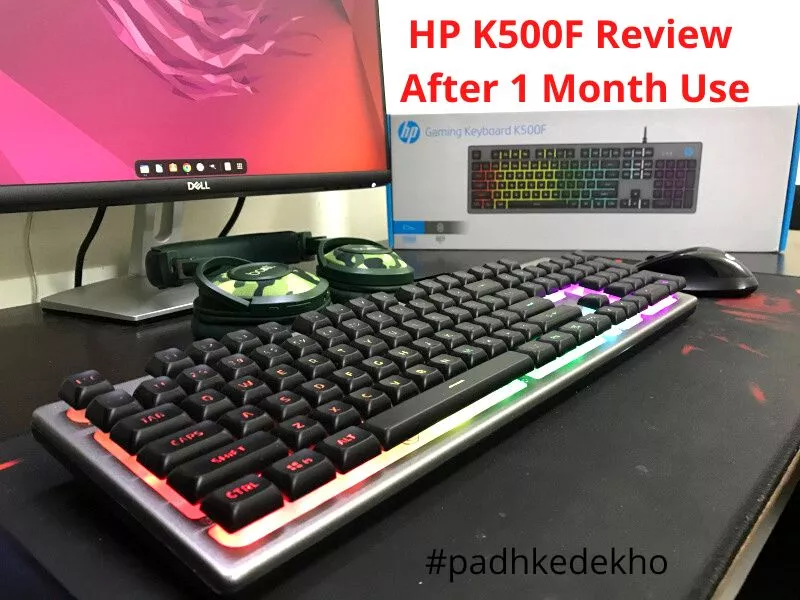 Pros & Cons
Alternatives
Built Quality
I've personally been using a Dell KB216 wired keyboard for around 2 years now and next to that, HP is a big step up. Unlike Dell which is totally plastic, this one has a lower part of plastic while the top sheet of aluminum. This adds resistance when you will try to bend it.
I tried pretty hard and find not a single squeaking from the bottom or the top. So HP K500F is a strongly built keyboard. The same can be said about the keyboard stand or clips on the back which gives the keyboard a slightly tilted experience while typing.
What about the wire quality? The wire is a non-braided cable which is a bummer as RedGear Blaze and even Zebronics Transformer come with a braided cable.
But the length is easily 1 meter + and offers an HP logo which is great branding. Even the Dell Kb216 didn't have any branding on the USB slot.
As far as the connector goes, you will get a regular USB slot. So plug and play works you do not need to download any drivers for the HP K500F gaming keyboard.
Hence in terms of Built, HP has nailed it under 1000 Rs. The keyboard easily feels like a 2000 RS keyboard.
Look & Feel
This keyboard is a looker just like the Zebronics Transformer-K. From a distance, it looks like an expensive mechanical keyboard. All thanks to the bright RGB lights and the aluminum sheet of the keyboard. Out of 10, I would easily give it 9/10.
From the side, the keys are highly placed with good key travel. This keyboard is good for gaming. Why? just have a look at the elevation below.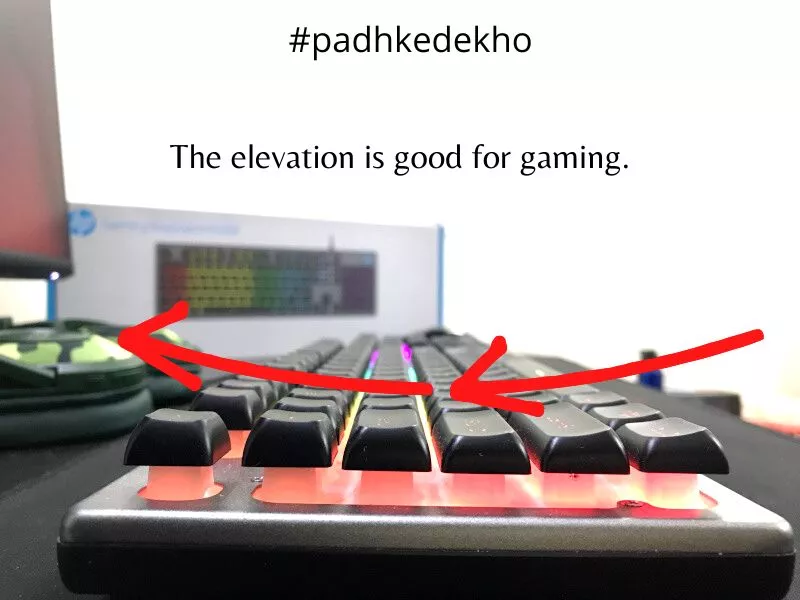 The keys are high raised and in the center, are the least and again go up. Makes it great for gaming for long hours or working. Whereas a regular non-gaming keyboard has all flat keys. Don't forget you have a keyboard adjuster too. So when you wish to play games, flat it out. Otherwise, use the adjuster while working. You will notice the difference.
Features
The best feature of the HP K500F is RGB lighting. I've talked about that, below where I have shared my experience with RGB on HP K500F.
Since it's a gaming keyboard, you get 26 anti-ghosting keys. For many games, you don't need more than 6 key combinations hence 26 is overkill. Though some key combinations won't work you'll need to make changes to the respective game settings.
While gaming, pressing the Windows key is not a new thing. It's common and frustrating. Because the enemy can kill you or if you have old hardware, the game can get nonresponding and ultimately, have to restart. But not with HP K500F! You'll just need to press the FN key and the Windows key. And that's about it! When you are done playing you can press the same combination and you are back to normal.
Many membrane keyboards have normal keycaps. Whereas on HP K500F you get double injection keycaps. In layman's terms, this will not only help you move your in-game character faster with a little press but also you will find typing on this keyboard very precise.
Another icing on the cake is the 3 years warranty on this keyboard. So you'll get a longer piece of mind. I am sure you must have used or owned computer components from HP for a very long time. My point is, that HP is not a new brand. So far I've not come across any product which was cheap or disappointed me.
So keeping in mind the price, HP has given all the basics and essential features one needs while gaming. However, I personally miss dedicated multi-media controls on this keyboard. Earlier I was using the Dell KB216 and it had media controls. Not a big thing you can customize shortcuts on any operating system.
What Kind of Keyboard is This?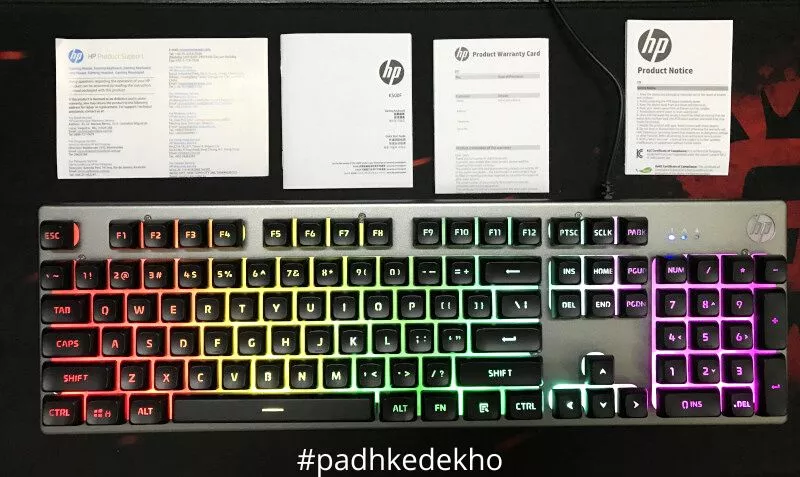 To break the ice, it's a regular membrane keyboard and not a mechanical one. If you have used a membrane keyboard and never a mechanical keyboard then the HP K500F keyboard is going to be the best one. I assure you that! We've tested many like the Dell KB216, HP 100, and Logitech K120, this one is a pleasure to type on.
The keys are high and key travel is good which makes it great for writing content.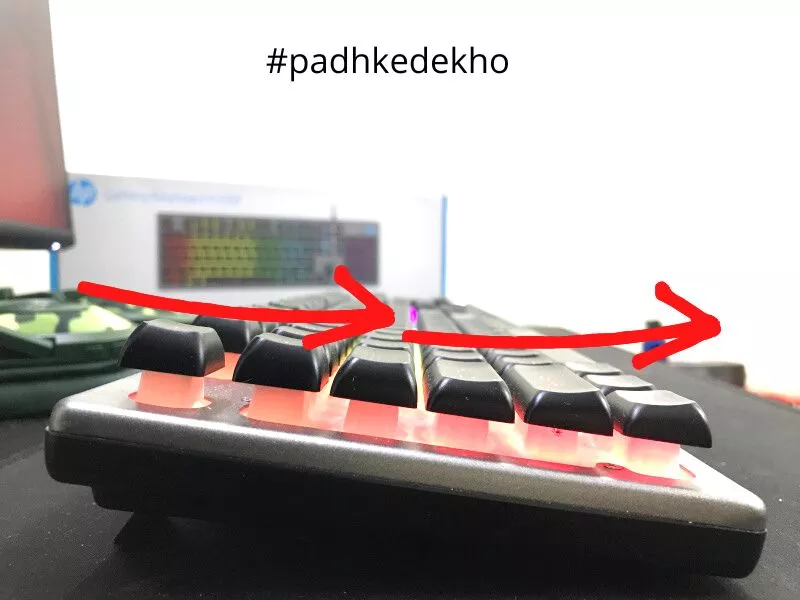 If you are habitual in typing without looking at the keyboard then you would find it even better. The keys are very soft and responsive. Though you will not be pressing a key two times. The keystrokes are noticeable and don't feel irritating. Can't say of people in the same room but it's vocal enough. Quite lower than a mechanical keyboard though!
Need a silent keyboard? Then you should consider the regular keyboards or Dell KB216 (Review).
So if you want a mechanical keyboard-like experience but don't wish to spend 3000 on a good mechanical keyboard like ReadGear Shadow Blade. You can certainly try HP K500F.
What About the HP K500F RGB?
The RGB on HP K500F is feature packed. There are a total of 3 RGB constant intensities low, medium, and high with one regular mode without RGB. You can Increase the intensity of the RGB by pressing the FN and Page Up keys. if you wish to have less backlighting then you can press and hold the FN key and Page Down keys one or two times. Holding the FN and pressing the Page Down key 3 times will turn off the RGB.
Other than that, you have a breathing mode in which the RGB will glow and dim like it's breathing. This can be activated by pressing the Fn + 1 key combination. Pressing the Fn + 1 again will enter into "disco mode" in which the RGB will switch from low intensity to high every second.
So as far as RGB goes, HP K500F is great and there are tons of options.
You can even turn off the RGB if you don't want to. But the visibility of characters on the key is not the best because the key symbols are done by laser instead of printing. This means the keys will never get fade but the visibility will be slightly lower when RGB is off.
But with the RGB all the keys have good illumination and each character can easily be seen. There were a few people commenting on the RGB being uneven between the FN keys and the Num Pad but that's not the case.
Should You Buy HP K500F? if Not Alternatives?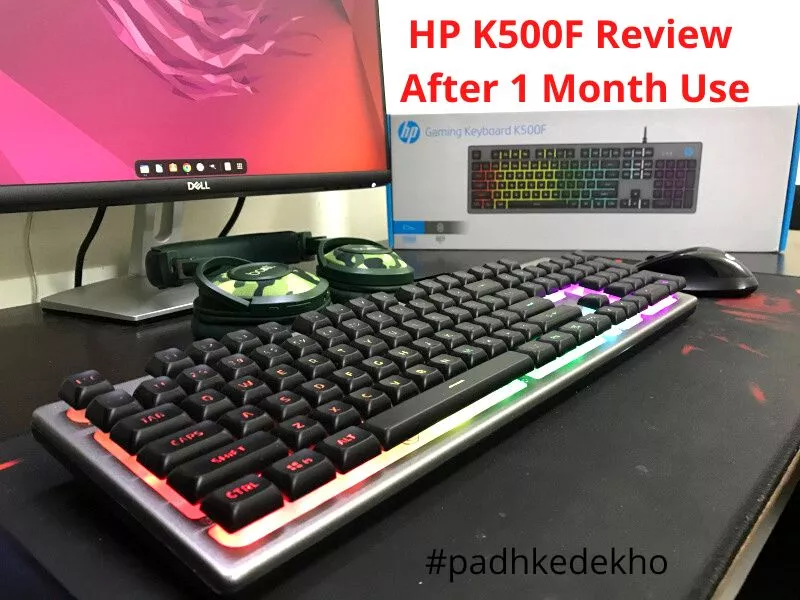 If you are willing to invest in a good reputation brand then HP is the way to go. Not only you are getting the brand name but also some unique features too along with 3 years warranty. So I will not hesitate to recommend this keyboard.
But there are a few things to know which might break your experience. First of all, there are no multi-media controls. You can't play or pause, increase or decrease the volume from the keyboard from a dedicated button printed on the keyboard Itself. But there are few media shortcuts that work with the combination of the Fn key.
| Command (Fn +) | Function |
| --- | --- |
| Fn + F1 | Media Player |
| Fn + F2 | Decrease Volume |
| Fn + F3 | Increase Volume |
| Fn + F4 | Mute |
| Fn + F5 | Stop |
| Fn + F6 | Previous Song |
| Fn + F7 | Play/Pause |
| Fn + F8 | Next |
| Fn + F9 | E-mail |
| Fn + F10 | Home Page (Browser) |
| Fn + F11 | My computer |
| Fn + F12 | Calculater |
| Fn + 1 | RGB Modes – Lightning/Breathing/Beating |
| Fn + Pg up | Increase Brightness |
| Fn + Pg Dn | Decrease Brigthness |
Secondly, the keys are raised quite high and are not covered from the sides hence the membrane will quickly cover dust.
Another reason will be the key anti-ghosting. The brand says 26 keys but basic key combinations like w+shift+h will not work out of the box. You have to make the changes in the game's settings and then it should work.
So if these cons affect you then, you can try the below-mentioned ones which are of the same price/almost similar price.
Wrapping up
This was our detailed review of the HP K500F Keyboard Review upon 1-month usage. While undergoing the test, we deliberately test the strength, durability, and features so that you don't need to worry about that. So we are more than satisfied with the keyboard though we are not much into gaming. We use it for content writing and it's great for work too.
Hence, we would give it a solid 4/5.
if you found this HP K500F Keyboard Review of any help, then do spread the word as it will certainly help your friends to choose a better product. Got any queries about it or any other product? Then feel free to reach us on any social account below. We love to help our readers.
Want to support local content at no additional cost to you? Then we request you confirm your order with Amazon using the below button or links on this page. This helps us earn a small commission from the brand. We can assure you is not charged to you! Thanks for the support so far!
F.A.Q
Is HP k500f good?
Yes, HP K500F is a good overall keyboard. It has good options of RGB settings including breathing mode and intensity control. For gaming, you get 26 anti-ghosting keys and above all 3 years warranty. Here's a detailed review for you after 1 month of use.
How do I change the color of my HP k500f gaming keyboard?
There are 3 RGB brightness options (low, med, and high), RGB off, breathing mode, and "disco" mode. You can play between these from the keyboard itself you don't need any software for it. Here in this detailed review, we've talked about all the modes. Click now!
HP K500F Change Color?
There are 3 RGB brightness options (low, med, and high), RGB off, breathing mode, and "disco" mode. You can play between these from the keyboard itself you don't need any software for it. Here in this detailed review, we've talked about all the modes. Click now!
HP K500F Light Off?
You can turn off the RGB by holding the FN key and pressing the Page down button 3 times.