How bad it feels when you have spent time writing an email and because of the hard keys of your keyboard, you are left with an email with incomplete words? Also, are you affecting your family with a loud keyboard while working from home? If you can relate to these scenarios then you are at the right spot! Today we are sharing with you a Dell KB216 USB keyboard review that has soft keys and makes less noise! 
So without saying much, here's our few cents for the Dell KB216 keyboard review and we hope this article can help you in making the right choice.  
Hey There! If you are new around please hit the red bell icon on the left to be notified of our new coverage. Because we keep on bringing articles like this, tips and tricks, unboxings, and reviews that will help you learn more about the products and make a better choice!
Why Dell KB216 USB Keyboard?
While selecting a keyboard we had only three things in mind. Firstly, it had to have a USB interface rather than a PS/2 connection. Secondly, the keyboard must've had chiclet-style and low profile keys. And lastly, it should fall in the price range of INR 600 to 700. Dell KB 216 keyboard price was in the sweet spot and met all our criteria. 
The Unboxing Experience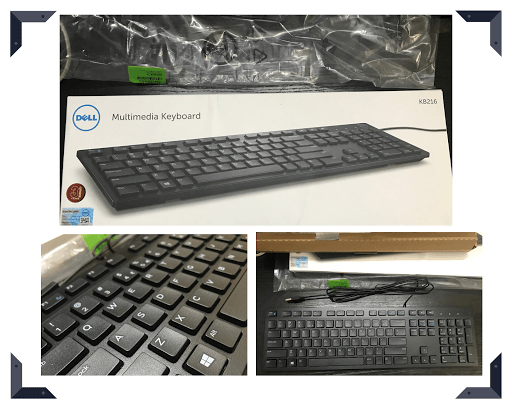 Let's first talk about the packaging. As we bought it from Amazon, it came in cardboard packaging which was thoroughly taped and had no sign of damage. The Dell keyboard box had a plastic covering that had no seal just tapping which maybe was done by the seller or by Dell. The keyboard box had both the seals intact. 
Initial Experience
The most important part of any keyboard is the keys. You will be happy to know that the keys are soft to press, which makes it hard to miss a keystroke. Moreover, this Dell keyboard is very silent. So you will not be disturbing anyone while you are doing your writing work! 
Dell KB216 dimensions also make it quite special. It is a wide keyboard at around 18 inches (45.72 cm)  that makes the keys quite wide and thus enough travel distance between keys. If you like your keys to be a little far from each other then you're going to like this keyboard.   
Unlike traditional keyboards, this chiclet keyboard has considerably wide and low profile keys that make typing a breeze. It is somewhat comparable to the MacBook Air keyboard. 
As it is a full-size USB keyboard it has the number pad which my earlier keyboard was missing. Dell KB216 has white light notifications for Num Lock, Caps Lock, and Scroll Lock which looks modern compared to the yellow light of the older keyboards. 
Built Quality 
As per the price, we felt the built quality good but not great. Pressing on the frame here and there will make a little squeaking noise. Though, while typing the keyboard is rigid and doesn't make any squeaking even if you have heavy hands.
On the back of the keyboard, you will find two hinges that help in increasing the height. Moreover, the hinges are very strong and don't let the keyboard move when you are typing on it.
Dell KB216 Keyboard USB Cable 
The Dell KB216 USB keyboard is a plug-and-play keyboard. This means it doesn't require any driver installation on any computer whatsoever. All you need is a USB 2.0/3.0 port for its work.
The wire is around 1.5 meters in length and feels quite durable. The same can be said for the USB connector that will connect with your PC/laptop USB port.
Any Special Features On This Keyboard?
This keyboard doesn't offer any backlighting or mechanical keys and to be honest, in this price range you can't expect too much. All it offers are a few controls. The Dell KB216 black multimedia keyboard offers media controls like repeat song, play/pause music/video, change track, mute, decrease, and increase volume.
Pressing the F1 key will let you put your computer in sleep mode. The F9 key will let you search for something on the computer/internet whichever is opened before pressing the F9 key.
To use any of the Media controls available like F10, F11, and F12, you have to press the Fn button along with the media control.
The same has to be taken care of if you need to perform a screenshot. Because pressing Windows+ PrintScreen will not do anything. You have to use the Fn key as well. So to take a screenshot you have to press Fn+Windows key+PrintScreen.    
Warranty and Genuinely check
While ordering it, on Amazon it was cited that it has a 1 year OEM warranty. However, it came with a 3-year warranty that was mentioned on the box. 
To verify the same, you have to visit www.t3315.com (Chinese Language)  There you'll need to enter an authentication number that you will find on the box by scratching. Once you got the code, now you need to enter it on the website. 
For the English language, we suggest opening www.english.t3315.com. 
Upon arriving there just write the authenticity code in the box and click Check>>.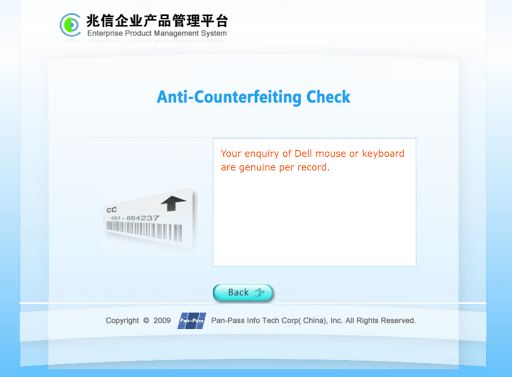 Then you will have your result with you. We did ours and as you can see our product is a Genuine Dell product.  
As per the warranty is concerned, we can't say much because we couldn't find a place to register it. Even on Dell's website, there are other products to choose from unfortunately this keyboard is not listed there.
Generally, with other keyboards, warranty is calculated from the day of manufacturing or import so in this case, our keyboard has an import month of September 2019 which means it might be under warranty till September 2022. If that's how it's calculated then it's cool! 
Do you recommend this keyboard to others?
Yes, if you looking for a decently priced keyboard with soft keystrokes with less noise. Other than that, in this price range, there are other keyboards available for e.g. Logitech K120 and HP100.
Since the chiclet design keyboard was in our mind, hence we ignored both the products. If chiclet design doesn't excite you then we would highly recommend both of the keyboards above as we have also used them quite extensively. 
So here you go, guys, this was our two cents for the Dell KB216 USB keyboard review. I hope you would have found our few cents helpful! Do you have queries? Please reach us out at PadhKeDekho's Twitter, Facebook, Instagram. We would love to help!
Just like the above Dell KB216 USB keyboard review, we share our 2 cents in the form of reviews, tips & tricks, comparisons and opinions so do check out those articles. And if you liked the content do share it with your friends and family! Thanks, we will see you at the next one!