Are you still evaluating your body weight with the help of a mechanical weighing scale at your home? And looking for a modern-looking digital weighing machine? If yes, then you've arrived at the right place! The product we are talking about is the Healthgenie HD-221 digital weighing scale that we bought for our personal use. On this blog, you will get to know my assessment regarding this weighing scale and what do I feel about it.
Before starting the health genie digital weighing machine review, it's our responsibility to inform you that this is an honest customer review, and what we experienced is shared below.
So without saying much, Let me present you with the Health Genie HD-221 Digital Weighing Machine Review! 
Hey There! If you are new around please hit the red bell icon on the left to be notified of our new coverage. Because we keep on bringing articles like this, tips and tricks, unboxings, and reviews that will help you learn more about the products and make a better choice!
Healthgenie HD-221 Review and Unboxing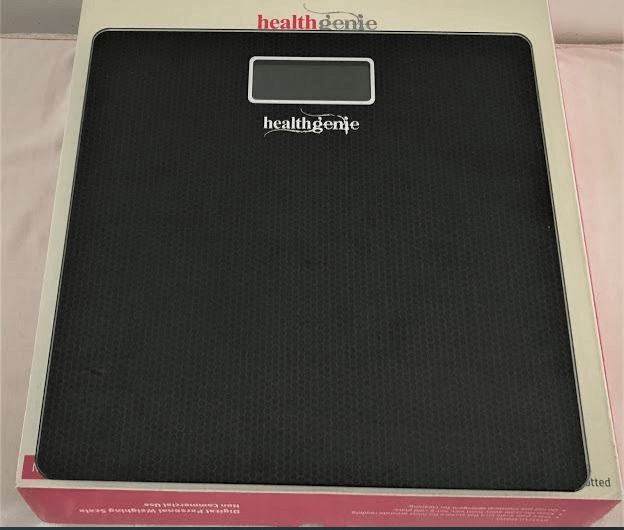 Why Healthgenie HD-221?
Selecting Healthgenie HD-221 digital weighing scale was very clear for us because in the past we have used quite a few products of healthgenie. Therefore we know about the healthgenie company and its product quality.
After doing some research and going through multiple healthgenie reviews on Amazon we were quite sure about this particular healthgenie digital weighing machine and we ordered one in Black Dotted color. 
The Amazon Box
I am a frequent Amazon customer and when I saw this product on offer I couldn't resist. Every order that I have received so far came in a pristine condition outer box. However, this time I was a little spectacle by the delivery. The reason is that the outer Amazon box had signs of physical damage to it.
Upon opening the box I got a sense of relief. The healthgenie HD-221 outer box was intact and had no sign of damage on it.  
On the box of the digital weighing machine, some of its key features are written. Don't worry keep on reading I will explain the features one by one in detail!
Some of the healthgenie HD-221 features are mentioned in the box. Some of the features are a Digital Display, Room Temperature Display, Tempered Glass Platform, to name a few.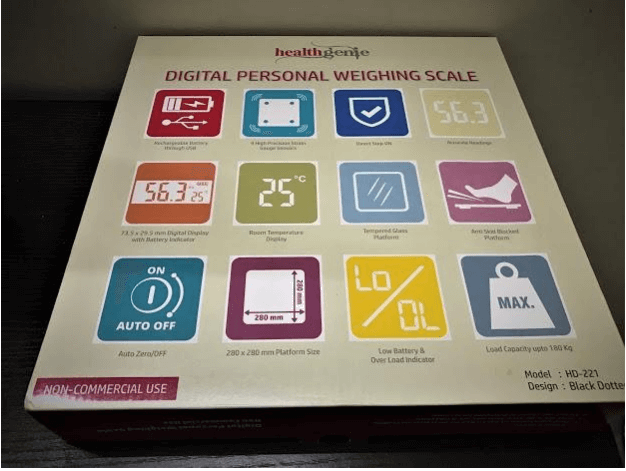 Unboxing Experience of Healthgenie HD-221 Digital Scale 
After unboxing the healthgenie digital machine out of the box. The first thing we noticed was the weight of the weighing scale. It is not a lightweight digital scale. It has quite a weight attached to it. That I will explain later.
The product was already well packed by Amazon and the same level of packaging has been taken care of by the healthgenie company as well. For added protection, thermocol sheets on both the side are present so that no damage takes place while it is in transit. For better security, bubble wrapping was also done all around.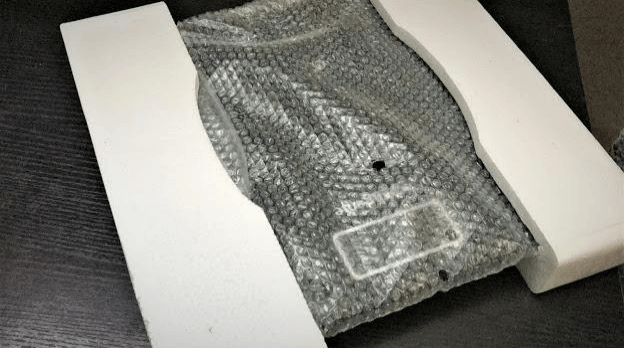 Healthgenie HD-221 In the box contents
1. Digital Weighing Scale
2. User Manual
3. Warranty Card
4. Invoice 
5. USB 2.0 Cable(Around 1 meter length)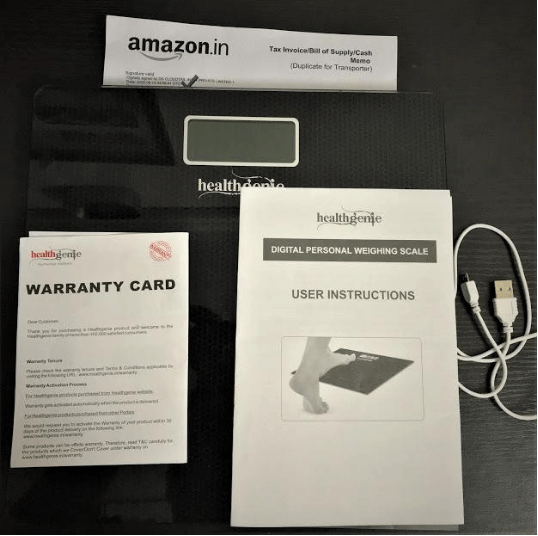 Setting Up the Digital Weighing Scale 
This digital weighing scale from healthgenie has so many features that we will explain in a while. The first thing which you have to do is to put on charging which will take around 3 hours depending on the charger. When you put it on charge you will see a charging bar on the top right corner of the screen. 
Once you have 3 bars on the top right corner of the screen then you can put it off charging and on the back, you have a button named Unit which you have to press for 4 seconds. Then you are ready to use it. if the weight is shown in "lb" or "st" instead of "kg" then you have to change it. The process is fairly simple. 
You have to press the Unit button for 4 seconds to turn the weighing machine off. Now turn it on again by pressing the Unit button for 4 seconds. And once it's on press the Unit button once to change it into kg. 
Features Of HealthGenie HD-221 
1) Inbuilt Battery Along With Support FOR AAA Battery Cell
Healthgenie digital weighing scale comes equipped with an inbuilt rechargeable battery. On top of it, the digital weighing scale can even let you utilize 2 AAA batteries to power the weighing machine. However, keeping in mind that both the battery source can't be used at the same time. So if you are running low on an internal battery you can insert two AAA batteries and you are all set to record weight!
2) Digital Display With Battery Indicator And Room Temperature
Since we were using a boring weighing scale we were looking for a new and modern looking that has a digital display. The screen is an LCD type display and it is very bright. The display is not limited to showing weight it has a battery indicator on the top right side which is quite visible. This healthgenie weighing machine also comes with a room temperature sensor and it is also shown on the display which is not necessarily required but it's something good to have.   
3)Tempered Glass Platform
Just like we apply tempered glass on our smartphones, the healthgenie weighing machine comes with tempered glass on the platform to give it more rigidity. This digital weighing scale is capable of up to 180 kg so it's good it comes with a rigid platform. We have tested a maximum weight of 79 kg and the glass didn't crack or anything.  
4)Anti Skid Blocked Platform
On the bottom of the digital scale just like any laptop, the company has provided 4 rubber protectors that prevent the scale from skidding if someone is trying to stand on it. I have tested it many times and it stays where it has been kept, However, if you put much pressure on your hand then it will move. It has a far better grip comparing it to the general weighing machines.     
5) Low Battery And Overload Indicator  
This weighing scale is not less than any smart scale! If battery percentage and room temperature were not enough the company even gave 3 predefined warnings as well. The digital scale can display "C", "oL", and "Lo" in certain cases.
"C" will be shown when the scale is in an unstable condition which means you should retake the weight as it will not be accurate. "oL" will be displayed when the scale has overloaded. Anything above 181.0 kg will show this warning. "Lo" will be the low battery indicator which means either to put it on charging or insert two new AAA batteries. 
Build Quality
The health genie HD-221 is not a lightweight product. Since most of its weight comes from the tempered glass which gives it a rigid and strong feeling. I thought it was a lightweight product and will be flimsy however it is very strong and has a weight to itself. I have not a single doubt on its build quality but do keep it in mind that at the end of the day it's glass so take care of it. 
How To Clain Warranty Of Healthgenie Company Products
The warranty on this digital scale can only be applicable if you have registered the product on the healthgenie website. The process for registering is quite detailed and will require your invoice, mobile number, email id,  order id, order date, etc. 
Initial Experience With A Digital Scale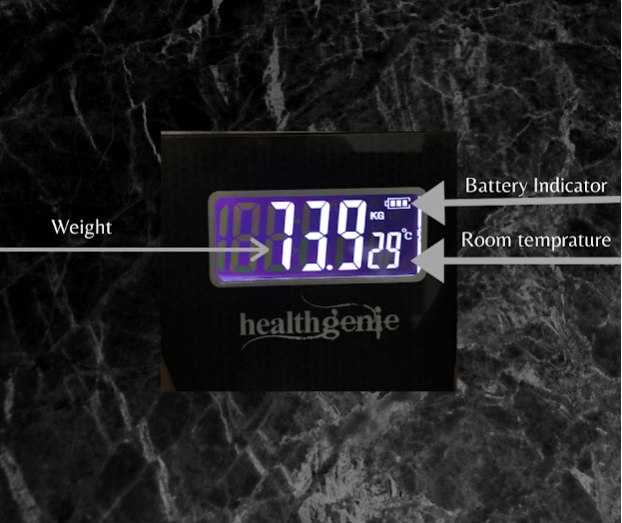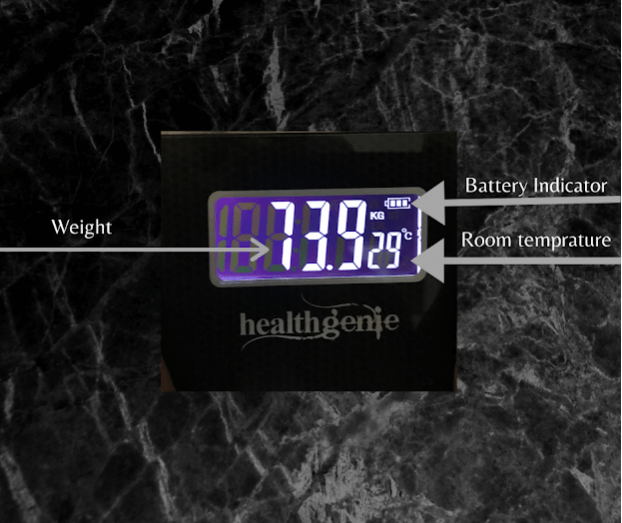 The primary reason to buy Healthgenie HD-221 was its digital display. And I am happy to report that the display is very bright. Along with weight it also shows room temperature, battery indication, overload, low battery signal. If you want to check your weight in lbs, that's also possible with this weighing scale.
After you have checked your weight it turns off the display but when someone will put a slight weight on the scale it will turn the display back on. By doing this, the weighing scale preserves the battery. 
Reasons to Buy Healthgenie HD-221?
1.Features
Healthgenie HD-221 has numerous practical features like room temperature display, overweight display, battery percentage, etc. That makes it worthy in terms of features to cost ratio. 
2. Built Quality
Even though it has a tempered glass floor it feels very sturdy when you stand on the glass platform with your almost around 80 KGS weight on it!  No squeaking or rattling can be heard. 
3. Awesome Battery Life
This healthgenie digital personal weighing scale internal battery is still showing full bars even after 2 months of usage.  
So Do You Recommend Healthgenie HD-221?
Yes keeping every feature, built quality, accurate results, battery backup in mind I think this is the best digital weighing scale in this budget.  
So, I hope you found the healthgenie weighing scale review of any help! So if you're ready to buy, then please use the below link it will support our website by which we will bring more amazing content like this.
Thanks for reading and I will see you at the next one! 
That's It For Now, Folks!
 I hope you would have found our few cents helpful! Do you have queries? Please reach us out at PadhKeDekho's Twitter, Facebook, Instagram. We would love to help!
Just like the above article, we share our 2 cents in the form of reviews, tips & tricks, comparisons and opinions so do check out those articles. And if you liked the content do share it with your friends and family! Thanks, we will see you at the next one!
Do you have doubts or queries? Then connect below or reach us out on the below social accounts. We would love to help you out! Thanks for reading guys!
Just like the above article, we share our 2 cents in the form of reviews, tips & tricks, comparisons and opinions so do check out those articles. And if you liked the content do share it with your friends and family! Thanks, we will see you at the next one!