[Updated on 5 Oct 2023] The laptop is still working and hats off to Acer for giving so much life to this tiny laptop. Just recently we bought another Acer laptop which is an Acer Aspire Lite 11th Gen i3 laptop under 30,000 (Review)! It's totally a worthy upgrade!
Yes, that's right! Windows 10 runs on an Intel Atom processor with just 2GB RAM. You must be thinking; How well it will work? Should I upgrade Aspire One D270 to Windows 10? Everything is answered below and you'll get to know how your experience will be with Windows 10 on Acer Aspire One D270. So our Acer Aspire One D270 Windows 10 Review Is going to be important to you! Therefore, without saying much, let's get started!
Hey There! Welcome to PadhKeDekho! Here you will find honest customer-centric reviews, comparisons, and unboxing of tech products that will help you learn more about the products and services and make a better choice!
This is Acer Aspire One D270. I bought this notebook with Windows 7 Starter out of the box. If you don't know Windows 7 Starter was a scaled-down version of Windows Home. It was so scaled-down that changing the wallpaper was like a nightmare!
There was no Windows Aero theme on it which made the graphics non-existent with no animations, etc. In short, it was not a looker. Other than that, it could perform decently for basic tasks like MS Word 2003, Google Chrome, etc. Things became interesting when I upgraded to Windows 10.
Initial Experience With Windows 10
I was very excited to install Windows 10. However, there were a few things that immediately gave me a bummer. To start with, the brightness was not adjustable and it would stay at the maximum level. The reason for this issue is the integrated Intel GMA 3600 which was not supported by Windows 10!
In fact, the support for that card was withdrawn way before the release of Windows 10. So I have to manage with that, Moreover, there have been various numbers of updates still no luck with the brightness.
Leaving that aside, things are improved A LOT! Windows 10 is a feature-loaded operating system from Microsoft that with time has evolved so much in these years that it is my most loved and recommended Windows now.
Upgrading from Windows 7 Starter was the best thing to happen. I never thought it can be done considering the hardware of the device. Even though it supported Acer's laptop list, this particular model isn't mentioned.
One day when I heard all the devices running Windows 7 will be upgraded to Windows 10, I was just waiting for that day to come. And today I have been using this notebook for a very long time with Windows 10 and I have good and bad things about it.
Windows 10 Pros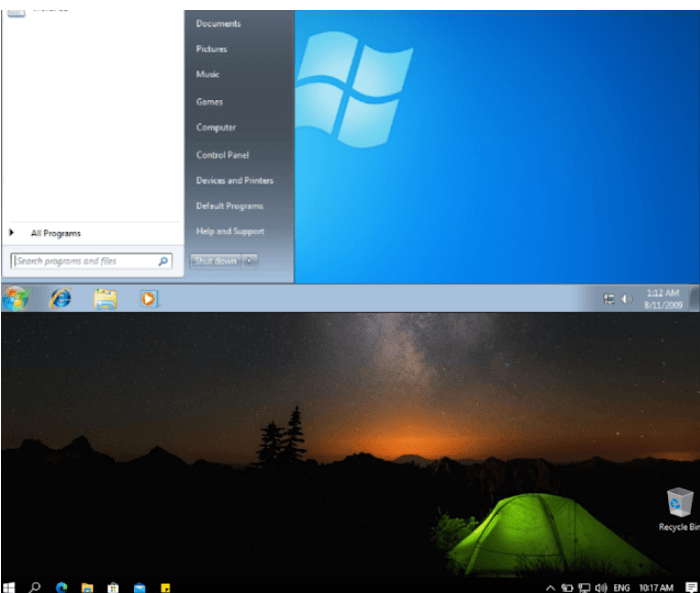 The primary reason is the dark mode. As you know I cannot toggle the brightness because Dark mode is a blessing in disguise!
With dark mode, the complete interface turns dark so it doesn't harm the eyes as regular mode does. And on top of it, the dark mode also looks cool!
Windows 7 Starter did have trackpad gestures of swiping in or out in photos and sliding the page but it was not as smooth as it is on Windows 10.
The best thing in Windows 10 is access to the Windows Store. There are plenty of daily-use apps like Twitter, Instagram, Messenger, Pinterest, etc that you can install and make your life easier.
Windows 10 has Tiles on the Start menu that looks like widgets on Android smartphones. Just like widgets clicking on the icons will open the specific app without you personally going into the list and searching for the app! It saves time.
Microsoft has really pulled its strings with its new browser, Edge!
Edge leaps ahead of Internet Explorer or even the competition. I really enjoy using Edge and I don't remember when I used any other browser after shifting to Edge.
The mails app on Windows 10 is very productive as it saves time in comparison with the browser login of the website. Having an App to do the thing makes it so easy and instant!
My home computer and this notebook are logged in with the same Live ID therefore all the settings and internet history are available on both. So I can switch to any device instantly without any issues.
You can simply search anything from apps to folders, to the control panel, to updates by simply clicking the Start button, and making a search for what you are looking for. So if you are running low on time you can make a search rather than navigating to the folder or installed software.
All in all, after altering a few settings according to my needs on Windows 10 I am able to increase my work-from-home productivity.
Windows 10 Cons
Upgrading to Windows 10 just not only brought happiness! Let me break it for you. It lags, A lot! Maybe it's just that the processor and RAM can't take anymore. But patience is the key!
Don't expect it to work like charm because it struggles in the beginning to work. If you plan on doing something resource-consuming like Google Chrome OR Microsoft Office then give it a fair shot of time to process the loading.
Sometimes it feels that the request you made is ignored but no it's coming, very soon! It takes around 10 seconds to open File Explorer if Edge is open in the background.
As I am still using the stock battery that came with the laptop. So the Battery backup is around 1 hour. I can't 100% blame Windows 10 for that. It can be the dying battery which is 8 years old now. So, keeping a charger handy will be a good call.
Full brightness puts a lot of strain on the eyes because of this I don't use this notebook after the evening.
What To Expect With Windows 10 On Acer Aspire One D270
Windows 10 is an amazing operating system from Microsoft and believe me it's coming from a long-time Windows user.
Since my childhood, I only had access to Windows. I have used Windows XP, Windows 7(Starter, Ultimate), 8 pro, and Windows 10. Whenever a new Operating System from Microsoft used to launch it would bring revolutionary features and improvements.
For e.g. when Windows 7 was introduced it came with a whole lot of customizations like gadgets, Aero themes, Peek preview, and splitting the display into 2 for better multitasking.
Just like that Windows 10 bought features and improvements like Dark Mode, Night Light, Windows Store, Cortana(similar to Siri and Google Now), etc.
Moreover, as Windows 10 is the last OS from Microsoft it means they will continuously bring bug fixes and improvement for the rest of its life so just keep updating the software!
The only things which are hindering my experience on Aser Aspire One D270 are the lack of RAM and processor speed.
If this Notebook had better internals I would have experienced Windows 10's full potential. Even then, I would highly recommend Windows 10 if your hardware supports it. As of today, you can get a copy of Windows 10 for free from Microsoft's website and then make a USB Bootable.
Media creation tool. However, for activation, you will require a digital license. If you don't have one, you will not be able to change a few features on Windows 10.
Will I Ever Downgrade To Windows 7?
Definitely no! I am so much indulged in Windows 10 that I can't go back to any previous version, even 8.1. It's not bad at all it's just the look and feel of Windows 10 that impresses me. Edge browser, Mail app, Microsoft Store, Dark Mode, and Light Light are the features that restrict me from going back.
Do you have doubts or queries? Then connect below or reach us out on the below social accounts. We would love to help you out! Thanks for reading guys!